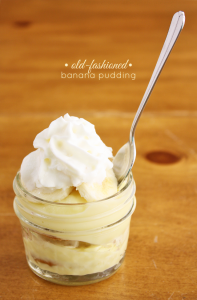 Banana pudding is a dessert staple in my husband's family. We have it at lots of family get-togethers, from birthday parties to family dinners to reunions. We're actually at the tail end of a reunion right now, and I'm shocked that it hasn't been on the menu yet. We've had at least 8 nights of desserts, and there's been no sign of banana pudding. But there's still two days left, so maybe it will make an appearance after all. My fingers are crossed and I'm hopeful.
Banana pudding is like the dictionary definition of comfort food. It is creamy and sweet and reminds you of childhood. This particular version is extra delicious thanks to made-from-scratch vanilla pudding. It makes all the difference in the world, and takes this banana pudding from a kids' table favorite to a good old-fashioned treat for all ages!
Old-Fashioned Banana Pudding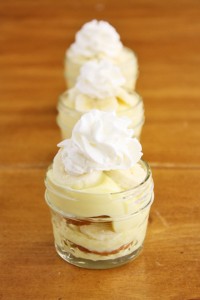 1/3 cup plus 1/4 cup sugar
1/4 cup cornstarch
1/8 teaspoon salt
2 eggs
1 egg yolk
3 1/2 cups whole milk
2 teaspoons vanilla extract
1 Tablespoon butter
1 box Nilla wafers
bananas, cut into 1/4″ slices
sweetened whipped cream
In a large saucepan, whisk 1/3 cup sugar, cornstarch, salt, eggs, egg yolk, and 1/2 cup of milk until smooth; set aside. In another large saucepan, combine remaining milk and remaining sugar, and bring just to a boil. While whisking, slowly pour hot milk mixture into the egg mixture; whisk until smooth. Place saucepan over medium heat and cook, stirring constantly, until thickened. Immediately remove from heat and pour through a fine mesh sieve into a clean bowl. Stir in vanilla and butter. Cover with plastic wrap and refrigerate until cold. Be sure to press the plastic wrap down onto the surface of the pudding while it cools.
While the pudding is cooling, line the bottom of a 9×13 pan with a single layer of Nilla Wafers. Spread half of the vanilla pudding on top of the cookies and top with a layer of banana slices. Add another layer of cookies and another layer of pudding. Cover with plastic wrap and refrigerate until ready to serve, at least 2 hours. Just before serving, add another layer of banana slices. Serve topped with whipped cream.