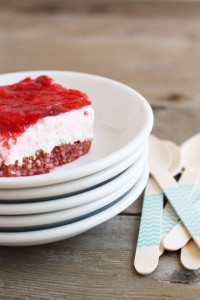 A crunchy, salty-sweet pretzel crust topped with fluffy, sweetened cream cheese and a layer of fruit-filled Strawberry Jello. Sounds pretty sweet and innocent, right? But apparently, Strawberry Pretzel Jello was the cause of quite a to-do when I was little. The story goes that the ladies at church were putting together a cookbook, which is a delightfully old-fashioned tradition that I wish was still observed. Old church cookbooks are awesome. Anyway, my mom submitted her much-loved recipe for Strawberry Pretzel Jello. As fate would have it, the woman in charge of putting the cookbook together (we'll call her Gertrude) had planned on including her own famous recipe for
Raspberry
Pretzel Jello. When the cookbook came out, Gertrude's recipe appeared first. And my mom's recipe read, "Same as Gertrude's, only use strawberries and pineapple instead of raspberries. And do this instead of that. And use 1 cup of this instead of 3/4 cup. And make changes here, here, and here." According to my mom, you can't even follow what's written. Who knew Jello could be so intriguing!
I can't promise that no one will ever try to sabotage your recipe if you make this, but I can promise that everyone you make it for will love it. And you.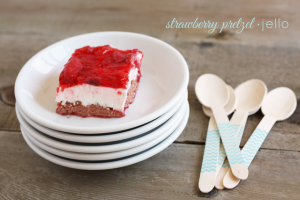 for the jello layer:
1 6-oz box Strawberry Jello
2 cups boiling water
20 oz frozen strawberries in syrup, thawed
1 8-oz can crushed pineapple, with liquid
for the pretzel crust:
2 cups crushed pretzels
3 Tablespoons sugar
3/4 cup butter, melted
for the cream cheese layer:
1 8-oz box cream cheese, softened
1 cup sugar
1 8-oz tub Cool Whip
Start by making the Strawberry Jello layer. In a medium bowl, combine Jello and boiling water until Jello is completely dissolved. Add strawberries and pineapple and stir to combine. Set aside to cool.
Preheat the oven to 400°F. Combine crushed pretzels, sugar, and melted butter until well-mixed. Press mixture firmly into the bottom of a 9×13″ pan, and bake for 5 minutes. Remove and set on a cooling rack to cool.
In a medium bowl, beat cream cheese and sugar until smooth. Beat in Cool Whip. Spread cream cheese mixture over cooled pretzel crust. Be sure to spread the cream cheese mixture all the way to the edges of the pan. Pour the jello mixture gently over the cream cheese layer. Spread out any strawberries that clump up. Cover the pan with plastic wrap and refrigerate until the Jello is set, ideally overnight.