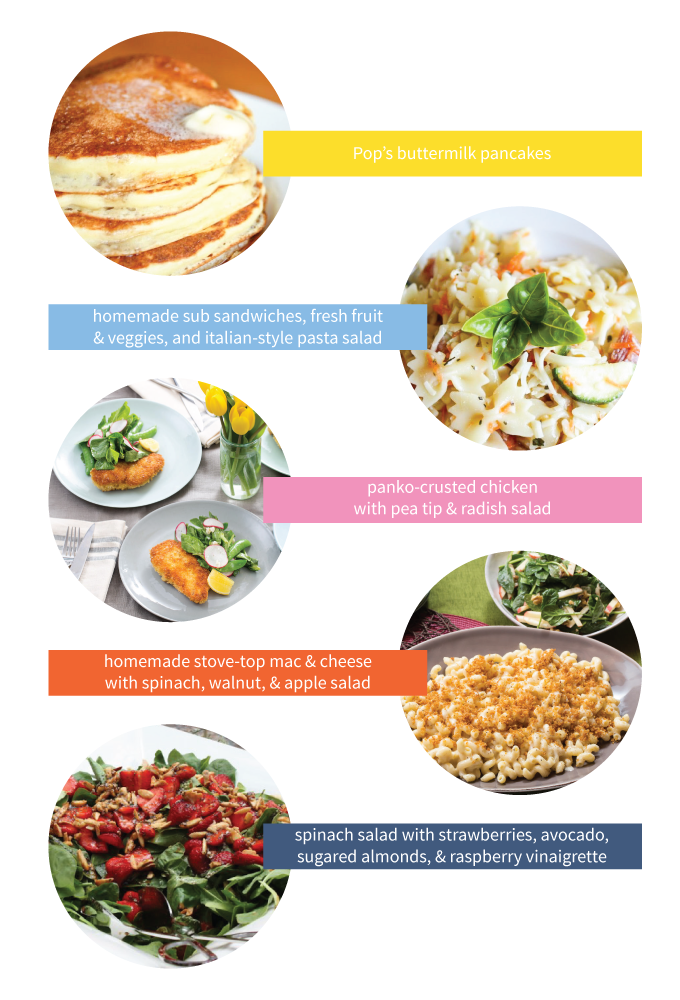 Happy Saturday, everyone! Did you catch my two posts from earlier in the week about my experience publishing a book? You can find Part 1 HERE and Part 2 HERE. And on Monday, I'm doing a cover reveal and posting the link where you can pre-order the book, so be sure to tune in at the beginning of next week. OK, on today this week's menu ideas! We had a great bunch of weeknight dinners this week, all super easy to make, all delicious and family friendly. If you're going to spend a few minutes this weekend to plan next week's menu and you need a few new ideas, look no further!
Pop's Buttermilk Pancakes:
We are big fans of breakfast for dinner; it's always popular and always super easy to make. This week, on a particularly busy evening, we opted for our favorite pancakes, my father-in-law's recipe. They are simple to make and absolutely delicious. Once you try these, you'll never make pancakes from a mix again!
Homemade Sub Sandwiches, Italian-Style Pasta Salad, fresh fruit, and veggies:
My kids love homemade sub sandwiches, and on busy nights, it's an easy, fuss-free dinner that doesn't heat up the kitchen. Everybody is happy because they can make their sandwich however they like. We paired out sandwiches with fresh pineapple, strawberries, and grapes, and carrot and celery sticks. I also made our favorite pasta salad, which tastes best if you make it in advance and let it chill in the fridge all afternoon.
Panko-crusted Chicken with Pea Tip & Radish Salad:
This was one of our meals from Blue Apron this week. We had almost the exact same dinner from them last year, and it was a hit. The salad last year was slightly different and better, in my opinion, so that's the one I'm providing the link for. If you've never had pea tips, get ready for a treat! And the panko-crusted chicken cutlets are super easy to make and cook up in a heartbeat.
Homemade Stove-Top Mac & Cheese with Spinach, Walnut, & Apple Salad:
Our other Blue Apron meal this week was a hit with everyone, and took less than 30 minutes from start to finish. The mac & cheese was tasty, but the star of the meal, at least for me, was the salad! The walnuts and apples added crunch and a mild sweetness to the spinach, and the creamy, lemony dressing was bright and tangy. I went back for seconds!
Spinach Salad with Strawberries, Avocado, Sugared Almonds, & Raspberry Vinaigrette:
I got this recipe from my friend Tannya a long time ago, and it is one of my favorites. I look forward to strawberry season every year in part because of this salad. If you add diced rotisserie chicken and some crusty bread, it makes a great warm weather dinner. And if you let everyone build their own salad, picky eaters can just take the things they like. Win-win!
So there you have it: five new ideas for easy, family-friendly weeknight dinners. And if you want to check out past editions of This Week's Menu Ideas for even more great dinner options, you can find them all HERE.