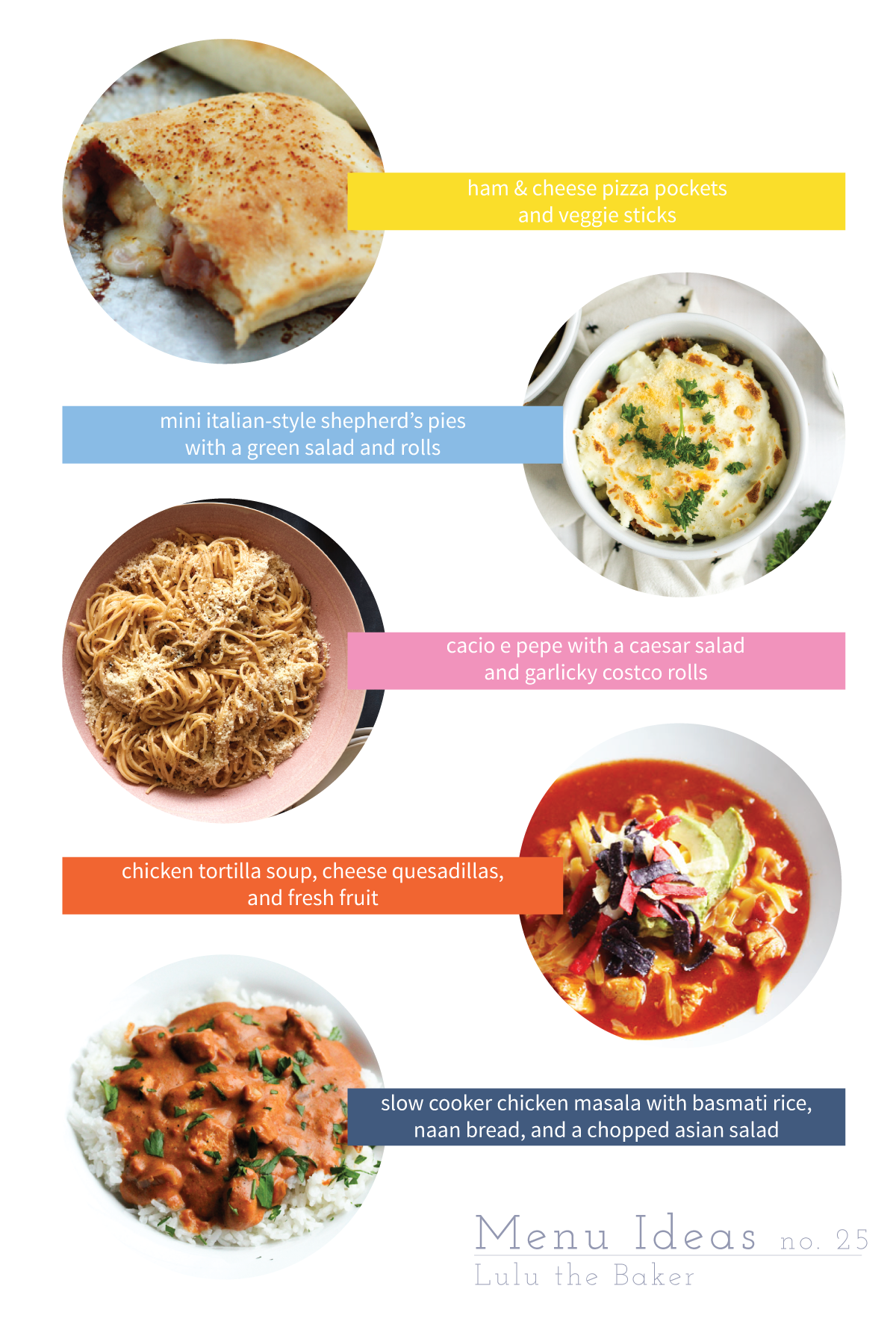 It's been over a month since I shared my last menu ideas post, and we've had so many delicious and easy dinners since then that I had a hard time choosing which to include in this week's Menu Ideas round-up. So I'm sticking to chronological order. We've got a crazy schedule going right now, with kids' activities three out of five weeknights for the next little while. Some afternoons I'm running kids all around town, then stopping by the house for just a heartbeat before dropping them off at the next activity, so on those nights we have really simple dinners: things that can literally cook themselves in the crockpot all day. Or take-out. On other days, I'm home in the afternoon and can prepare a meal as long as it's quick. And some days are actually leisurely, and while we try to still have simple meal, they can require a little more prep work or a little more time to cook. So there's a mix!
Ham & Cheese Pizza Pockets and Veggie Sticks
This delicious dinner is a homemade riff on everyone's favorite college vending machine food (just me?), Hot Pockets. We've been making them for years, ever since a friend brought them to a little lunch potluck when our kids were just babies. These pizza pockets are so easy to make, especially if you have a favorite store-bought pizza dough you can pick up, and a favorite jarred pizza sauce you keep stocked in your pantry. Easy, cheesy, and so, so good, especially with some fresh veggies on the side to keep things balanced. Click HERE for the recipe for Ham & Cheese Pizza Pockets.
Mini Italian-Style Shepherd's Pies with a Green Salad and Rolls
My family loves shepherd's pie, especially on chilly, winter evenings. Last time, instead of making one big casserole, I made everyone their own mini shepherd's pie. Just like the big size, these minis are filled with seasoned ground beef and a mix of veggies, and topped with cheesy, parmesan-crusted mashed potatoes. If you don't feel like making minis, the same exact recipe works in a larger baking dish. We had a green salad and some leftover Costco rolls on the side (and scroll down for more on those Costco rolls!). Delicious, wholesome, and hearty! Click HERE for the recipe for Italian-Style Shepherd's Pie.
Cacio e Pepe with a Caesar Salad and Garlicky Costco Rolls
I really don't even have words to convey how absolutely delicious this dinner was. First, I spotted a link to cacio e pepe on What's Gaby Cooking. Everything she makes is flawless, and she's delightful in person to boot, so I added it to the menu. And it was heavenly, and only took about 10 minutes to make. Cacio e pepe means "cheese and pepper" in italian, and there's really not much more than that in this incredible pasta dish: butter, salt and pepper, cheese, and spaghetti. I can't explain how good it is, I can just encourage you to make it ASAP!! The caesar salad was…just a kit from the grocery store, so let's skip ahead to the garlicky rolls. We still had so many Costco rolls leftover (as one does), but I didn't want to eat plain Costco rolls two nights in a row, so I found a recipe for turning them into garlic rolls, and OH MY GOODNESS. They were amazing! Hot, soft, and savory. Now, when we have leftover Costco rolls, I know exactly what to do with them. You can find the recipe for cacio e pepe HERE on What's Gaby Cooking, and the recipe for the garlic rolls HERE.
Chicken Tortilla Soup, Cheese Quesadillas, and Fresh Fruit
This is my mom's classic chicken tortilla soup recipe that I remember from my childhood. It is an easy soup to make (although it has to simmer for an hour), and it is warm and comforting. When I made it this time, I actually left the chicken on the side, laid out all the toppings, and let everyone build their own bowls. Then we just ladled the zesty tomato broth over the top. I'm not sure the results were any different than usual, but everyone loves a "build-your-own" bar, so hey! I made cheese quesadillas to go on the side, and we rounded out the meal with lots of fresh fruit. Click HERE for my mom's Chicken Tortilla Soup recipe.
Slow Cooker Chicken Masala with Basmati Rice, Naan Bread, and a Chopped Asian Salad
We've made this slow cooker chicken masala before and loved it. It is easy to make (you literally just toss all the ingredients in the crockpot and walk away), and tastes delicious. And it makes yummy leftovers that can be reheated for lunch the next day. And rice and naan bread are always a hit with my kids. I think they'd live on rice and naan and nothing more if I let them. You can find the recipe for the slow cooker chicken masala HERE on Table for Two.
I started a new series on Instagram where I share our weekly menu plans. Some days surprise us and we change our dinner plans at the last minute, and some meals just don't end up being a big hit, so the dinners on those posts are often different than the dinners on these posts! You can follow along, and share what you've got planned for dinner for the week, by clicking HERE.