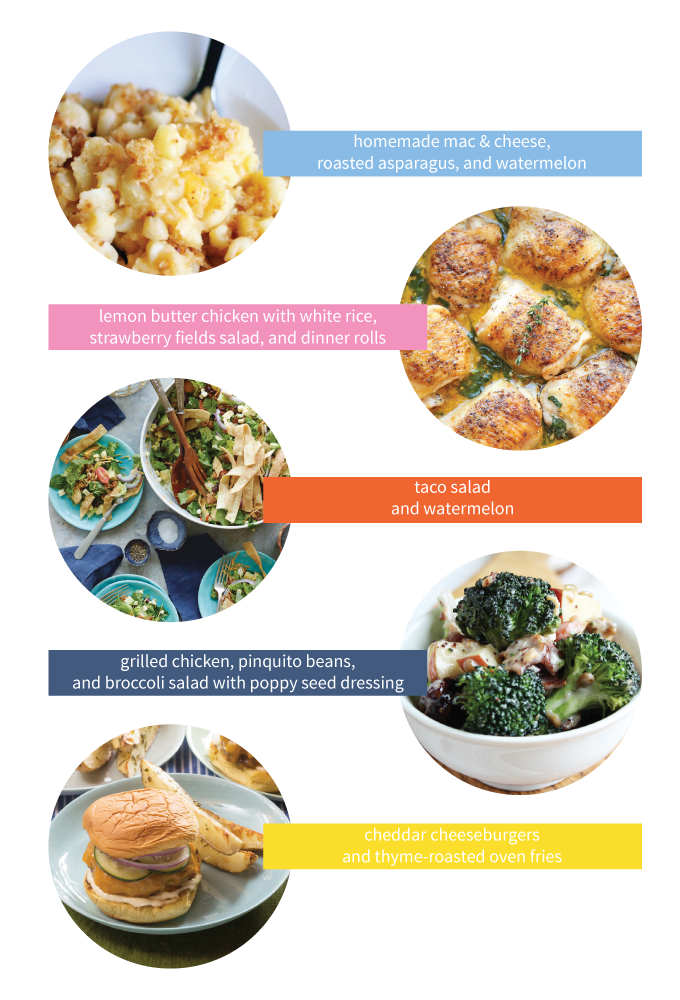 Happy Saturday! I have a great group of easy weeknight dinners for you in today's edition of This Week's Menu Ideas. All of them are quick, delicious, and sure to please. Happy menu planning!
Homemade Mac and Cheese, Roasted Asparagus, and Watermelon
Like most kids in America, mine love mac & cheese, but our favorite is actually homemade! We've been making the same recipe for a decade now, but when I made it for dinner this past week, I tweaked it just a little and it was the best it has ever been. To the original recipe, add 1/4 teaspoon garlic powder and 1/8 teaspoon mustard powder. It'll knock your socks off! We had our mac & cheese with roasted asparagus and fresh watermelon.
Lemon Butter Chicken with White Rice, Strawberry Fields Salad, and Dinner Rolls
We tried a new recipe this week: lemon butter chicken from Damn Delicious. And it was as delicious as it sounds. I do have to confess that I didn't follow the directions. I was in a hurry and just absent-mindedly messed it up just a tad. But everyone still loved it, and I'm eager to make it again following the directions exactly, because I know it'll be even better. On the side, we had a strawberry fields salad and store-bought dinner rolls.
Taco Salad and Watermelon
Taco salad is one of our favorite dinners. It is so easy to make, and everybody can make their salad exactly the way they like it. Our taco salad is pretty standard: ground beef, romaine lettuce, chips (Doritos for some of us and Fritos for others), kidney beans, cheddar cheese, chopped tomatoes, salsa, and a homemade ranch dressing with lots of cilantro and garlic. Watermelon was a perfect, easy-to-serve side. [photo from What's Gaby Cooking?]
Grilled Chicken, Pinquito Beans, and Broccoli Salad with Poppy Seed Dressing
This was our Memorial Day dinner. We marinated the chicken in store-bought marinade (which was ok but not great), and then grilled it—super simple! On the side, we had pinquito beans (recipe coming soon), garlic bread, and one of my favorite summer salads: broccoli salad with poppy seed dressing. It's got broccoli, bacon, onions, apples, cashews, and craisins in a yummy poppy seed dressing.
Cheddar Cheeseburgers and Thyme-Roasted Oven Fries
This was another winning meal from Blue Apron, and a pretty simple, straightforward one: all-beef burgers covered with melted cheddar and a homemade garlic mayo. On the side, we had oven fries sprinkled with salt, pepper, and fresh thyme. The burgers were delicious and the oven fries were a huge hit. Here's my life-changing burger tip for you: Butter and griddle the buns before building your burgers. Just try it. You'll never go back! We also had leftover pinquito beans with dinner, and they were every bit as delicious the second time around, possibly better than on day 1.