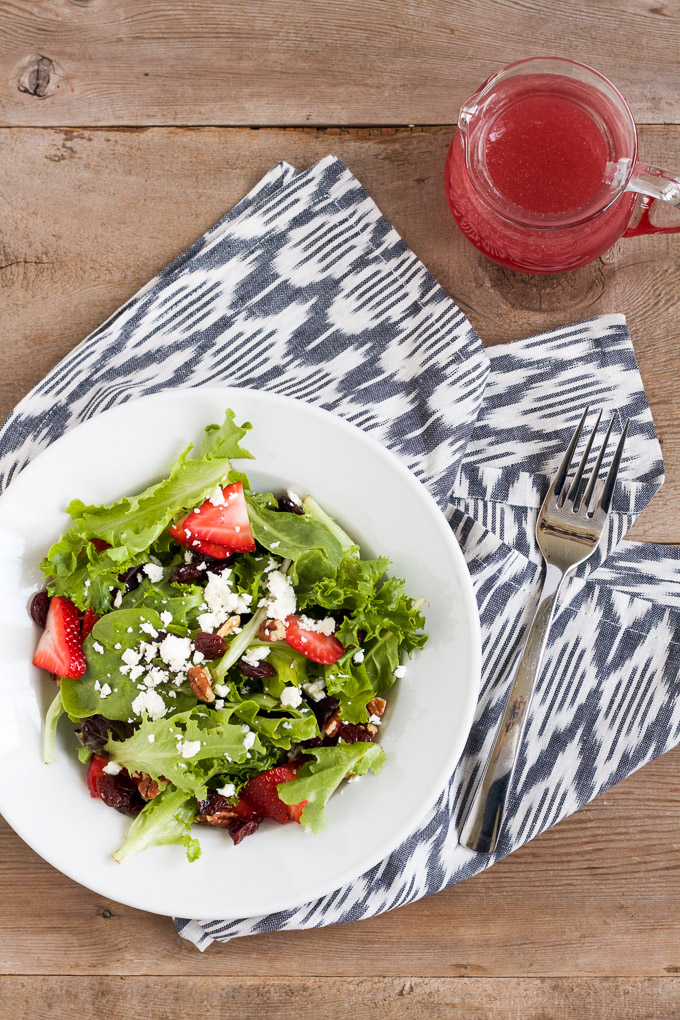 My in-laws celebrated their 50th wedding anniversary last Spring with a big family dinner on the coast in California. By request, the caterers served delicious Santa Maria-style barbecue, which my husband grew up eating. The staples of Santa Maria barbecue include grilled trip-tip, salsa, garlic bread, and pinquito beans simmered in a savory sauce. The entire meal was delicious, but one of the stand-outs, at least to me, was the salad they served. It was full of mixed field greens, fresh strawberries, dried, tart cherries, sugared pecans, and crumbled feta, all topped with a sweet red wine vinaigrette. I'm not sure if it was called Strawberry Field Salad because of the field greens, or Strawberry Fields Salad because of the Beatles song. Either way, it was so good that I've been making it regularly at home ever since. It is so good and so very easy to throw together for a quick, delicious lunch or alongside your favorite entree. You can also top it with chicken for a meal all by itself.

Strawberry Fields Salad
A fresh, easy salad full of flavor and color. Topped with chicken, it makes a great dinner salad.
Ingredients
mixed greens
sliced strawberries
dried, tart cherries
sugared pecans
crumbled feta
red wine vinaigrette
Instructions
Toss all ingredients in a large bowl to serve lots of people, or in smaller amounts for just one serving.