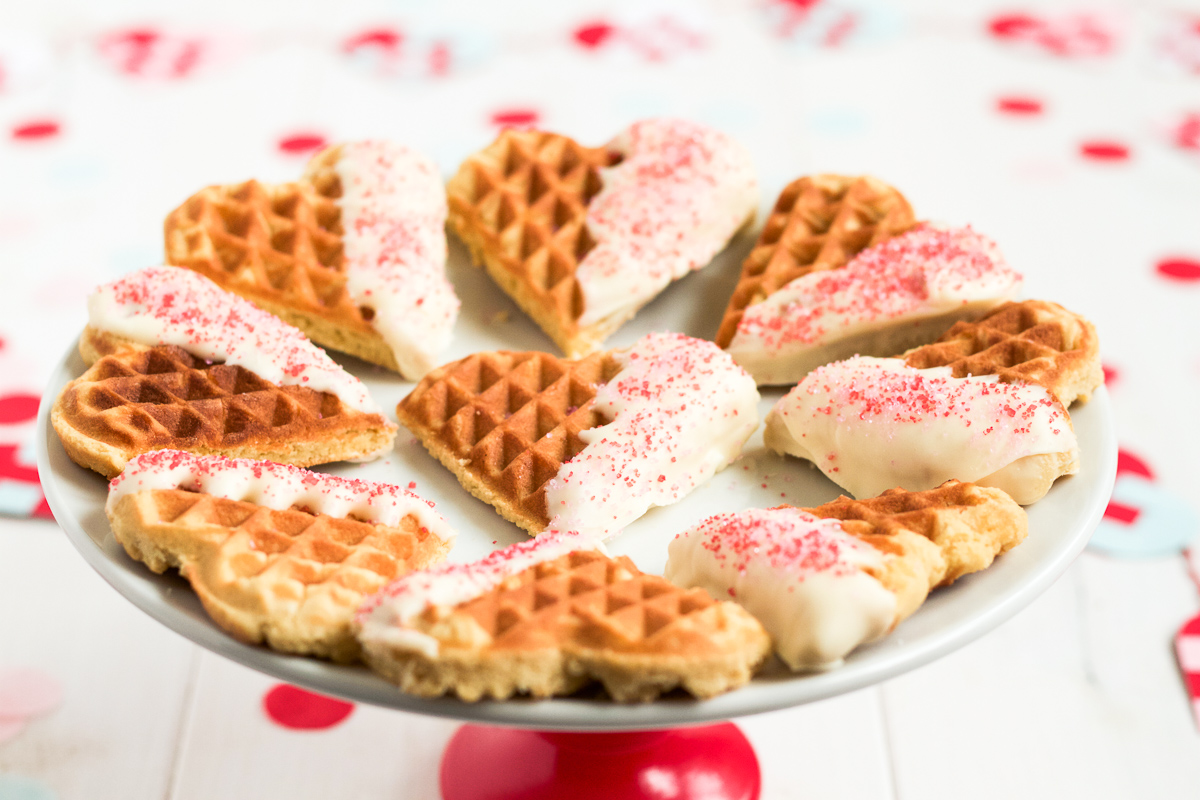 Valentine's Day is tomorrow—hooray! We have an insanely busy week at our house and won't be doing anything very fancy or romantic for Valentine's Day this year. Tuesday is our craziest night of the week, and I think I put homemade sub sandwiches on the menu; not exactly festive, but since we only have about 20 minutes to eat dinner that night, we had to make speed our top priority. But I love Valentine's Day, so in the spirit of the holiday, we whipped up a batch of these easy waffle cookies from my book, Scandinavian Gatherings, over the weekend. They are always delicious, but to make them extra festive for the holiday, we dipped them in white chocolate
and gave them a little shake of red and pink sugar sprinkles. And I really think they look extra pretty that way.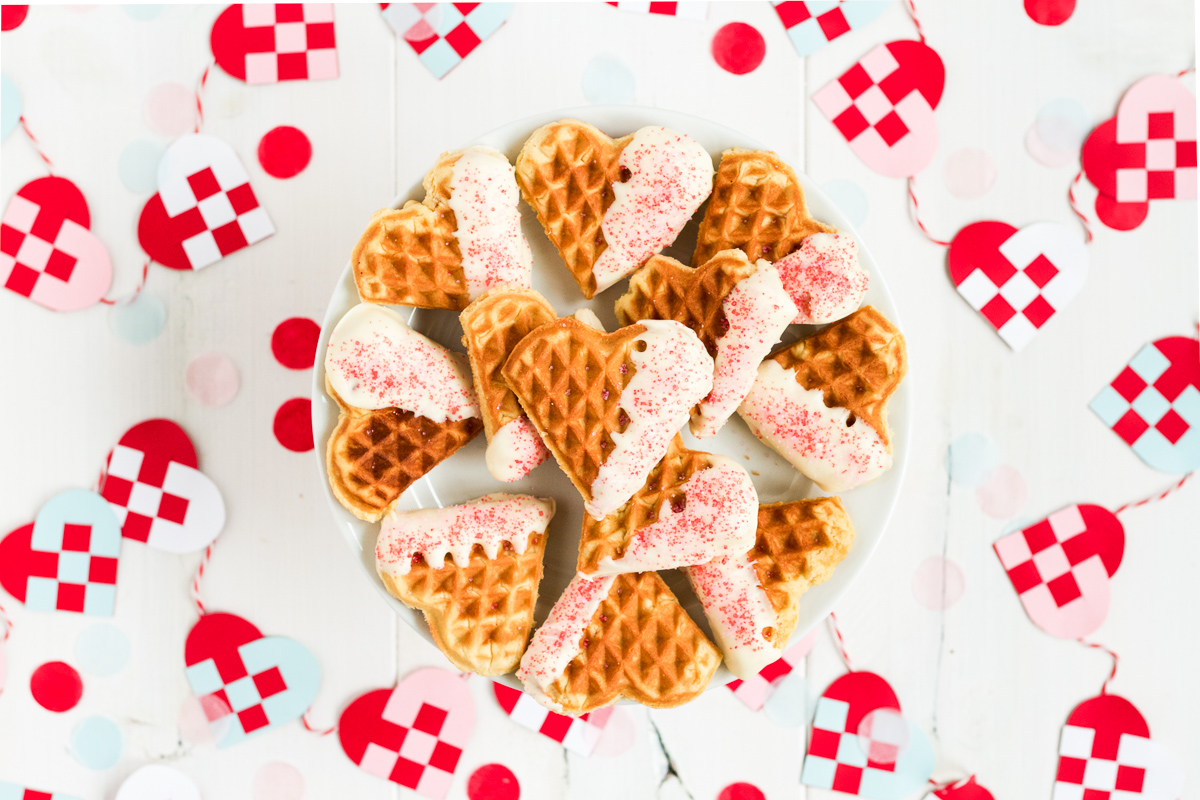 These heart-shaped waffle cookies are easy to make, but here are a few tips to make the process go even more smoothly:
If you don't have a heart-shaped waffle maker, never fear: I actually prefer to maker them on a regular waffle maker. The only kind of waffle maker that won't work is a belgian waffle maker.
When it comes to making the cookies heart-shaped, more is better. If you don't put enough dough in the waffle iron, your heart cookies will have holes in them or be missing chunks. If you put too much, all you have to do is cut off the excess cookie with a small paring knife after it has cooled.
I'm assuming that if you have a heart-shaped waffle maker, it is just like mine (I have this one): it makes 5 little heart waffles at a time, and they're all hooked together in a circle. I've found that the best way to get the right shape is to put a ball of dough in each heart bump, then to add more dough to the open space in the middle where the pointy ends of the hearts all meet. If it's too much dough, put less in on the next batch. If it's too little dough, add a bit more next time.
When the heart cookies are finished cooking, gently run a small paring knife down the seams where the hearts meet. They should cut apart from each other very easily, and they're much easier to get out of the waffle iron individually than when they're hooked together.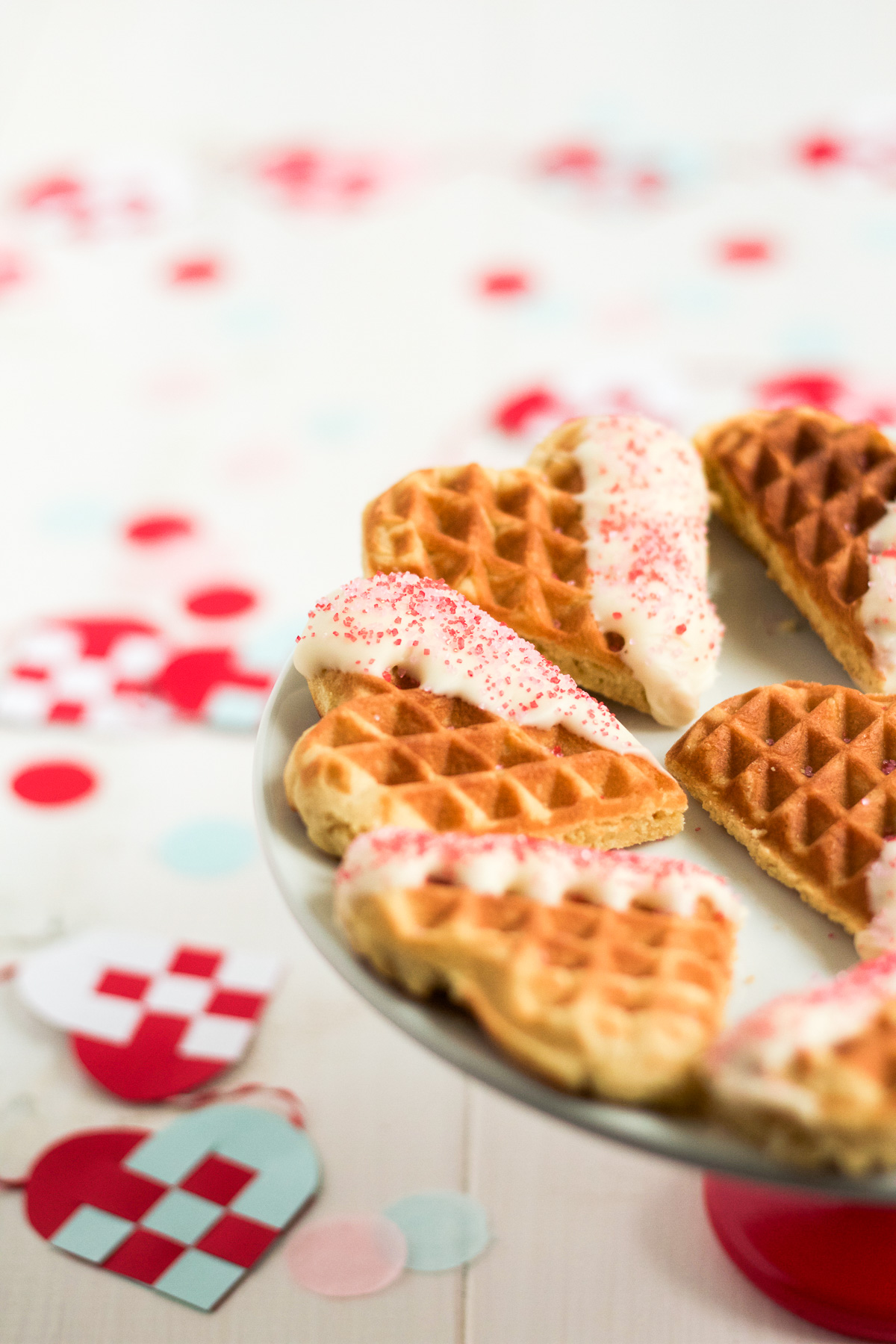 White Chocolate Dipped Waffle Cookies
Make these waffle cookies in a regular waffle iron or a heart-shaped waffle iron for Valentine's Day. They are delicious plain, but this fancy version dipped in white chocolate and sprinkled with pink and red sugar is extra special. Adapted from
Scandinavian Gatherings
Ingredients
1 cup butter
1 cup sugar
½ cup brown sugar, lightly packed
3 eggs
1 teaspoon vanilla
½ teaspoon salt
3 cups flour
1 12-oz bag Wilton's candy melts in white
pink and red sugar for sprinkling
Instructions
Preheat your waffle iron. I usually start on medium and adjust as needed.
In a large bowl or in the bowl of a stand mixer, beat the butter and both sugars until light and fluffy, about 1 minute on medium speed. Add the eggs, vanilla, and salt, and beat again just until combined. Mix in the flour, and beat on low speed just until combined.
Roll the dough into 1" balls, and set the balls aside on a cookie sheet.
When the waffle iron is ready, place dough balls on the waffle iron. If you are using a heart-shaped waffle iron, you can read my tips above on how to place the dough on the waffle iron. If you have a standard square waffle iron, place 1 dough ball in each of the four smaller squares. Close the lid and cook for 2-3 minutes, until cookies are golden. Use a fork to gently lift the cookies from the waffle iron; place them on a cooling rack to cool completely. Repeat with remaining dough balls.
When the cookies have cooled, place the candy melts in a glass measuring cup, and melt according to the directions on the package. Dip one edge of the cookies in the melted candy, shaking gently to remove an excess candy coating. Place the dipped cookies back on the cooling rack, and sprinkle with pink and red sugar. Allow the candy to harden before serving the cookies.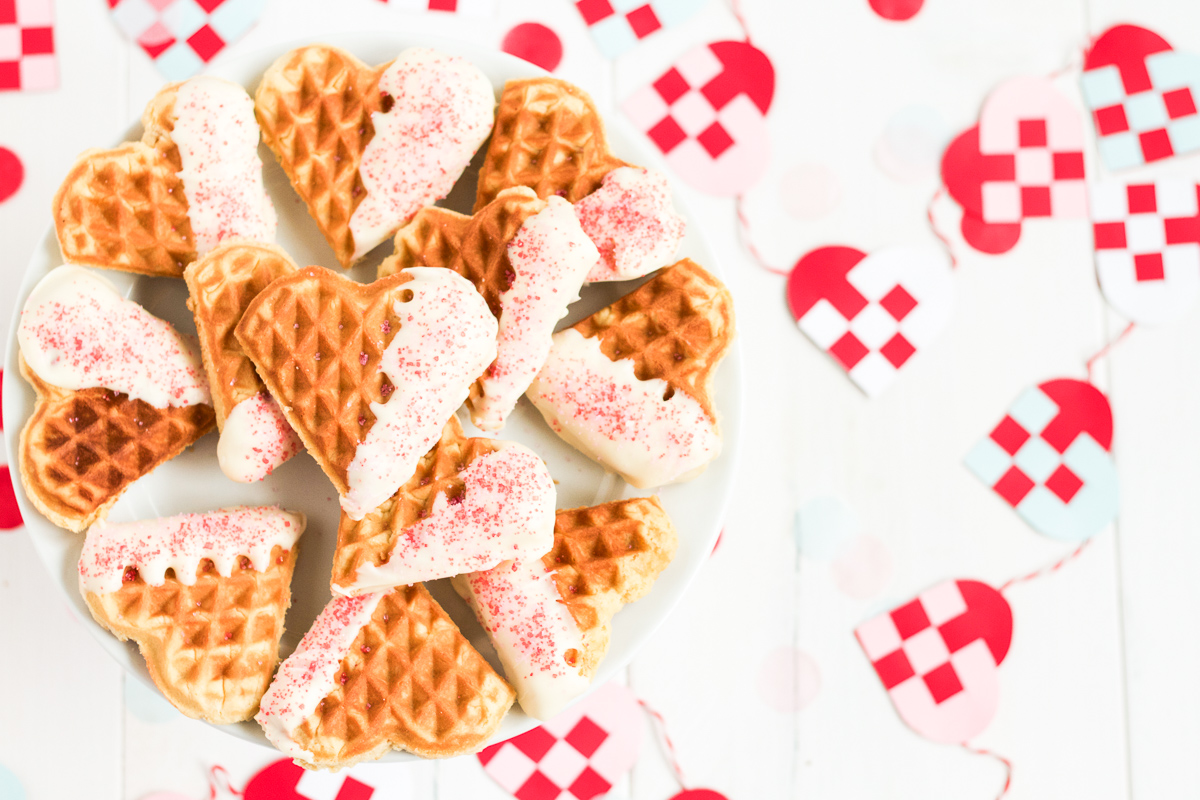 **This post contains affiliate links. You can read more about them on our policies page.**