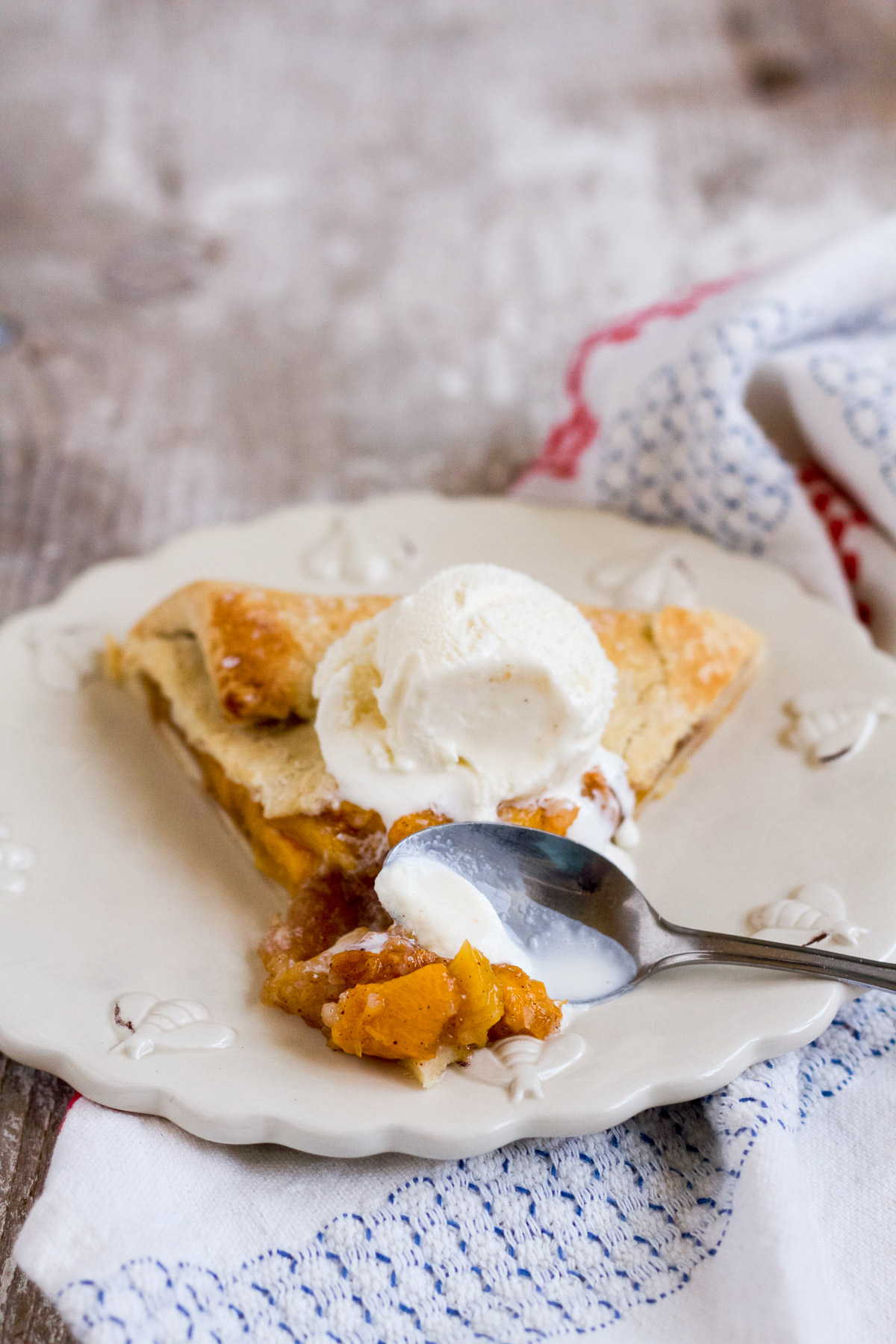 I know, I know. It's September. The days are still sunny and warm, but the evenings are decidedly chilly. It's time to trade in sandals and bathing suits for boots and cozy sweaters. Pumpkin Spice Latte and Spiced Apple are the flavors du jour. But if you're anything like my 8 year-old, who spent an hour last night crying about how much she misses summer, you'll love this easy peach galette filled with the sweet, lingering flavors of summer.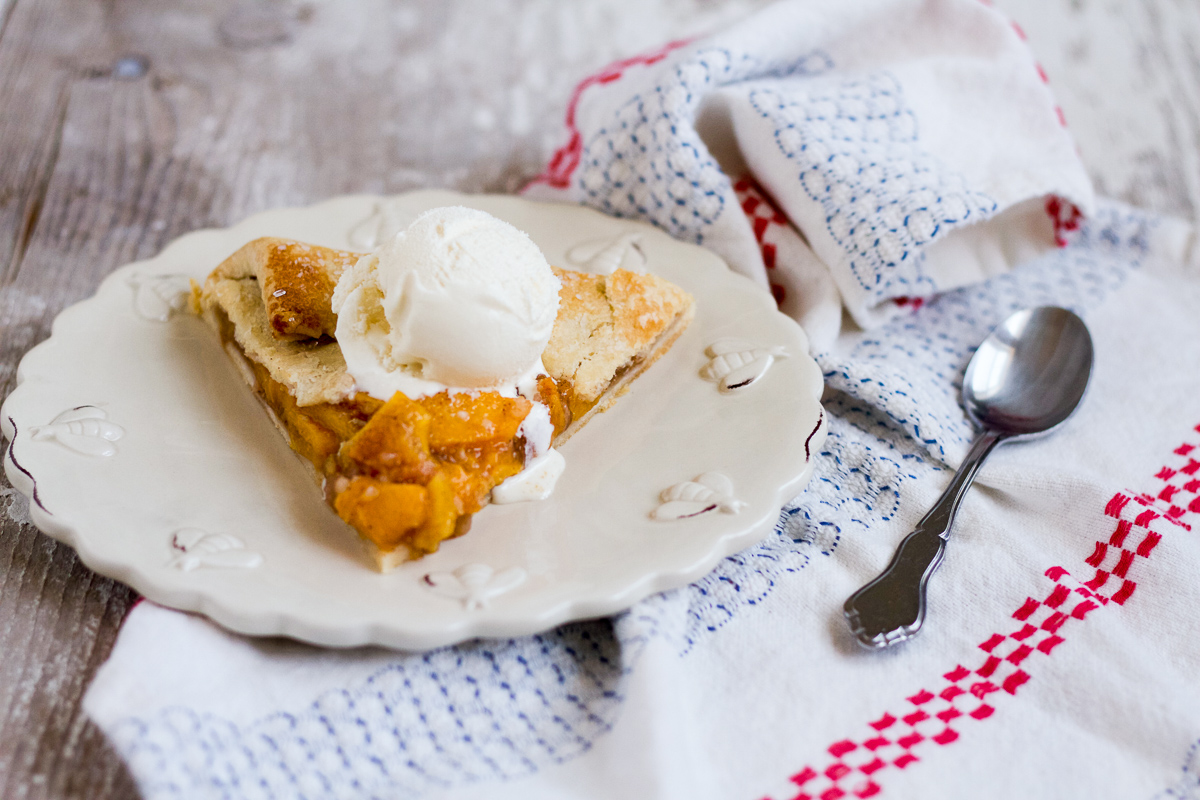 If you've never made a galette, get ready to fall head-over-heels in love! Galettes are basically just like pies only a thousand times easier. I know my number one problem with pies is the crust. It isn't terribly hard to make a pie crust taste amazing or even to be tender and flaky. But it is really hard to make a pie crust taste amazing AND be tender and flaky AND bake up nicely without shrinking or leaking or collapsing or sagging. With a galette, you simply roll out the pie crust, spoon the filling into the middle, and fold the edges in. It can shrink and shift around as much as it wants, and it will still look beautiful. It is the epitome of an effortless, rustic dessert. And this galette, filled with sweet peaches and a hint of spice, is as delicious as it is easy to make.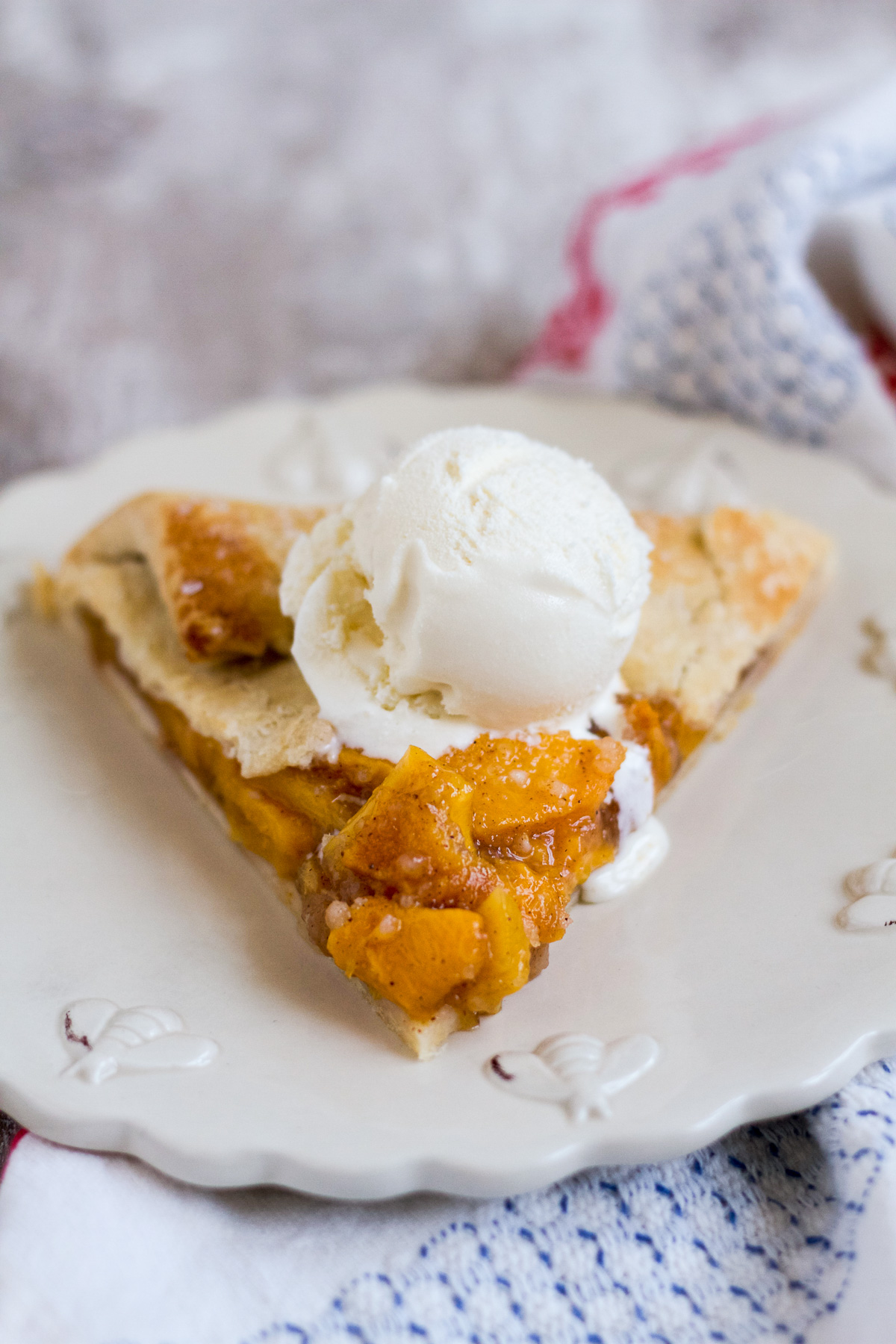 Fresh Peach Galette
Galettes are the epitome of rustic, effortless desserts. This one is filled with sweet, ripe peaches and a hint of spice, and tastes like the last lingering days of summer.
Ingredients
for the crust
1⅓ cups flour
⅛ teaspoon salt
1 stick cold butter, cut into cubes
4 Tablespoons ice water
coarse sugar for sprinkling
milk or cream for brushing on the crust
for the peach filling
½ cup sugar
1 Tablespoon cornstarch
1 Tablespoon minute tapioca
½ teaspoon cinnamon
a pinch of nutmeg
a pinch of salt
3 heaping cups each of fresh peach slices, peeled
Instructions
Preheat the oven to 400°F.
To make the crust, pulse flour and salt in the bowl of a food processor until combined. Add butter chunks and pulse just until butter is in pea-sized clumps. Slowly add cold water and run food processor just until dough comes together in one mass. Shape the dough into a flat disk, wrap in plastic wrap, and refrigerate for 1 hour.
To make the filling, combine sugar, cornstarch, tapioca, spice, and salt in a large bowl. Add peaches and toss to coat; set aside.
Place dough on a well-floured surface and roll into a large circle ⅛″ thick. Transfer the dough to a parchment-lined baking sheet.
Spoon the filling into the middle of the dough. Fold one section of the dough towards the middle of the filling, being sure not to cover the filling completely. Continue folding the dough toward the center until all of the dough has been folded in, and the filling is safely held in. Brush the top of the crust with milk or cream, and sprinkle with coarse sugar. Bake for 20-30 minutes or until the crust is golden and the filling is bubbling. Remove from oven and place on a cooling rack to cool completely. Cut into wedges to serve.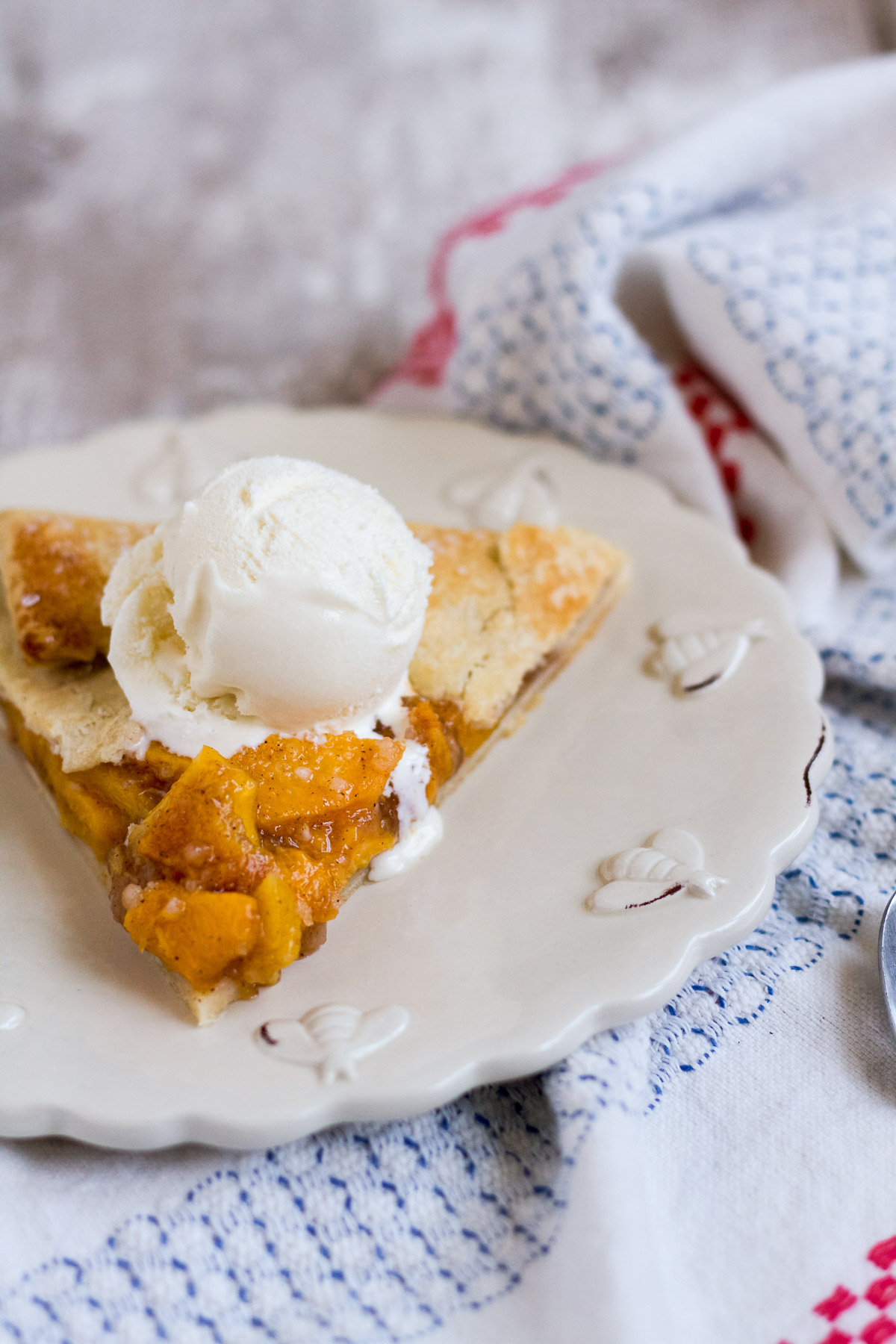 If you follow me on Instagram, you know that I've been making galettes all summer! When you're done enjoying your peach galette, be sure to try this yummy summer berry galette too. It has a mixture of blueberries, raspberries, and blackberries in the filling, and is another simple and stunning dessert.