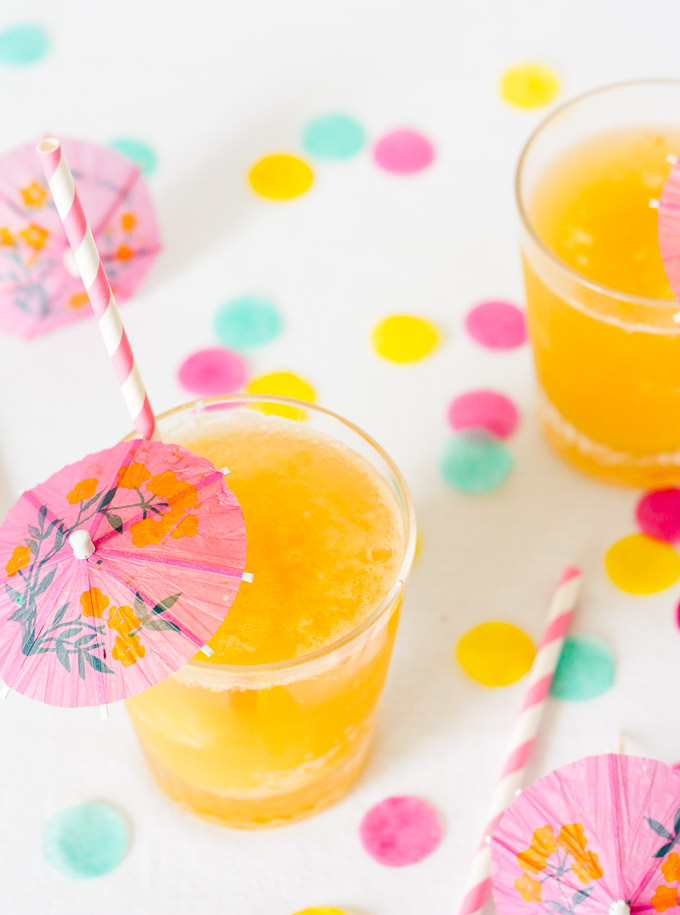 When I was little, one of my favorite special family treats was slush. My Nana got the recipe from her sister-in-law back in the 60's, and it's been a family favorite ever since. My mom always made it for New Year's when I was growing up, and we kids would lay around in our jammies eating yummy food and drinking slush all day long. It always seemed so fancy and sophisticated to me back then, and I love to make it for special occasion for my own family now.
Even though our family tradition is to make slush during the holidays, its frosty temperature and tropical ingredients make it perfect for warm weather too. Luaus, graduation parties, barbecues, and brunches—it would be a yummy addition to each and every one.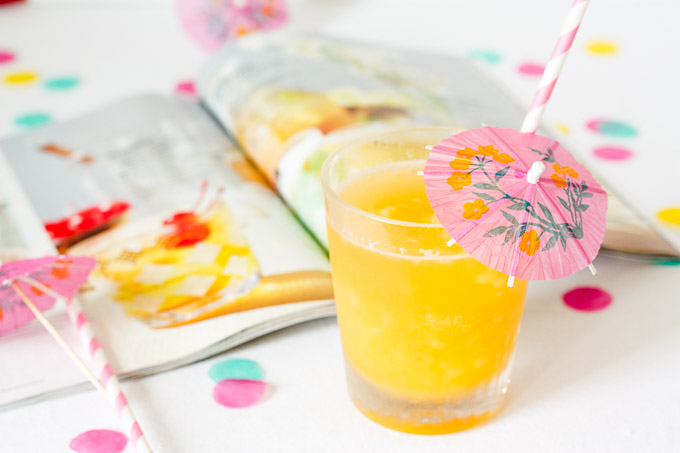 Tropical Party Slush
A mixture of pineapple, banana, and citrus is frozen, cut into ice cubes, and topped with your favorite fizzy drink in this family-friendly, retro Tropical Party Slush.
Ingredients
3 cups water
3 cups sugar
23 oz pineapple juice
23 oz tangerine juice (You can use OJ in a pinch.)
4 oz frozen OJ concentrate
4 oz frozen lemonade concentrate
8 oz can crush pineapple
2 ripe bananas, mashed
Instructions
In a large pot, combine water and sugar. Cook over medium heat until the sugar is completely dissolved; set aside to cool.
When the sugar water is cool, add all the remaining ingredients to the pot and stir to combine.
Pour the mixture into a 9x13 baking dish, cover with plastic wrap, and freeze until solid.
Cut mixture into cubes, put the cubes in glasses, and top with ginger ale or lemon-lime soda. If you like your drinks a little less sweet, you can use club soda or seltzer.
Let your glass sit for a few minutes to let the slush melt, mix it up with a spoon or swizzle stick, and enjoy!
Better Homes & Gardens has a new magazine, Get Together, that just put out its pilot issue. It's all about entertaining, and has recipes, crafts, party ideas, and more. BHG asked me if I wanted to participate in a fun, retro recipe party in honor of the new magazine release, and I immediately knew that Nana's slush recipe would be the perfect drink for their throwback party. Definitely check out the new magazine for tons of really wonderful party recipes, crafts, and ideas, and if you want to download some super cute printable recipe cards, click HERE.