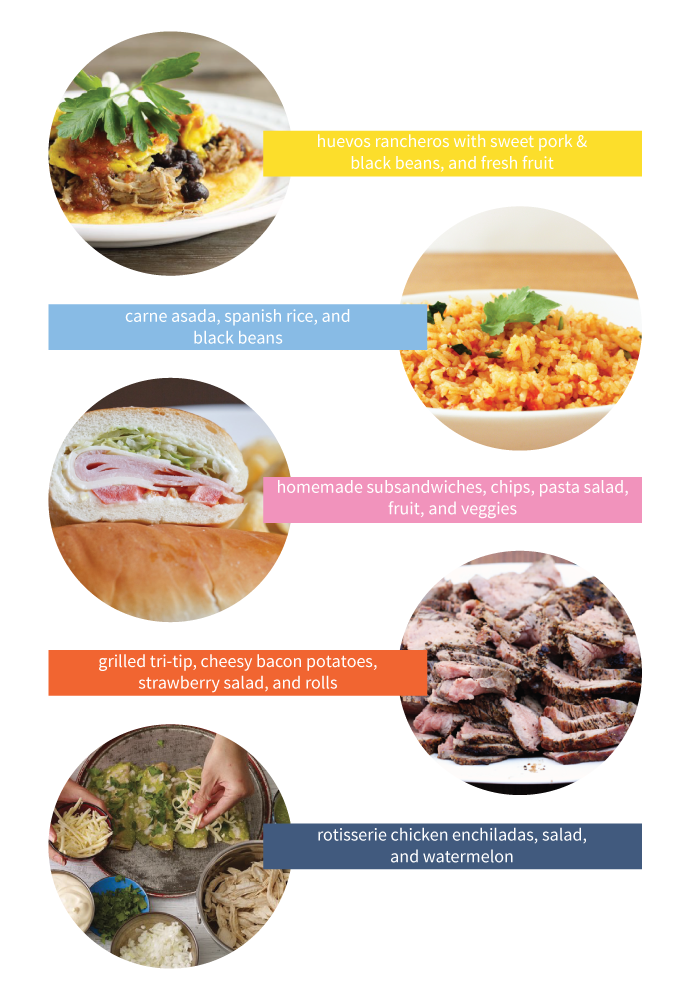 Good morning, everybody! I'm excited to share another installment of This Week's Menu Ideas with you this morning. I had all of the ideas ready to go for last weekend, and then I got busy having fun with my family and decided to let it wait until this weekend. So these are actually last week's menu ideas, but I think we'll keep the name as is, yes? A few of these dinners have lots of components, but by timing everything just right, they don't take much time at all.
Huevos Rancheros with Sweet Pork & Black Beans and Fresh Pineapple
Mexican food is one of the categories that's on weekly rotation at our house, and these huevos rancheros with sweet pork & black beans were delicious and a little new and exciting because I haven't made them for a while. The pork cooks all day in the slow cooker, and everything else is a snap to make just before serving. I love meals that are basically build-it-yourself because everybody can just take what they want. So even my kids, who range from first class eater to extremely picky, liked this dinner.
Carne Asada, Spanish Rice, and Black Beans
My brother-in-law started making this carne asada years ago after living in Mexico for a bit, and now the family requests is whenever we get together. This is another meal that has a few different things to make, but if you plan well, it isn't hard or time consuming. You can make the marinade for the meat in less than 5 minutes in the blender, and then grill the flank steak while the Spanish rice is cooking. And I knew we'd be having black beans two nights in a row (because I love them and can't get enough of them), so I just made an extra big batch the first night and reheated them on night two.
Homemade Sub Sandwiches, Chips, Pasta Salad, Fruit, and Veggies
My kids love when we have homemade sub sandwiches for dinner. It's another meal where everybody gets exactly what they want and I'm happy because there's not a ton of prep. We were celebrating a milestone for one of the kids, so we had the whole family to feed and went all-out with sides: chips, pasta salad, fruit, veggies, etc. And I forgot to snap a picture, so forgive the photo from Jimmy Johns.
Grilled Tri-Tip, Cheesy Bacon Potatoes, Strawberry Fields Salad, and Rolls
On Mother's Day, the women in the family decided they wanted my husband to make his famous Tri-tip for dinner, which is another all-time family favorite, with his also-delicious potatoes covered with bacon and cheese on the side. I made one of our favorite strawberry fields salads, and we rounded out the meal with store-bought rolls. It's a great dinner for when you want to put a little effort into the meal, but want to keep things easy and of course, delicious.
Rotisserie Chicken Enchiladas, Salad, and Watermelon
These enchiladas were almost an afterthought, but they turned out fantastic, so I think we might make them again sometime. I took shredded rotisserie chicken and mixed it with a handful of shredded Mexican cheese blend and enough green taco sauce to hold it together just a little. I lightly fried corn tortillas just to soften them up, filled each one with a spoonful of the chicken mixture, rolled them up, and placed them in a lightly greased 9×13″ pan. I topped the enchiladas with a can of mild green enchilada sauce and more cheese, then covered the pan with foil and baked it at 350°F until the cheese was melted and the enchiladas were bubbling and hot. Served with lots of sour cream and homemade guacamole, a green salad, and cubed watermelon. Simple and tasty. [photo from Epicurious]
I'd love to hear if any of you try these recipes! I have heard from several readers who look forward to new posts in this series and have made lots of these meals. That makes me so happy, so if you've tried any, please leave a comment on send me a quick email. And if you need more menu ideas, you can find them in the previous This Week's Menu Ideas posts.