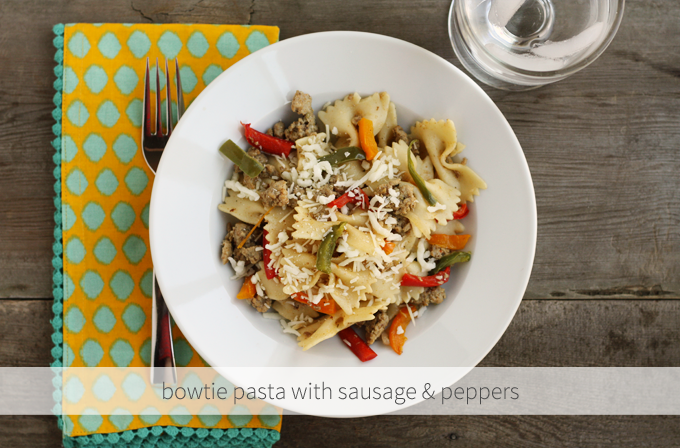 Before we wrap up our week of easy weeknight dinner ideas, I have one more quick, delicious recipe for you. My mom has been making bow ties with sausage and peppers for pretty much as long as I can remember, and it has become a long-time family favorite. When my parents moved to Oregon a few years ago, I made it for them on their first night here as a special surprise. It takes a little longer than the other recipes we've had this week, but it still manages to be a quick and easy weeknight dinner, not to mention delicious. And it makes for great leftovers, which I always love. My mom always makes homemade italian turkey sausage, but you can use your favorite italian sausage in its place.
This recipe is another in the Melanie Makes/Lulu Bakes series, where I team up with my friend Melanie from Melanie Makes in a monthly recipe challenge. Our three ingredients this month were pasta, green bell peppers, and mozzarella cheese, and as soon as I heard what our ingredients were, I knew what recipe I wanted to make. Be sure to visit Melanie's fantastic blog today as well to see what delicious recipe she came up with featuring our three ingredients.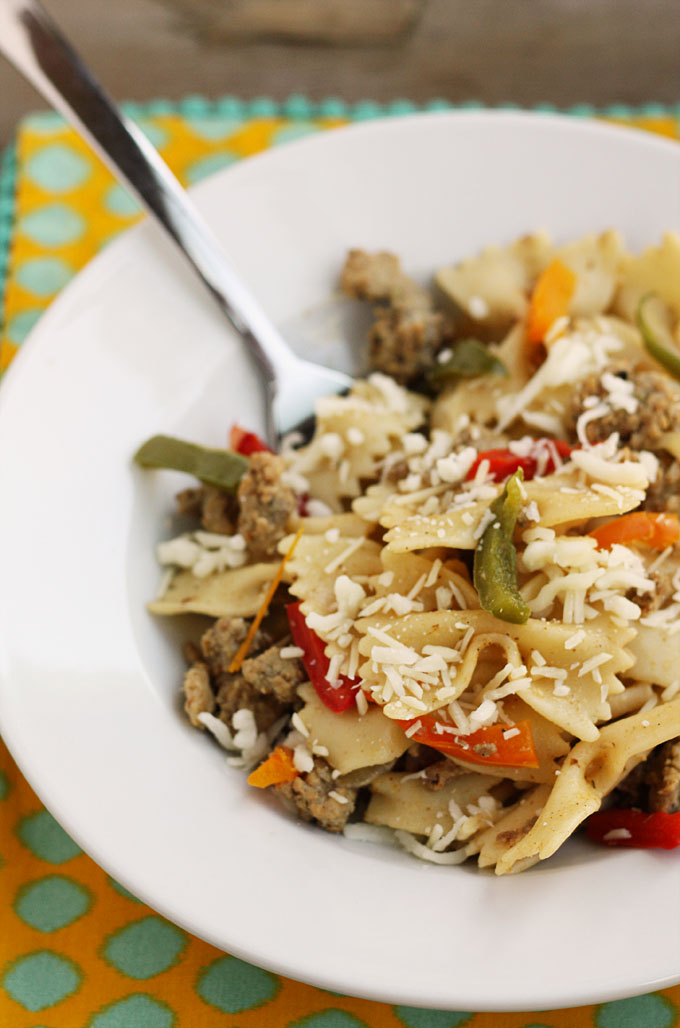 Bow Tie Pasta with Sausage & Peppers
Ingredients
1 lb bow tie pasta
1 lb italian sausage (recipe below)
olive oil
2 bell peppers, cut into short, thin strips
½ large onion, cut into short, thin strips
1 cup chicken broth
2 teaspoons cornstarch
salt and pepper
parmesan cheese
shredded mozzarella
for the italian sausage
1 lb ground turkey (NOT ground turkey breast, which is way too lean for this recipe)
2 teaspoons paprika
1 teaspoon garlic powder or 2 teaspoons minced fresh garlic
1½ teaspoons whole fennel seeds
1 teaspoon dried italian seasoning
¼ teaspoon crushed red pepper (optional)
½ teaspoon salt
Instructions
Put a large pot of salted water on to boil. Cook bow tie pasta according to package directions. Drain, and set aside.
While waiting for the water to boil, combine all sausage ingredients in a large bowl. Mix with your hands until well-combined. Drizzle a little olive oil in a large skillet, and cook sausage mixture over medium heat until no longer pink. Add peppers and onions, and continue cooking until vegetables are tender.
In a small bowl, whisk chicken broth and cornstarch until smooth. Add to the skillet and simmer until slightly thickened.
Add sausage and pepper mixture to the drained pasta, toss, and add salt and pepper to taste. Serve topped with parmesan cheese and shredded mozzarella.