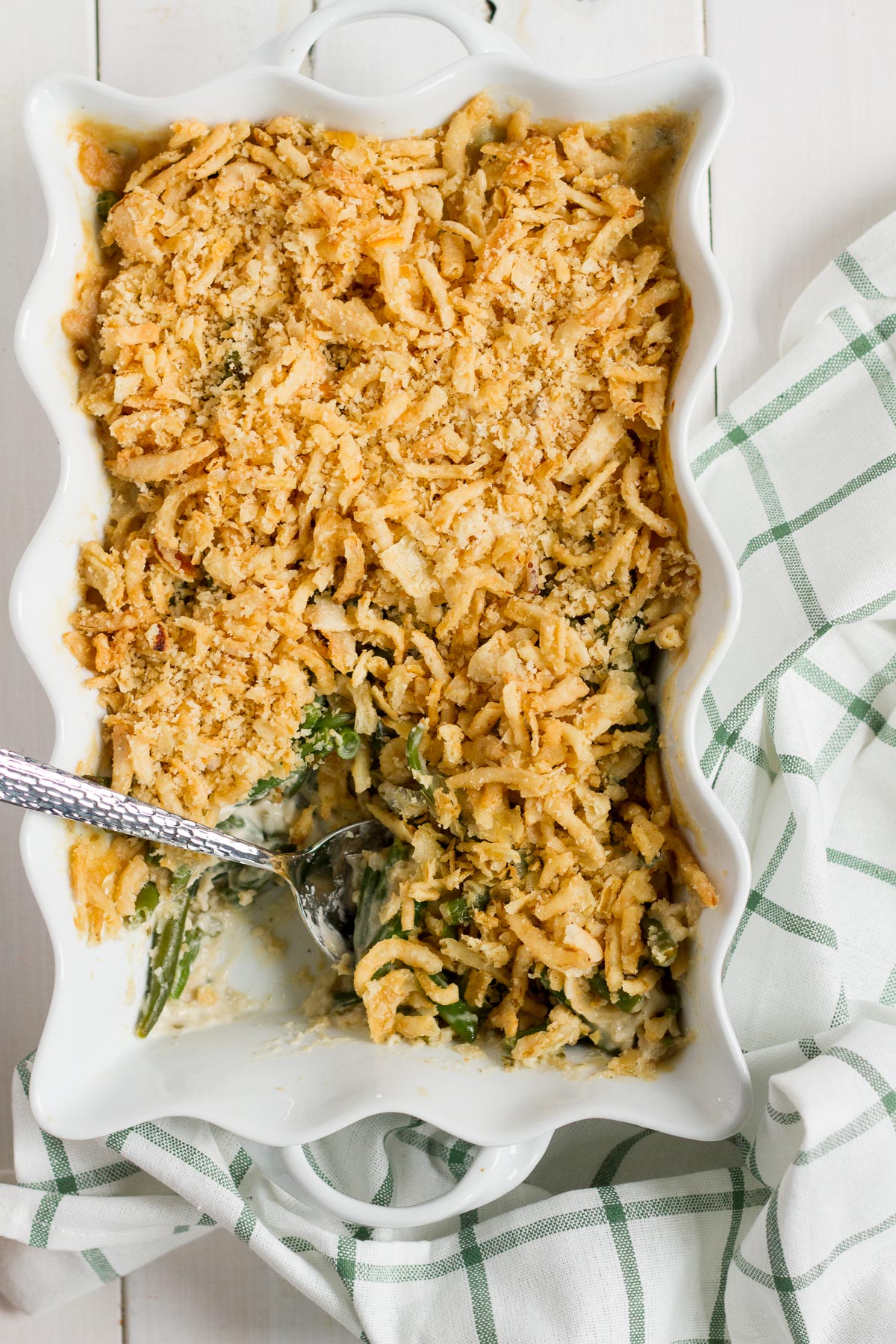 **This post contains affiliate links. You can read more about them on our policies page.**
Yesterday, I got to share with you the first of two delicious recipes from America's Test Kitchen's brand new The Side Dish Bible—Slow-Cooker Buttermilk Smashed Red Potatoes. They are a fuss-free twist on classic mashed potatoes, and would make a great addition to your Thanksgiving menu. Today, I get to share another recipe from this awesome new cookbook, and I chose a from-scratch version of a Thanksgiving classic: green bean casserole.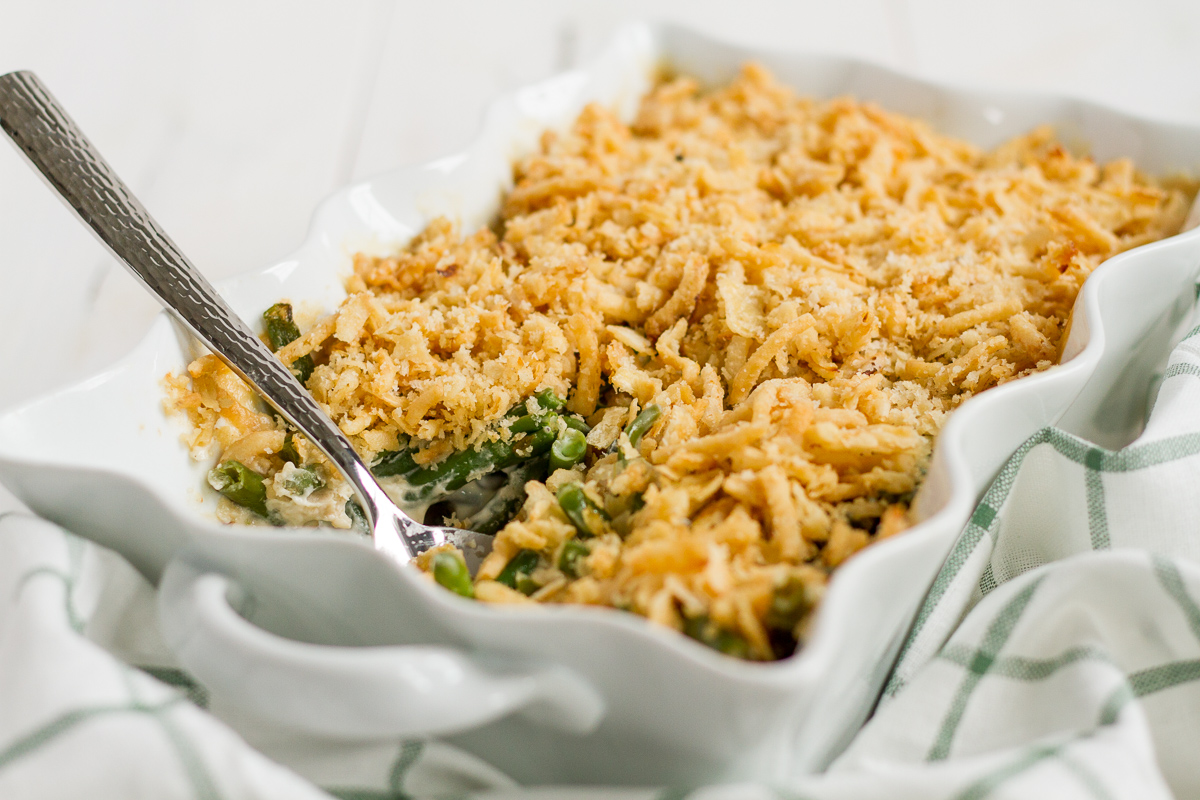 Does your family insist on green bean casserole at Thanksgiving? I know mine does. In fact, I'm currently on a text thread with all of the family members who are coming to Thanksgiving this year discussing everyone's must-have menu items, and green bean casserole is right up there near the top of the list. The Side Dish Bible has a whole chapter on Holiday Classics that contains not one but two recipes for this beloved side dish. I opted to make the Extra-Crunchy Green Bean Casserole, and my family loved it.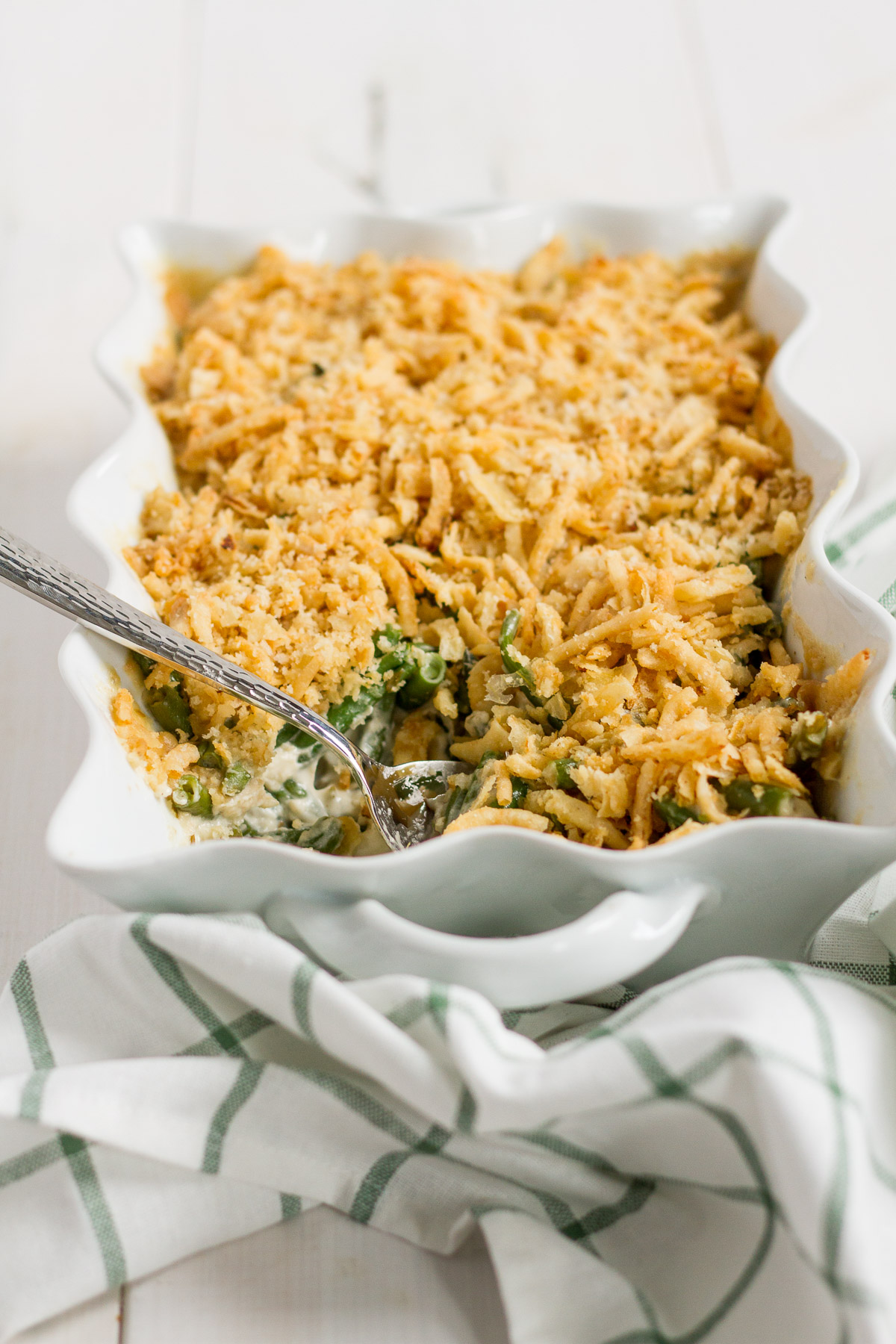 According to the book, it's a "modernized" version of the old favorite. They kept the canned fried onions in the topping (because those little guys are delicious!), but made it even crunchier (and even more delicious) by adding toasted, buttered panko bread crumbs. And the sauce skips the canned cream of mushroom soup, opting instead for a mixture of browned, buttery mushrooms, broth, heavy cream, and flour. The recipe also calls for a generous splash of white wine at the end, which gives the whole dish an extremely delicious, new flavor. If you're looking for an updated green bean casserole recipe to make this year for Thanksgiving, look no further!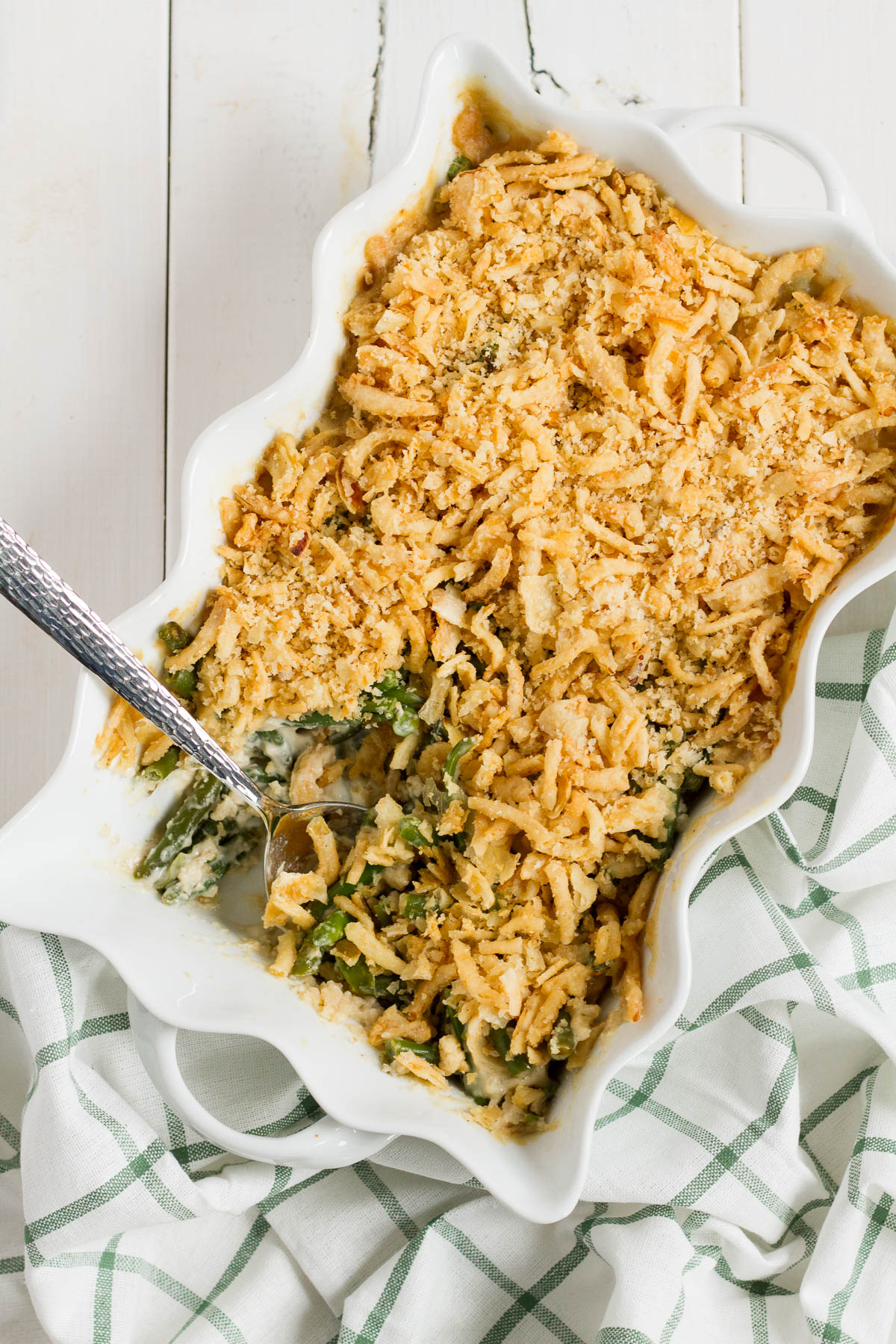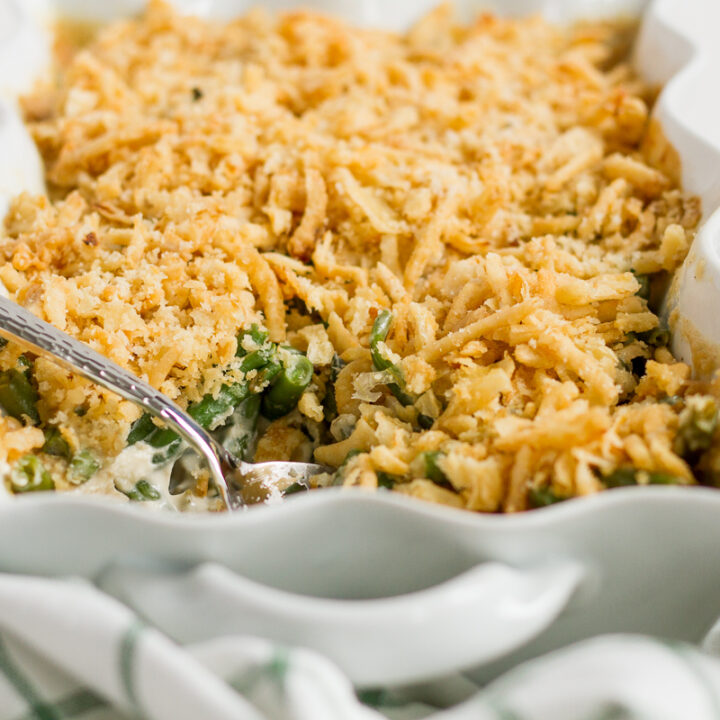 Extra-Crunchy Green Bean Casserole
Yield: 6 to 8

Prep Time: 20 minutes

Cook Time: 25 minutes

Total Time: 45 minutes

This green bean casserole is a delicious update of that classic holiday favorite! Reprinted with permission from America's Test Kitchen's The Side Dish Bible.
Ingredients
for the topping:
1/2 cup panko bread crumbs
1 Tablespoon unsalted butter, melted
2 1/2 cups canned fried onions
for the casserole:
2 pounds green beans, trimmed and cut into 1-inch pieces
3 Tablespoons unsalted butter
1 pound cremini or white mushrooms, trimmed and sliced thin
1 Tablespoon minced fresh thyme
2 garlic cloves, minced
1 1/2 teaspoons table salt
1/2 teaspoon pepper
1/4 cup all-purpose flour
1 1/2 cups chicken broth
1 1/2 cups heavy cream
1/2 cup dry white wine
Instructions
For the topping: Combine panic and melted butter in bowl. Microwave, stirring occasionally, until panic is golden brown, about 2 minutes. Let cool completely, then stir in fried onions; set aside.
For the casserole: Adjust oven rack to middle position and heat oven to 400°F. Combine green beans and 1/2 cup water in large bowl. Cover and microwave until green beans are just tender, about 8 minutes, stirring halfway through microwaving. Drain green beans in colander; set aside.
Melt butter in 12-inch nonstick skillet over medium-high heat. Add mushrooms, thyme, garlic, salt, and pepper and cook until liquid is nearly evaporated, 6 to 8 minutes.
Stir in flour and cook for 1 minute. Slowly whisk in broth, cream, and wine and bring to boil. Cook, stirring occasionally, until sauce has thickened, 4 to 6 minutes. Transfer green beans to 13x9-inch baking dish. Pour sauce over green beans and toss to combine.
Bake until bubbling and green beans are completely tender, about 25 minutes. Remove from oven, top with fried-onion mixture, and let cool for 10 minutes. Serve.
Notes
After cooling completely, casserole can be covered with foil and refrigerated for up to 24 hours. To serve, bake, covered until green beans are heated through and completely tender, about 40 minutes. Uncover and bake until edges begin to brown, about 10 minutes.



To find yesterday's recipe for Slow-Cooker Buttermilk Smashed Red Potatoes, click HERE. And for a few more hours, I'm giving away a copy of The Side Dish Bible in my Instagram feed, so click HERE to visit and enter. For more Thanksgiving recipes, visit my Thanksgiving Archives HERE.