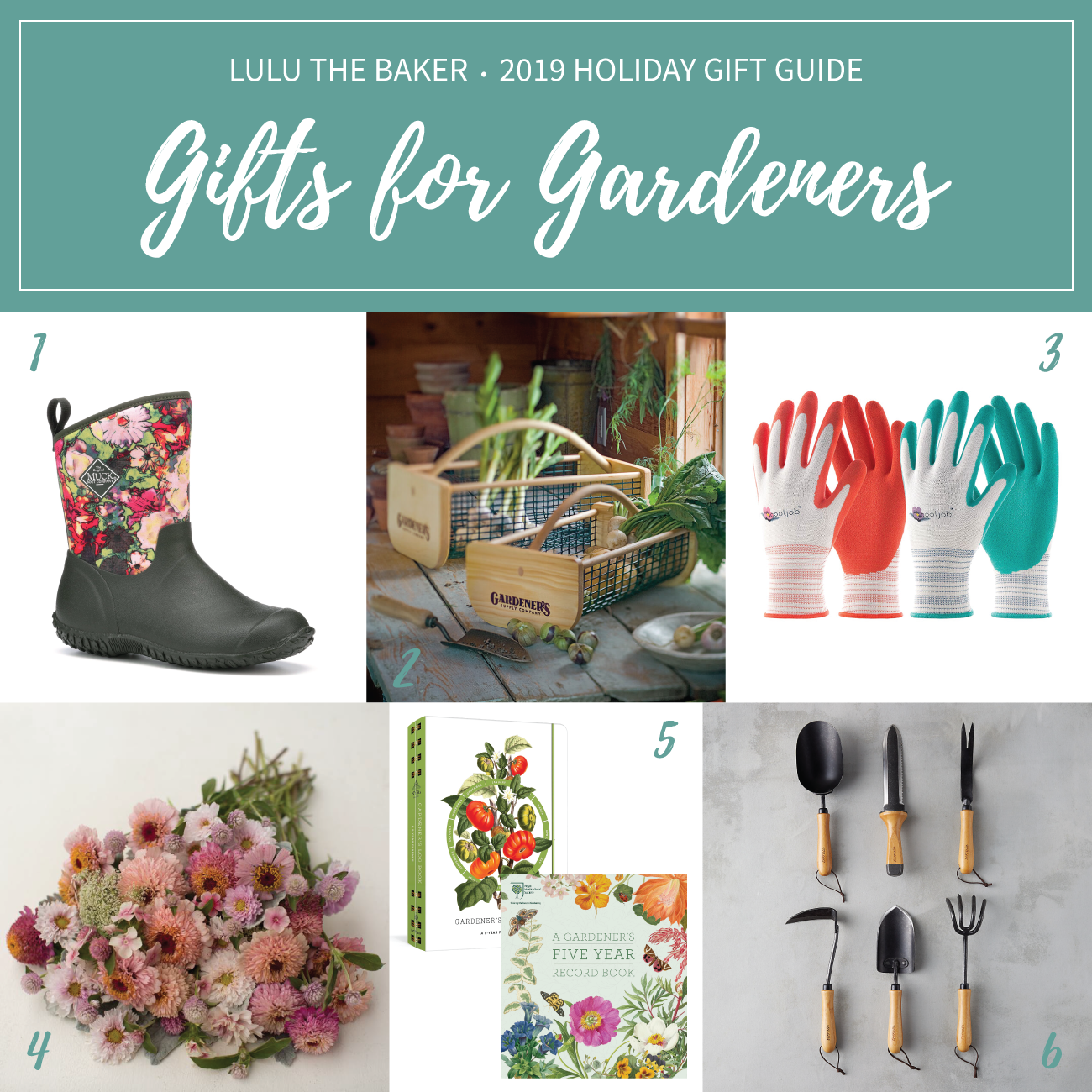 **This post contains affiliate links. You can read more about them on our policies page.**
It's been a few years since I posted any gift guides! I always think they're fun to read, so this holiday season, I thought I'd share some of my favorite things in case they inspire you in the gift-giving department. Today's gift guide is for the garden-lovers in your life. I've rounded up some of my favorite, must-have gardening items that are as pretty as they are practical, so they make perfect holiday gifts for gardeners.
Women's Muckster II Mid from The Original Muck Boot Company: The Original Muck Book Company gifted me a pair of these boots earlier this year, and they are without a doubt my very favorite gardening boot ever. "Comfortable" probably isn't a word most people think of when describing their gardening boots, but these boots are exactly that. They felt different—noticeably comfortable—the first time I put them on, and after wearing them all summer for hours on end, my opinion hasn't changed. They're solidly made, keep my feet warm and dry during cold, wet weather, and can fold down on warm summer days when taller boots would be too hot to wear. And I love the floral pattern on the uppers.
A harvest basket: During the summer month, I never seem to have enough harvest baskets, particularly pretty ones that can sit out on the counter all summer and look beautiful. I love this Harvest Berry Gathering Basket and these Garden Hods, both from Gardeners.com. And they're made in New England—how cool is that?
Stretchy, Latex-Coated Gardening Gloves: I've tried just about every style of gardening gloves out there, and this year, I discovered my favorite: cheap, knit gloves with the palms and fingers covered in latex. I love these gloves because they fit well and are stretchy, they're relatively thin so you can actually tell what your hands are doing, and they are pretty easy to clean off when they get dirty. They're also inexpensive and usually come in multipacks.
Seeds: For Christmas a few years ago, my husband gave me dozens of packets of seeds to start a flower garden. It was such a unique, thoughtful gift. And the following summer, it made me happy all over again when those flowers bloomed. You probably can't find too many seed packets around town at the moment, but they're readily available online. Some of my favorite seed companies are Botanical Interests and Floret Farms, which both have seed packets pretty enough for gifting.
A Garden Journal: Every gardener needs a place to write down and keep track of what they plant in their garden and when. I just write things on scraps of paper and stuff them in an ugly binder, and friends, I can do better than that! All you really need is a nice notebook or journal, but for holiday gifting, why not buy something a little more beautiful, like this one from the Royal Horticultural Society, or this one from the New York Botanical Garden. Bonus: both of those options are actually 5-year log books specifically formatted for gardening.
New garden tools: If your favorite gardener is anything like me, they are constantly misplacing their trowel. I can never find it!! Hence, I can always use a new one, especially if it is beautiful and well made. This whole set of garden tools from Terrain is lovely.
For more gift guides, visit my Gift Guide Archives HERE. Do you have any go-to gardening items that would make great holiday gifts for gardeners?