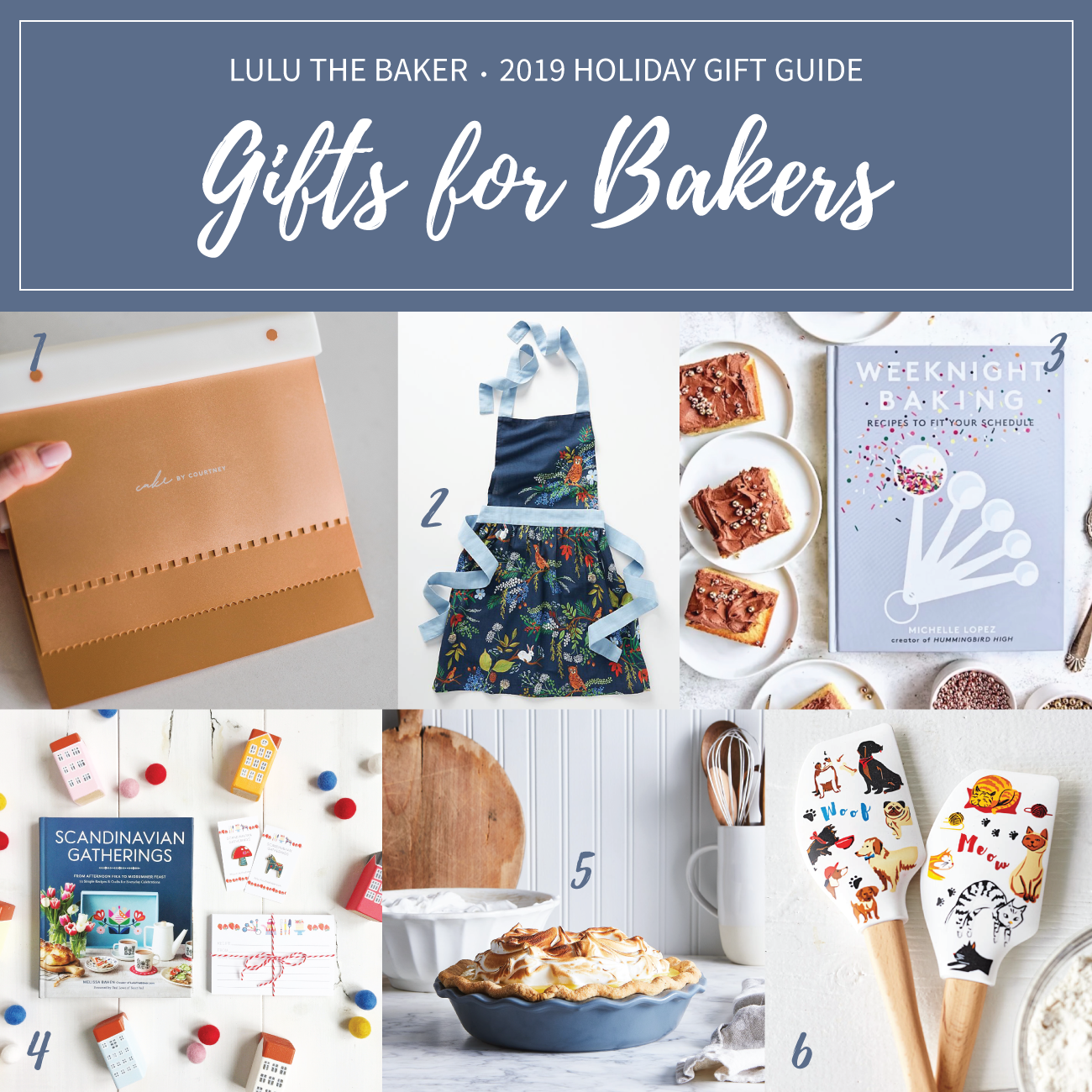 **This post contains affiliate links. You can read more about them on our policies page.**
My second gift guide for this holiday season is all about baking. I think people who have interests and hobbies are super easy to shop for—you just get them something that helps them do what they love more often and with better supplies. Today, I've rounded up some of my favorite gifts for bakers. All of these items are ones I have and love or would love to have in my kitchen!
Cake by Courtney Cake Scraper Set: Yes, these cake scrapers are useful for getting ultra smooth cakes (or cakes with cool ridges on the sides), but what really sets them apart is how pretty they are! And as we all know, baked goods taste better when the baker uses pretty kitchen tools. If you're in the market for a big-ticket gift for your baker, Courtney's shop also has copper frosting spreaders that match the cake scrapers, and a beautiful, light pink apron. You could make an awesome gift basket just from Courtney's store!
Rifle Paper Co. Winter Floral Apron: You know what I have a lot of? Cute aprons! And you know what I never get tired of? Cute aprons! Seriously, a cute apron is like a work of art, and no matter how many the baker on your list has, I think they can use another cute one, like this beautiful blue one from Anthropologie. And guess what? There is a matching oven mitt!
Weeknight Baking by Michelle Lopez of Hummingbird High: I'm always on the lookout for wonderful  new cookbooks, and Michelle's brand new book is such a delight! The recipes in Weeknight Baking are all delicious and very approachable. From easy fudge brownies to peanut butter brown sugar cake with chocolate fudge frosting, it is full of dreamy recipes. And the cover is fun and festive.
Scandinavian Gatherings by me, Melissa Bahen: Oh, how I love this book! I still think it's as special and beautiful as the day I first saw a finished copy, and it makes a wonderful holiday gift, whether you have any Scandinavian heritage or not. Because it has some holiday recipes and projects, it is perfect for this festive time of year, but I use my copy all year long and love it, and I think anyone you give it to will feel the same.
An Emile Henry Classic Pie Dish: I have two of these lovely pieces of cookware and adore them. They have ample room for deep dish pies loaded with filling, and the fluted edge makes them quite eye-catching. I have a lot of pie plates, but my Emile Henry dishes are the ones I use first and most often. And they come in lots of pretty colors, although I am partial to the white one.
Sur la Table Spatulas: I feel like I can never have too many spatulas in my kitchen, and my very favorite ones are from Sur la Table. They are heavy duty and sturdy, but comfortable to hold. And they have cute designs on them: wildflowers, cats, dogs, the Eiffel Tower, flamingos, bees, and more!
Do you have any ideas for gifts for bakers on your list? I'd love to hear! If you have a gardener on your holiday gift list, check my other gift guide for this year, Gifts for Gardeners. And for more gift ideas, visit my Gift Guide Archives HERE.