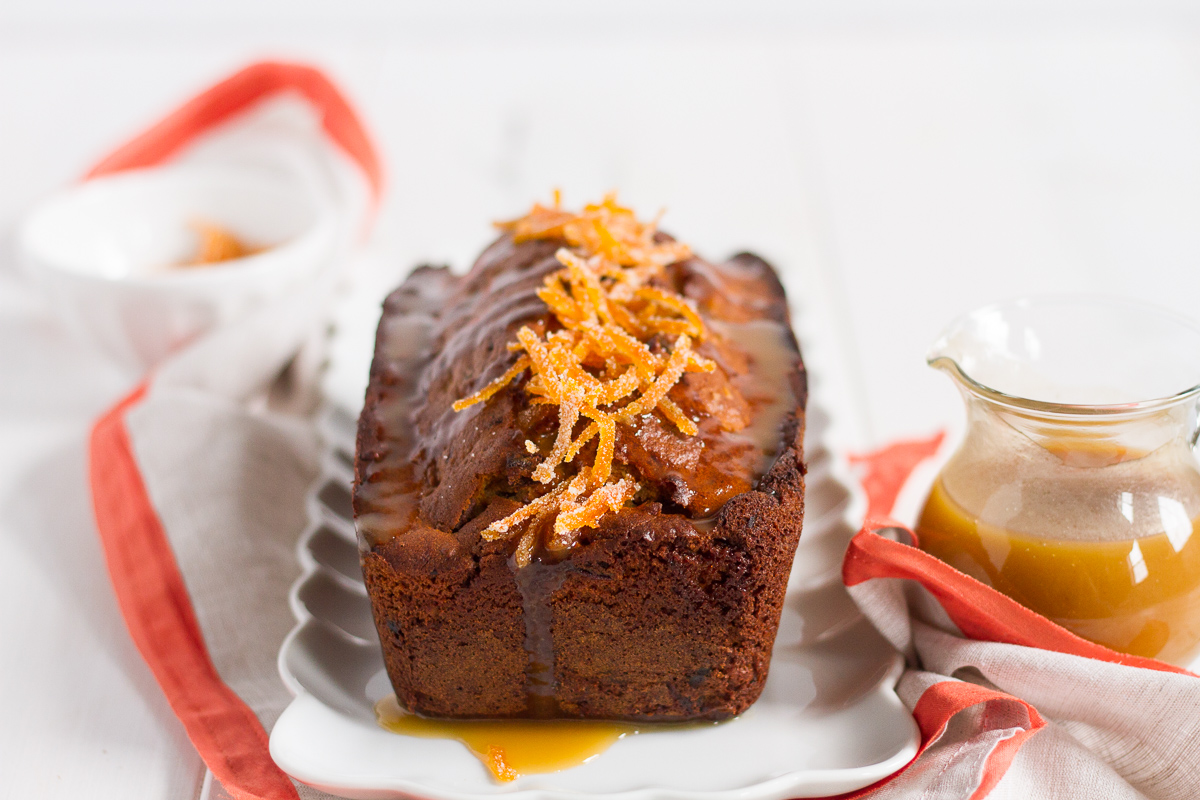 **This post contains affiliate links. You can read more about them on our policies page.**
I have another delicious cake to share with you today that is perfect for the holiday season: Orange, Date, and Walnut Cake with Orange Butterscotch Sauce from my friend Marie Asselin's beautiful cookbook, Simply Citrus. Years ago, I saw a recipe for mini bundt cakes with candied orange peel and dates on the cover of a big magazine's holiday issue. They looked beautiful and sounded so good, but I never made them. A few years later, I saw another recipe in another magazine for a cake that had finely chopped orange slice candies and dates. I actually made that recipe for a community Christmas party and won a baking contest with it! When I was looking through Marie's book, among all the delicious citrus recipes this cake stood out. I already knew from my previous experiences that the combination of oranges and dates would be good. In Marie's capable hands, they were transcendent.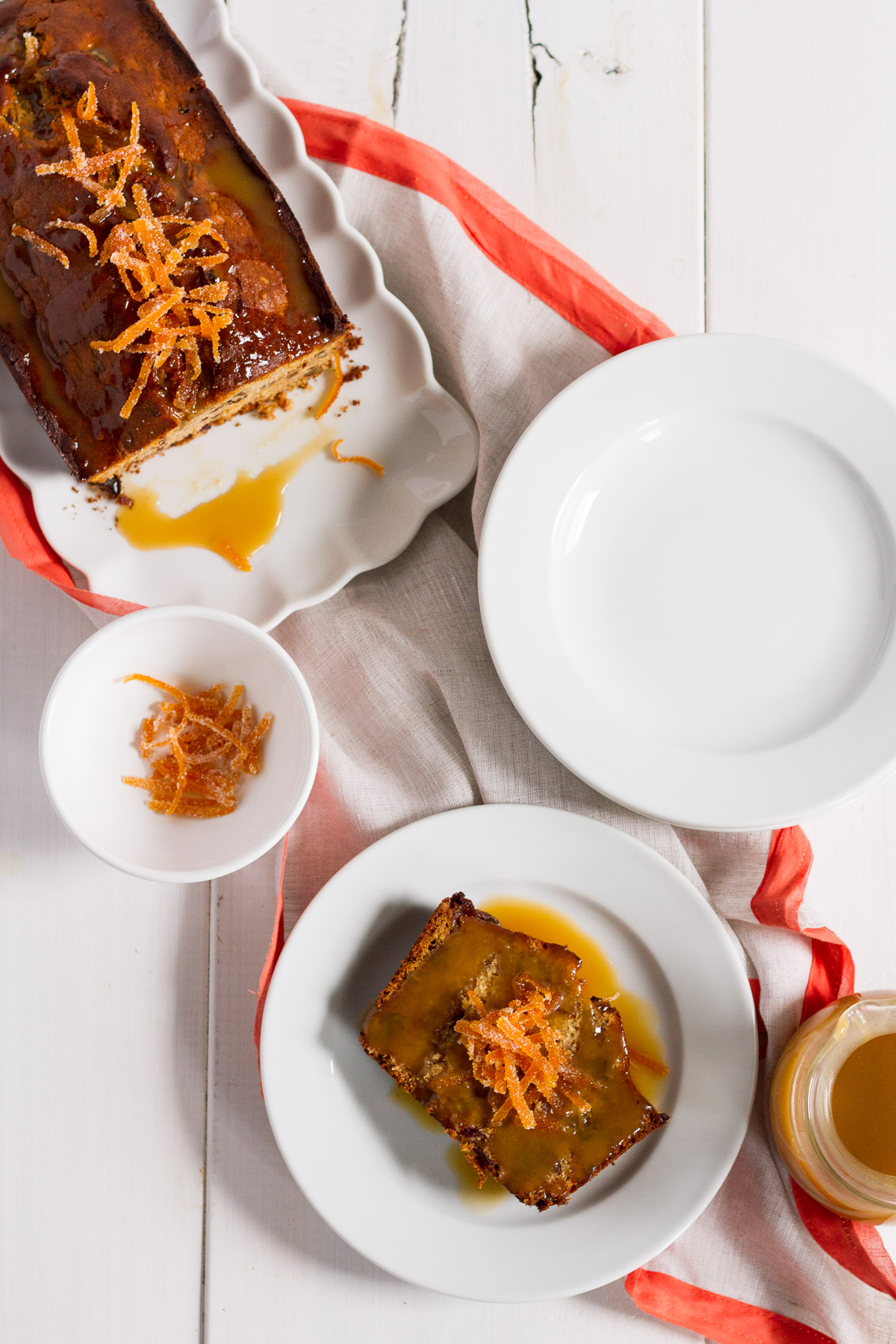 The cake itself is easy to make: the usual flour, sugar, and butter combine with chopped dates, which practically melt as the cake bakes, and crunchy, toasty nuts—in my case pecans because walnuts make my mouth hurt. The recipe also calls for candied orange peel, which is slightly labor-intensive, but also very worth it. After several rounds of boiling and a toss in granulated sugar, the orange peels go from tough and bitter to chewy and sweet. They taste just liked gummy orange candies! One of the lovely things about this recipe is that if you don't want to make the candied orange peel or can't find any to buy, it gives you the option of using orange zest.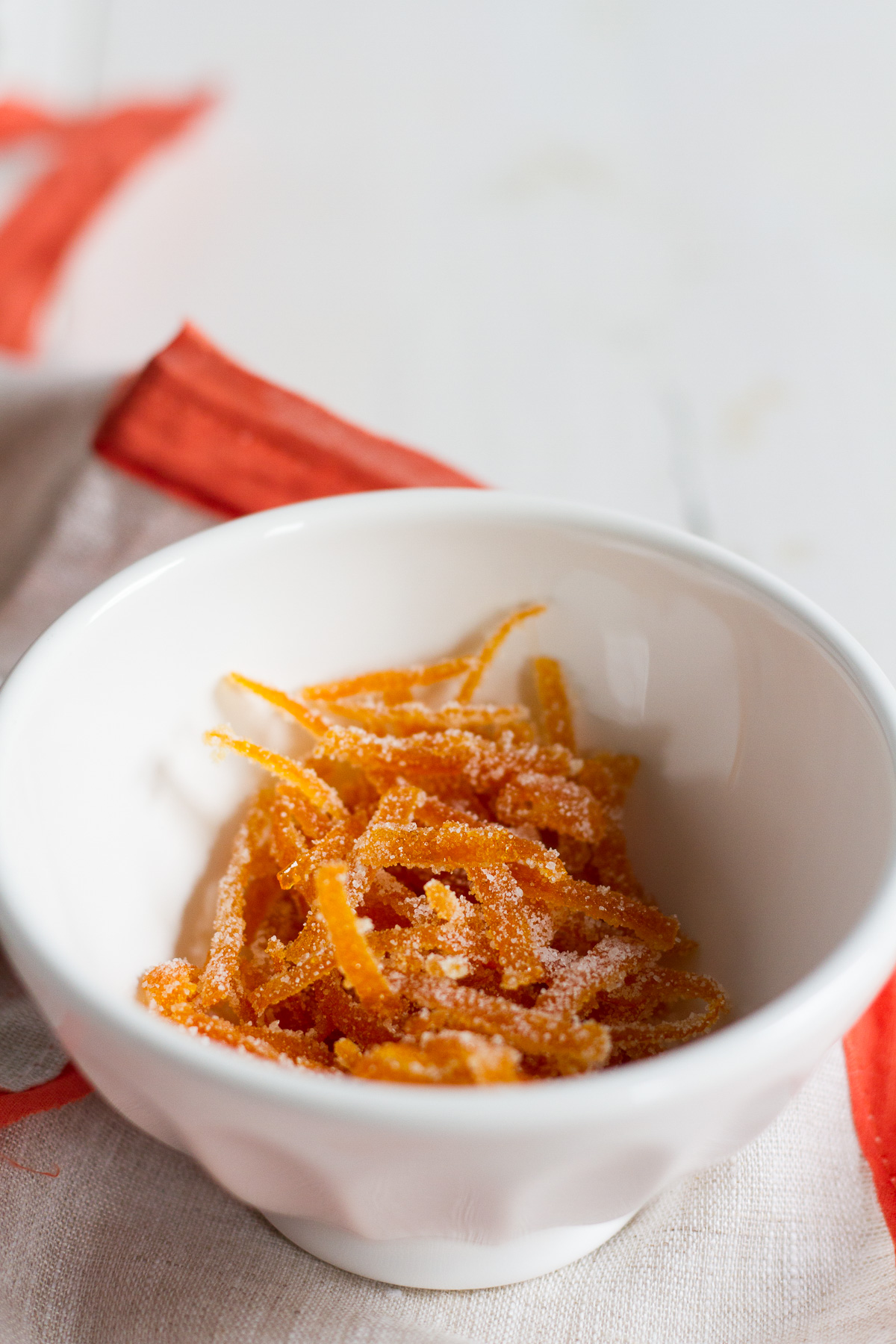 But can I tell you the best part about the cake? The orange butterscotch sauce that takes just a few minutes to throw together on the stovetop and then gets poured over the whole cake (and if you're me, poured over each bite) is silky and rich and luxurious. It was so good I wanted to eat it with a spoon. I actually licked my plate when I was done eating my cake because I wanted every last drop of that sauce!
I'm giving away a copy of Marie's book, Simply Citrus AND a copy of my book, Scandinavian Gatherings, at the bottom of this post. Scroll past the recipe to find all the entry options. And Marie is sharing my Spiced Pear Bundt Cake with Homemade Caramel Sauce on her blog today and hosting the same giveaway, so head over there to grab that recipe, along with more chances to win our books! And then make this cake for your family and friends, or just as an indulgent treat for yourself. Happy Holidays to YOU!
[Recipe from Simply Citrus by Marie Asselin, reprinted by permission of Gibbs Smith.]

Orange, Date, & Walnut Cake with Orange Butterscotch Sauce from Simply Citrus
A moist, delicious cake filled with oranges, dates, and nuts, and topped with a luxurious orange butterscotch sauce.
Ingredients
for the cake:
1 cup freshly squeezed orange juice
2 cups loosely packed chopped pitted dates (about 5.25 ounces)
2 cups all-purpose flour
2 teaspoons baking powder
½ teaspoon baking soda
½ teaspoon kosher salt
¼ teaspoon ground cloves
½ cup butter, room temperature
½ cup firmly packed brown sugar
2 eggs
2 teaspoons vanilla extract
½ chopped walnuts (or pecans)
2 Tablespoons candied orange peel or orange zest
for the orange butterscotch sauce:
½ cup butter
1 cup firmly packed brown sugar
½ cup heavy cream
½ cup freshly squeezed orange juice
1 Tablespoon Cointreau or Grand Marnier, optional
1 teaspoon vanilla extract
¼ teaspoon kosher salt
candied orange peel for serving
Instructions
Preheat oven to 350°F. Generously grease a 9x5-inch loaf pan. Line with parchment paper.
Heat the orange juice until hot. Put the dates in a bowl and pour the juice over them. Let dates soak for 10 minutes, stirring from time to time.
In a bowl, whisk the flour, baking powder, baking soda, salt, and cloves together. Set aside. Strain the dates from the orange juice, and set bot the juice and the dates aside.
In a large mixing bowl, beat the butter and brown sugar until light and fluffy. Add the eggs, one at a time, beating well between each addition, and then beat in the vanilla. Add one-third of the flour mixture and stir just to combine. Stir in half of the juice. Repeat the steps, ending with the flour mixture. Fold in the dates, nuts, and candied orange peel. Do not overmix.
Pour the batter into the loaf pan and bake for 60-70 minutes, or until a toothpick inserted into the center comes out clean. (If the top of the cake gets too dark before the end of baking time, loosely cover with aluminum foil and bake until done.) Let cool in the pan for 15 minutes; unfold, set onto a wire rack, and cool completely.
To make the orange butterscotch sauce, melt the butter in a heavy-bottom saucepan over medium heat. Add the brown sugar, cream, juice, Cointreau, vanilla, and salt; whisk to combine. Bring to a gentle boil and cook for 10 minutes, stirring occasionally, until the sauce is thick and glossy. Transfer to an airtight jar.
Serve the cake warm or room temperature, generously drizzled with warm sauce. (The sauce may separate after refrigeration. Simply reheat and stir thoroughly before serving.) Top with candied orange peel.
Notes
Recipe from Simply Citrus by Marie Asselin, reprinted by permission of Gibbs Smith.
a Rafflecopter giveaway