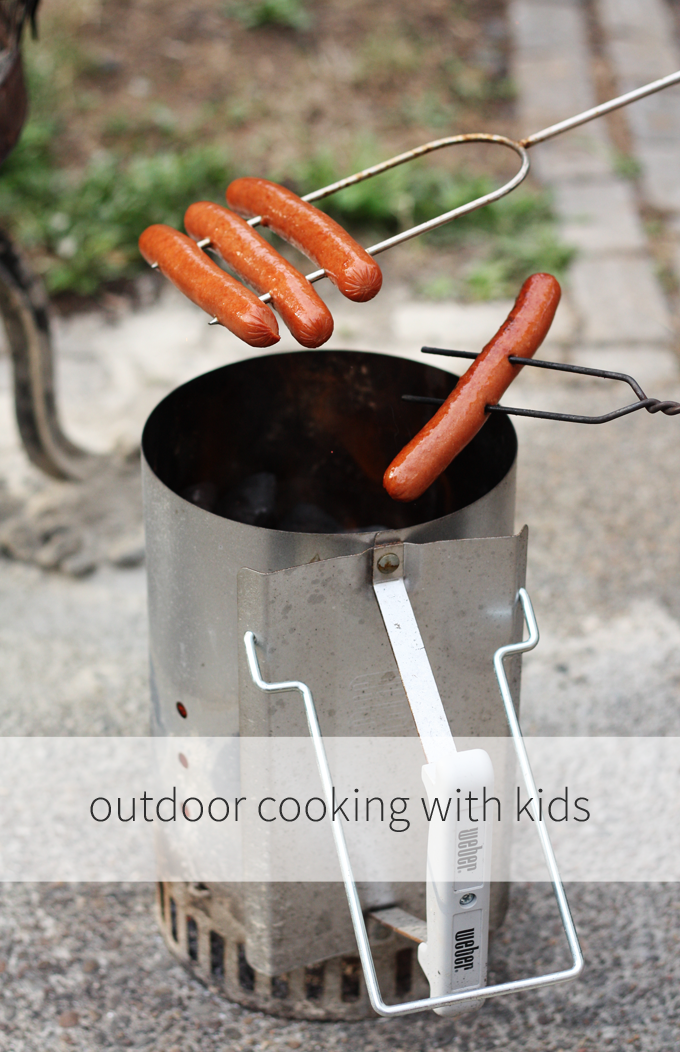 There's nothing quite like eating al fresco in the warm, summer months. We love cleaning off our patio table and sitting down to eat together in the balmy evening air. We also love cooking outside, especially on days where the thought of turning on an oven or slaving away over a hot stove is unbearable! And cooking outside can be great fun for the whole family, whether you're at home in your own backyard or on a campout in the woods. Here are a few of our favorite kid-friendly outdoor meals/methods…
Roasting! Everybody loves to roast marshmallows and make s'mores during the summer; s'mores are practically a nightly event in our family! But a good, old-fashioned weenie roast is pretty wonderful too. I'm all about hot dogs during the summer, and cooking them over smoldering coals or a backyard fire-pit makes them taste especially good. And since you are literally holding things at arms' length, it's a good outdoor cooking experience for kids. Set out the usual hot dog fixins' and have a weenie roast in the back yard or on your next camp-out. Invest in some good roasting sticks (they don't have to be fancy), and you'll start finding excuses to roast things every night!
Dutch Oven! We have just about every size of Dutch Oven imaginable. They're kind of a slam-dunk gift for my husband. When in doubt, give the man a new Dutch Oven! They're great for stews, casseroles, roasts, and, my personal favorite, desserts. We love a good Dutch Oven cobbler. You'll find the recipe for our go-to Dutch Oven Peach Cobbler below, and you can substitute any fruit or pie filling for the peaches and it's equally delicious. Down-home cooking at its finest!
Tin-Foil Dinners! This is my favorite outdoor cooking method because tin foil dinners are both delicious and easy to put together. And they're practically mess-free at every stage–preparing, eating, and cleaning up. We love the old classic with carrots, potatoes, and hamburger, and have used this recipe from Sherelle Christensen for a few years now with lots of success (and it calls for bacon!). I'd also love to try out my friend Jeran's recipe for Sweet & Sour Meatballs in foil. Our current favorite, because it's totally delicious, is Chicken Bacon Ranch Tin Foil Dinners. You can find the recipe below!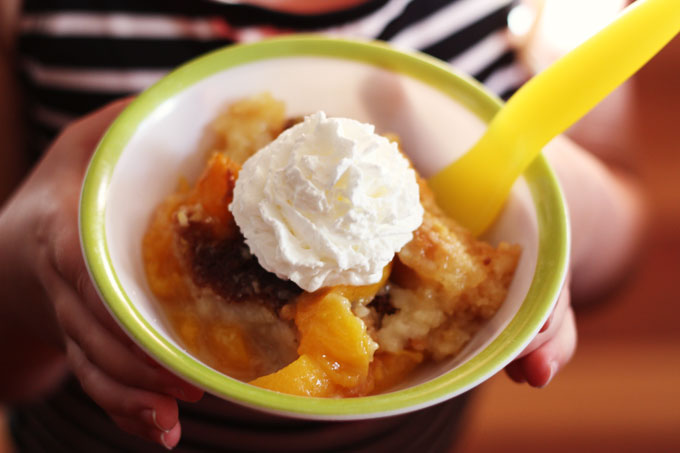 Dutch Oven Peach Cobbler
This is such an easy cobbler to make, and tastes so good! It's based on the old classic Dump Cake, where you just sprinkle a yellow cake mix over whatever filling you want. But this cobbler is made from scratch and tastes a million times better. We love it with canned peaches, but any flavor of fruit pie filling would be delicious.
4 15-oz cans sliced peaches, drained
1 cup sugar
3/4 cup all-purpose flour
3/4 cup cake flour
1/4 cup dry milk powder
1 1/2 teaspoons baking powder
1/2 teaspoon salt
1 stick of cold butter, cut into pieces
1 1/2 teaspoons vanilla
1 stick of butter, melted
cinnamon and nutmeg for sprinkling
Lightly spray a 10″ cast iron Dutch Oven with nonstick spray. Pour the drained peaches into the Dutch Oven. In the bowl of a food processor, combine the sugar, flour, cake flour, milk powder, baking powder, and salt. Add the cold butter and vanilla, and process until the mixture is fine and sandy. Sprinkle the topping evenly over the peaches. Drizzle melted butter on top, then sprinkle with cinnamon and nutmeg. Put the lid on the Dutch Oven and place it on the ground. Set 7 coals underneath and 14 coals on top. Cook for 45 minutes, turning the dutch oven halfway around once during cooking. Also spin the lid halfway around. This helps get everything cooked evenly and avoids hot spots. When finished, the top of the cobbler should be beautifully browned, and the filling should be bubbling. Serve warm, topped with whipped cream or vanilla ice cream.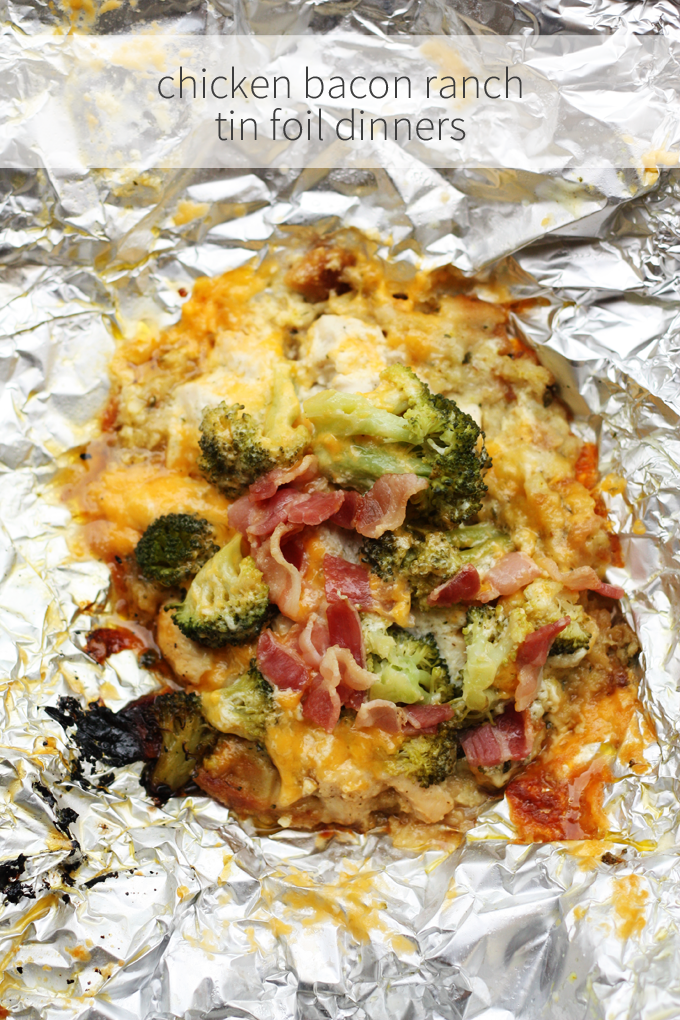 Chicken Bacon Ranch Tin Foil Dinners
So flavorful and delicious! These savory tin foil dinners are a complete meal in one easy to make, mess-free package: stuffing, chicken, and broccoli, with a mouth-watering topping of cheddar, bacon, and ranch. You'll find yourself making them even when you're not camping!
1 6-oz box Stovetop Stuffing
1 cup hot water
1 lb chicken breast, diced
2 cups broccoli florets
1 cup shredded cheddar cheese
8 Tablespoons ranch dressing
4 slices bacon, cooked and crumbled
In a medium bowl, combine stuffing and hot water. Cover with plastic wrap and set aside 5 minutes. Meanwhile, lay out 4 large rectangles of heavy duty foil. Fluff stuffing with a fork to combine, then divide stuffing equally among the foil. Divide remaining ingredients among the four pieces of foil, going in order: lay the chicken on top of the stuffing, then add the broccoli, etc. Tightly seal each foil packet and cook for 30-35 minutes on a bed of hot charcoal. The charcoal should be white and smoldering, not flaming, so you need to light them well before you put the foil dinners on them. You should be able to hear the foil packets sizzle and smell the food cooking. There's no need to put coals on top of the packets or to flip them over.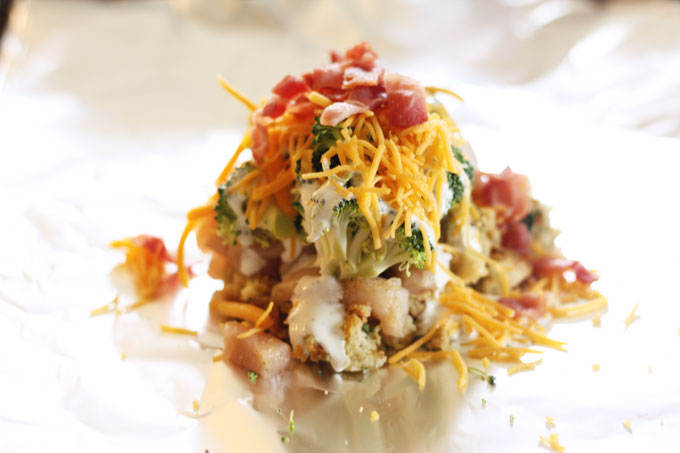 Missed one of our Endless Summer Projects in the past few weeks? Here's a complete list so far this summer: Screen-Printed Tees from This Heart of Mine; a DIY Firework Tablecloth on Alexandra Hedin; 6 Backyard Water Balloon Games from Pars Caeli; DIY stilts and ideas for a backyard circus on Classic Play; mid-century modern birdfeeders on Lulu the Baker; collapsible cardboard houses from This Heart of Mine; scavenger hunt ideas, tips, and free printables on Alexandra Hedin; large-scale wall art for kids on Pars Caeli; and a free printable Summer banner on Classic Play.