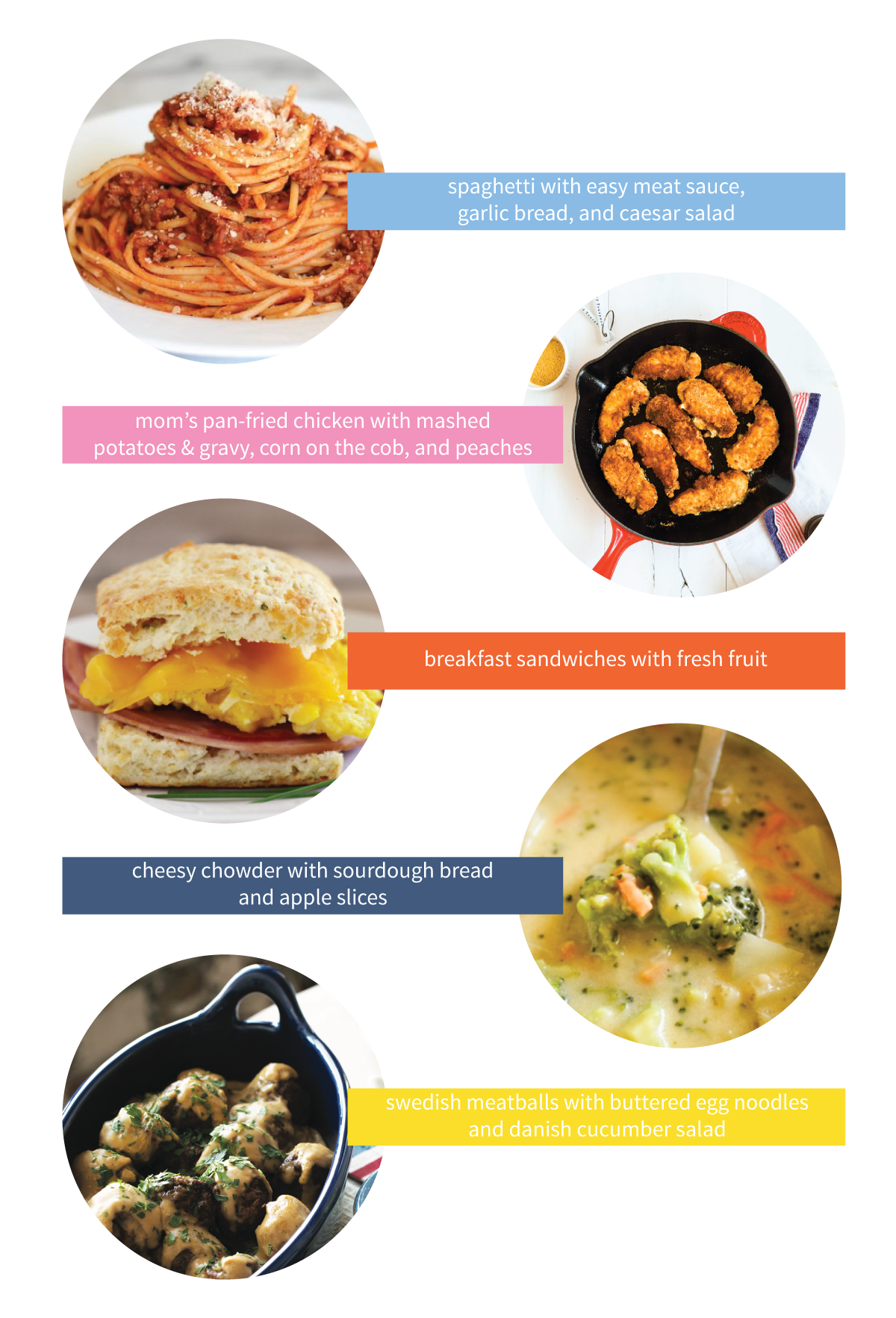 It's been so long since I've written a post for This Week's Menu Ideas! I've been putting together this particular group of easy weeknight dinner recipes for a few months, and finally set aside some time this weekend to sit down and write the post. These dinners are some of our favorite go-tos. They're all ready in about 30 minutes or less, and are things that my kids request on a regular basis.
Spaghetti with Easy Meat Sauce, Garlic Bread, and Caesar Salad
Spaghetti is a dinner we have a lot around here, usually with garlic bread and a nice, green salad. To make an easy meat sauce, brown a pound of ground beef, and add a jar of your favorite store-bought spaghetti sauce. Let it simmer until heated through. Sometimes if I'm feeling fancy, I'll add some diced onion and a little minced garlic to the ground beef as it cooks. [photo from Instructables]
Mom's Pan-Fried Chicken with Mashed Potatoes & Gravy, Corn on the Cob, and Peaches
My mom's fried chicken has been a favorite for at least two generations now, and I promise that if you try it, you'll love it just as much as we do. Mashed potatoes & gravy and corn (on the cob, when the season is right) are obvious side dishes, and biscuits and bottled peaches are really good too.
Breakfast Sandwiches with Fresh Fruit
It's not secret that my family loves breakfast for dinner; it's actually one of the categories we try to fill each week when we're making our menu. Breakfast sandwiches are a quick and easy favorite. Just pile scrambled eggs, ham, bacon, or sausage, and melty cheddar or your favorite bagel, english muffin, croissant or biscuit. Throw some fruit on the side and you'll have a new favorite family dinner!
Cheesy Chowder with Sourdough Bread and Apple Slices
Cheesy chowder is one of our very favorite soups, and it's one of the first super popular recipes that I ever posted here on Lulu the Baker! Our oldest child requests it regularly and absolutely loves it. It actually tastes even better reheated the next day (like so many good soups do), so you might want to make an extra-big batch and have leftovers for lunch.
Swedish Meatballs with Buttered Egg Noodles and Danish Cucumber Salad
The recipes for Swedish Meatballs and Danish Cucumber Salad both come from my book, Scandinavian Gatherings! These meatballs are tender and delicious, and are super simple to make. We like them all by themselves, or over Finnish New Potatoes with Butter & Dill (also in the book), or over hot, buttered egg noodles. Cucumber Salad is a great, fresh side dish to pair with the meatballs. And as an added bonus, it adds some nice color to the dinner table!
***
I hope you like This Week's Menu Ideas! If you try any of the recipes linked here, or if you add any of the ideas to your menu this week, I'd love to hear. And if you need more ideas for easy weeknight dinners, check past posts in the series for even more menu ideas. Happy menu planning!