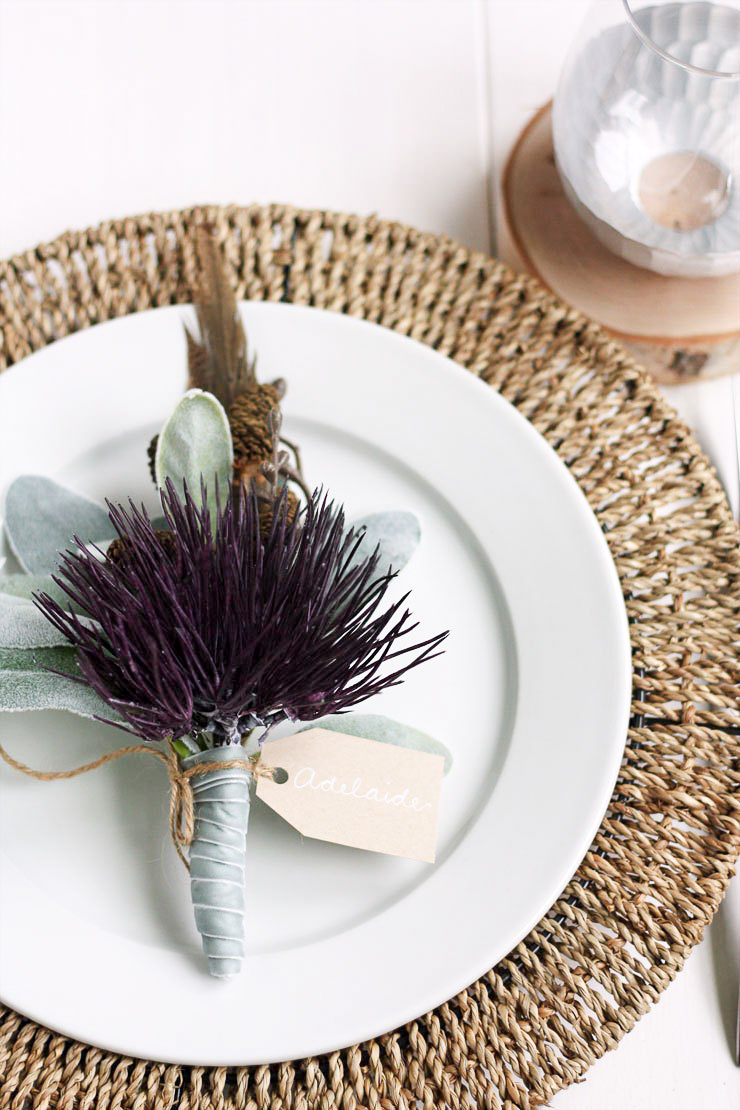 Place cards are one of my favorite ways to add a special touch to any dinner table. They can help set the overall tone of an event, whether it's glitzy or low-key, retro or modern. With Thanksgiving just around the corner (and Christmas close on its heels!), I wanted to make some place cards that could bring a woodsy, natural touch to each holiday plate. I thought beautiful autumn bouquet place cards that looked like they were made from bits of this and that gathered from the forest floor would be perfect…but I didn't really want to tromp all over the cold, wet woods picking through dead leaves and debris. So instead of foraging, I hit up the floral section of my local craft store, and found gorgeous faux foliage and flowers in muted shades of green, silver, brown, and purple. Gathered into sweet little bouquets and tied with luxurious velvet ribbon, they'll add the perfect elegant touch to my holiday table. They're easy to make; here's how: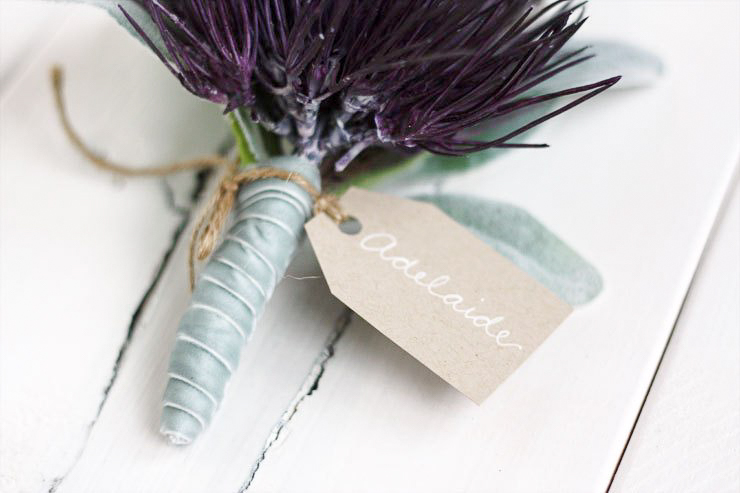 You'll Need:
-some faux greenery (I used faux lamb's ear because I love its fuzzy, silvery-green leaves.)
-a focal point flower (I have no clue what mine are supposed to be. I wanted thistles, but my craft store was out of them. I really like what I got. Get what catches your eye!)
-1 or 2 secondary flowers, feathers, or bits of foliage (I used faux pheasant feathers and little faux alder cones.)
-wire cutters
-sticky green floral tape
-scissors
-velvet ribbon
-hot glue gun and sticks
-name tags
-white gel pen
-twine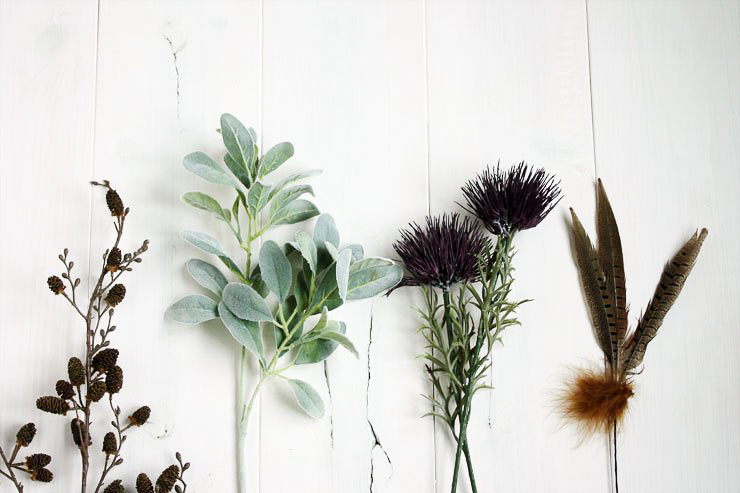 Start by snipping small pieces off of your faux florals using wire cutters. For the greenery, I cut two pieces that, added together, are about as big as my hand. I cut one purple spiky flower, one feather, and one branch of alder cones with about 5 little cones on it. Try to give all of your pieces a clean, 3″ stem. This might mean you have to trim off leaves or bits of plastic.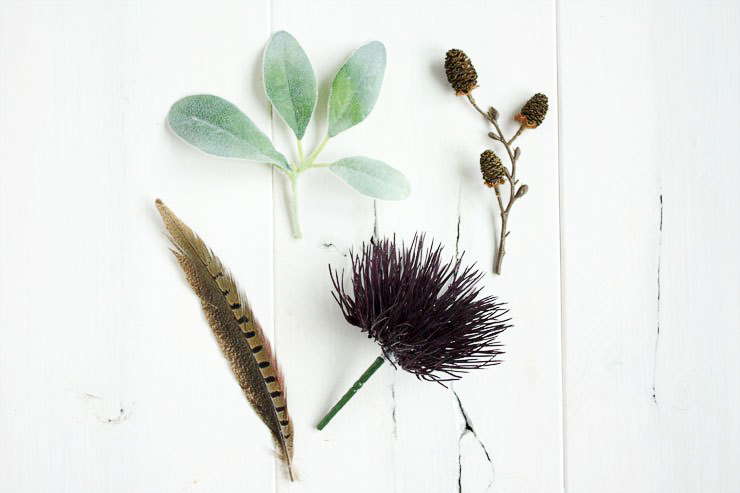 Once trimmed, gather your pieces into a small bouquet. Put the greenery in the back, the focal flower front and center, and the little bits of secondary stuff behind the focal flower and off to one side.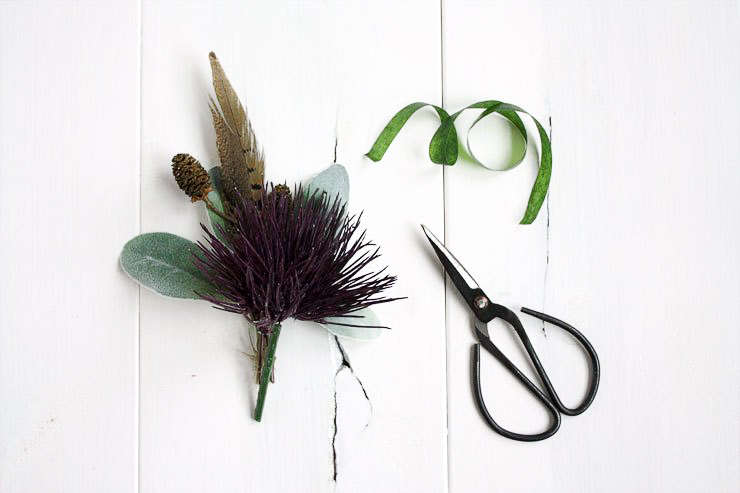 Cut a piece of green floral tape about 12″ long. Holding the bouquet tightly in one hand, beginning wrapping the stems tightly with floral tape. The tape gets sticky as you gently stretch it. Wrap the floral stems until they feel secure.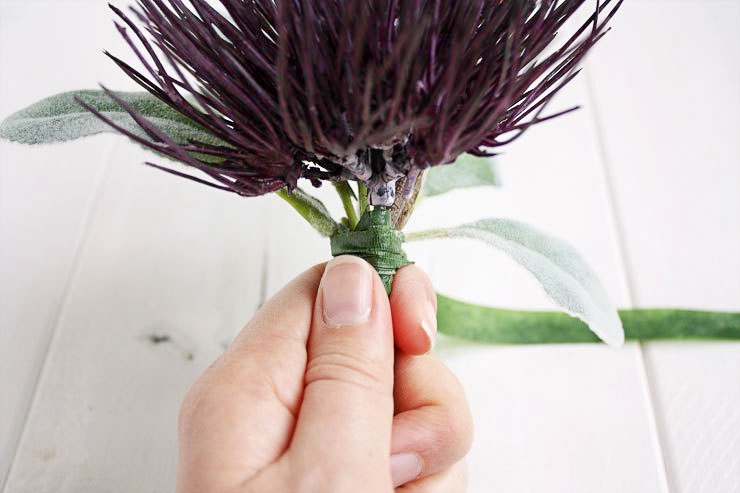 Cut a piece of velvet ribbon about 18 inches. Put one end of it at the top of the floral tape and wrap it straight down around the bottom of the stems and back up the other side.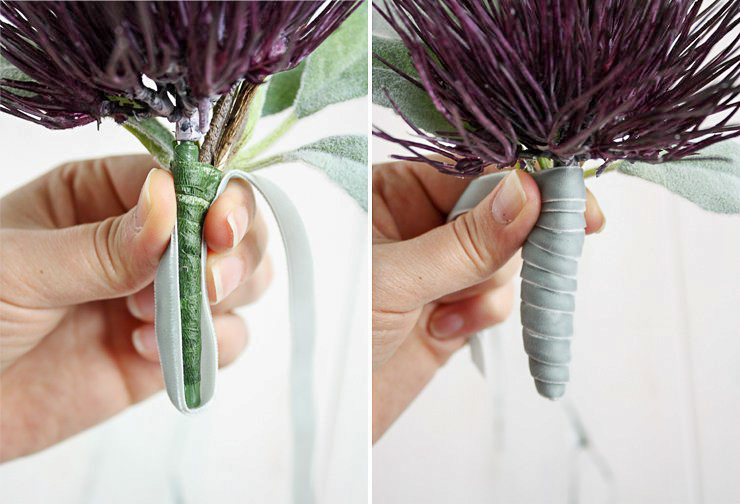 Holding the ribbon in place with one hand, turn the remaining ribbon sideways and start wrapping it around and around and around the bouquet stems. Wrap the ribbon all the way down to the bottom of the stems and back up to the top. You don't have to wrap too neatly on the way down because the ribbon will be covered by another layer, but wrap neatly on the way back up because this is the layer that will be visible. Put a small dot of hot glue on the back of the bouquet stem and glue the end of the ribbon in place.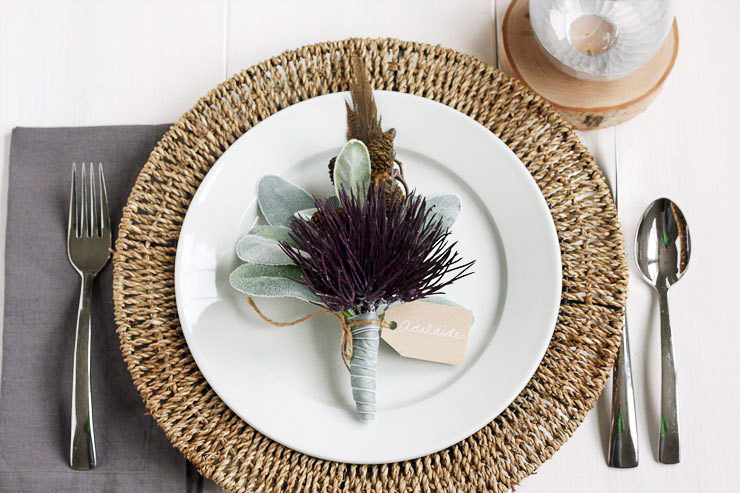 Write someone's name on a name tag with the gel pen, and tie is onto the ribbon-wrapped stem of the autumn bouquet using twine. All done! Now make more bouquets for the rest of your guests. The awesome thing about using faux florals is that you can do this project whenever you have time, even if it's a week before your guests arrive!