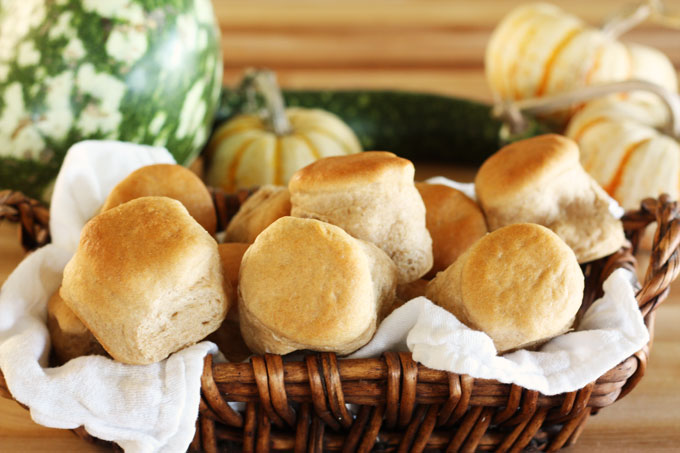 My favorite part of pretty much any meal is bread. I absolutely love a good dinner roll, and my mother-in-law, Momo, makes some of the best rolls around! They are soft and fluffy, and taste amazing slathered in butter and jam, or just by themselves. Momo's rolls are the star of Thanksgiving dinner every year, and this year, I thought it would be fun to see if they were good with a little whole wheat flour thrown in. And they were delicious! I replaced just under half of the all-purpose flour in Momo's original recipe with whole wheat flour, and the resulting rolls were still soft and fluffy, and had a hearty, nutty flavor that the rolls made with all white flour don't have. I love when these kitchen experiments lead to delicious success, and I can't wait to make another batch of these tasty whole wheat dinner rolls this holiday season!
This post was written in conjunction with the Grain Foods Foundation. Check out their website to find dozens of delicious holiday recipes that incorporate whole grains into both traditional holiday favorites and tempting new treats!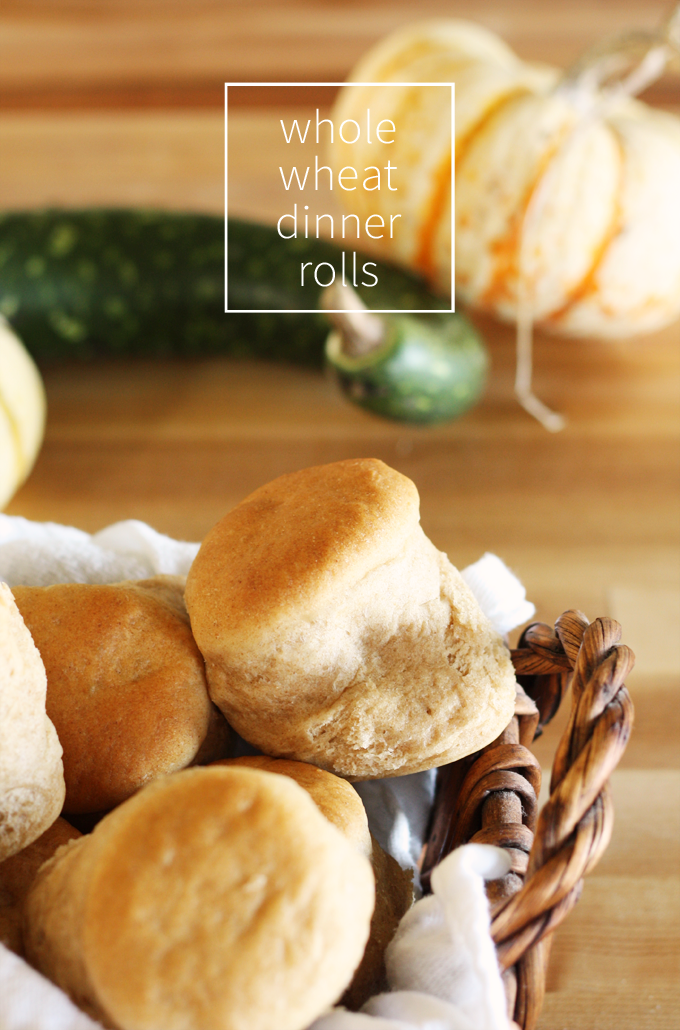 Whole Wheat Dinner Rolls
Ingredients
½ cup warm water
2 Tablespoons yeast
2 cups warm milk
⅔ cup sugar
⅔ cup butter, melted
2 teaspoons salt
2 eggs, beaten
3 cups whole wheat flour
5 cups all-purpose flour
Instructions
In a glass measuring cup, combine warm water with yeast and a pinch of sugar. Allow to sit for 5 minutes. While the yeast is proofing, combine the warm milk, sugar, butter, salt, and eggs, and mix well. After the yeast mixture has started bubbling, add it also. Blend in flour, a few cups at a time, until the dough is no longer sticky. Start with the whole wheat flour, adding all of it, then move on to the all-purpose flour, adding just enough to make the dough kneadable (you might not need to use all 5 cups of the all-purpose flour). Knead the dough for 10 minutes on a lightly floured surface. You can also use a stand mixer for everything up to and including the kneading. Lightly oil a large bowl, place dough in it, cover with a towel, and let rise in a warm spot until doubled in size.
When the dough has risen, punch it down, and knead it briefly. On a floured surface, roll dough out to a 1″-thickness. Use a round cookie cutter or biscuit cutter to cut rolls (2½-3 inches). Place rolls, lightly touching, on a buttered cookie sheet, cover with a towel, and let rise 30 more minutes. Bake at 350°F until golden and hollow-sounding when lightly thumped, 20-25 minutes.