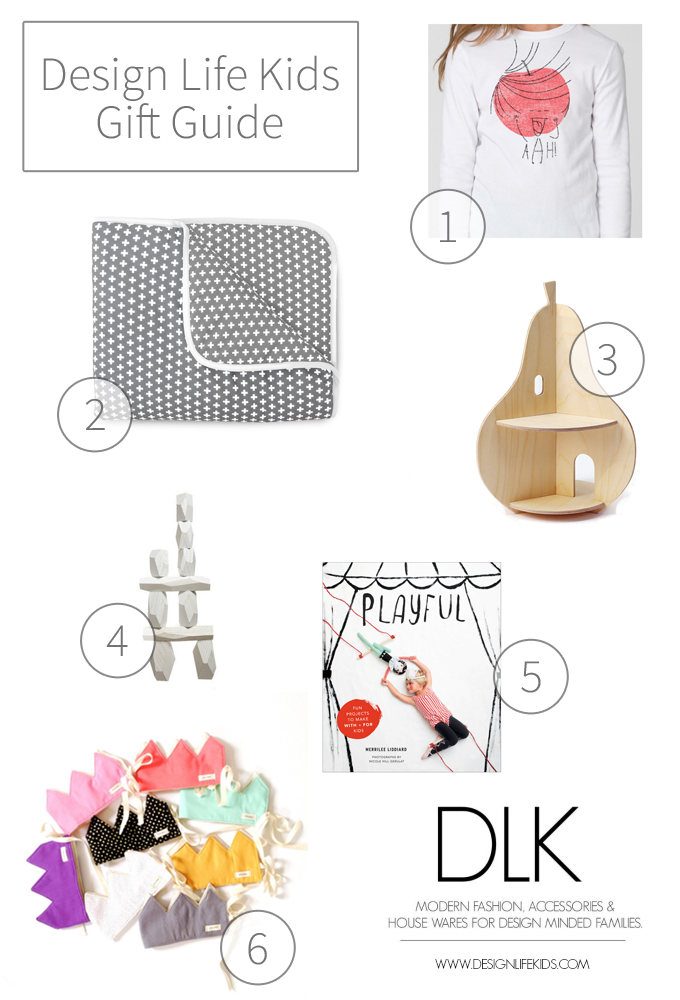 My friend Kim of the blog Design Life Kids opened an amazing online shop recently stocked with some of the coolest clothes, accessories, home decor, toys, and more. With the holidays coming up, I wanted to share some of my very favorite gifts from this most thoughtfully curated shop. Any one of these items would make a spectacular holiday gift!
1. Rockstar Apple Tee from Kid + Kind
2. Olli + Lime Cross Crib Quilt
3. Pear Dollhouse from Rock & Pebble
4. Balancing Blocks by Fort Standard for Areaware
5. Playful DIY Craft Book by Merrilee Liddiard
6. Reversible Crowns by Tres Cher
I have a really special treat for you guys today! I've partnered with some amazing bloggers (Joy of Frock Files, MJ of Pars Caeli, Lindsey of Cafe Johnsonia, and Kim of Design Life Kids) to offer you guys the chance to win a $150 gift card to Design Life Kids! I know exactly what I'd buy if I won. How about you? There are a couple of different entry options; check out the Rafflecopter widget below. The giveaway runs until Friday morning at 12:00am (midnight Thursday). Best of Luck!