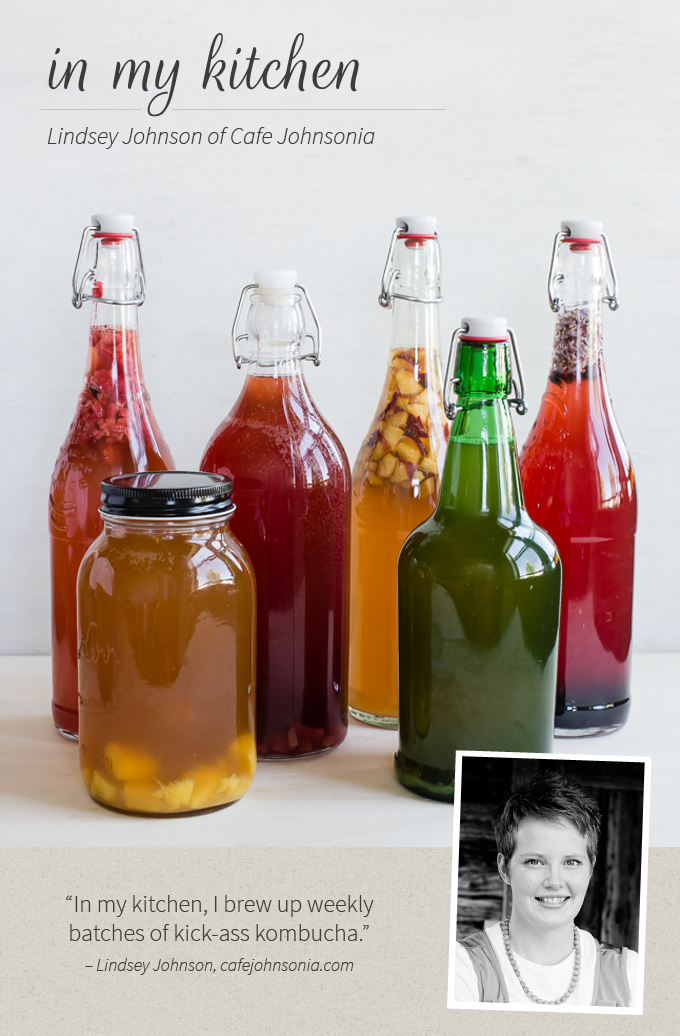 "Kombucha is my latest obsession. I avoided kombucha for the longest time because…well, frankly, it didn't sound at all appetizing. My sister did her best to convince me otherwise, but I just thought she was crazy. Fermented tea?! I was never a fan of tea anyway, so I couldn't wrap by brain around the idea. Then I bought an (overpriced) bottle at Whole Foods to use in a freelance photo job I was working on. My curiosity was peaked, so I took the tiniest little sip. Then another and another. And I was immediately hooked.
It might seem like a stretch, but trying my hand at brewing kombucha at home is symbolic of the way I approach life. There are many things I'm hesitant to do for one reason or another, but then I get brave and decide to tackle it. Some things are smaller than others. I mean, really, kombucha is pretty easy compared to some of things I've been reluctant to do. But it was a small victory and helped me feel confident in an area of food and cooking I didn't (and still don't) know as much about. It took me quite a few tries to get my method down. That's the beauty of it all – it's a constant learning process. It satisfies the scientist in me as well as the recipe developer. And might I say that I brew up some mighty tasty kombucha! I've added other fermented foods onto my list and I'm checking them off one at a time. Next up: kimchi."
– – – – –
Lindsey Johnson began blogging in 2006 when she started her blog, Cafe Johnsonia. She works as a freelance recipe developer, food stylist, and photographer. She focuses primarily on seasonal, healthy recipes that also happen to be gluten-free. Lindsey also writes full time for HelloNatural.co, as well as OhMyVeggies.com, and several other blogs and websites. Lindsey and her husband, Fred, and their three kids reside in Boise, ID.
I have admired Lindsey's beautifully-styled food photography for years, and finally had the pleasure of meeting her at Alt Summit in January of this year. She is such an amazing stylist and photographer, and even better, a truly sweet and kind person!