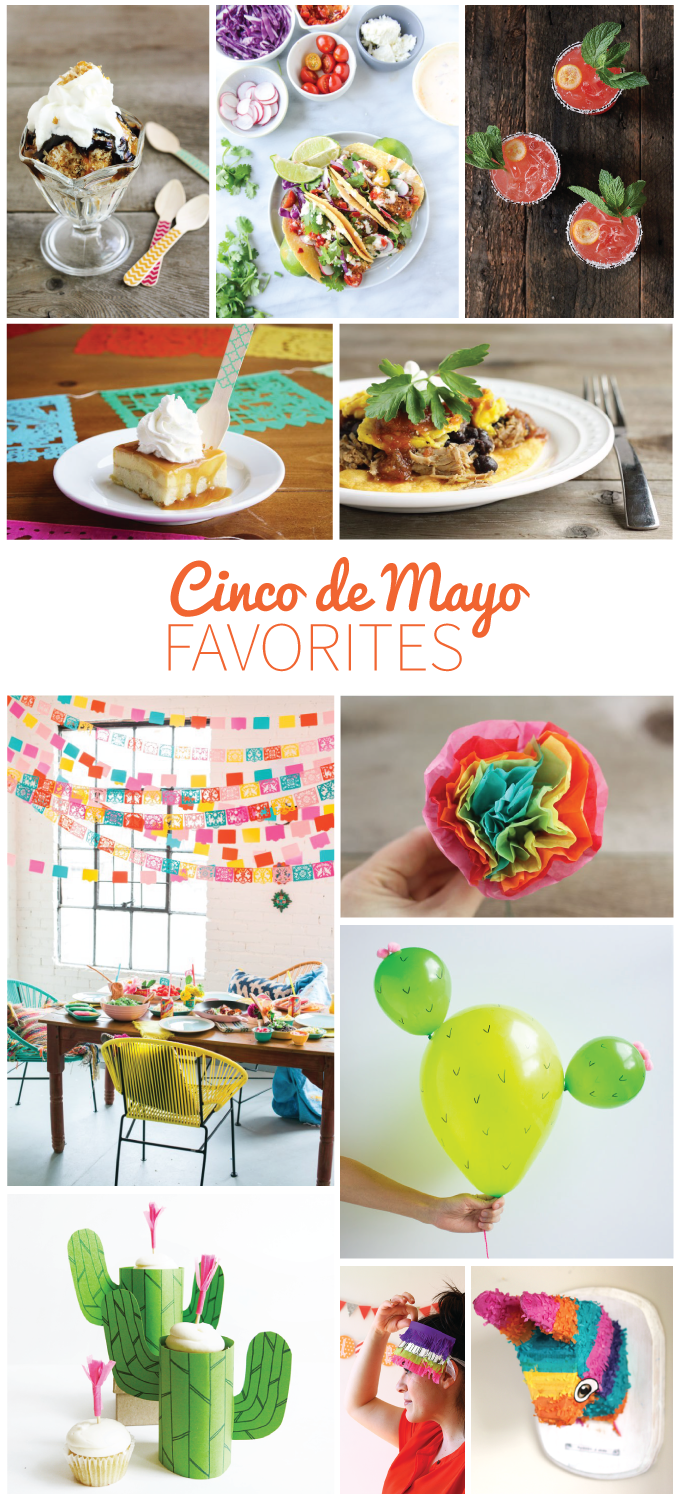 My family loves Mexican food, and we certainly eat a lot of it throughout the year. This week alone, I inadvertently planned Tex-Mex dinners for every single night! But we are always extra excited for Cinco de Mayo because it's more than just yummy food: it's a fun, colorful celebration! As always, we'll be making my brother-in-law's delicious carne asada, our go-to black beans (which you're probably tired of hearing about, but which I'm still not tired of eating!), and our favorite Spanish rice. Here are some of my favorite recipes, decor ideas, and DIY projects from around the web to inspire your Cinco de Mayo fiesta tomorrow…
These yummy "Not Quite" Fried Ice Cream Sundaes taste just like the fried ice cream at your favorite Mexican restaurant, but they're way easier to make.
Not one, not two, but 15 Must-Try Taco Recipes for Cinco de Mayo from The Sweetest Occassion!
Every fiesta needs a good beverage! These Watermelon Margaritas from Alice & Lois sound perfectly refreshing.
Flan Cake would be a decadent ending to any Cinco de Mayo celebration. It's cake, custard, and caramel sauce all in one pan!
If you don't have time for tacos on Thursday night, try these Huevos Rancheros for breakfast instead!
Leave it to The House That Lars Built to have the cutest fiesta decor around! Papel picado, delicious food, and adorable floral centerpieces make this Cinco de Mayo party happy and colorful.
These easy tissue paper flowers remind me of the very best of elementary school crafting.
Haeley from Design Improvised has a million cute balloon ideas, but these cactus balloons are my favorite!
What's better than cupcakes? Cupcakes in free printable cactus cupcake wrappers, that's what.
Why wear a raggedy blindfold over your eyes when you can bash a piñata in style with this easy, DIY fringed blindfold from Squirrelly Minds?
A fun and festive taxidermy piñata, courtesy of Shrimp Salad Circus!!
If you need more Cinco de Mayo ideas, I'll be sharing more of my favorite Tex-Mex recipes on Facebook.