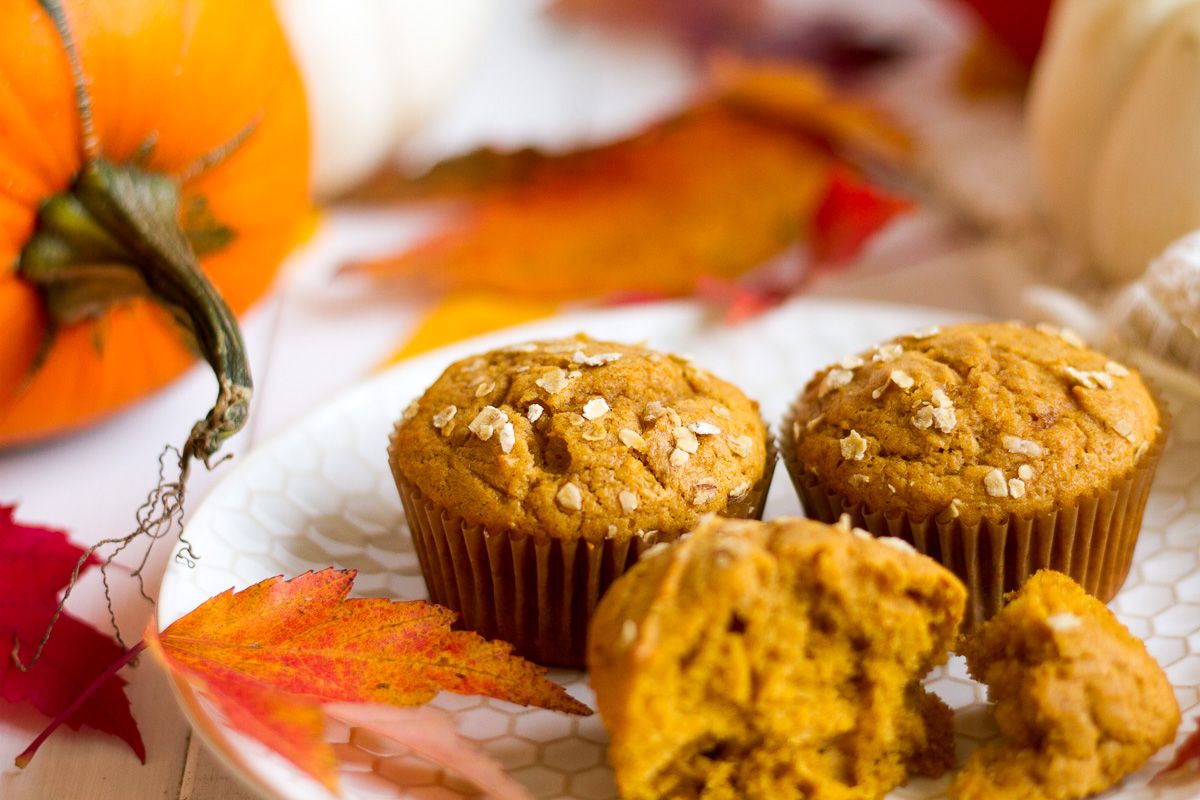 I've been waiting to share these muffins with you for an entire year! Last October, my friend Joy and I planned our second conference for bloggers, creative entrepreneurs, and influencers—The Hello Sessions—in downtown Portland. And it was a magical day! I know that sounds a little hyperbolic, but it was really, really wonderful. We had a beautiful pre-party the night before hosted by Schoolhouse Electric. We had amazing speakers and workshop leaders in a gorgeous venue, The Cleaners at the Ace Hotel. The flowers by Anna Mara and the decor our team put together were lovely, and the whole day, in general, was uplifting and inspiring. And among all that awesomeness, one of the things I remember most about the conference is the muffins the venue served at breakfast!
They were pumpkin muffins, which are common enough, but they were different than all the other pumpkin muffins I've ever had. They weren't super sweet or cakey, they weren't full of chocolate chips, and they weren't covered in streusel or cinnamon sugar. They were just sweet enough and tasted like ginger, had a little dusting of oats on top, and they were served warm. They were heavenly. As we were cleaning up after the conference, I asked our event coordinator if there was any way I could have the recipe, and I was honestly shocked a few days later to get an email from her with the recipe attached.
With the craziness of last Fall, the book coming out, and being on the road a lot, I never got around to putting them on the blog, but I finally set aside time yesterday to bake up a batch and take pictures. We ate some and shared some, and now I get to share them with you. Do yourself and all the people you love a big favor and make your own batch of Ginger Spice Pumpkin Muffins today. Enjoy one with a cup of coffee and share the rest with a friend.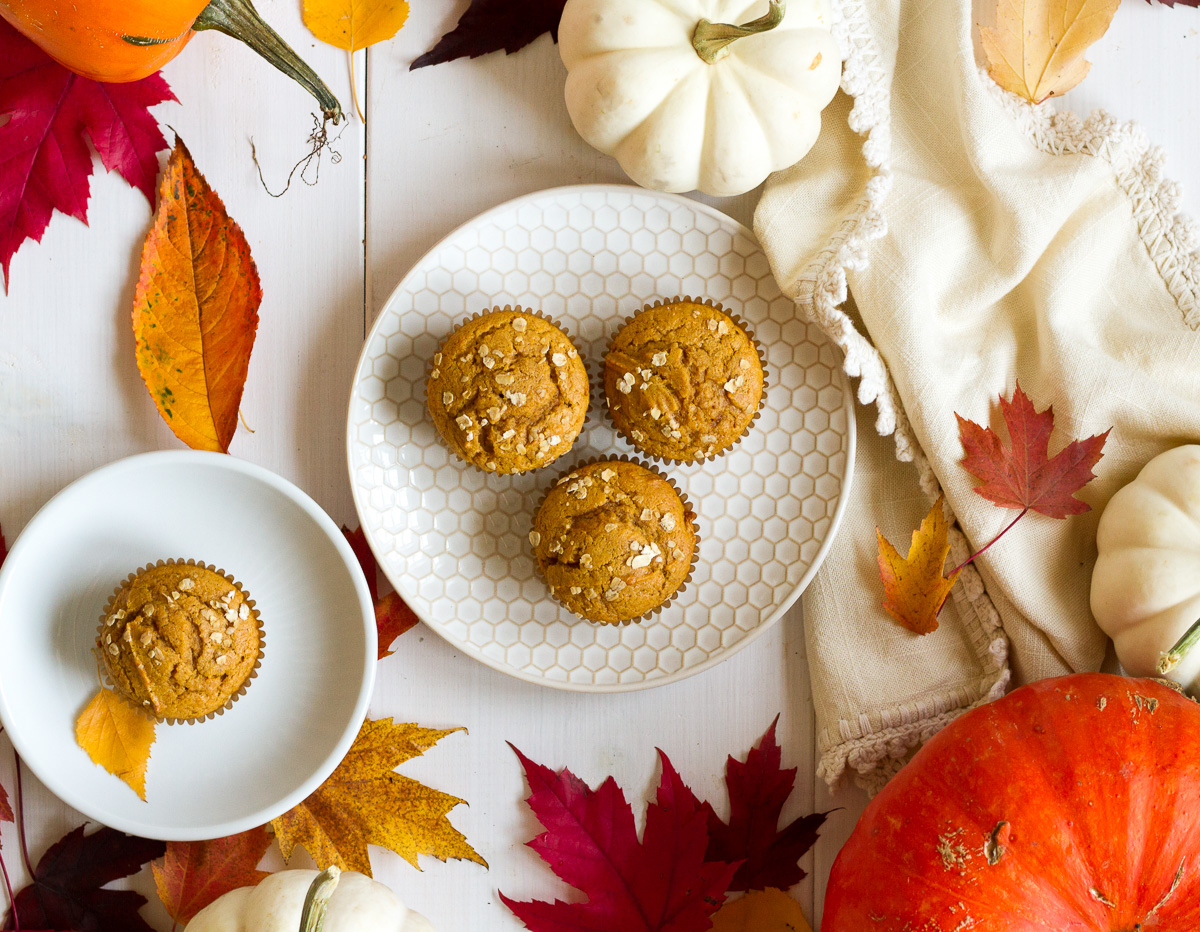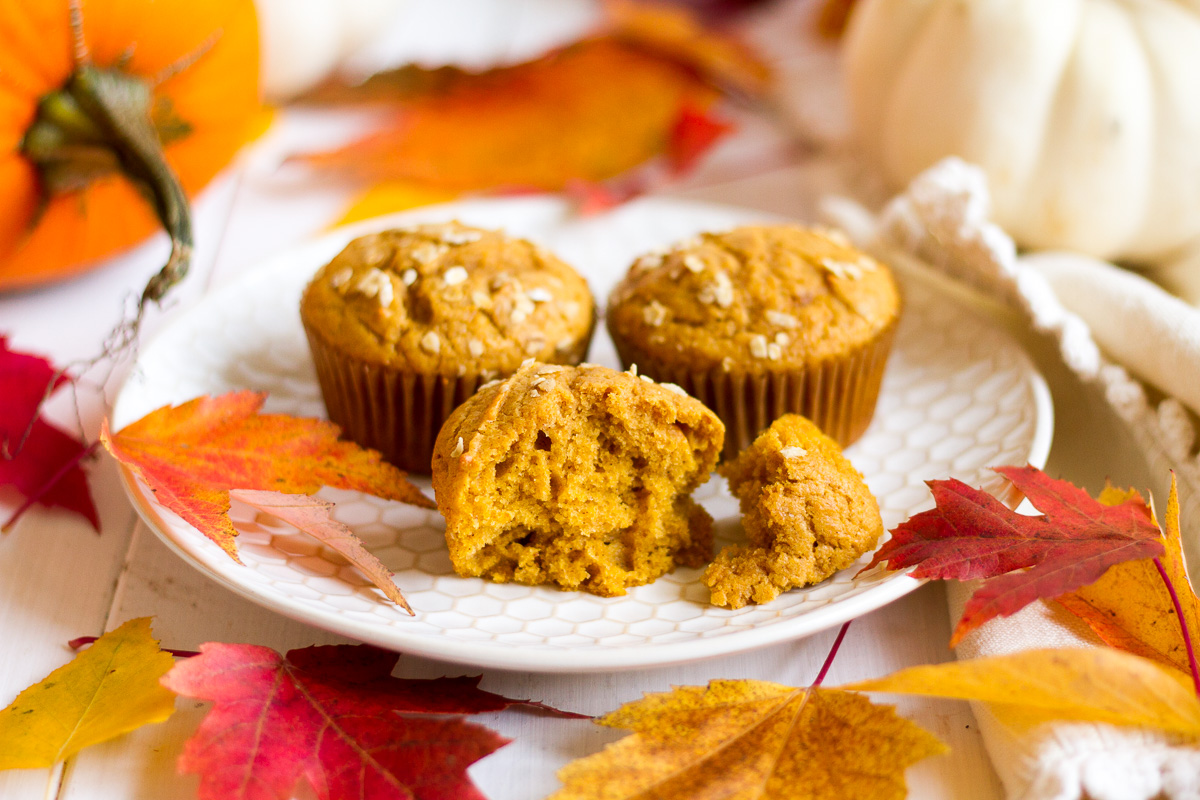 Ginger Spice Pumpkin Muffins
This recipe was adapted from one I had at Clyde Common in Portland. I am forever indebted to their staff for being willing to share it with me!
Ingredients
½ cup (1 stick) butter, softened
½ cup granulated sugar
½ cup brown sugar
2 eggs
1 cup canned pumpkin puree
1½ teaspoons vanilla
2 cups all-purpose flour
1 teaspoon baking soda
1 teaspoon salt
1 teaspoon ground cinnamon
1 teaspoon ground ginger
¼ teaspoon ground nutmeg
½ cup sour cream
¼ cup quick cooking oats for sprinkling on top
Instructions
Preheat the oven to 350°F and spray 18 muffin cups with nonstick baking spray, or line them with paper liners.
In a large bowl or in the bowl of a stand mixer, beat butter, granulated sugar, and brown sugar on medium speed until light and fluffy. Add eggs one at a time, beating after each addition. Beat in the pumpkin puree and vanilla.
In a medium bowl, combine flour, baking soda, salt, and spices.
Add half of the dry ingredients to the mixer and beat on low just until combined. Beat in sour cream, again on low and just until combined. Finish by mixing in the remaining dry ingredients. Use a rubber spatula to scrape down the sides of the bowl and make sure everything is mixed in, but be careful not to over-beat.
Divide the mixture evenly among the 18 muffin cups. Sprinkle a pinch of quick-cooking oats on each muffin.
Bake at 350°F for 19-21 minutes, until the muffins are puffed and set, and a toothpick inserted in the center of a muffin comes out clean.
Allow to cool slightly before serving.