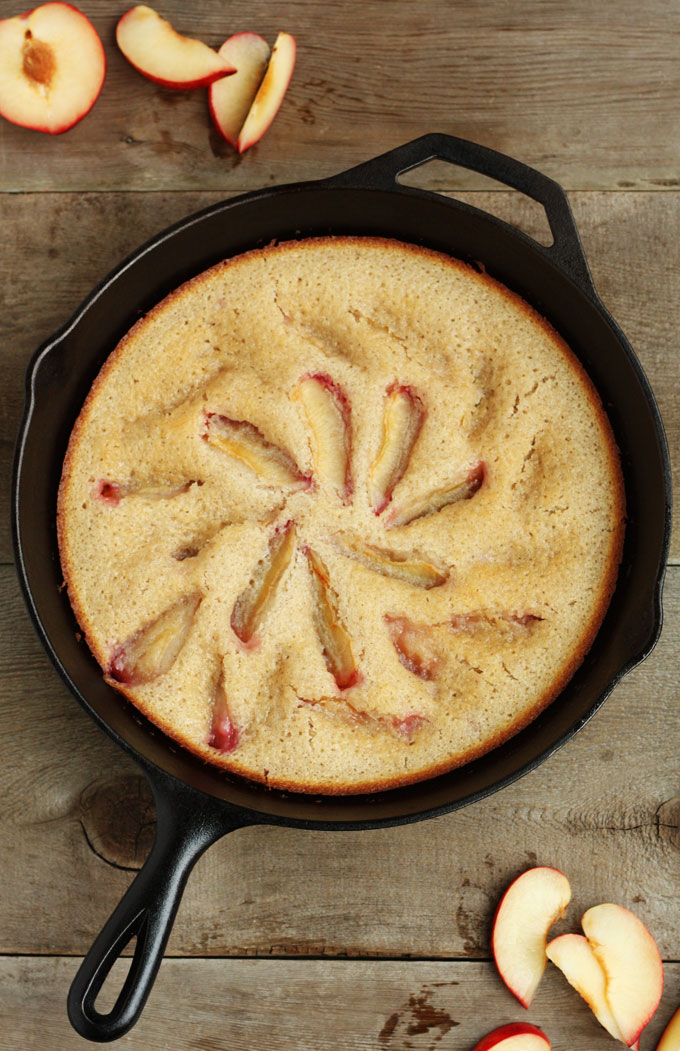 I'm teaming up with Jennifer from Carlsbad Cravings this week to bring you a whole week's worth of delicious late Summer/early Fall recipes. We're calling it "Summer in September", and I'm excited to kick things off with this mouth-watering Plum Skillet Cake! I've had this recipe for skillet cake for over a decade and have made it lots of time with blackberries, but when we bought some truly delicious plums earlier this summer, I became obsessed with trying plums instead. And then the plums disappeared from the grocery stores and I spent a month looking for some good ones without any luck! As she always does, my mom came to the rescue last week and hunted down some big, gorgeous, juicy red plums for me, and my plum cake-making dreams came true just in the nick of time. And is this plum cake ever a dream! It is truly easy to make, sweet and spicy with bits of tart, pink-tinged fruit, and tastes just as good straight out of the pan for breakfast as it does topped with vanilla ice cream for dessert.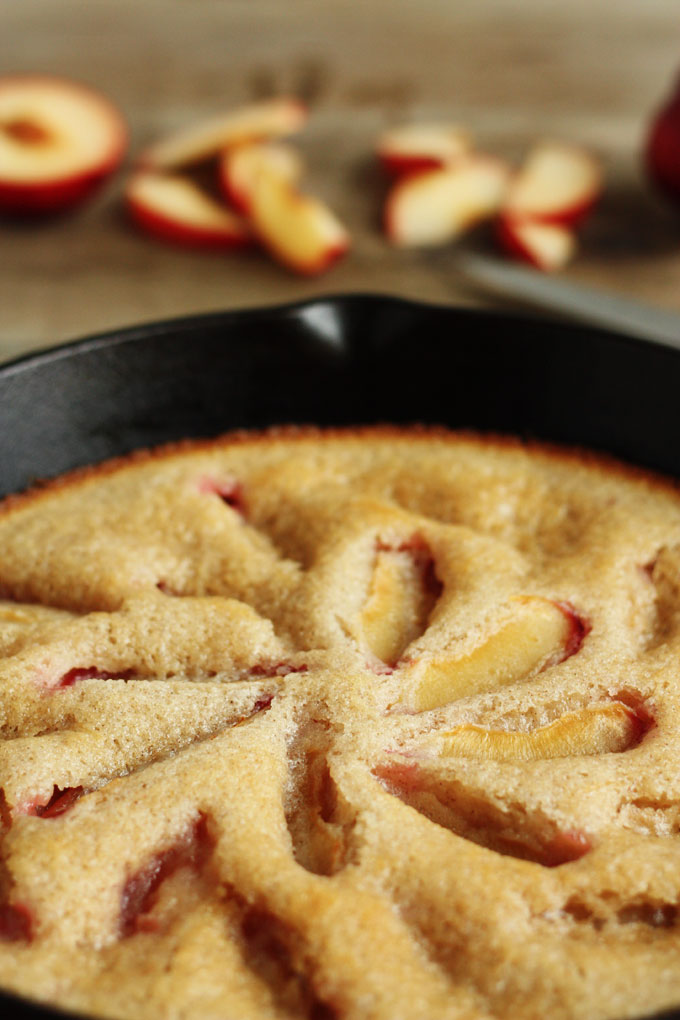 Plum Skillet Cake
Ingredients
½ cup butter
1 cup sugar
1 cup flour
¼ teaspoon nutmeg
½ teaspoon cinnamon
1 teaspoon baking powder
1 cup milk
2 red plums, pitted and sliced into 16 pieces each
Instructions
Place the butter in the bottom of a 10″ cast-iron skillet or dutch oven and put it in the oven. Preheat the oven to 375°F and allow the butter to melt while the oven is heating. Meanwhile, combine sugar, flour, nutmeg, cinnamon, and baking powder in a medium bowl. Whisk in milk until smooth. When the butter has melted and the oven is hot, pour the butter into the batter, whisk until smooth, and pour the batter into the hot pan. Place plum slices in a spiral pattern on the surface of the cake. It's OK if you don't use all of the slices; just use as many as you can fit. Bake for 30-35 minutes, until golden brown and baked through. Serve warm with whipped cream or vanilla ice cream, or just leave it plain!
Tomorrow, it's
Jennifer's turn to post
a recipe, and I'll be posting a link right here, so be sure to check back Tuesday morning!