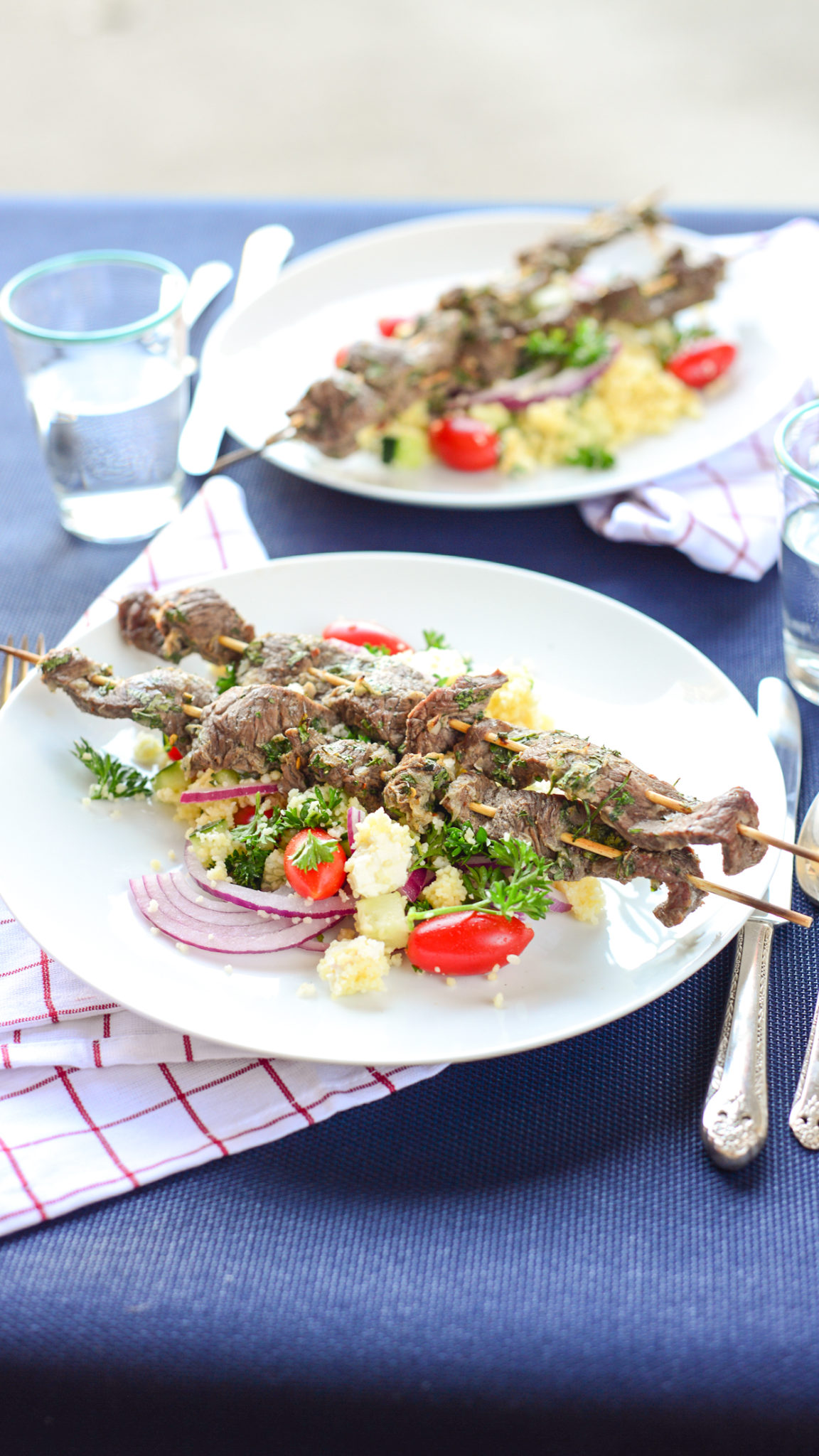 I'm so excited to share this recipe with you guys today! It is so good, you'll want to make it over and over and over. But first, a little background info. My friend Alexandra Hedin has been working for the past year on an amazing project called Weeknight Society. Weeknight Society is a brand new app full of recipes for easy weeknight dinners—something you know I'm passionate about. Here's what Alexandra says about her new project: "I love cooking dinner for my family. I didn't realize that this wasn't a joyful experience for my friends until one night at my son's baseball game when my friends were groaning about what they would serve for dinner once they finally got home. I had a solution. I knew I could help, so I decided to create something that I needed—that my friends needed—a menu planning app with my original recipes that only take about a half an hour. Weeknight Society was born. This is my society of people who want to cook for their family. People who want to eat real food. People who don't want to stress about dinner.  Let's do it together."
I was lucky enough to get to test the Weeknight Society app last month, and was impressed with not only the delicious recipes, but also the beautiful design. Each recipe has gorgeous photos for both the finished dish and each step. And the recipes are so good. When you download the app, there are few recipes that you can try out for free, but if you pay the monthly subscription fee of $3.99, you get access to the entire list of amazing recipes. And every week, a brand new, delicious recipe is loaded into the app and ready for you to access. We have made and loved the Hawaiian Burgers with Pineapple Relish, the Mediterranean Chicken with Gyro Salad, and the Spicy Beef Kabobs with Couscous (recipe below), and they were all easy to make and a big hit with the entire family.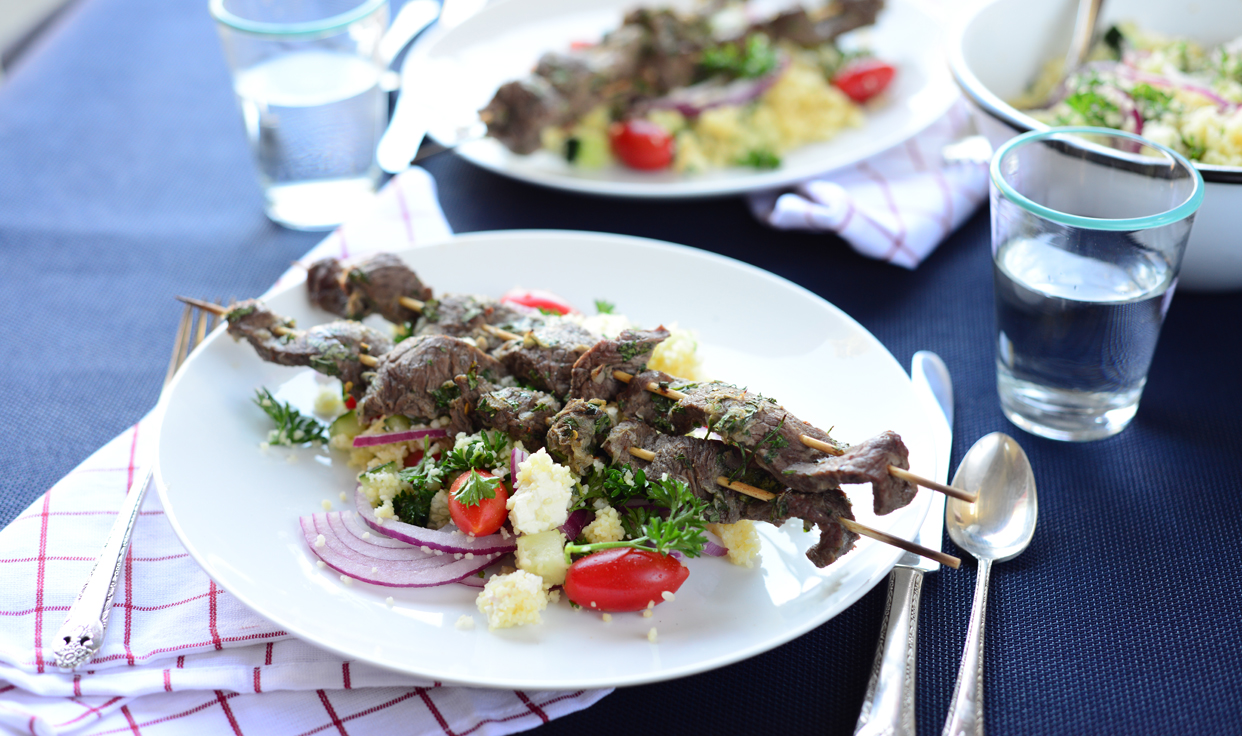 Of the three Weeknight Society recipes we've tried so far, these Spicy Beef Kabobs with Couscous are my favorite. And everyone else's favorite too. The meat is tender and flavorful, the couscous is fresh and delicious (and addicting), and the cucumber-yogurt dipping sauce is irresistible. We threw some garlic naan on the grill next to the beef and it helped complete one of the tastiest meals we've had in the past few weeks. Put this dinner on your menu plan now!! And while you're at it, visit the app store on your phone and get the new Weeknight Society app so that you can plan lots more weeknight dinners that your entire family will love.

Spicy Beef Kabobs from Weeknight Society
Delicious, herb-rubbed beef skewers on a bed of light, fresh couscous salad. A recipe the entire family will love, courtesy of
Weeknight Society
.
Ingredients
for the beef
2 lb sirloin steak, sliced thin
½ onion, grated
¼ cup parsley
¼ cup cilantro
½ tsp allspice
½ tsp coriander
¼ tsp red pepper flakes
½ tsp salt
for the couscous salad
2 cups chicken stock
1 ½ cups couscous
1 cucumber
1 cup sliced tomato
½ cup chopped parsley
½ sliced red onion
juice of one lemon
zest of one lemon
¼ cup olive oil
2 tbs red wine vinegar
4 oz feta cheese
for the cucumber-yogurt dipping sauce
1 cup plain greek yogurt
¼ cup grated cucumber
1 clove grated garlic
salt
Instructions
Preheat oven broiler or the grill on high heat. Soak skewers in water if using wooden skewers. Combine herbs, spices, and grated onion in a Ziploc bag.
Bring chicken stock to a boil. Remove from heat and add couscous. Stir gently then cover and let rest for 5 minutes.
Place thinly sliced meat into the prepared marinade and let rest while the couscous cooks.
Thread meat onto skewers. Place on a foil lined baking sheet and pop into the oven. Bake 10-15 minutes until cooked through.
Loosen cooked couscous with a fork. Toss with chopped cucumber, tomato, remaining parsley, red onion, and dress with lemon, olive oil and red wine vinegar. Add feta cheese.
Mix together yogurt, grated cucumber, and grated garlic. Serve couscous and top with kabobs straight from the oven with dipping sauce.
Notes
I'm really sensitive to spicy foods, and my kids don't love a lot of spice, so we omitted the red pepper flakes and used freshly ground black pepper for a little mild heat. And the kabobs were delicious.

We had our kabobs with a side of warm garlic naan. Just throw the bread on the grill next to the kabobs a few minutes before they are cooked through.