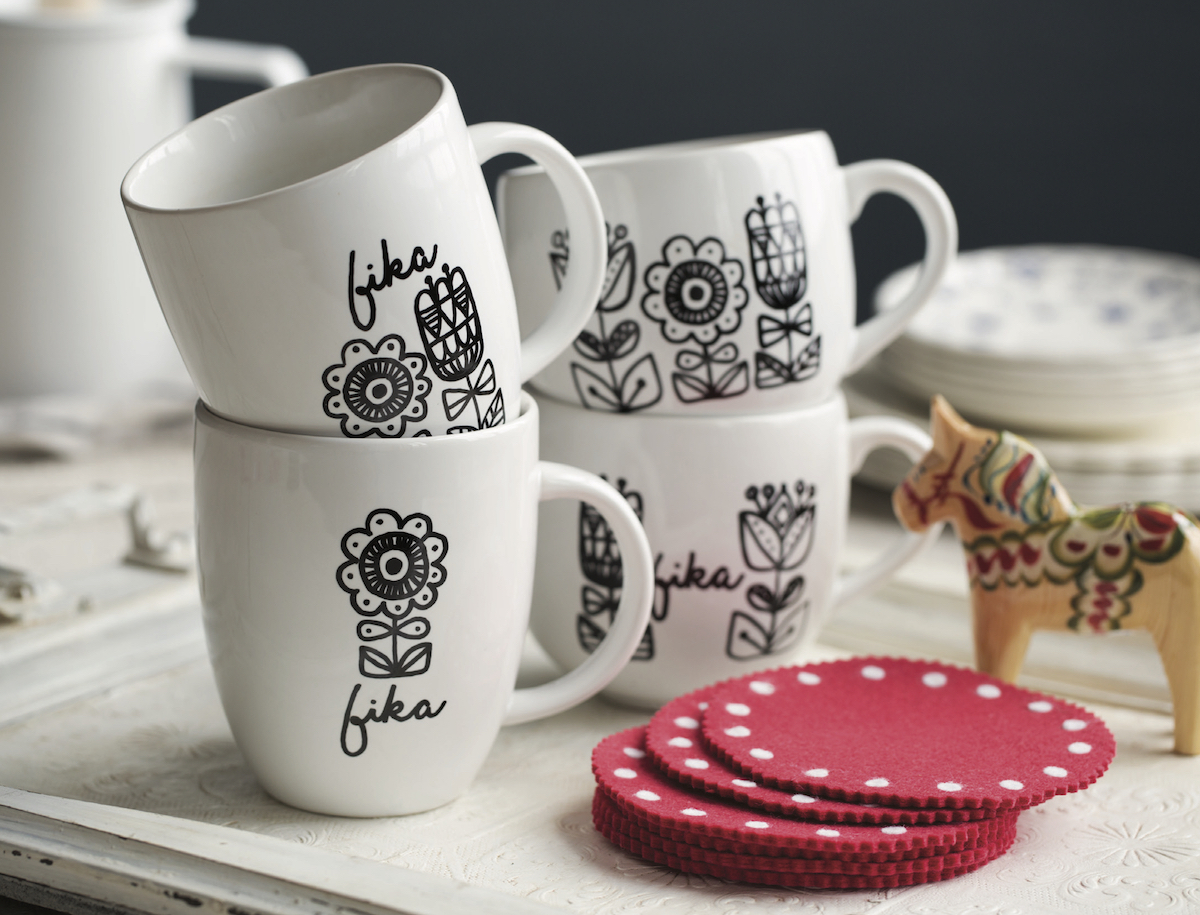 The past few weeks have been very exciting in book land, as blogger friends have received advance reader copies of Scandinavian Gatherings to review. The feedback has been so amazing, and it makes me look forward to the launch of the book next month even more! I can't wait for those of you who have ordered copies to receive them. And if you've been meaning to pre-order a book and haven't yet, you can find all of the pre-order links HERE.
In the meantime, I have a very special treat for you guys today: I get to share a little excerpt from the book with you! There's an entire chapter in the book dedicated to Fika. You're probably thinking, "What in the world is Fika?" If you live in the US, chances are you've never heard that word before. Fika is a traditional break during the Swedish work day when people gather for coffee, baked goods, and a little relaxation. According to Matts Johansson, founder of the Swedish coffee chain Da Matteo, Fika is "about spending time with people, eating lovely homemade baked goods and drinking great coffee." You can read more about Fika and how the idea is spreading throughout the globe in this BBC article from earlier this year.
In the Scandinavian Gatherings chapter "Afternoon Fika," there are recipes for delicious breads, cakes, and sandwiches, and instructions for perfect coffee-themed crafts like the hand-painted serving tray on the book's cover and these darling hand-printed coffee mugs. The intricate line drawings on these DIY mugs look complicated, but couldn't be easier to do thanks to a super easy image transfer technique I'm going to share with you today. And all you need is a cute line drawing and a pencil!

Step 1: Hold the image you want to transfer up to a sunny window backwards. You should be looking at the blank side of the paper. Use a nice, soft pencil (like a no. 2 pencil) to trace over the design. Press hard.
Step 2: Flip the image over, position it on the mug pencil side-down, and tape the paper in place. Scribble over the image, pressing very hard.
Step 3: Carefully peel the paper off the mug, making sure the image has transferred. If it hasn't, put it back in place and scribble harder! Once the image has successfully transferred to the mug, you can throw away the paper. Then grab your favorite paint marker or porcelain pen, trace over the design, and cure it following the instructions on the marker or pen.
The templates for these designs are by my wonderful illustrator, Andrea Smith, and are included in the back of Scandinavian Gatherings. Be sure to pre-order your copy today!
[top photo by Charity Burggraaf; step-by-step photos by me]