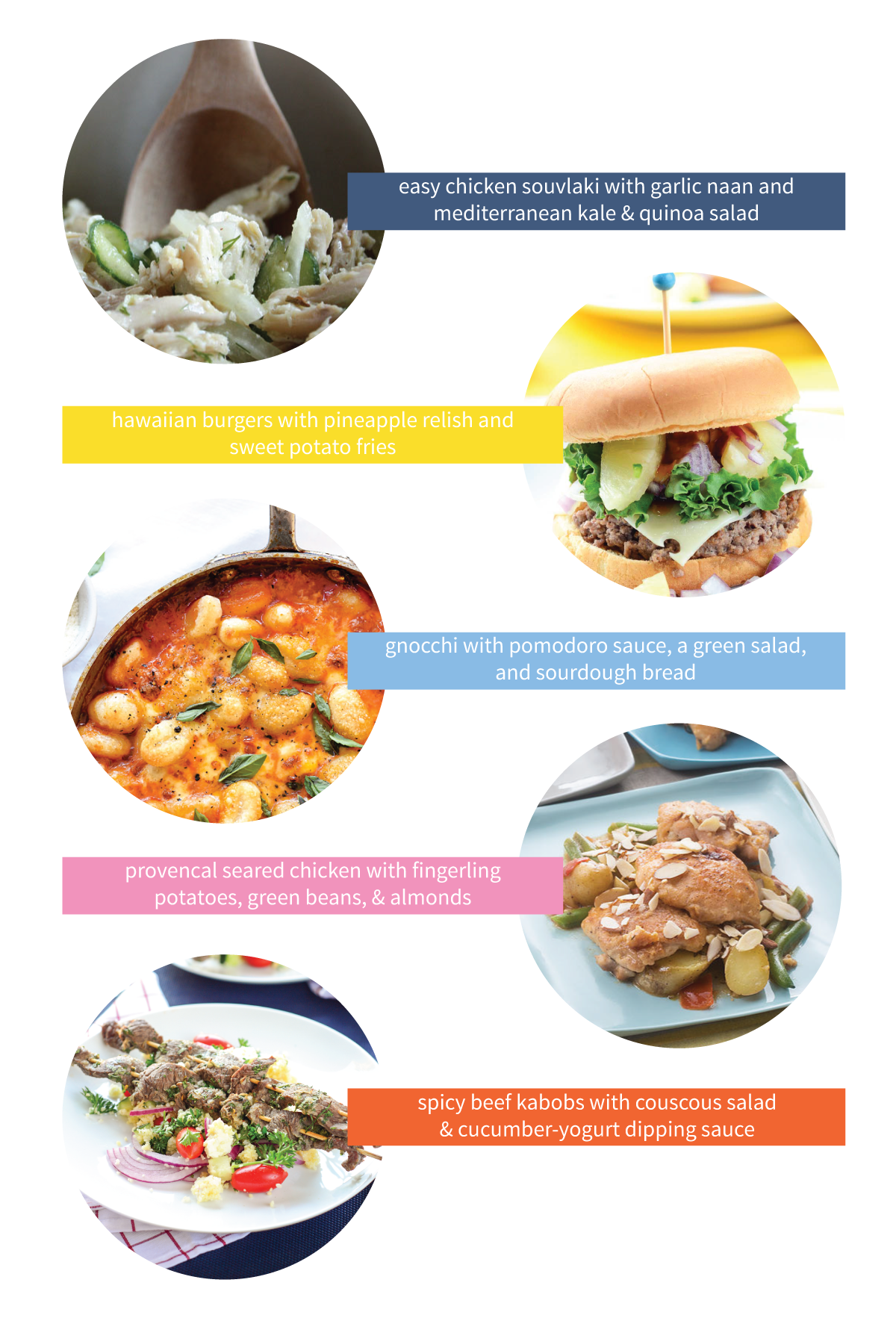 Happy Saturday! We are in the middle of a heat wave in Oregon, with temperatures soaring into the 100's. With it being so hot outside, no one wants to spend hours in a sweltering kitchen, so we've been opting for weeknight dinners that are easy to make, require no cooking at all, or can be cooked outside on the grill. Here are some of the delicious dinners we've been enjoying lately.
Easy Chicken Souvlaki with Garlic Naan and Mediterranean Kale & Quinoa Salad
Years ago, when our oldest was just a toddler, some good friends invited us over for dinner and served this quick, no-cook Chicken Souvlaki for dinner. And it has been one of our go-to summer meals ever since. Instead of using pita bread, we always serve it on wedges of warm, chewy naan bread. And this time, we paired it with a delicious and healthy mediterranean kale salad topped with quinoa (recipe coming next week!). If you have leftovers, the souvla
Hawaiian Burgers with Pineapple Relish and Sweet Potato Fries
My friend Alexandra Hedin launched an amazing new app on Monday called Weeknight Society. The app is filled with recipes for easy and delicious weeknight dinners, and every recipe we've tried from it has been a winner. These Hawaiian Burgers with Pineapple Relish were the first Weeknight Society recipe that we made. We served them with sweet potato fries when we had dinner guests, and everyone loved them. If you download the app, this recipe is one of the free recipes that you can access as a guest without buying a subscription. Give the app a try, and be sure to make these Hawaiian Burgers!
Gnocchi with Pomodoro Sauce, a Green Salad, and Sourdough Bread
Heidi, the author of the gorgeous blog Foodie Crush, always has amazing-looking recipes. We made her Gnocchi with Pomodoro Sauce this week, and it was so good. While it wasn't a particularly quick dinner to make, it was a big hit with the whole family. My 8 year old, who I consider a slightly picky eater, went back for seconds and then thirds! It was delicious, looked beautiful, and made the whole house smell yummy. We served our gnocchi with a simple green salad and some store-bought sourdough.
Provencal Seared Chicken with Fingerling Potatoes, Green Beans, & Almonds
We've loved a lot of the recipes we've been sent by Blue Apron over the past year and a half, but this Provencal Chicken was our favorite recipe to date. The boneless chicken thighs were perfectly seasoned, the vegetables were tender, and the vinegary, tomato-studded sauce was so good, I practically licked the plate clean. This tasty dinner is already on the menu again for next week.
Spicy Beef Kabobs with Couscous Salad & Cucumber-Yogurt Dipping Sauce
To celebrate the launch of the Weeknight Society app on Monday, my friend Alexandra graciously let me post one of her current favorite recipes on the blog earlier this week. We made her Spicy Beef Kabobs over the weekend and went bananas for them. Everyone ate their fill of tender sirloin kabobs and flavorful couscous salad with a side of our favorite garlic naan, and we even had enough left over for my husband and I to share for lunch the next day. We will be making these again and again!
To see more ideas for easy weeknight dinners, check out my entire series of This Week's Menu Ideas. Stay cool this weekend, and Happy Menu Planning!