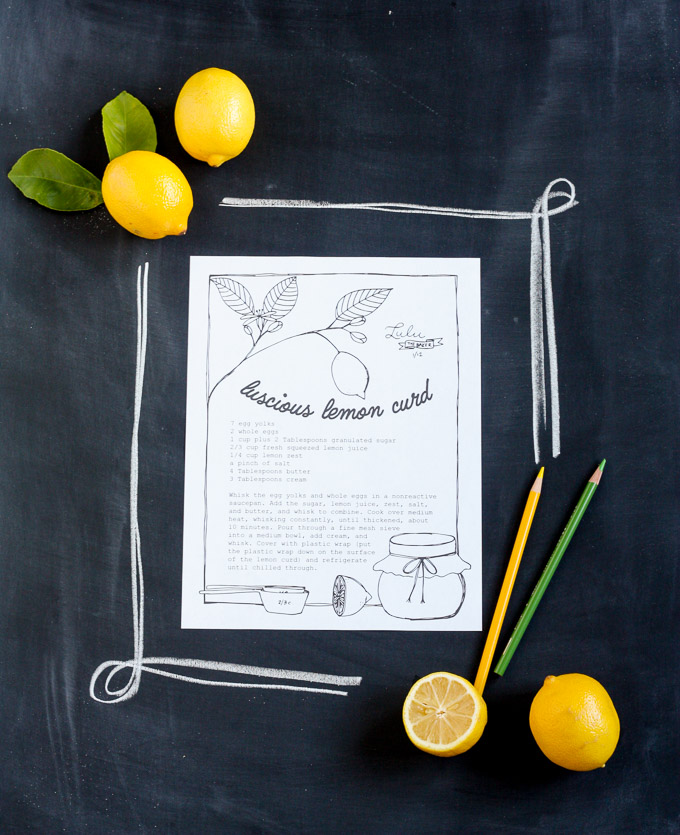 I love the new trend in fancy, grown-up coloring books that has been going on for a few months now. I love coloring; it's super relaxing, and satisfies that need to be creative and make something pretty without making a huge mess. So for the rest of the year, I'll be creating a printable coloring page featuring one of my favorite seasonal, easy recipes. Up first, and "squeezing" in just before we move on to a new month, we have Luscious Lemon Curd. Lemon curd is so easy to make, and is luxurious and bright and sunshiny. Since it's citrus season, you can substitute you favorite fancy citrus fruit for the lemon to make blood orange curd, meyer lemon curd, honey tangerine curd, or whatever fun flavor you fancy! You can find the printable recipe coloring page HERE; just download and print. If you print one out and color it, be sure to snap a picture and share it on Instagram or Twitter using the hashtag #luluthebakercolors. I'd love to see it!

Luscious Lemon Curd
Ingredients
7 egg yolks
2 whole eggs
1 cup plus 2 Tablespoons granulated sugar
⅔ cup fresh squeezed lemon juice
¼ cup lemon zest
a pinch of salt
4 Tablespoons butter
3 Tablespoons cream
Instructions
Whisk the eggs yolks and whole eggs in a nonreactive saucepan. Add sugar, lemon juice, zest, salt and butter, and whisk to combine.
Cook over medium heat, whisking constantly, until thickened, about 10 minutes.
Pour through a fine mesh sieve into a medium bowl, add cream, and whisk.
Cover with plastic wrap (put the plastic wrap down on the surface of the lemon curd) and refrigerate until chilled through.