Pumpkin Cream Cheese Streusel Muffins use a few from-scratch components plus a storebought mix to make an easy and delicious fall breakfast!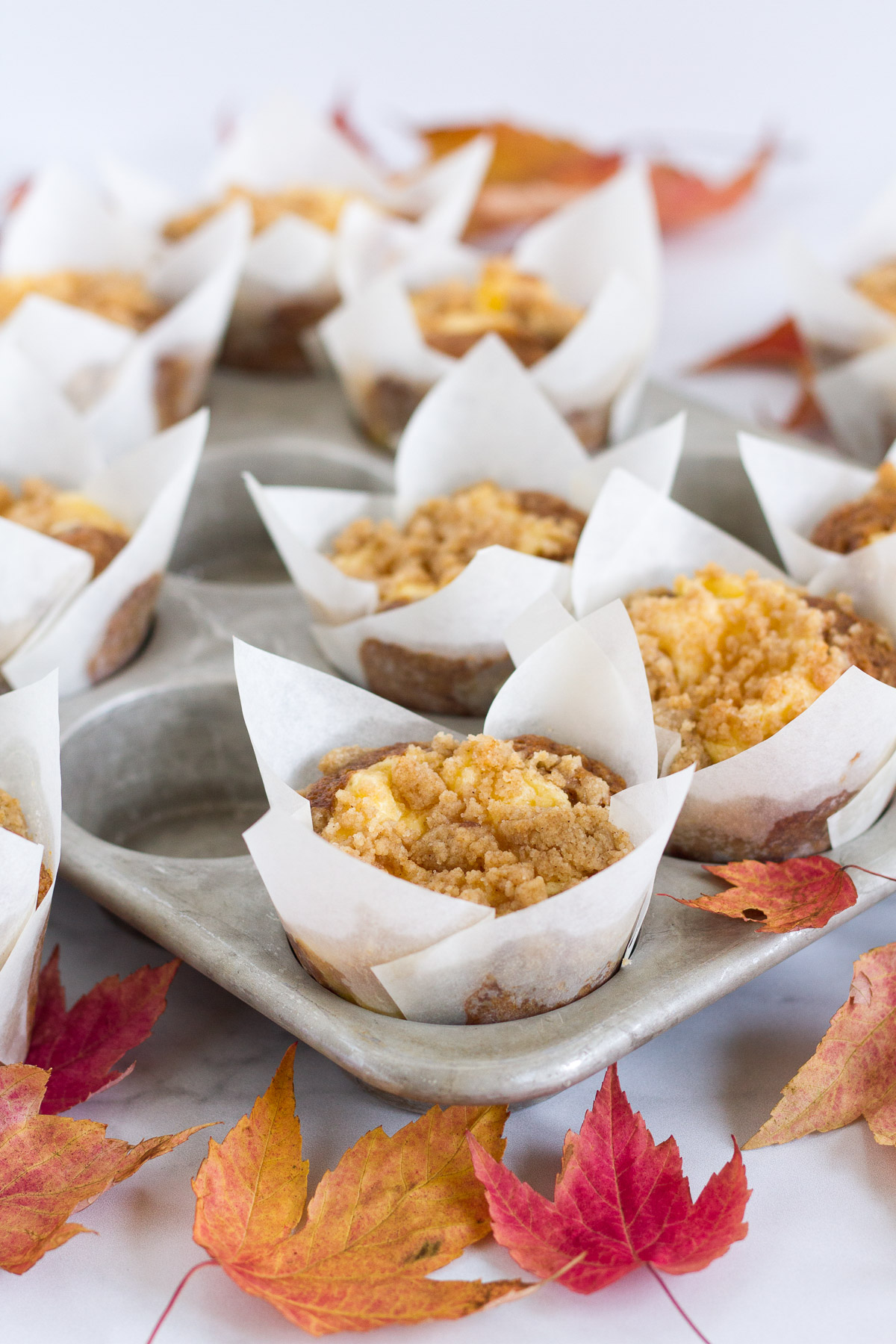 This is a sponsored post written by me on behalf of Albertsons. All opinions are 100% mine.
Fall is here and it's time for all things pumpkin! Our weather hasn't turned cool yet (we're in the middle of a heat wave!), but school has started, the days are getting just a little shorter, and the maple leaves are starting to show just a hint of rusty red on the edges.
These easy pumpkin cream cheese muffins are perfect for breakfast on fall mornings or with a cup of tea on a chilly afternoon. The sweet, cinnamon streusel topping and cream cheese filling are both made from scratch with just a few ingredients and about 10 minutes total, and the pumpkin muffin base is a tasty box mix. Put all the components together and you get bakery-worthy muffins that taste amazing, look fancy, and are a breeze to make.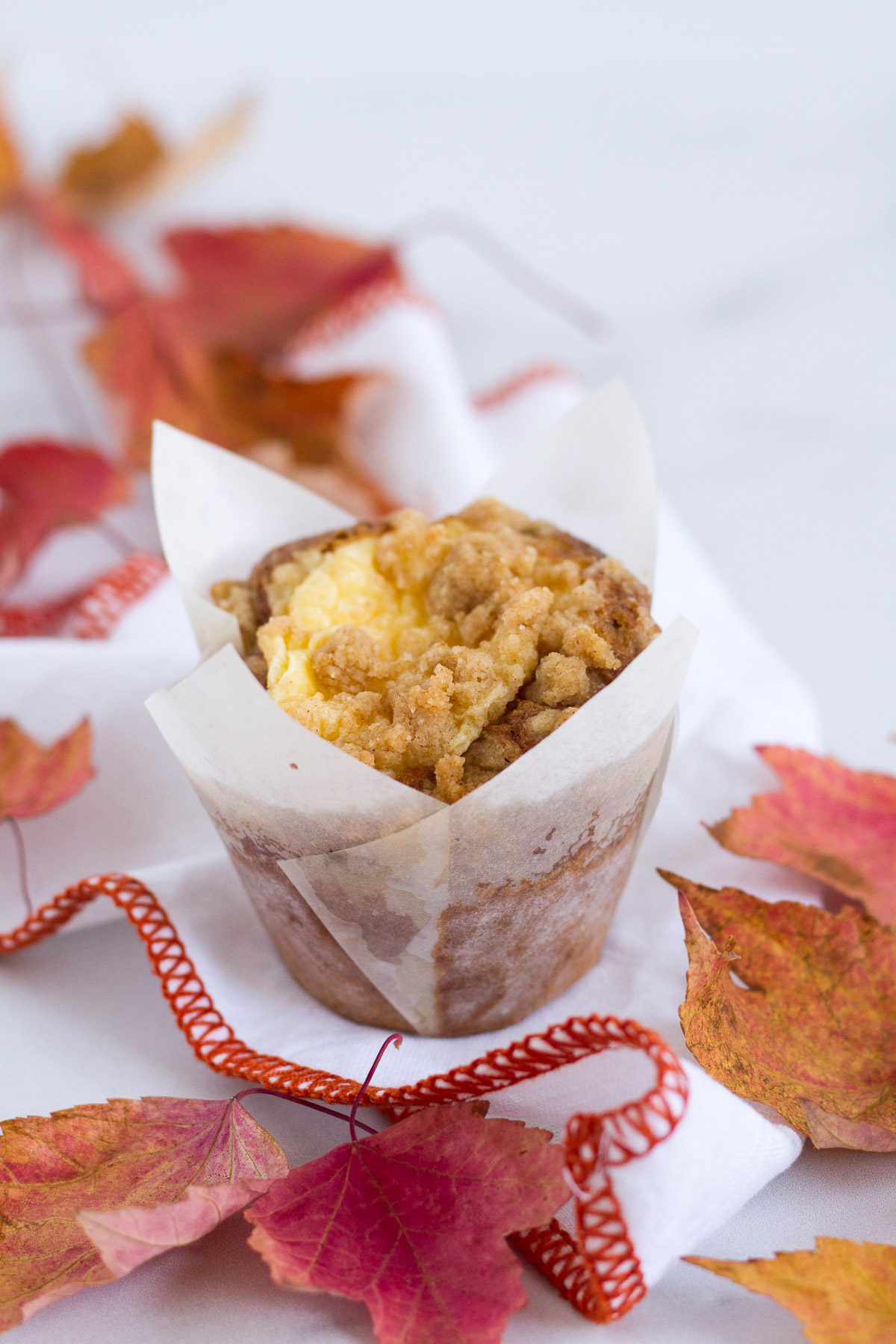 We picked up our pumpkin spice muffin mix at our local Albertsons. They have lots of festive, seasonal fall baking items and ingredients ready for you to grab: pumpkin baking mixes, pumpkin teas and coffees, and pumpkin cereals and breakfast treats. And if you don't feel like baking them up yourself, they have delicious pumpkin treats in the bakery department, like pumpkin rolls, cakes, pumpkin cookies, and pumpkin pie.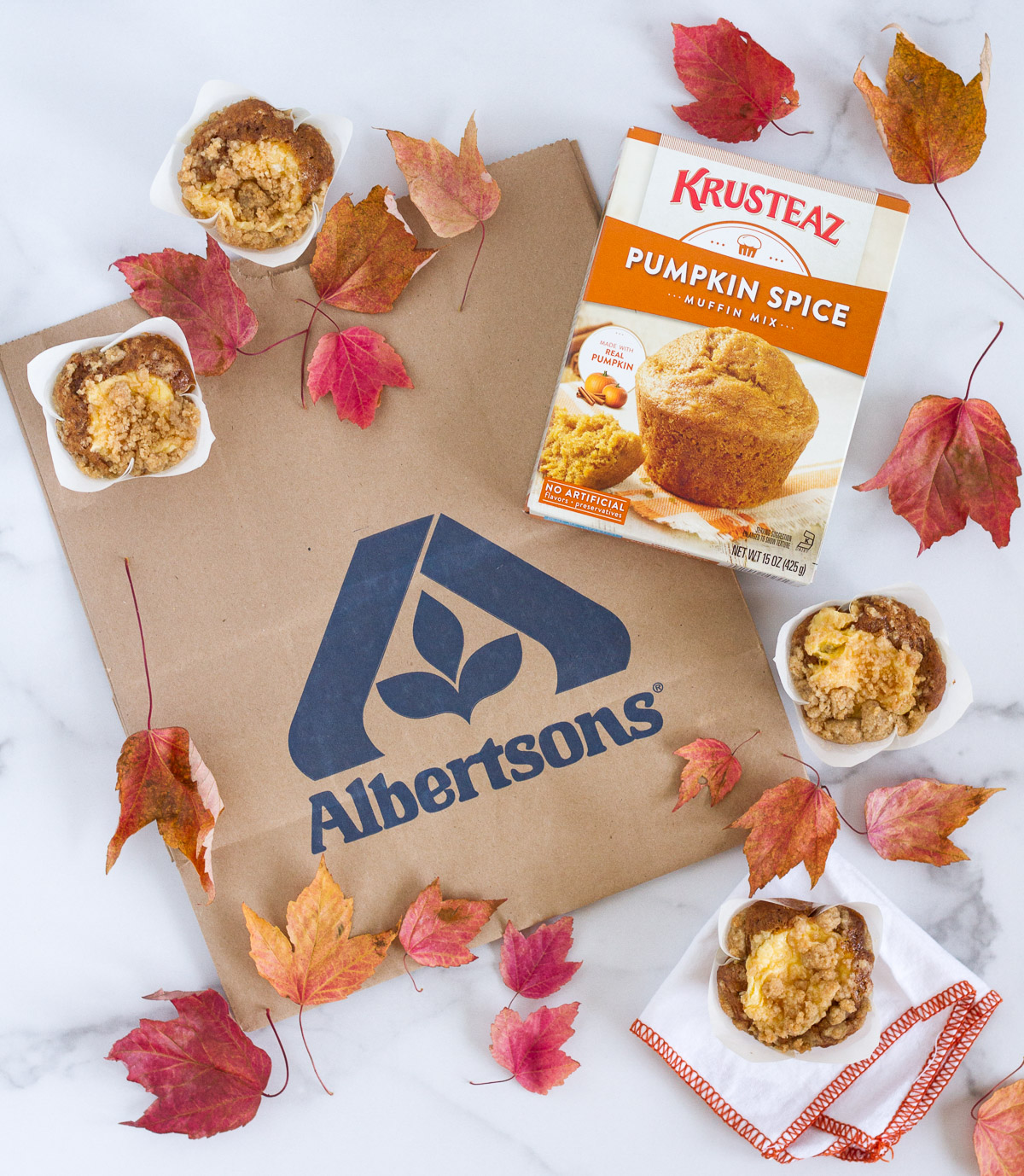 You can find lots more delicious pumpkin items at the Albertsons Companies family of stores, including Safeway, ACME Markets, Jewel-Osco, Vons, Randalls, Shaw's Supermarket, Star Market, and Tom Thumb. And don't forget: Albertsons also offers Grocery Delivery and DriveUp & Go™ for convenient ways to shop!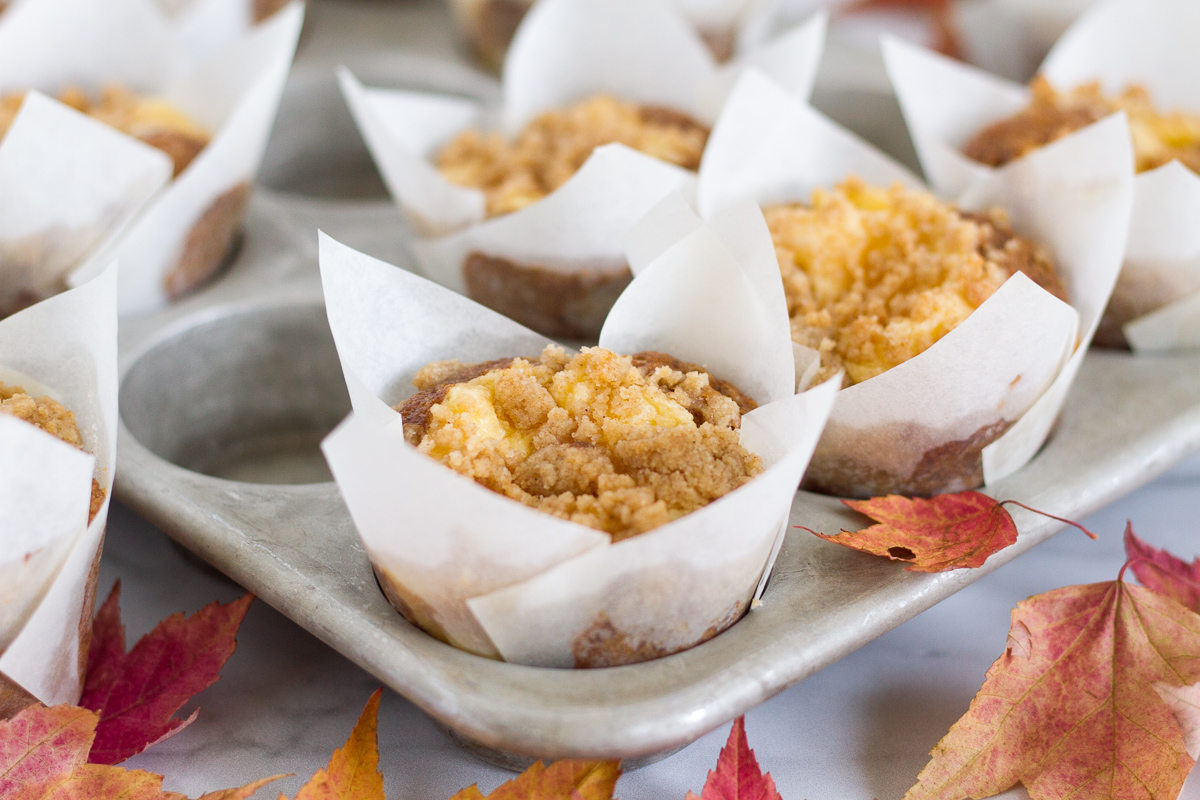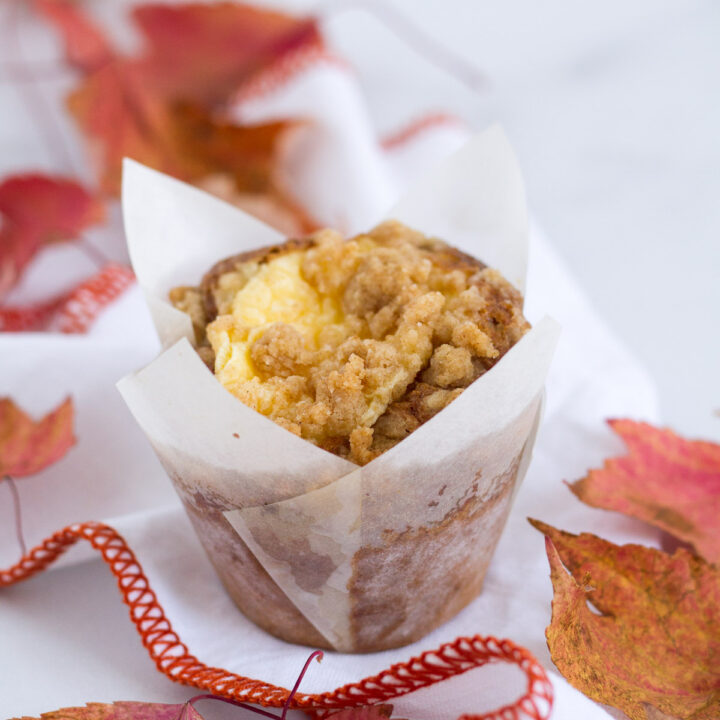 Pumpkin Cream Cheese Streusel Muffins
These delicious pumpkin muffins with a cheesecake filling and cinnamon streusel topping are super easy to make, and perfect for fall mornings.
Ingredients
for the streusel topping:
1/2 cup all-purpose flour
1/4 cup granulated sugar
1/4 cup brown sugar
1/4 teaspoon cinnamon
a pinch of salt
1/4 cup butter, melted (1/2 a stick)
for the cream cheese filling:
1 8-oz brick cream cheese, softened
1/2 cup granulated sugar
1 egg yolk
1 teaspoon vanilla extract
for the muffin batter:
1 box Krusteaz Pumpkin Spice Muffin Mix
2/3 cup water
1/4 cup vegetable or canola oil
2 eggs
Instructions
Preheat the oven to 350°F. Line a 12-cup muffin tin with paper liners (the taller the better!) or spray the entire tray, including the top, with nonstick baking spray. This muffins get BIG!
In a small bowl, combine flour, granulated sugar, brown sugar, cinnamon, and salt for streusel topping. Add melted butter, stir until combined, and set aside. There shouldn't be any dry ingredients remaining in the bowl.
In a large bowl, beat the softened cream cheese and sugar until smooth. Add the egg yolk and vanilla, and beat on medium speed until smooth. If you need to, turn the mixer up to high until the mixture is smooth. Set aside.
In a large bowl, combine muffin mix, water, oil, and eggs. Whisk until combined.
To assemble the muffins, begin by dividing the pumpkin spice muffin batter evenly among the prepared cups. Top each with a scoop of cream cheese filling. Finally, use your hands to crumble the streusel topping into small pieces (smaller than peas) and divide it evenly among the muffin cups.
Bake the muffins for 24 minutes until a skewer inserted in the center of a muffin comes out clean. Cool for at least 15 minutes before removing from the pan. Serve warm or at room temperature.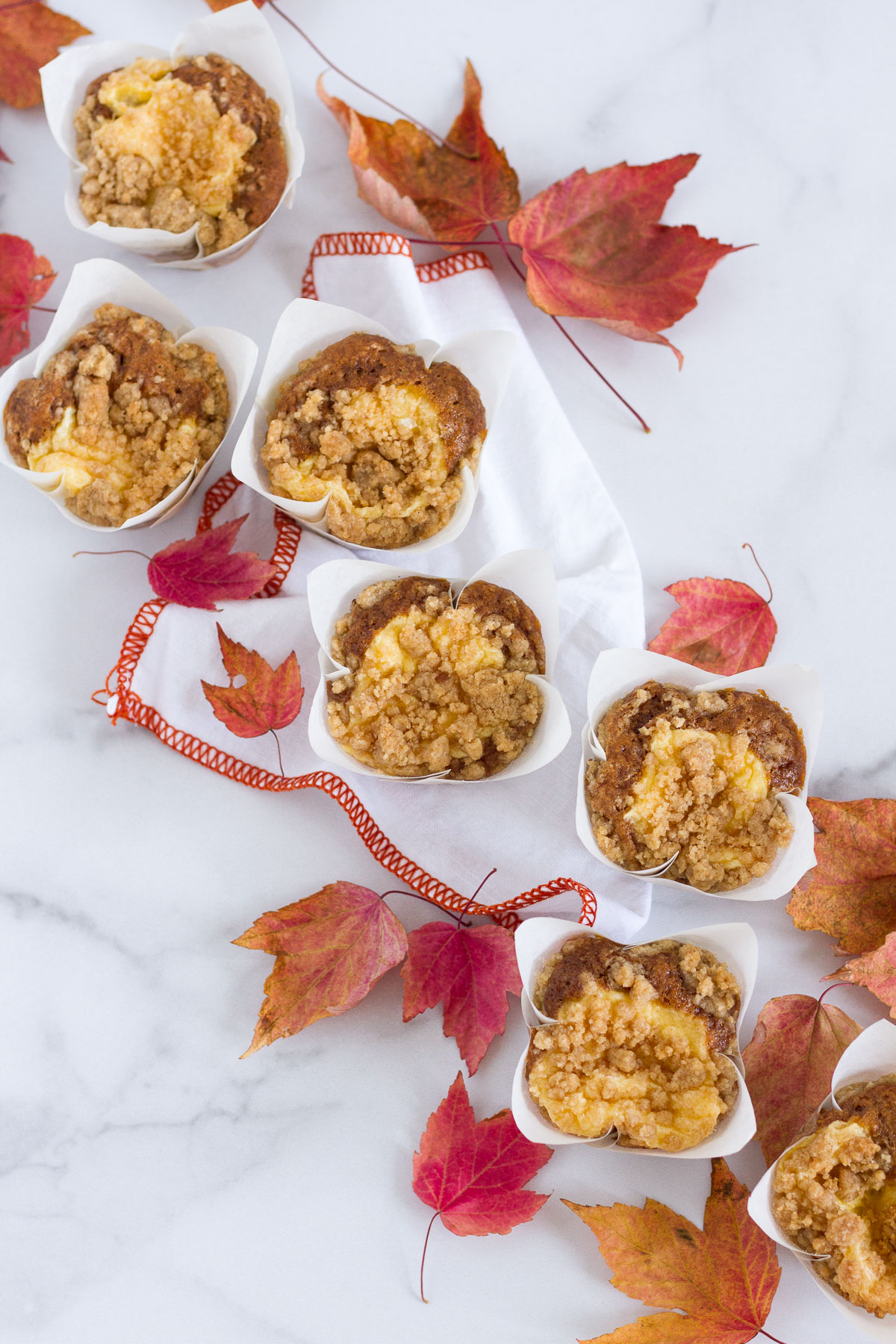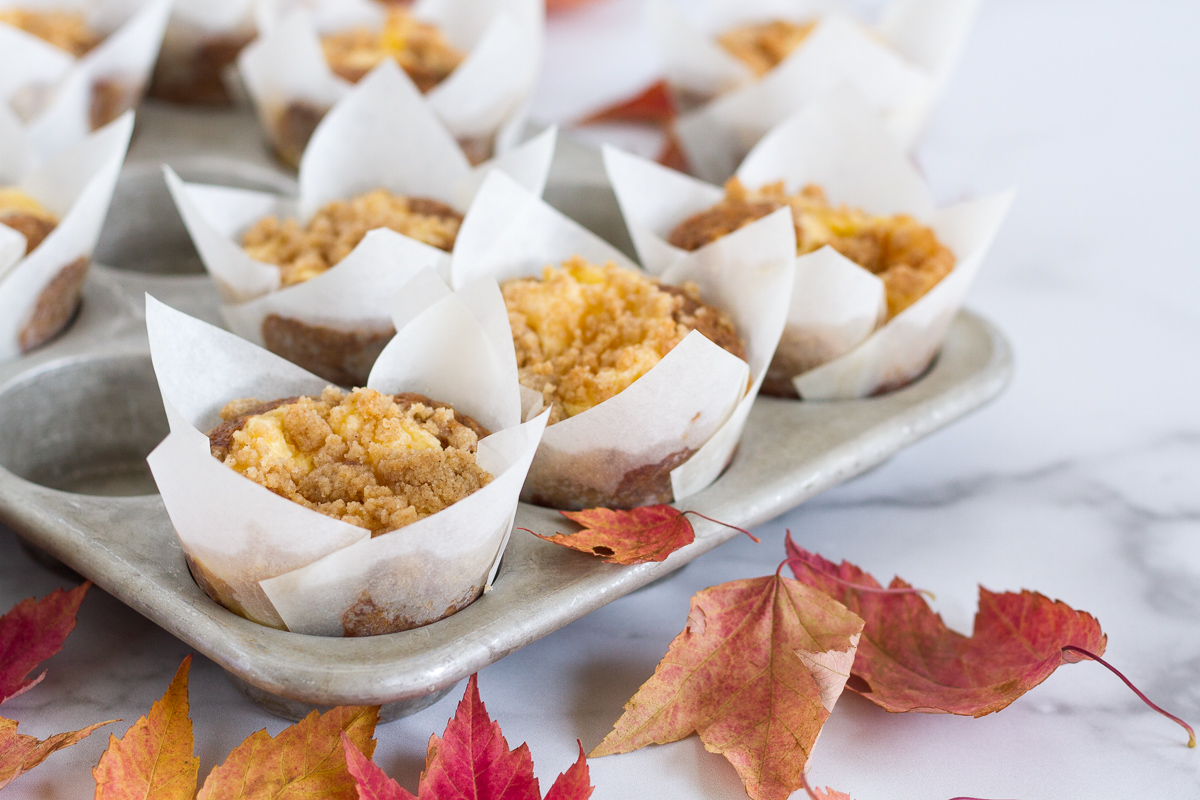 For more pumpkin goodness, CLICK HERE and browse the other pumpkin recipe on my site.