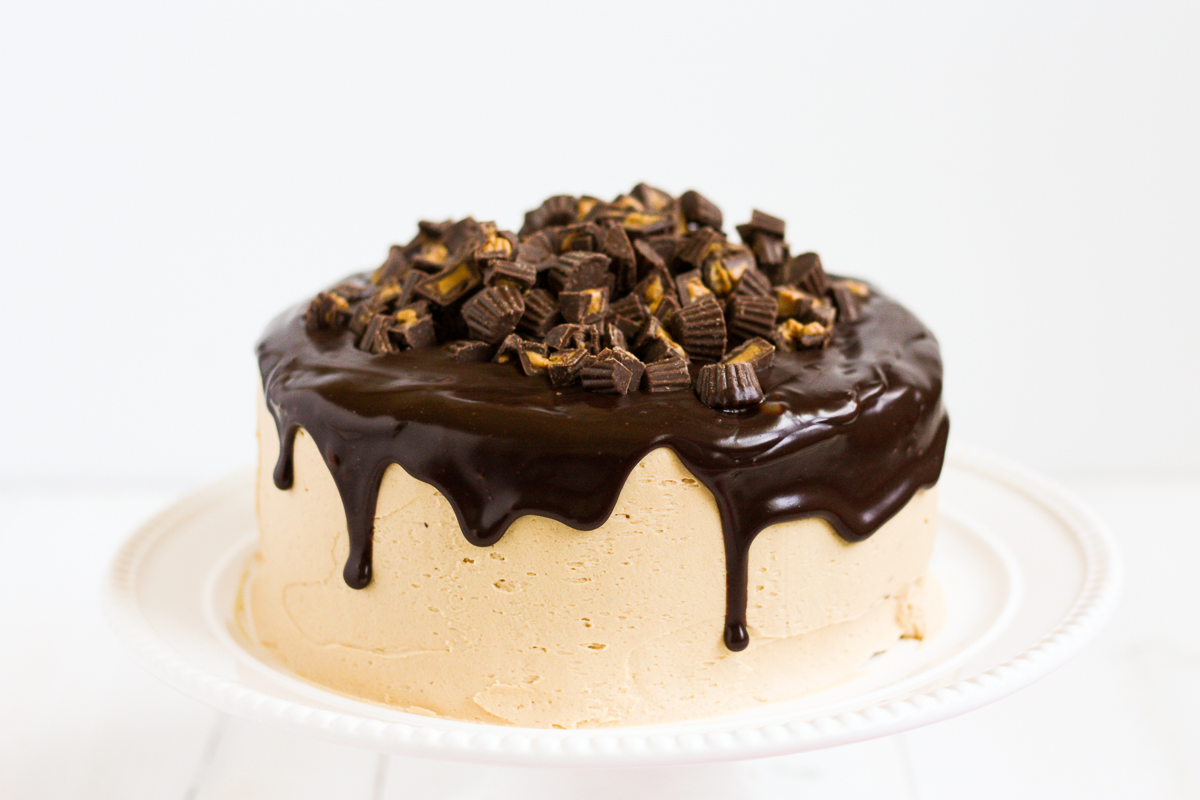 My husband's birthday gives me the opportunity to experiment with delicious cake and frosting combinations every year. My kids always make specific requests when it comes to birthday cakes—Mississippi Mud Cake, chocolate cake with vanilla frosting, and strawberry shortcake are common requests—but my husband is happy with whatever he gets, so it gives me a chance to try new things. Chocolate and peanut butter is his favorite flavor combination; one of his go-to snacks is Hershey's Kisses dipped in peanut butter! So I thought it would be fun for his birthday last month to see what yummy PB and chocolate delicacy I could come up with. And let me tell you, this peanut butter chocolate layer cake was a smashing success!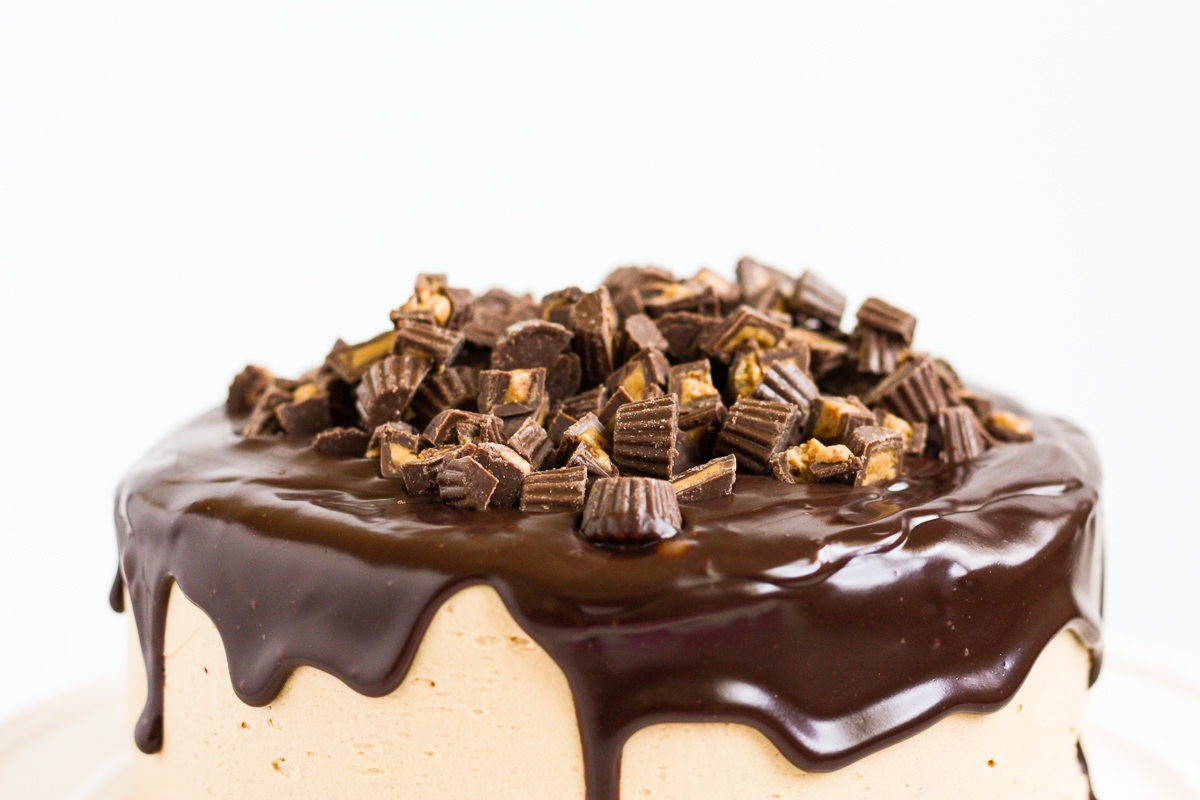 I started with my go-to chocolate cake recipe from Ina Garten. It is easy to make and is really the BEST chocolate cake recipe I've tried. The cake always bakes up super moist and full of deep chocolate flavor, two things that not all chocolate cakes manage to do. I did a little research about peanut butter frosting and really lucked out by making Sugar and Soul's insanely good version on the first try. Recipes for peanut butter frosting vary wildly, but this one had everything that I wanted: a super smooth, fluffy texture, an easy-to-spread consistency that wasn't too greasy or too sticky, and sweet peanut butter flavor. I changed it up just slightly by using salted butter instead of the unsalted butter the recipe called for. I even added an extra pinch of salt—I think a little salt in your peanut butter frosting is a beautiful thing! I also used a milk chocolate ganache both on top of the cake and in between layers to really boost the chocolate flavor. The finished cake looked beautiful and tasted amazing. I had lots of people ask me if I bought it somewhere (which is always a compliment), and lots of oohs and aahs about the flavor. It was one of my favorite birthday cakes I've ever made. If you have a peanut butter chocolate lover in your life, make them this cake ASAP!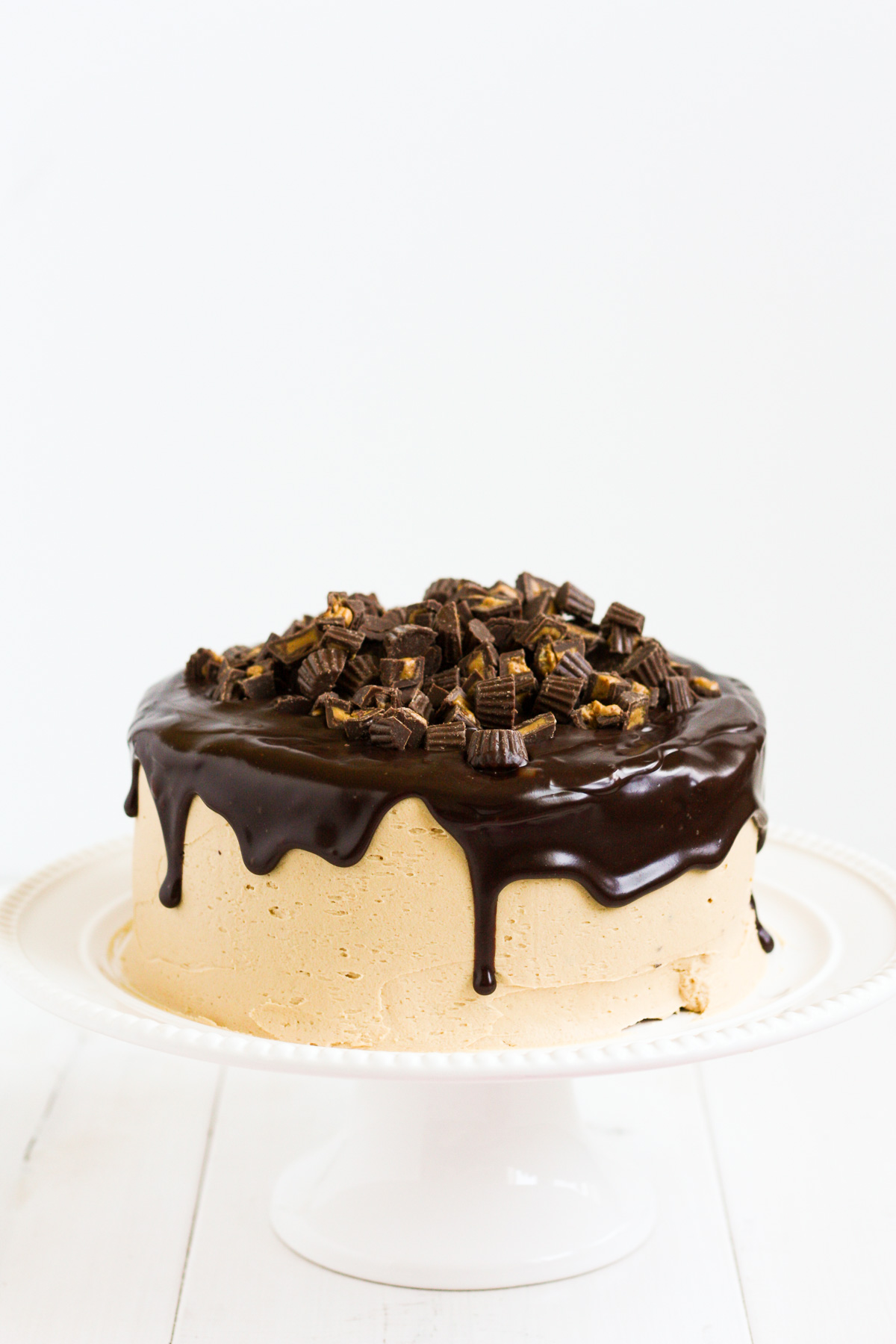 PEANUT BUTTER CHOCOLATE LAYER CAKE
Moist chocolate cake paired with a silky-smooth peanut butter frosting and rich milk-chocolate ganache! This cake is incredibly rich, so be sure to serve slices with a tall glass of ice-cold milk.
Ingredients
for the cake:
1¾ cups flour
2 cups sugar
¾ cups cocoa powder
2 teaspoons baking soda
1 teaspoon baking powder
1 teaspoon kosher salt
1 cup buttermilk
½ cup oil
2 large eggs
1 teaspoon vanilla extract
1 cup hot, strong coffee
for the peanut butter frosting:
1 cup butter, softened
1 cup creamy peanut butter
1 teaspoon vanilla extract
a pinch of salt
1 lb powdered sugar
5 tablespoons heavy cream
for the milk chocolate ganache:
8 oz chopped milk chocolate or high-quality milk chocolate chips
⅔ cup heavy cream
chopped mini peanut butter cups for garnishing
Instructions
Preheat oven to 350°F.
Butter two 8″ cake pans and dust with flour.
Combine all dry ingredients in the bowl of a stand mixer and mix until combined. In a small bowl, combine buttermilk, oil, eggs, and vanilla. Pour buttermilk mixture into dry ingredients and beat just until smooth. Add coffee and mix just until incorporated.
Divide batter, which will be incredibly runny, evenly between the two pans. Bake for 35 to 40 minutes until a toothpick stuck in the center of each cake comes out clean. Remove from oven and allow to cool in the pans for 10-15 minutes before turning out onto a wire rack to cool completely.
While the cakes are cooling, prepare the frosting. Beat the butter, peanut butter, vanilla, and salt until smooth. Beat in powdered sugar and heavy cream alternately until everything is mixed in, then turn the mixer up to high and beat the frosting for 2-3 minutes until it is very smooth and fluffy.
Prepare the ganache by combining the chocolate and heavy cream in a large microwave-safe bowl. Microwave for 30 seconds, then stir. Repeat until the ganache is completely smooth and glossy.
To assemble the cake, place one cake layer on your serving plate or cake stand. Top with a layer of frosting about ½" thick. Make the frosting a little thicker on the edges of the circle so that the ganache won't spill out. Pour about ⅓ of the milk chocolate ganache evenly over the frosting, keeping it away from the edges. Place the second cake layer on top. Use the remaining peanut butter frosting to frost the top and sides of the cake. Pour the remaining ganache evenly over the top of the cake, making sure it drips down the sides of the cake. If necessary, use an offset spatula to gently push the ganache over the edge of the cake, then let gravity do the rest. Sprinkle chopped mini peanut butter cups in the center of the cake. Allow the ganache to set up before serving.
Notes
People feel very strongly about their chocolate! I personally go crazy for milk chocolate and think the milk chocolate ganache is perfect for this cake, which is already very rich. But if you prefer dark chocolate, feel free to replace some or all of the milk chocolate with semi-sweet, dark, or bittersweet according to your preferences.