We turned the plain white front porch pillars on our house into cedar pillars, and we couldn't be happier with the results!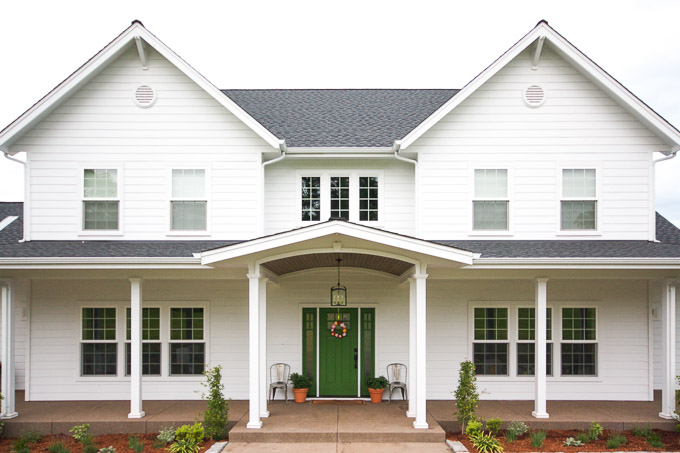 Building a Dream House is a lot like planning a wedding: you read a million magazine articles, spend years collecting inspiration photos, and finally get every detail just the way you want it. And that works out wonderfully—if you completely stop reading magazines, browsing the internet, or scrolling through Pinterest after the big day.
But invariably, with either houses or weddings, you'll see some amazing idea at some point down the road and feel a little pang of disappointment that you didn't think to incorporate it into your plans. Don't get me wrong; we LOVE our house. There are really very few things we'd change about it if we could do it all over again.
But there are a couple of things we'd do differently, some small and some significant. The door to the backyard from the basement, for example, is lined up right behind a pillar instead of being between two pillars, which would have made a million times more sense. All of our windows are the standard white-framed windows that pretty much everyone has in their house, but we'd do black-framed windows in a heartbeat if we could go back in time. And there are the inevitable dark corners that could use some extra light, and rooms that could use another electrical outlet or two.
Sometime last year, my husband and I were talking about how good our house would have looked with cedar pillars on the porch instead of white. It occurred to us that, unlike most of the other things we wished we'd done differently, this one was actually pretty easy to fix.
We bought a few cedar planks, took some measurements, and tested a few arrangements. After we determined that it would, indeed, be an easy fix, we bought the materials and hired a pro to stain and install the wood. It took a few weeks for him to finish all 19 cedar pillars, but we couldn't be more thrilled with how they turned out! When I look at photos from before, I feel like the front of the house was unfinished.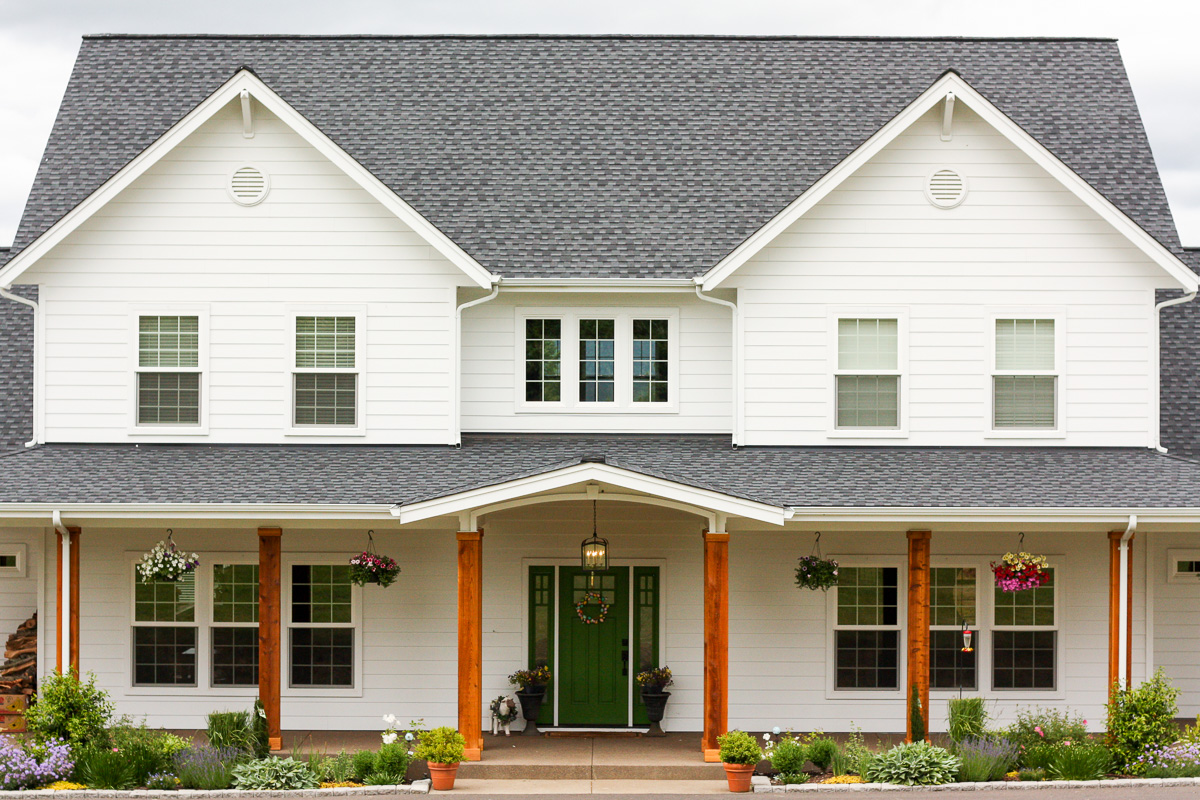 We bought 1″ unfinished cedar planks in widths of 7 1/4″ and 9 1/4″. The narrower planks are attached to the sides of the pillars, and the wider planks are attached to the front and back so that each pillar is square. We wanted to keep the project simple, so the corners of the pillars aren't mitered. You can see a detailed shot in one of the pictures below.
We wanted the pillars to be protected from the weather (cedar goes gray in the sun if you don't treat it), but we didn't want them to be that crazy red color a lot of stained cedar gets. By the way, they do look really red in some of these pictures, like the one above, but they aren't that red in real life. We chose the clearest, most natural stain we could find, and I think the color is beautiful and really highlights the knots and grain of the wood. We used Duckback Superdeck Transparent Stain in Natural.
The only problem we ran into was at the top of each pillar where it connected with the porch beam. The beam doesn't rest on top of the pillars, it rests inside little notches cut into each pillar. So our friend who installed the cedar cut similar notches in the cedar crown molding.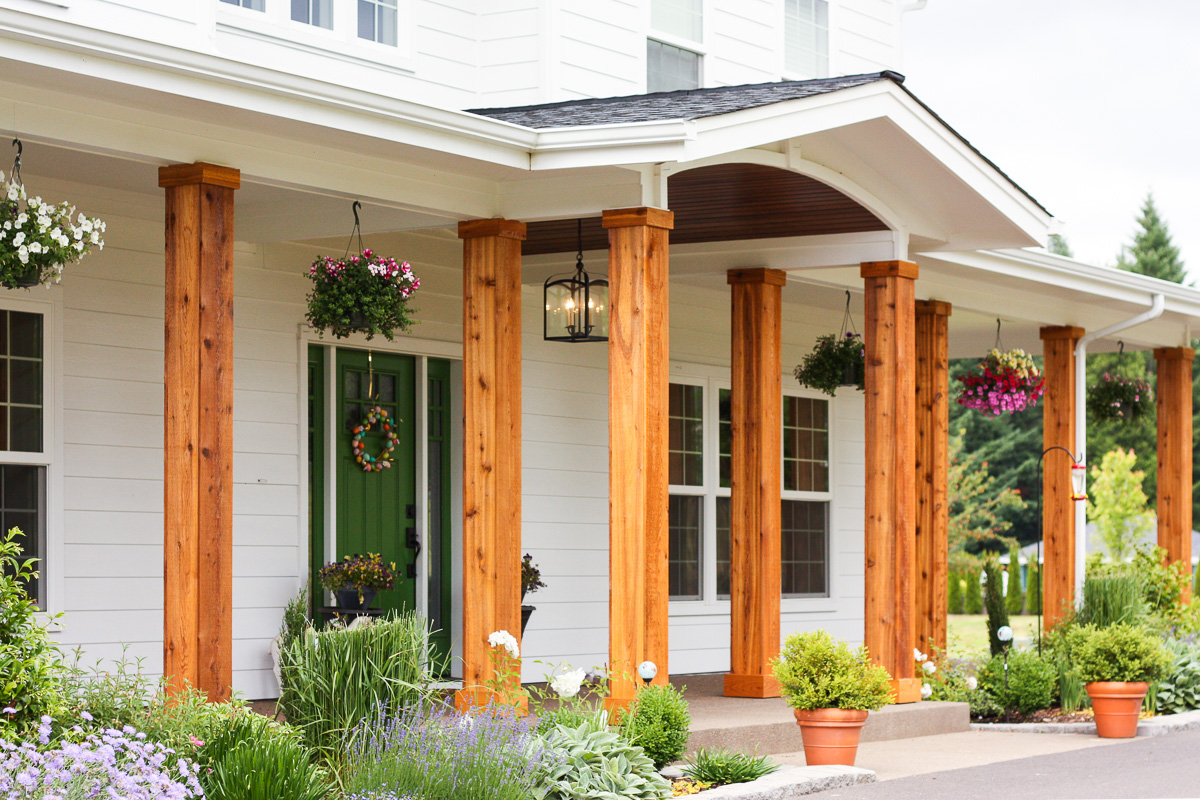 All in all, we love this latest update to the Dream House. The cedar pillars make the front (and back!) of the house look colorful and beautifully finished. And the mature landscaping doesn't hurt either. I'm super happy with how nice all of the plants we put in last year look this summer.
Next on our list is a back patio slab to replace the gravel and weeds currently in the location. We've been meaning to do something with it for two summers and will hopefully get around to it this year. Wish us luck!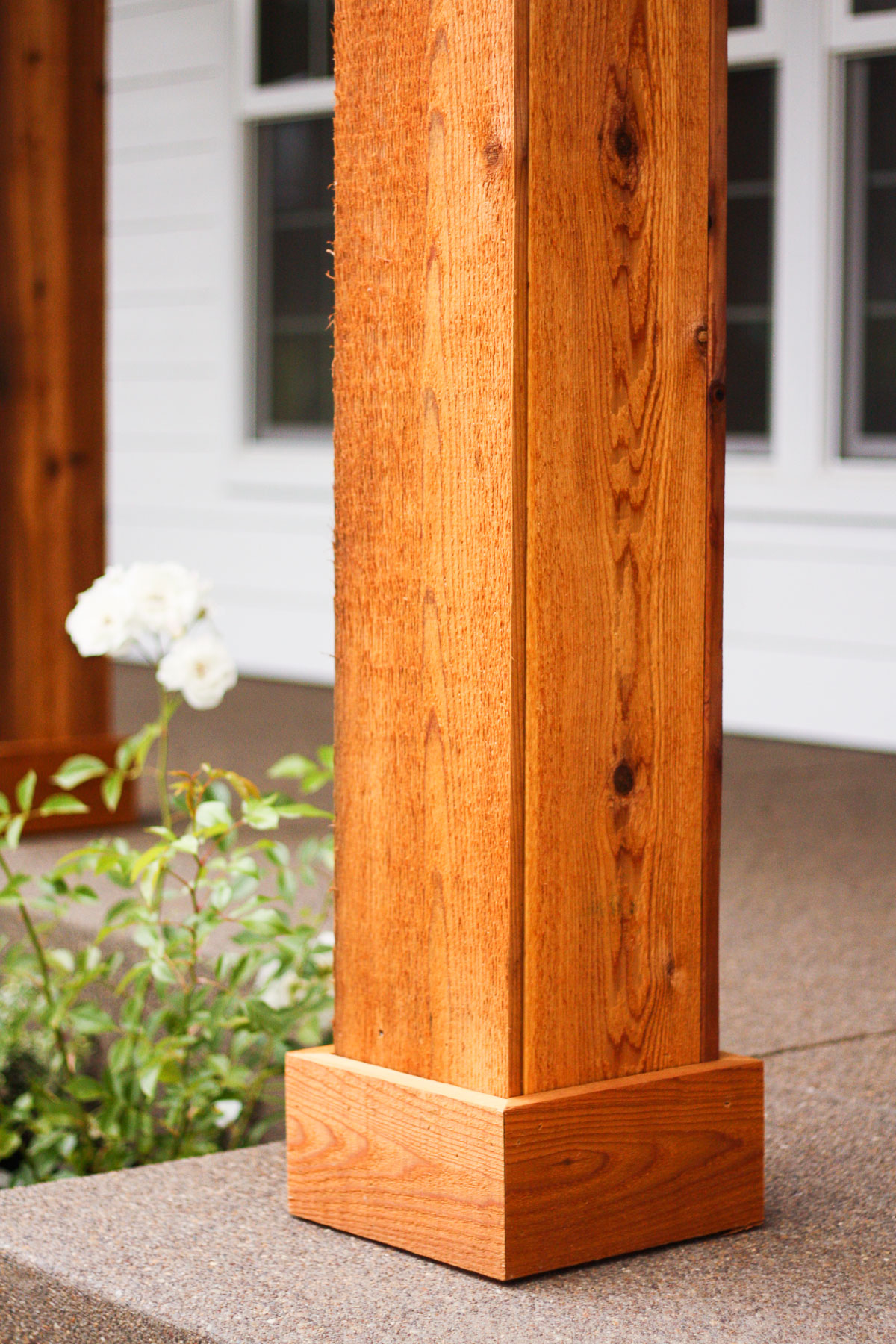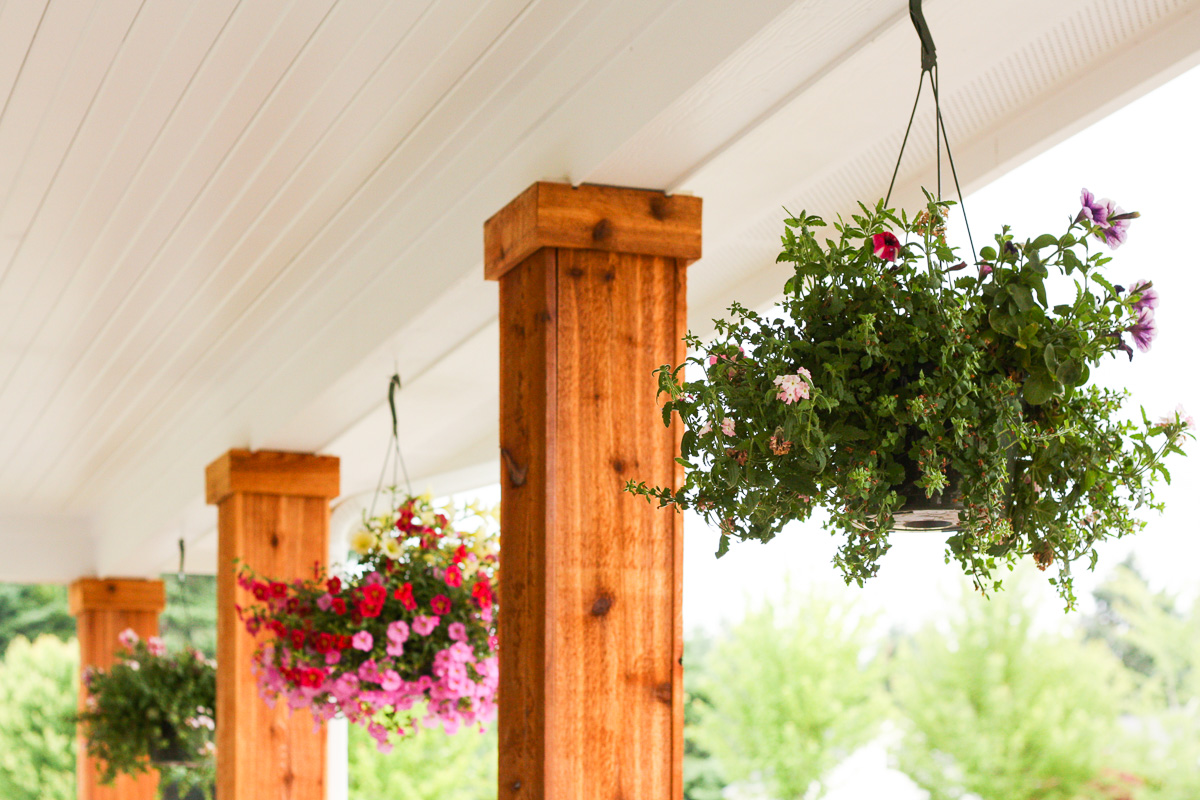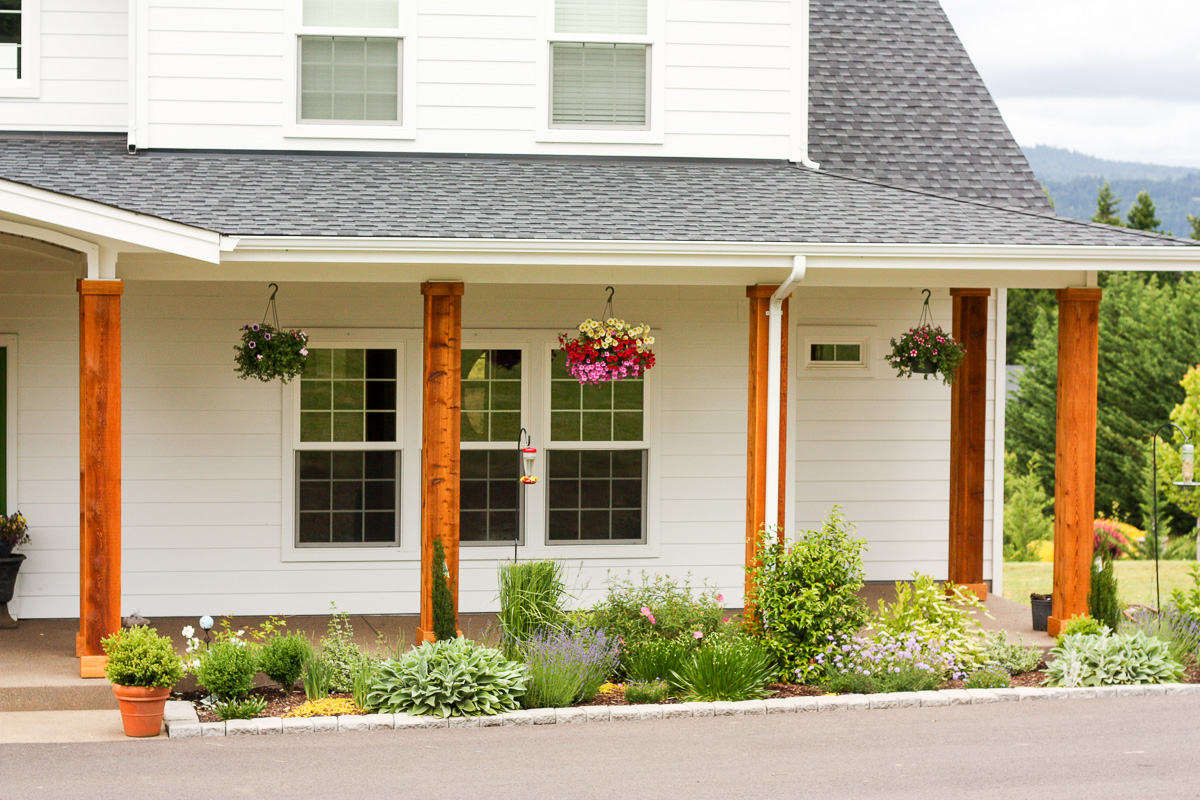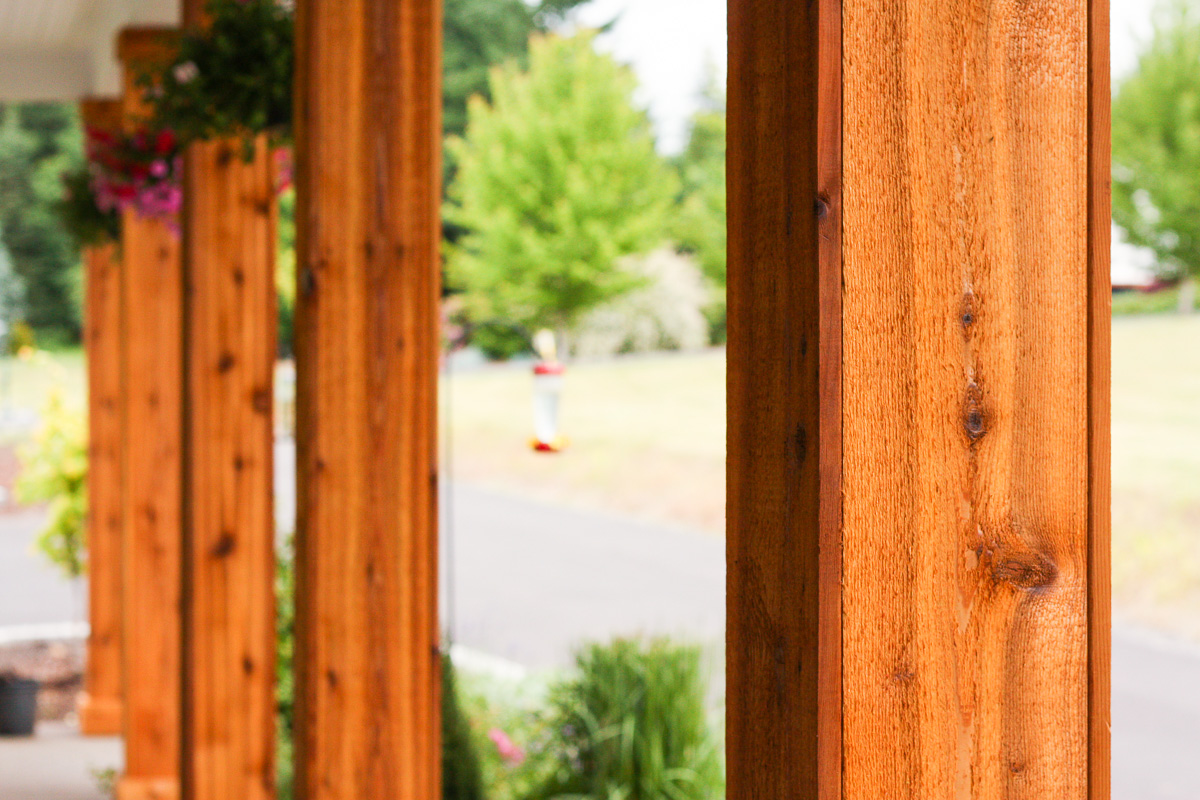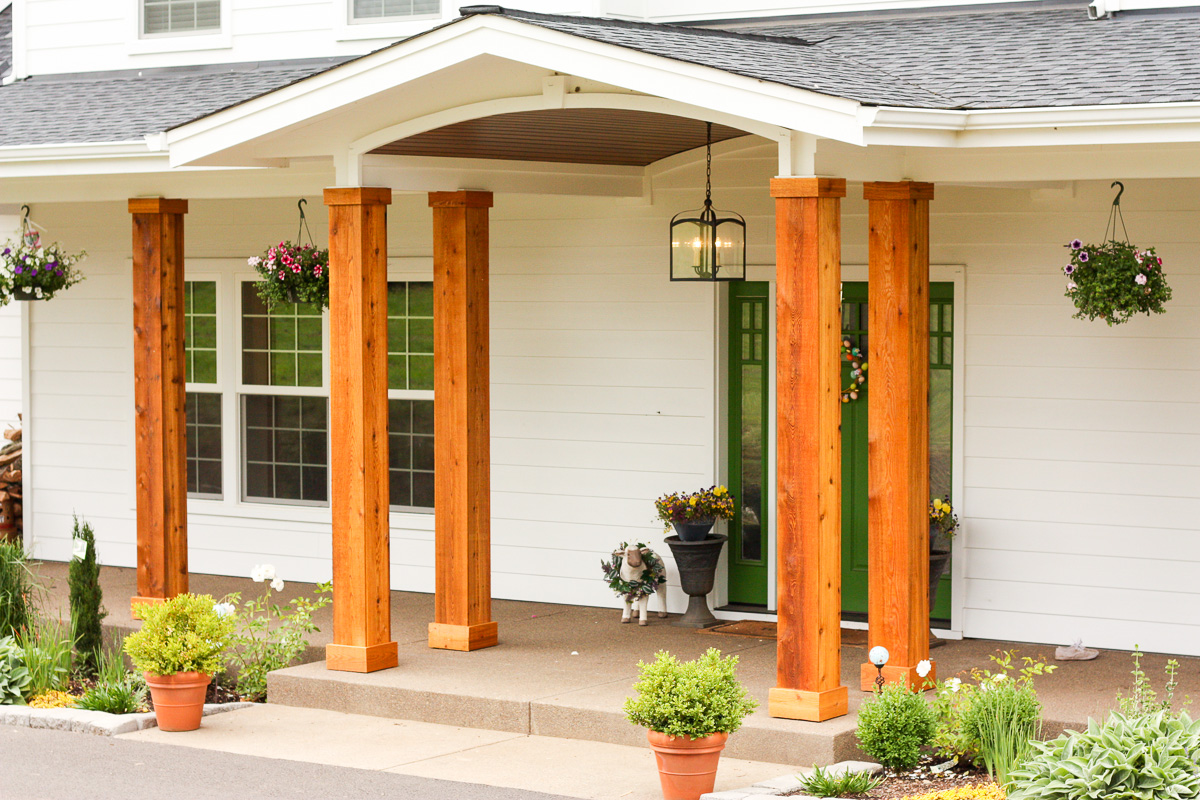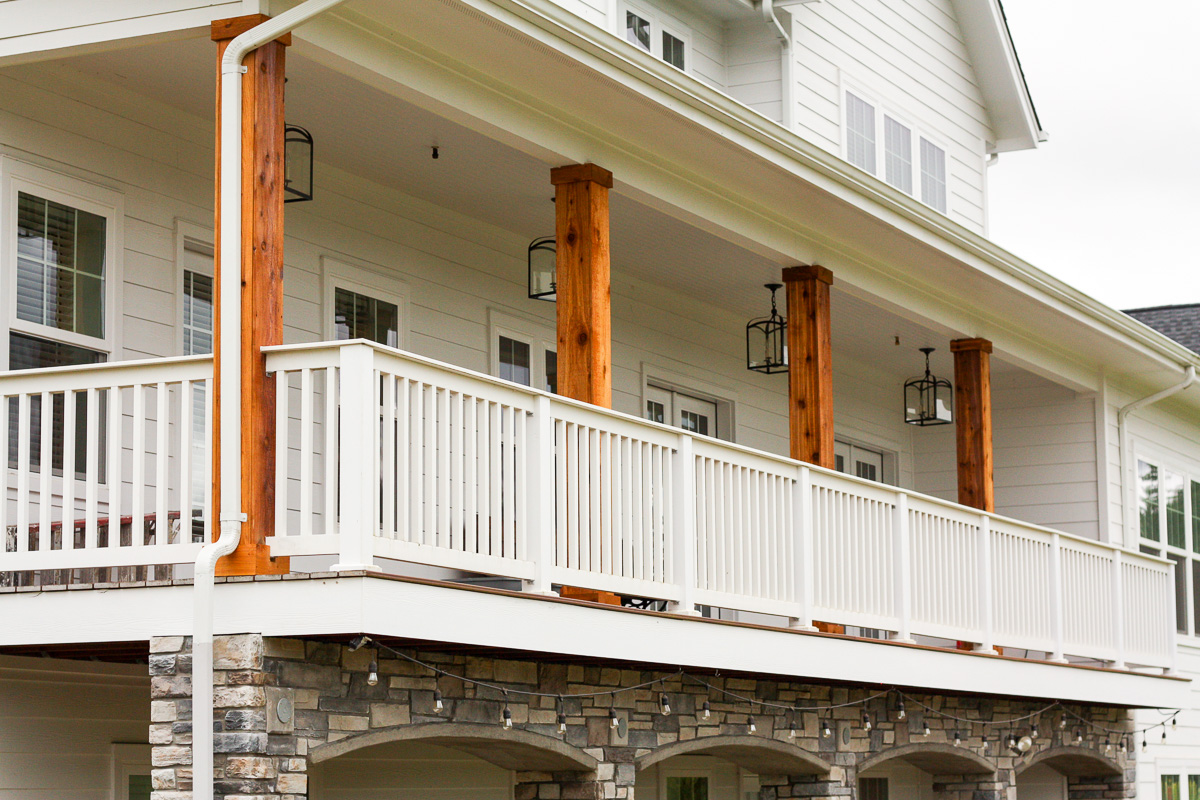 SaveSave