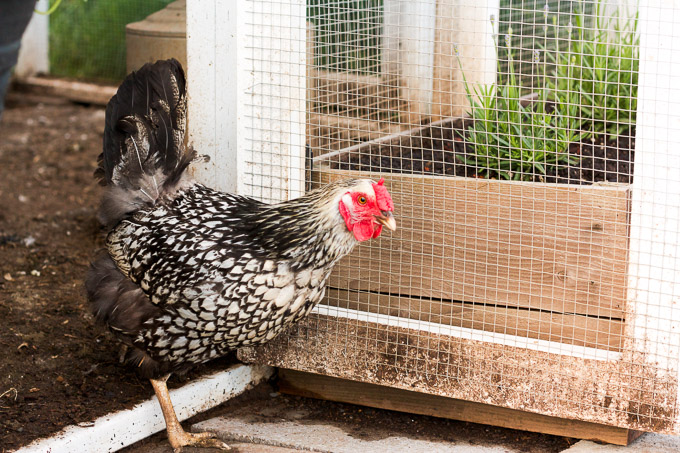 A couple of weeks ago, I introduced you to our little flock of backyard chickens. I've gotten lots of comments since then from people who say, "Oh, I would love to have chickens!" And to that, I say go for it! They are sweet and entertaining and funny, and pretty easy to take care of.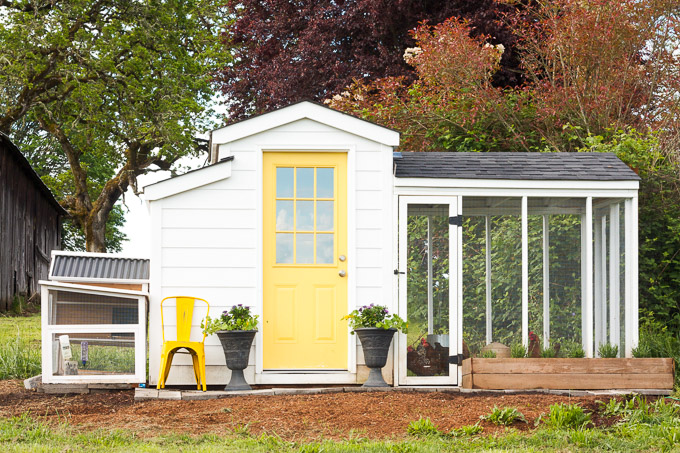 As with any pet, backyard chickens need a place to live. We added this beautiful new coop to our yard at the end of last Summer. It's very roomy, which is nice with 8 in our flock, but you can keep a single chicken or a pair of hens in a much smaller coop. We added the rabbit hutch on the left earlier this year, along with two black satin bunnies, Franny and Flossy. The bunnies and chickens get along really well, and it's sweet to watch them visit with each other.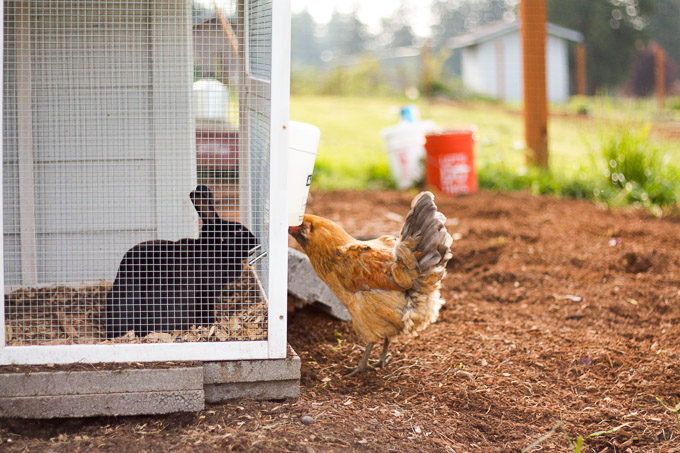 We've been sprucing the coop up over the last few weeks to get it ready for the warmer weather. The first thing we did was put down concrete pavers to make a patio of sorts across the front of the coop. It's helped keep the outside of the coop a lot cleaner. We also added a yellow cafe chair next to the hen house door in case anyone needs a place to sit while they fill feeders or change water bottles.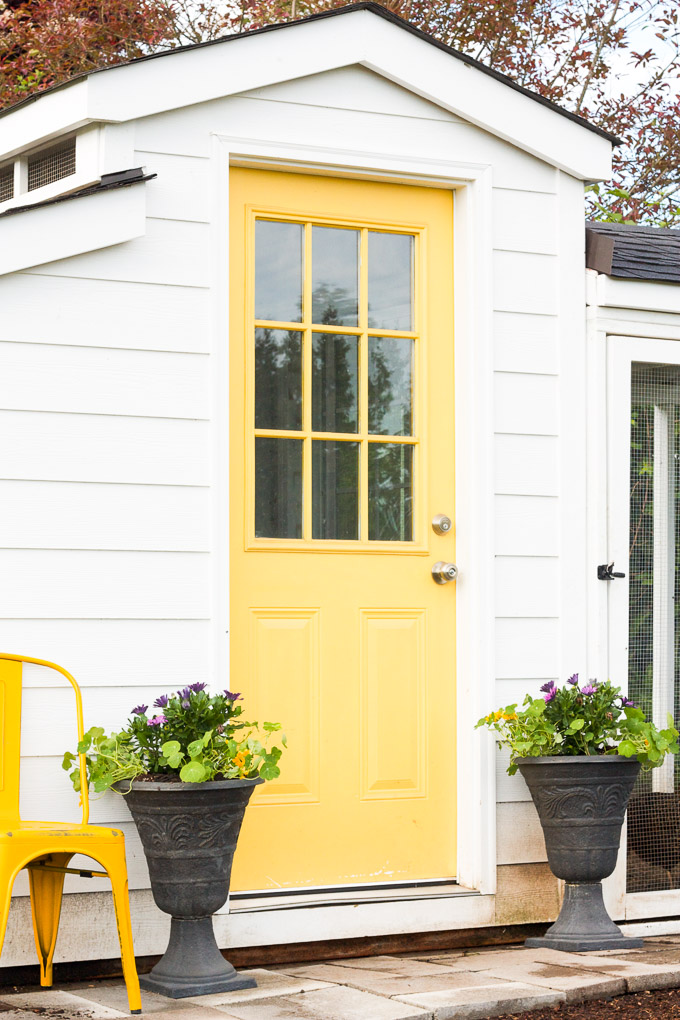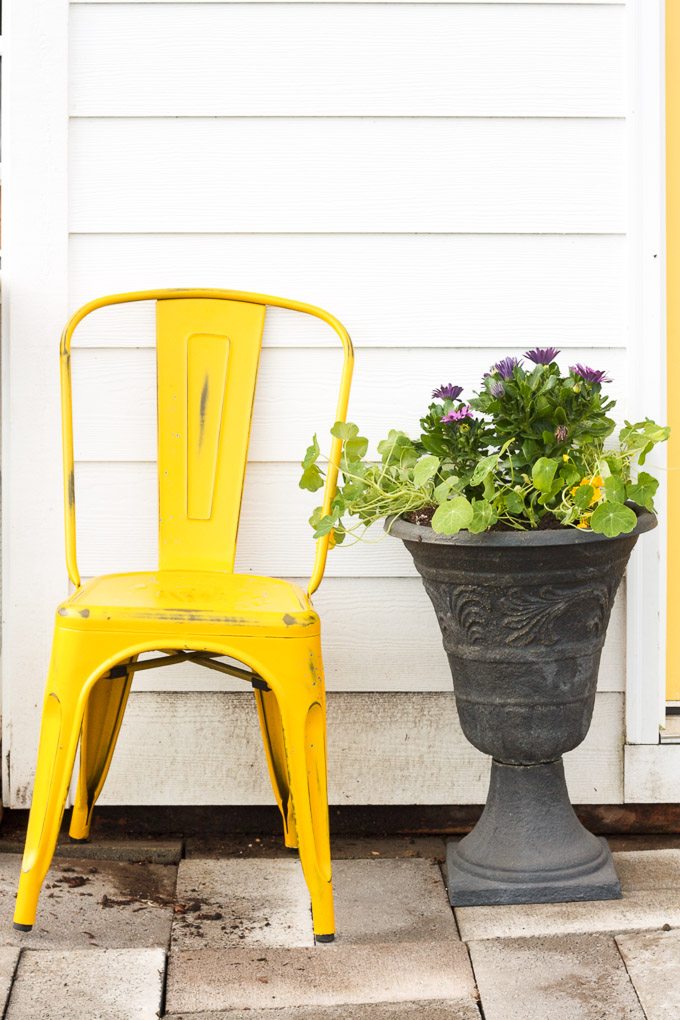 A few weekends ago, we added some planters to either side of the hen house door. Since chickens love to eat plants, especially the ones you put in a pretty planter, we made sure we picked things that were safe for chickens to eat. We have some pretty, purple African daisies surrounded by nasturtiums, which chickens love. The planters are tall enough that the chickens can't reach much, but we made sure to get some creeping nasturtiums that will hang down the sides of the urns and give the chickens a special treat. We also planted some lavender in a planter box outside the chicken run. It should help the air around the run smell fresh, and as a bonus, it's a natural bug repellant.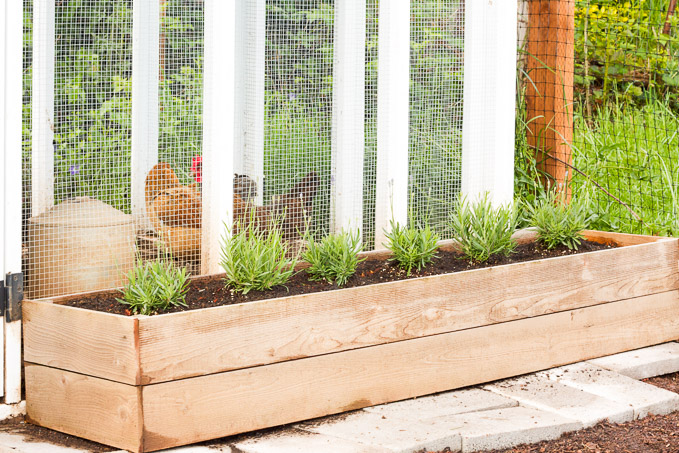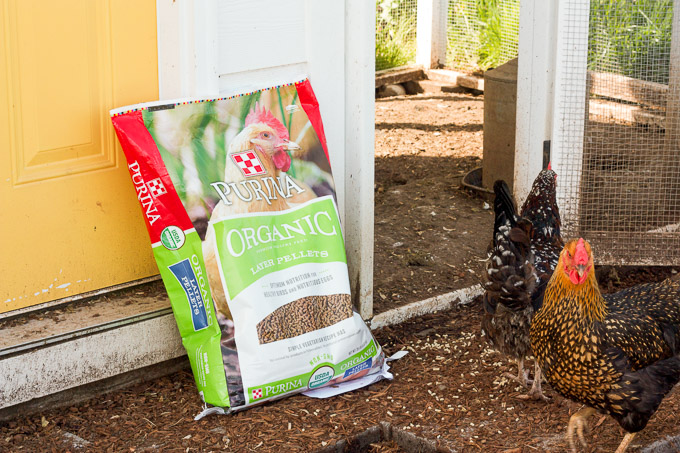 When the weather is nice, we let the chickens out to range, so they get their fill of bugs and plants. But even in the Summer, we always keep their feeder full of chicken feed to make sure they have enough to eat. And in the cold, rainy Oregon winter, chicken feed is their number one source of food. Our favorite is Purina's new Organic Poultry Feed. It doesn't contain any animal products or GMO's, and has no fillers, artificial preservatives, or growth hormones. We love knowing that our chickens are getting the very best food available, and they seem to really love it too!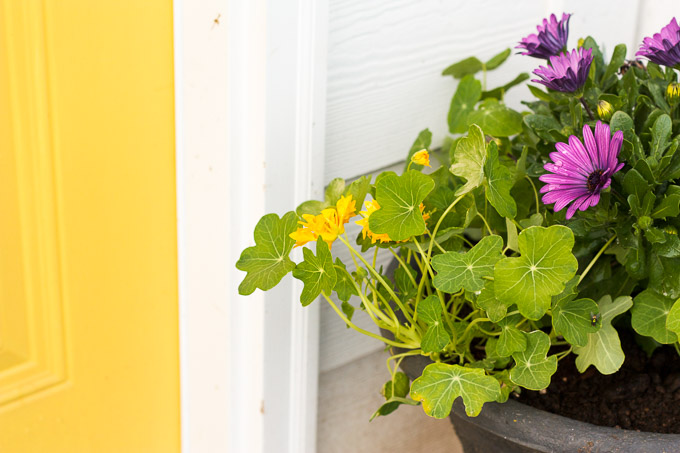 If you'd like to try out one of Purina's organic chicken feed products, today is your lucky day: I have two options for you! For Option 1, enter you email address in the Rafflecopter widget below and get a $5 coupon good towards any of the products in the New Purina® Organic Chicken Feed line, available at your local Purina retailer. For Option 2, use the other options in the Rafflecopter widget to enter to win a free bag of your choice of Purina® Organic Chicken Feed!
a Rafflecopter giveaway
This post has been sponsored by Purina Animal Nutrition, as such I received free product from Purina to share my opinion with my readers. However, my opinions are based on my individual and unique experience. Based on my experience in 2016 I believe this line of feed has been amazing for my flock and I encourage you to try it too!