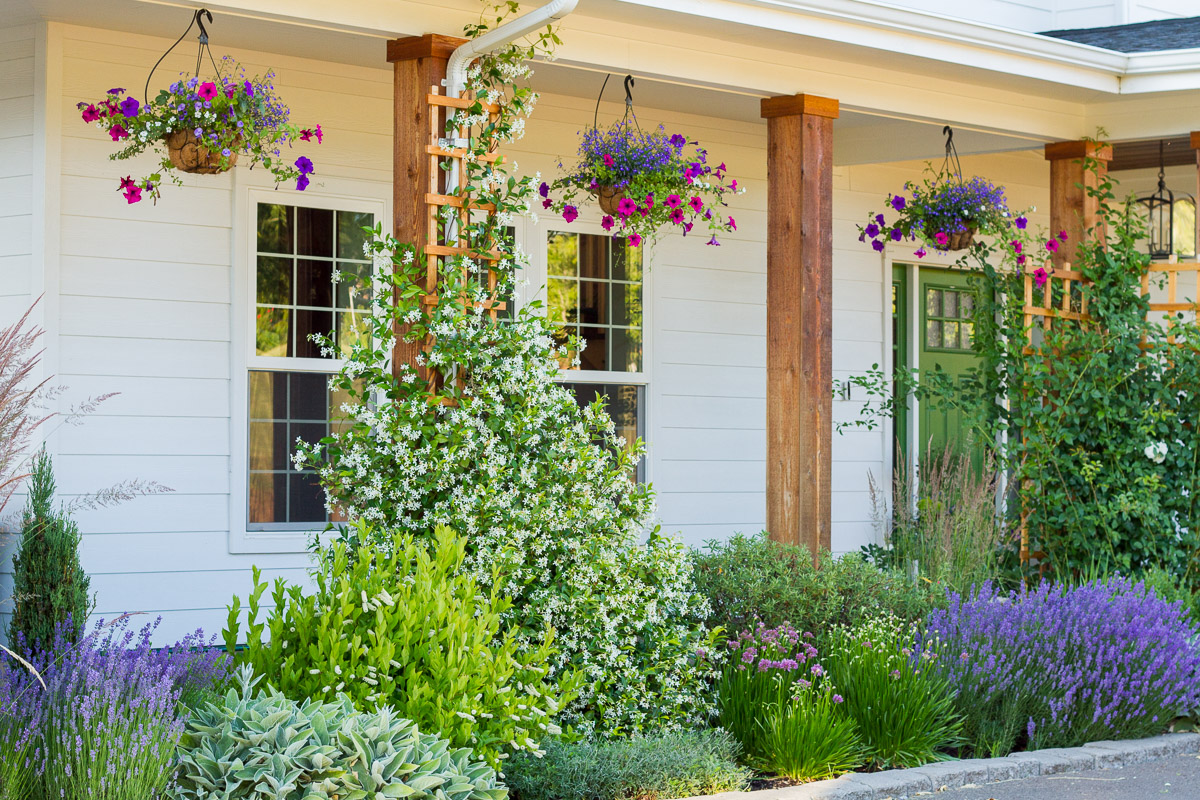 As usual, I'm super excited to share today's post with you. A few months ago, I posted a pretty picture of our front landscaping on Instagram, and a reader asked if I had an actual pencil and paper landscape design plan I could share with all of you. And I'm happy to say that, thanks to my very talented friend Amy from the DIY blog Delineate Your Dwelling (who happens to be a landscape designer by trade), I do now! Without further ado, here are Amy's beautiful drawings, along with photos of our Mediterranean-inspired front yard landscape design.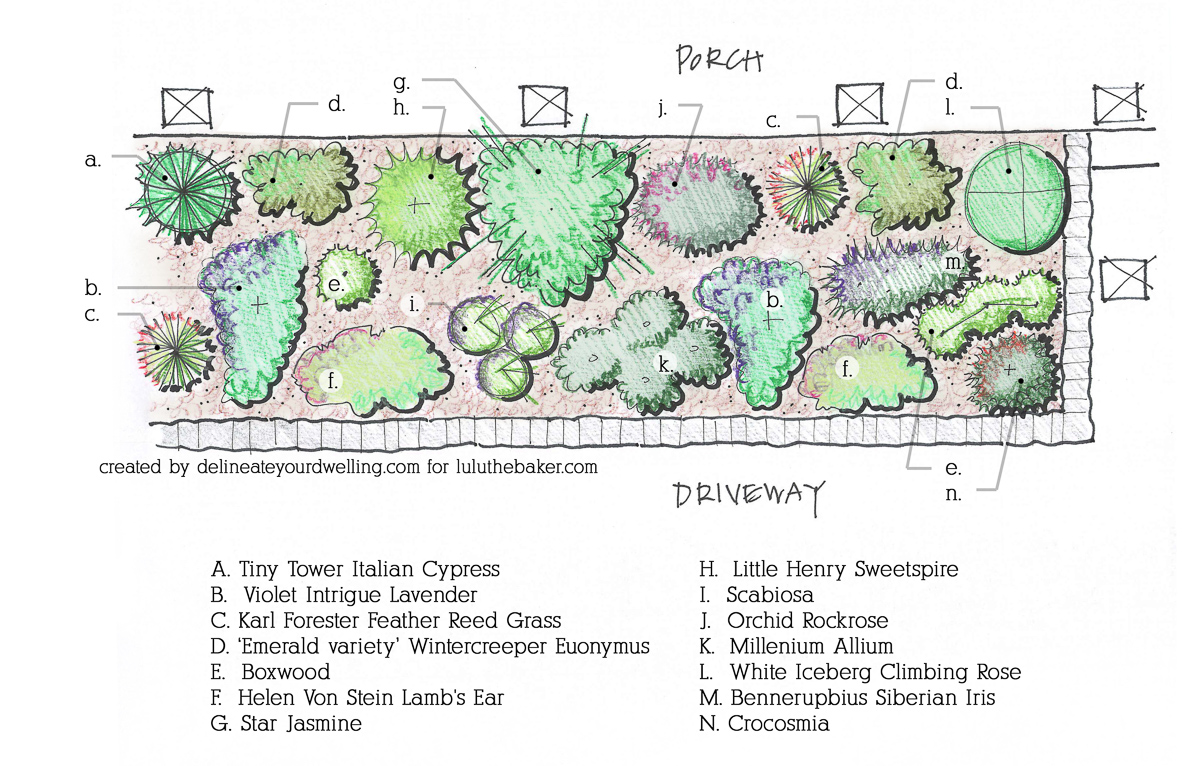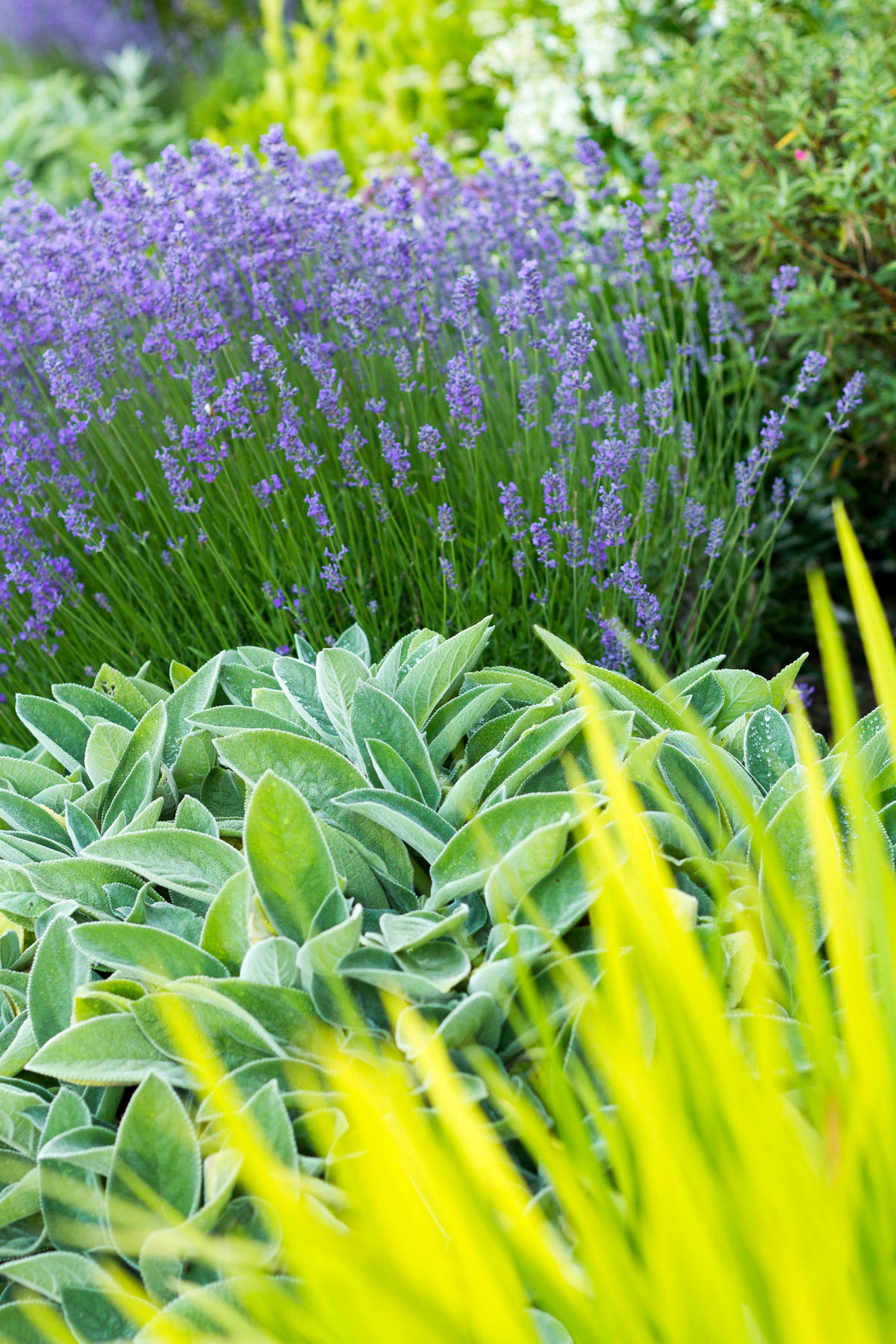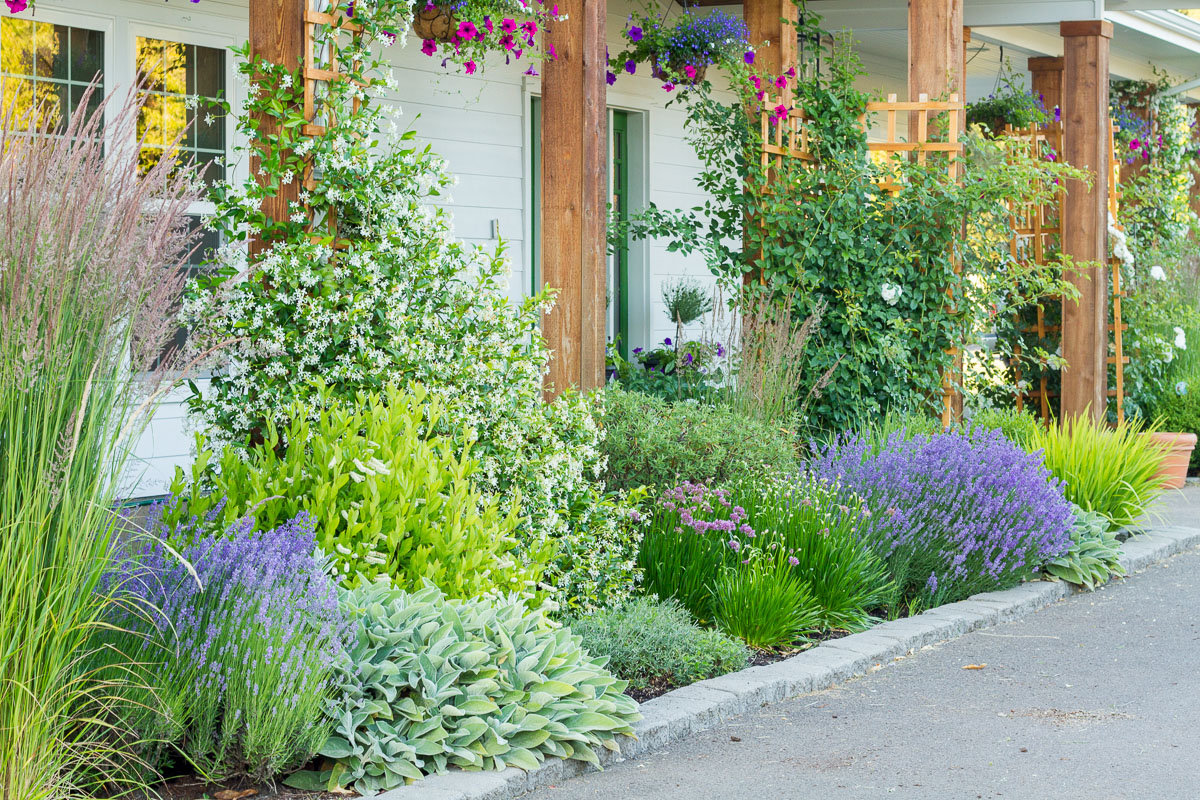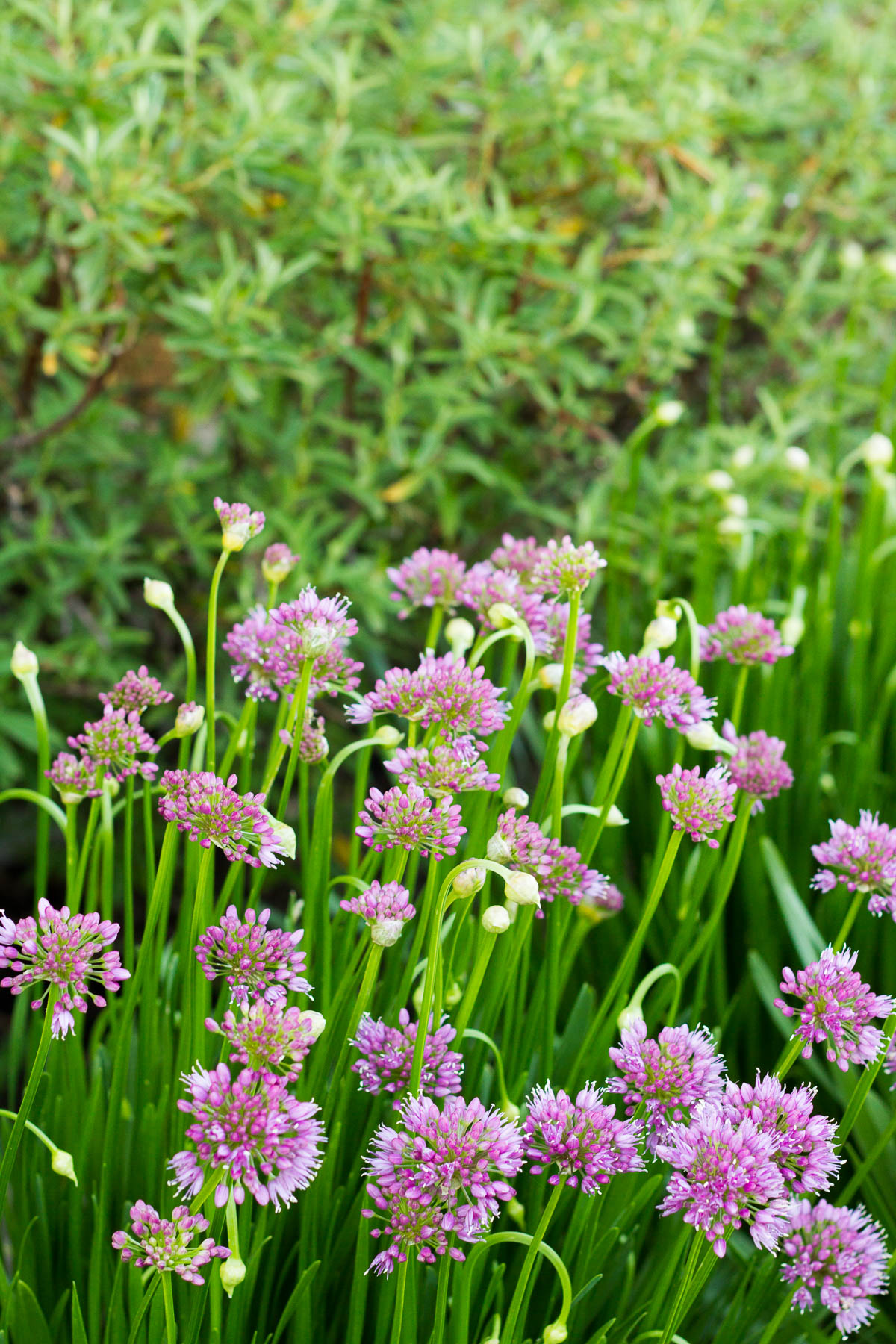 We came up with this landscape design completely on our own after doing lots of research about which plants would grow well in our area (zone 8) in a south-facing planter in full sun. I also spent a lot of time looking at pictures of landscapes I really liked, and it dawned on me that I really like Mediterranean landscape designs. So much so that I'm not at all surprised when I see a new plant that I love and then find out that it says something like, "Great for Mediterranean landscapes!" on the tag. Yep, I definitely have a style. We have a great mix of tall, climbing, mid-height, and ground cover plants, as well as a beautiful variety of colors, textures, and leaf shapes. Our front yard starts to look really pretty in the spring when the scabiosa and lavender start blooming, through the summer when the purple alliums and orange crocosmia pop, and right into the fall when the feather reed glass gets a gorgeous golden hue.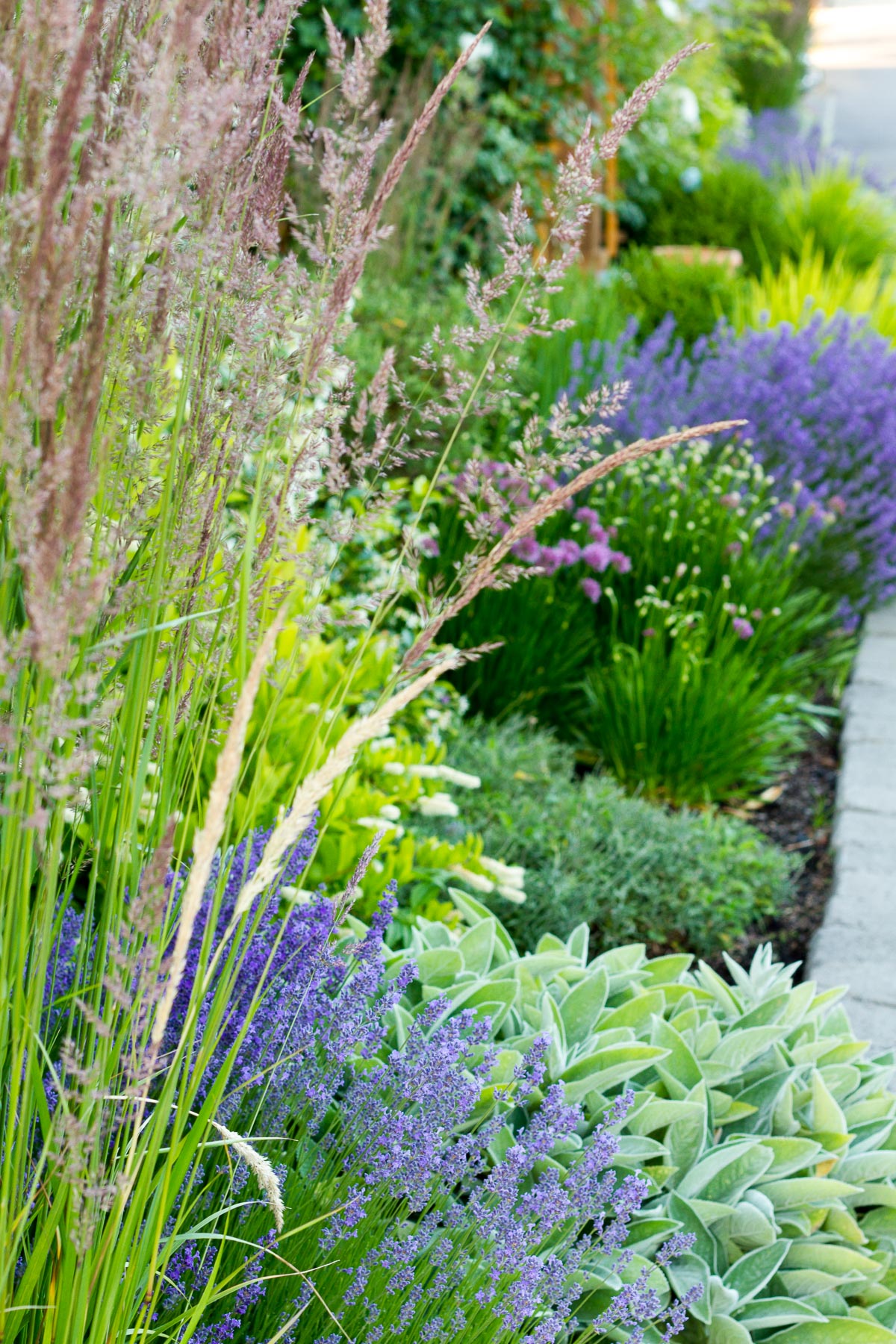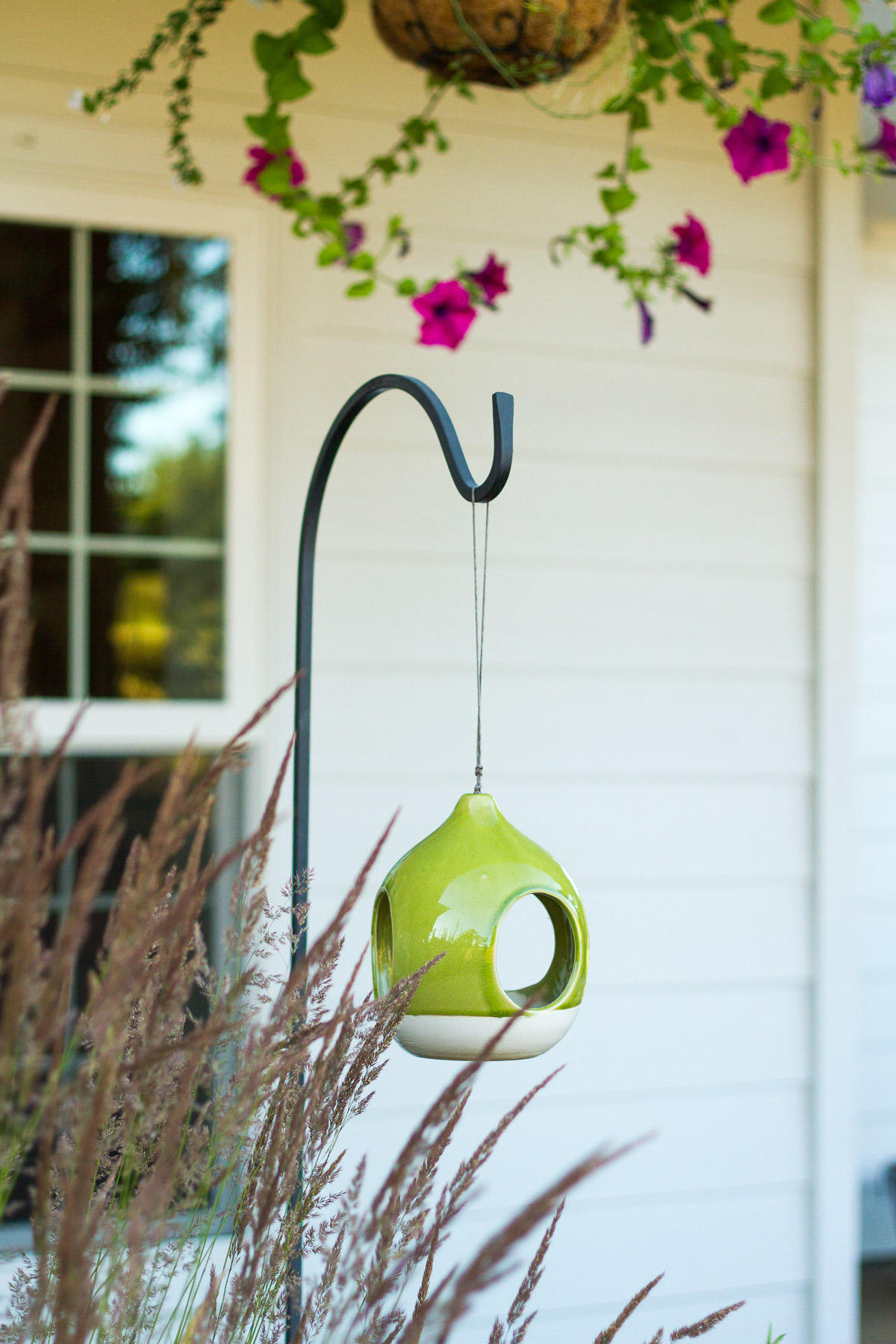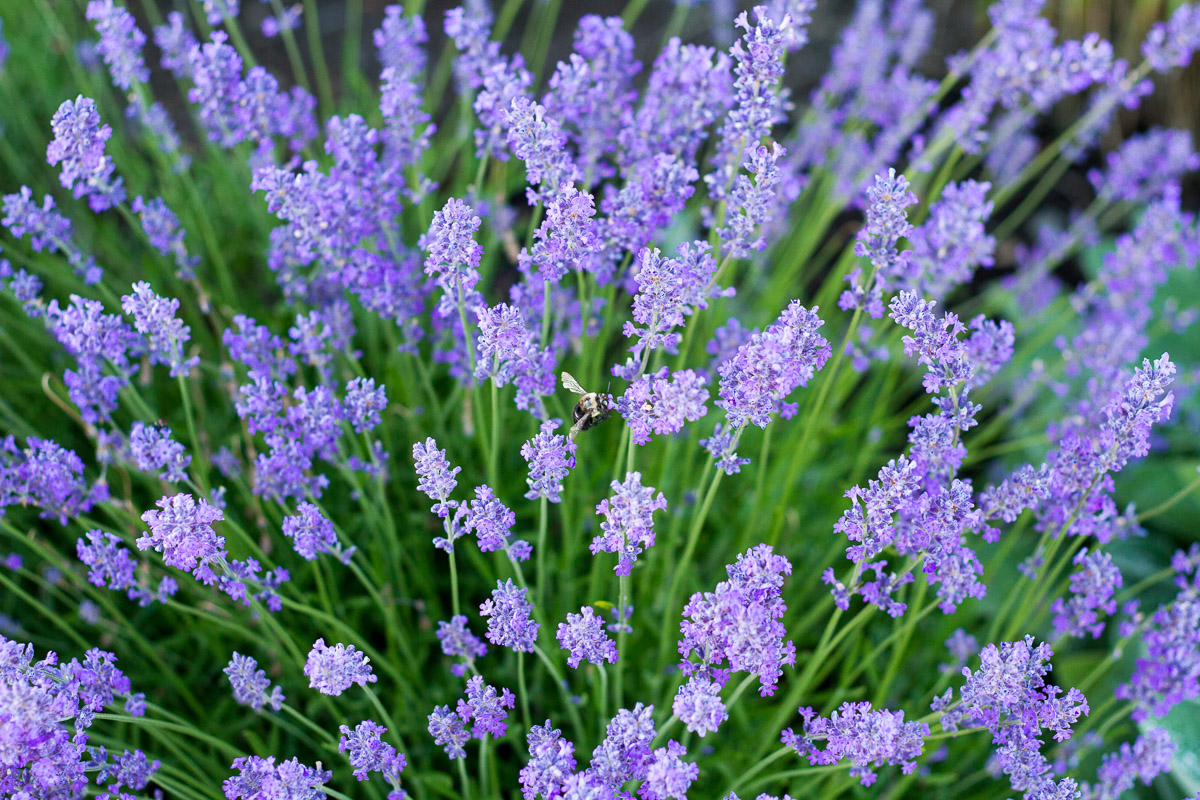 We've changed a few things out since we first installed this landscaping back in the spring of 2016. We've moved the echinacea we originally had here out to the flower garden, replaced the tiny towers a couple of times (they're finally doing well—hooray!), replaced the agapanthus with crocosmia (hoping the agapanthus will start to thrive in its new home in the backyard), and gotten rid of the blue-eyed grass entirely because it turned out to be way less cute than we thought!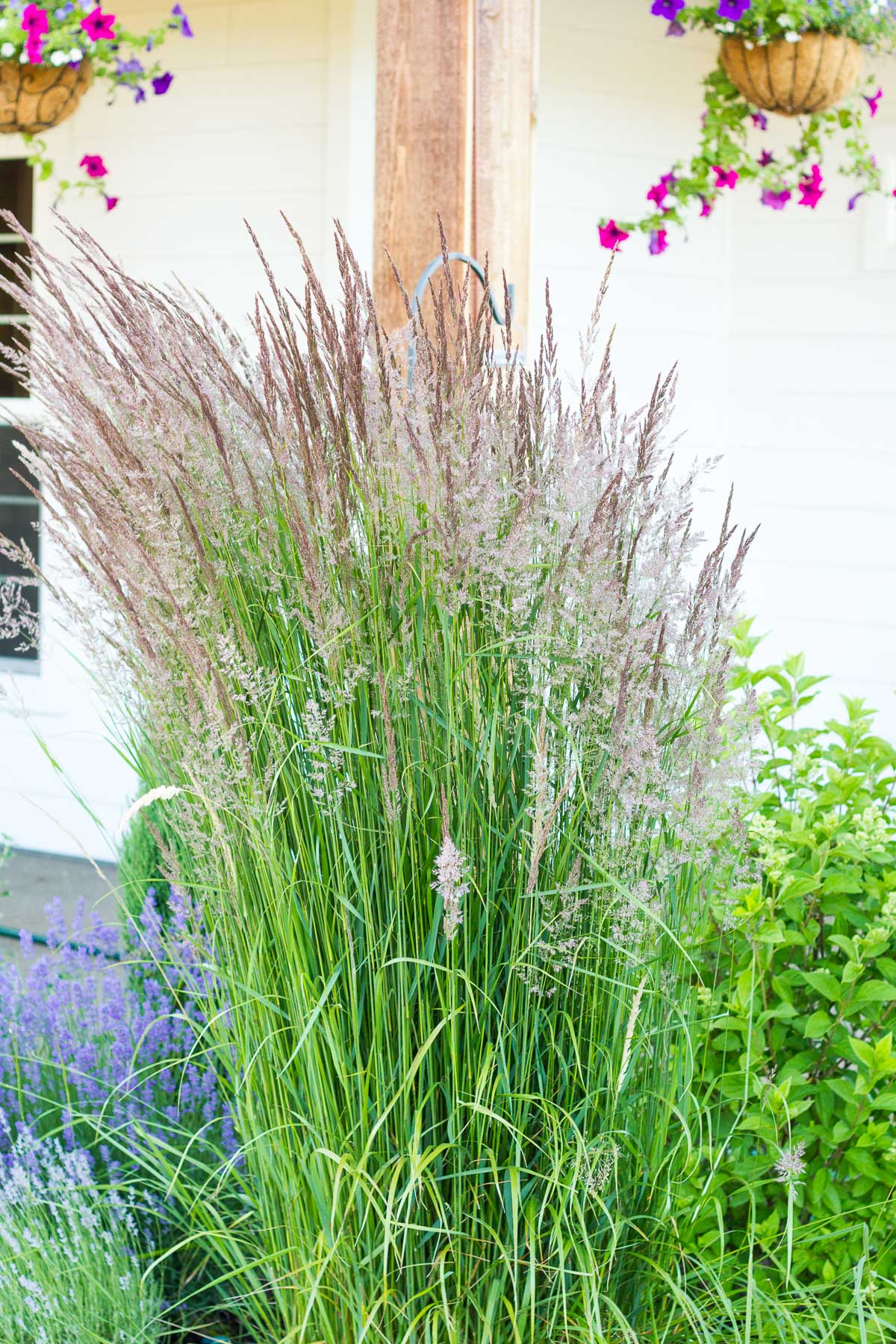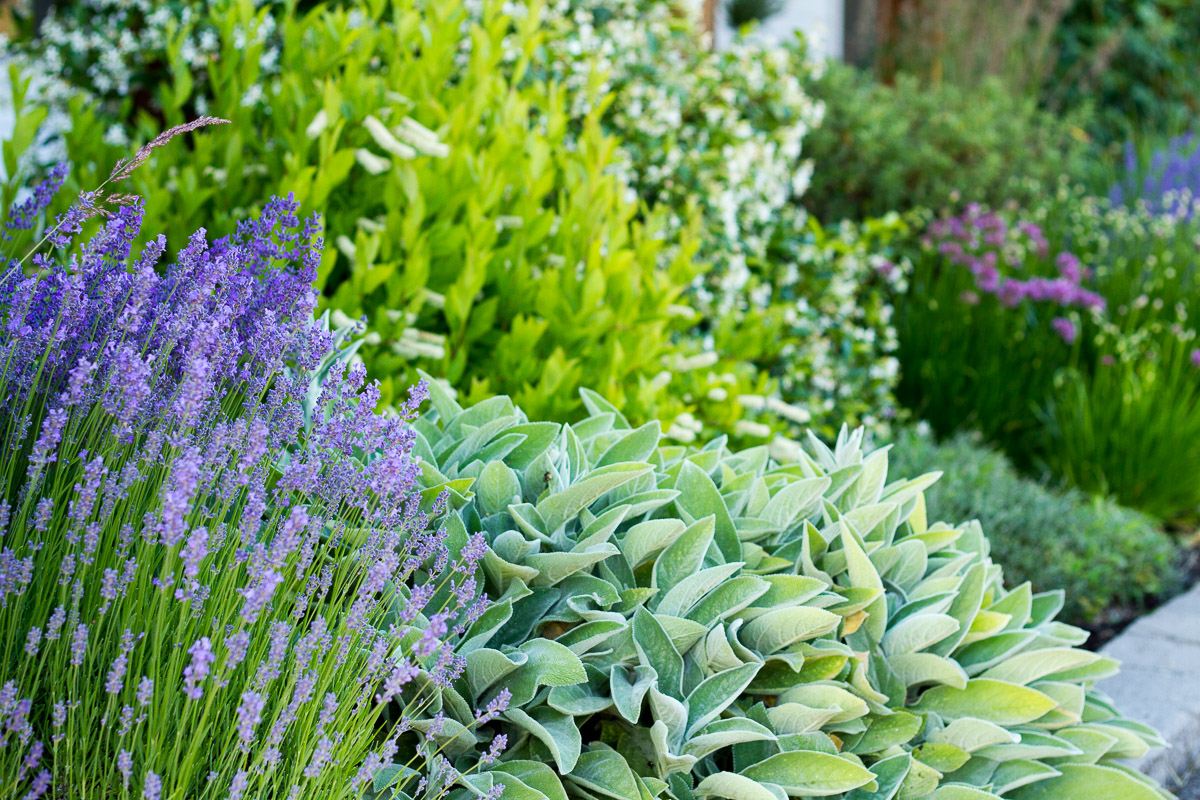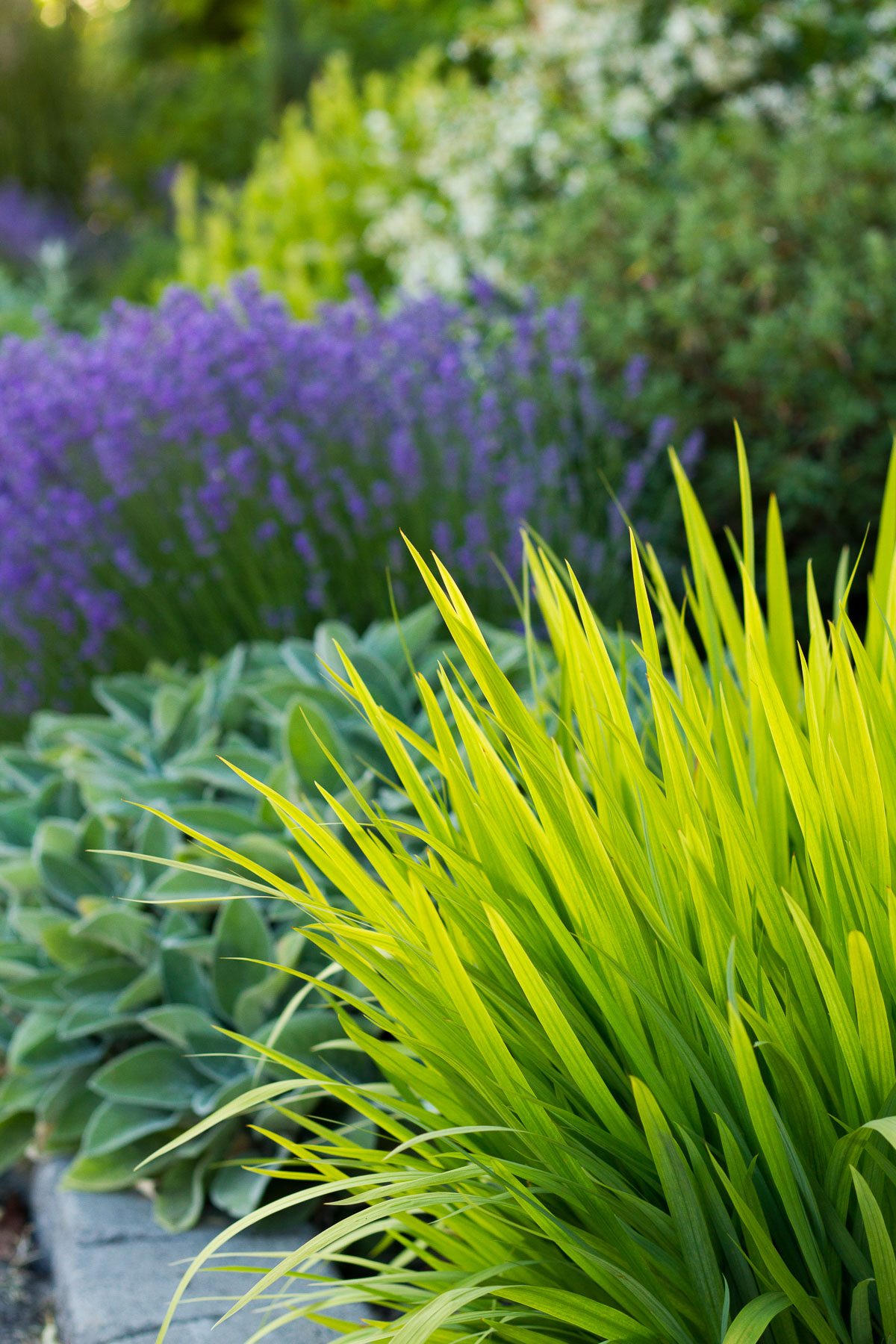 Something I have struggled with since I started chronicling the construction of our house nearly six years ago is my desire to only share projects that are completely finished with you guys. For small DIYs and recipes, that's a breeze. But with giant projects that last for years—like building a house from scratch, designing and installing landscaping, etc—they're basically never finished, so I just have to let go of that idea and share things in the moment. This is what our front landscaping looks like right now, and we love it. Mostly. There are some plants that we adore that have really thrived and looked beautiful in their spots. And there are other plants that are fine but that we might switch out for something lower maintenance or a better fit for the space. I love the climbing roses near my porch, and if I were more patient and more dedicated to pruning them and making them look good, I'd leave them where they are. I think a rose-covered porch is stunning. But I know that I'm personally better suited to plants that don't need patience, careful training, or regular pruning. I'm just not good at doing those jobs as often as I should—or ever!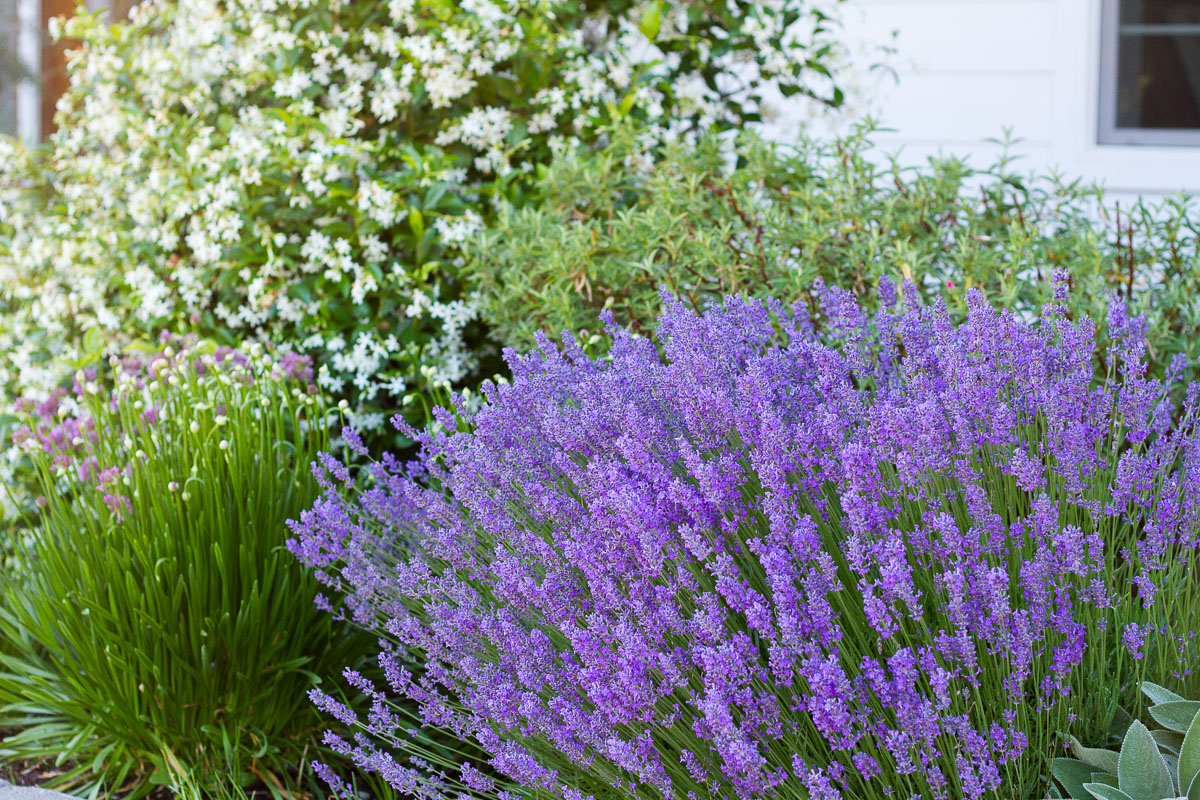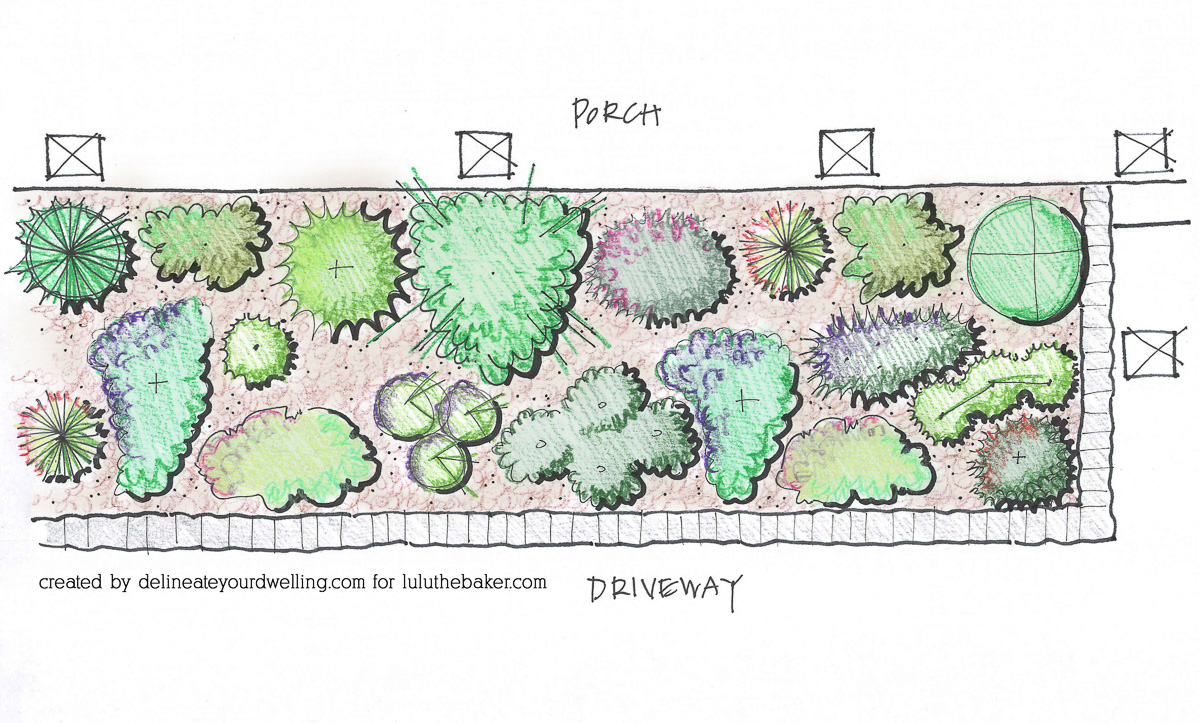 I have to give a HUGE thank you to Amy for creating these beautiful landscape design plans for me. She knows more about plants than anyone else I know, and she's actually launching a houseplant ebook tomorrow to help all of us develop our inner green thumbs. Be sure to check out her blog and get yourself a copy of her ebook, Happy Houseplants. If you'd like to see more about our modern farmhouse, click HERE. And let's end with a shamelessly adorable picture of our Aussiedoodle pup, Curly.