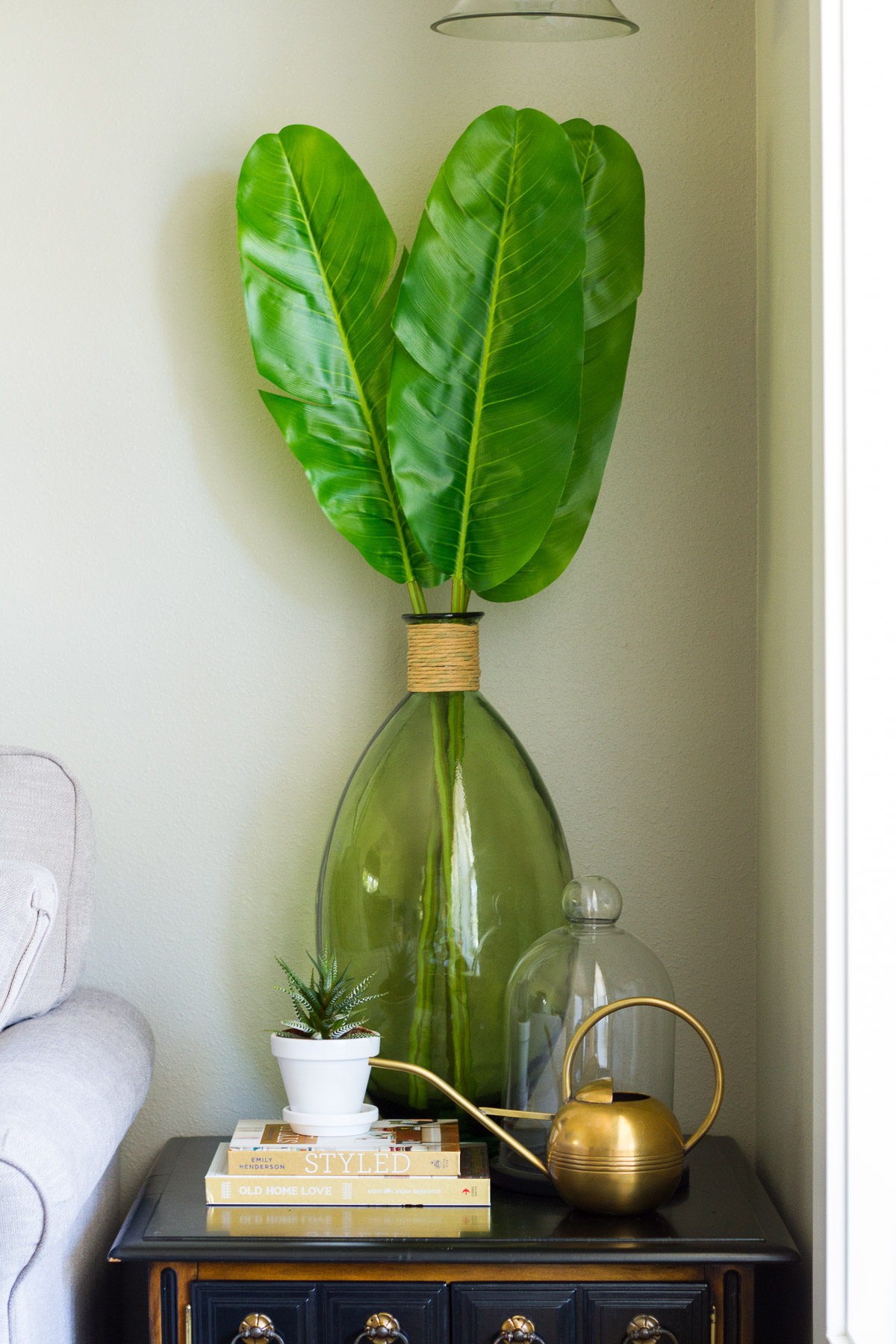 I've felt very relaxed throughout most of the One Room Challenge process, but this week has been so stressful! One of the problems is that up to this point, I've gotten all of the easy-to-do things crossed off the list, so now, the only things left to do are the challenging things. They aren't necessarily difficult things. We're not tearing down walls or building new walls or recarpeting the room or anything. We're just trying to pick lamp shades (THE WORST!!!) and build a hairpin leg bench. The good news—at least on the lamp shade front—is that I think we have a winning shade picked out. The bad news? It has the wrong kind of fitting for our lamps. Apparently, no one makes an adapter, but I've found several different DIY hacks to try this weekend, and hopefully one of them will work.
Here's a quick run down on what we've gotten accomplished this week in our living room: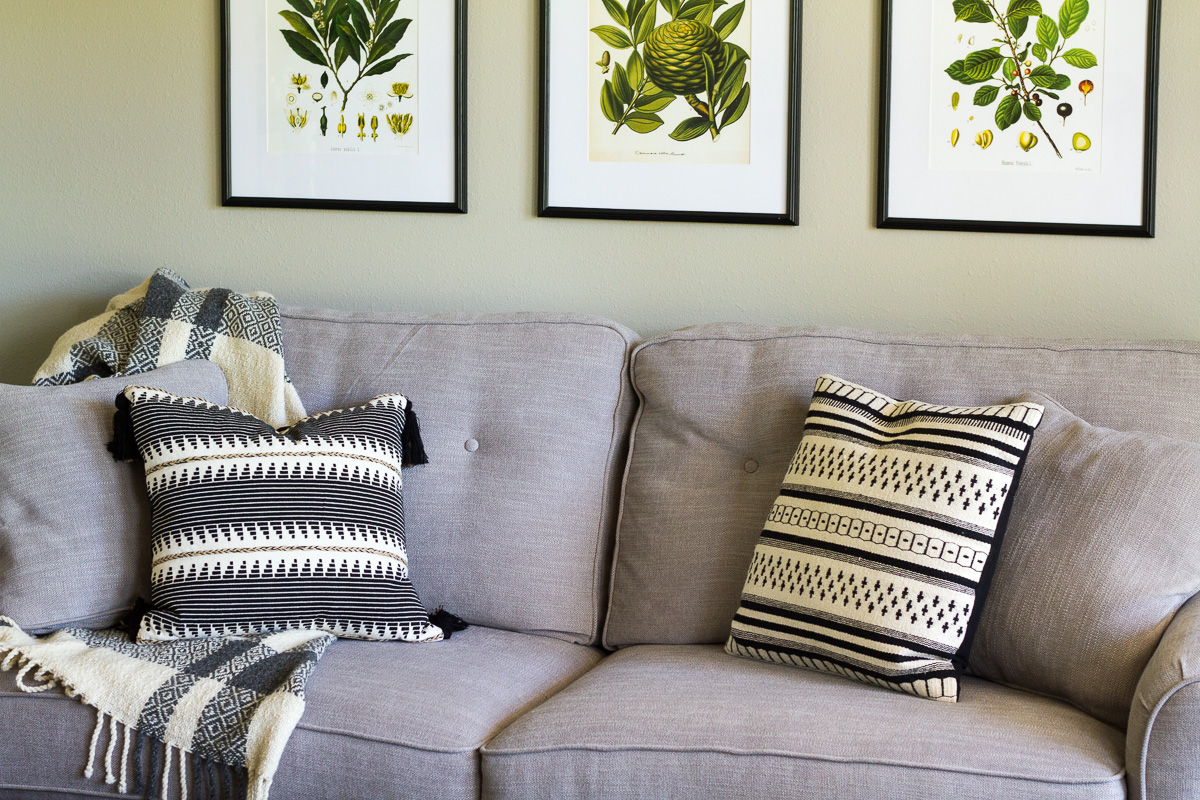 We finalized throw pillows for the gray couch. The one on the right is from the Magnolia line from Pier 1, and the other is much less expensive and came from Target. I like them both equally, honest. I do wish the Magnolia pillow were squishier (it's stiff as a board), but I love the fabric on it. It has a really lovely texture, and had it been less expensive, I might have bought two of them.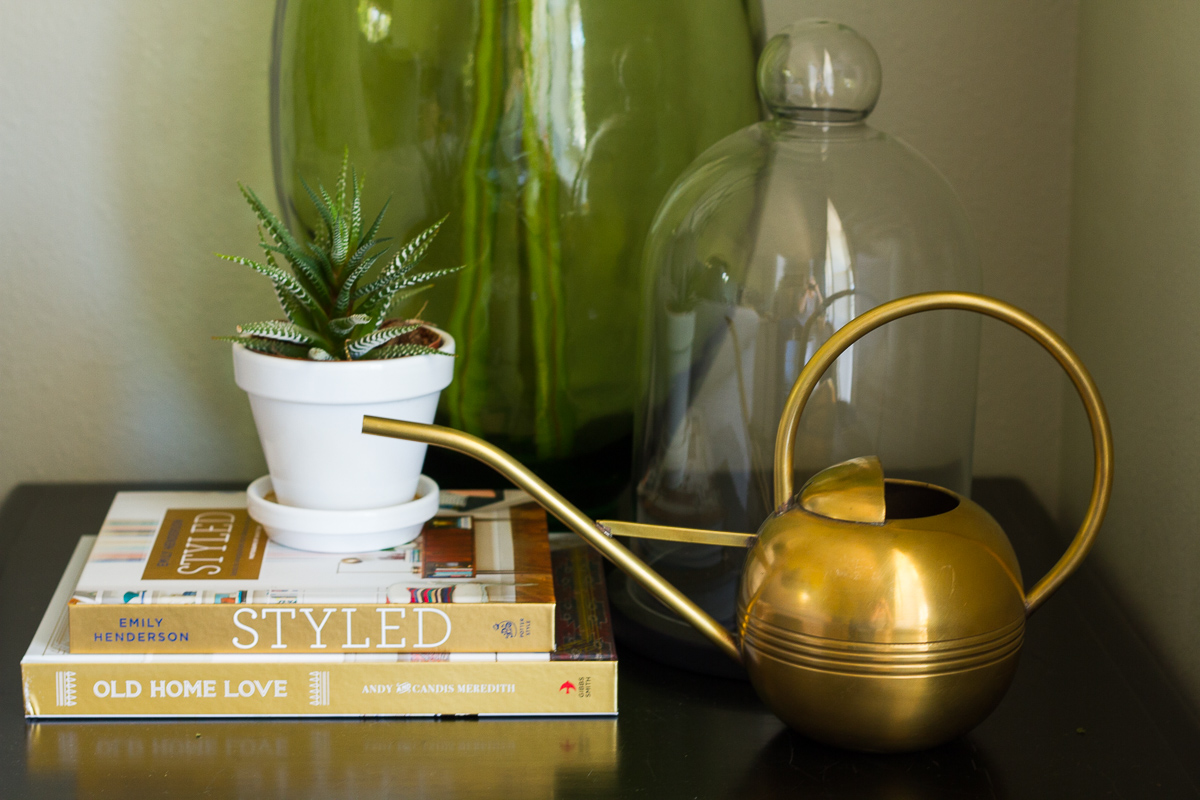 **This post contains affiliate links. You can read more about them on our policies page.**
We got the black end table looking pretty much finished. The large green vase is an old purchase from Home Goods, but the faux banana leaves inside came from Pier 1 last weekend. I tried monstera leaves too, but I really liked the shape of these much more. The brass watering can came from Amazon. It was expensive-ish, but it got good reviews and I love it. The shape is so cute!! I stacked a few of my favorite decorating books, which happen to have gold spines (Old Home Love by Candis & Andy Meredith and Styled by Emily Henderson), underneath a little succulent that I've had forever. I'd still like to put something in that large, glass terrarium, maybe a piece of faux coral or driftwood or a big crystal. If I find something by next week, great, but it's not a deal-breaker.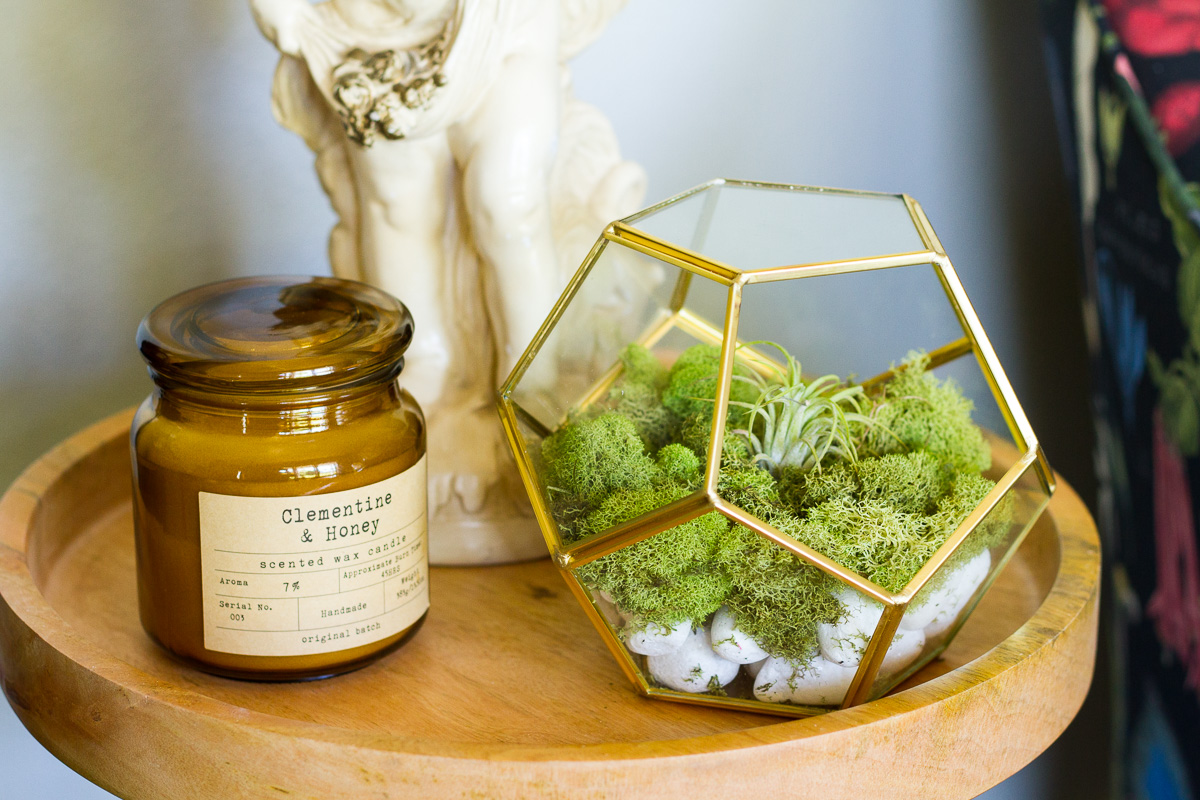 We picked up a few things for the wooden end table this week, and I think it looks amazing. The brass polygon terrarium came from Amazon, and the white rocks and moss inside, along with the Clementine & Honey candle, which smells heavenly, came from World Market. Because the terrarium isn't the least bit water tight, I stuck an air plant inside. I think it looks pretty good as is and have no plans to change this table up at all at this point.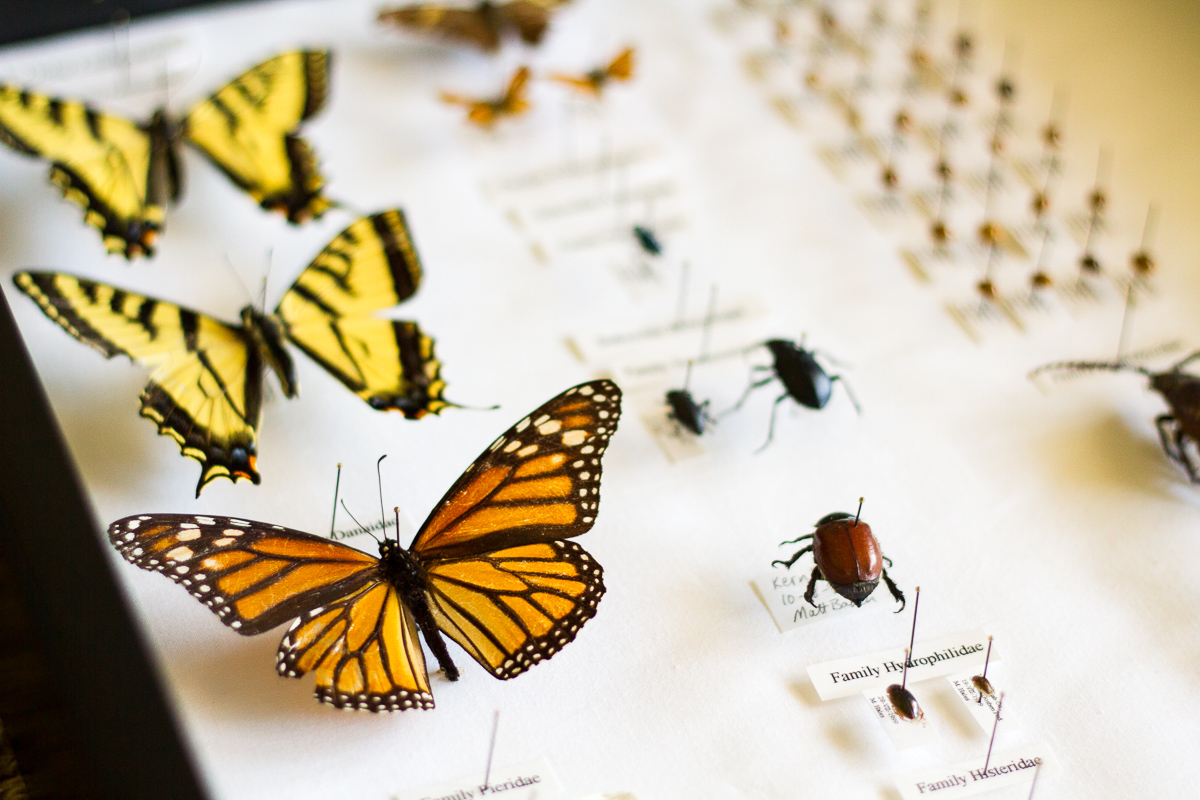 And just yesterday evening, I tackled the bug boxes. Quick background: my husband and I both were required in college to make insect collections for a class. Different colleges, same exact time!! I had extra space in mine; his was pretty small; I wanted to combine them while simultaneously covering the hideous styrofoam backing with fabric. I did all of that last night. I bought inexpensive white muslin from the fabric store, pressed it, and cut it about 2 inches bigger on all sides than the styrofoam. I carefully pulled all of the bug pins out and stuck them in a different piece of styrofoam to get them safely out of the way, removed the good styrofoam from the boxes, covered and stapled the fabric in place, and put the styrofoam back in the boxes. And then I put all of the bugs back. And then I got super nerdy and typed up new tags for my husband's bugs (because they didn't match!) and replaced them. It wasn't the quickest project ever, but it's done, and the bug boxes look amazing and never ever need to be messed with again.
I also bought some heavy, black fabric to recover the little foot stool that goes under the black arm chair, and the hairpin legs for our bench arrived. Here's what we need to finish before the big living room reveal next Thursday:
Repot any plants that need it (i.e. most of them).
Buy another lamp shade and whatever is necessary to make them fit on the lamps.
Recover the foot stool.
Frame the last picture for the gallery wall above the piano.
Install the gallery wall.
Build the hairpin leg bench.
Hang remaining art work/clocks.
Think we can get it all done?? My fingers are crossed and my hopes are high!! To see how far we've come with this living room in the past 5 weeks, read my previous One Room Challenge posts: Week 1 | Week 2 | Week 3 | Week 4. Be sure to check out the week 5 updates of the featured designers HERE, and see what the other guest participants are up to HERE. Huge thanks to Linda from Calling It Home and to House Beautiful Magazine for putting this on. It's been an amazing experience!
All sources mentioned in this post are linked in the body of the post. For other sources, check previous weeks' posts.