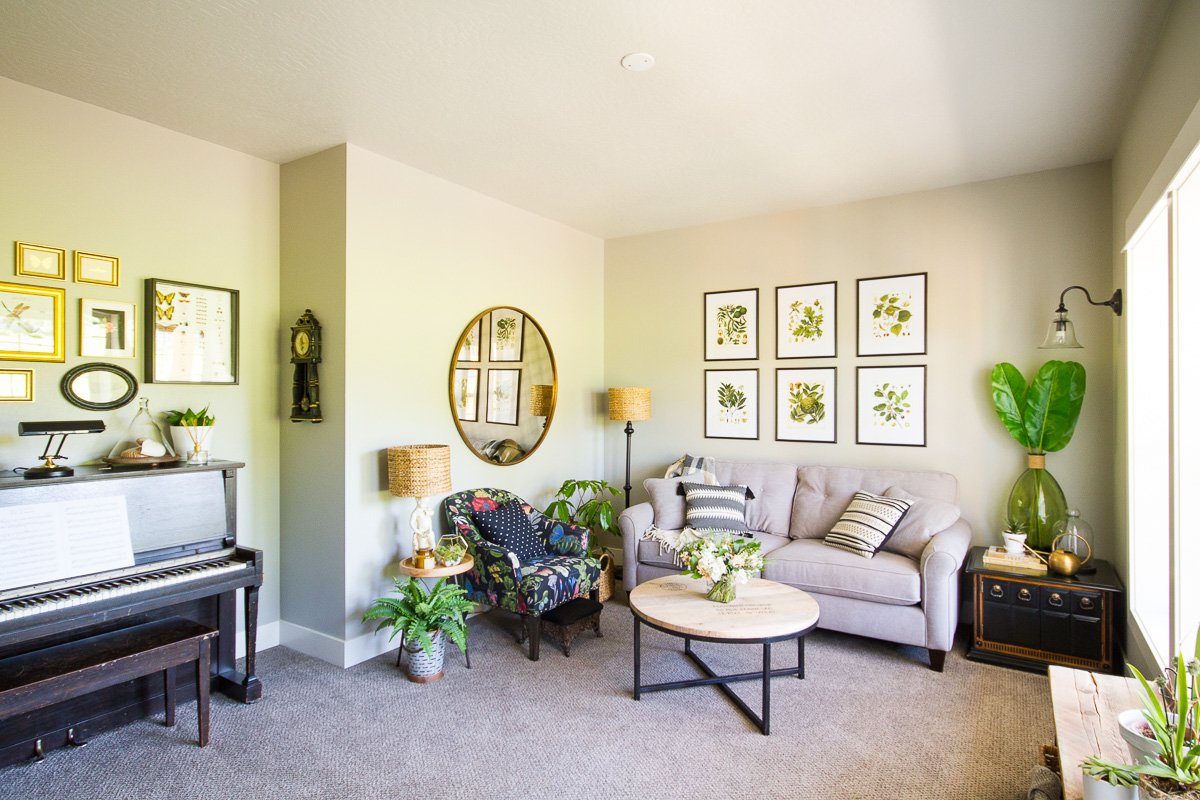 TADA!!! Today is the big day! We've spent the past 6 weeks making over our boring living room, and it's finally done. We love the finished room. It is both beautiful and useful, and I love that at least half of the pieces, both large and small, were things we already had and very much wanted to find a place for. To remind you of what the room looked like before…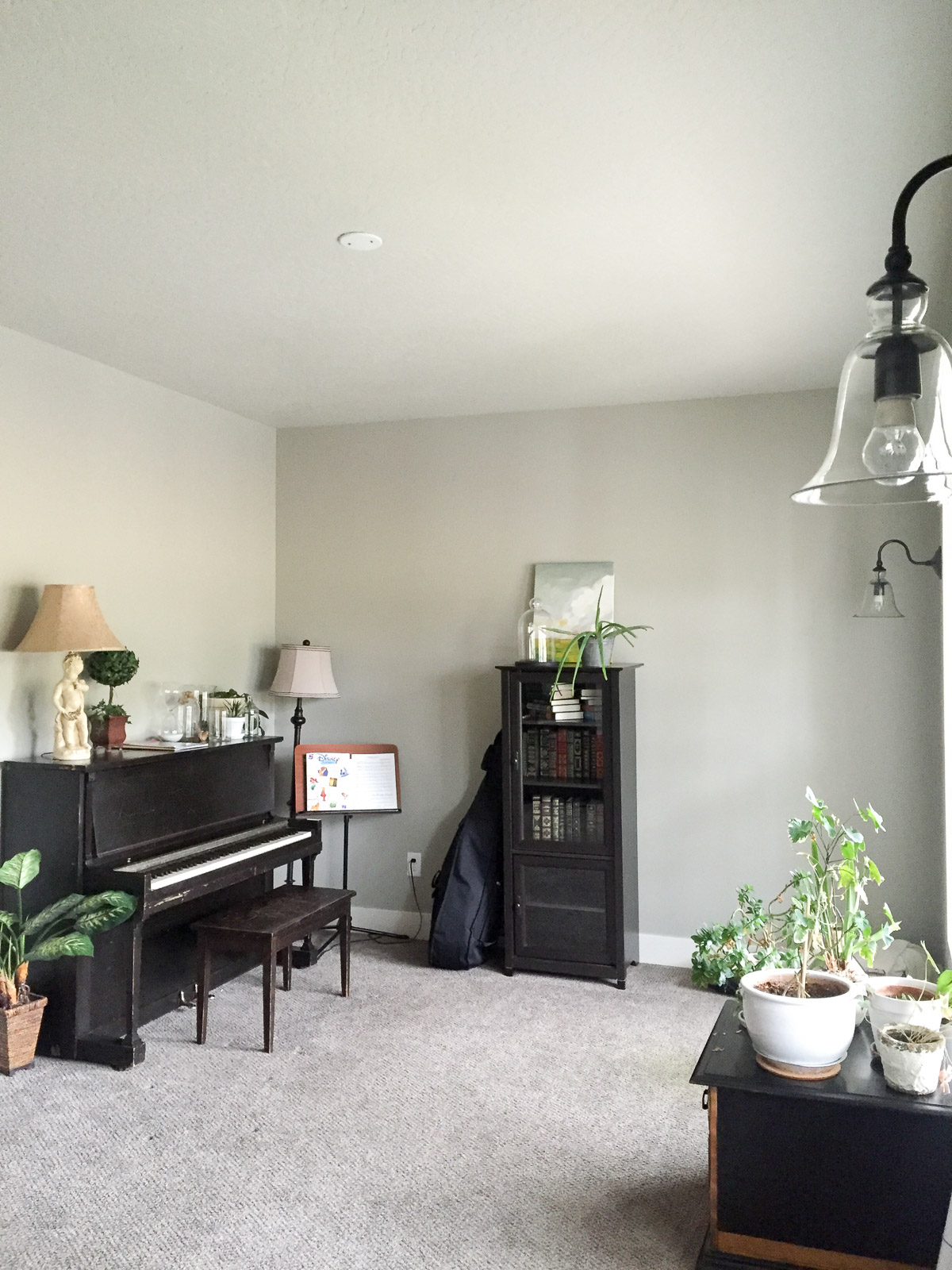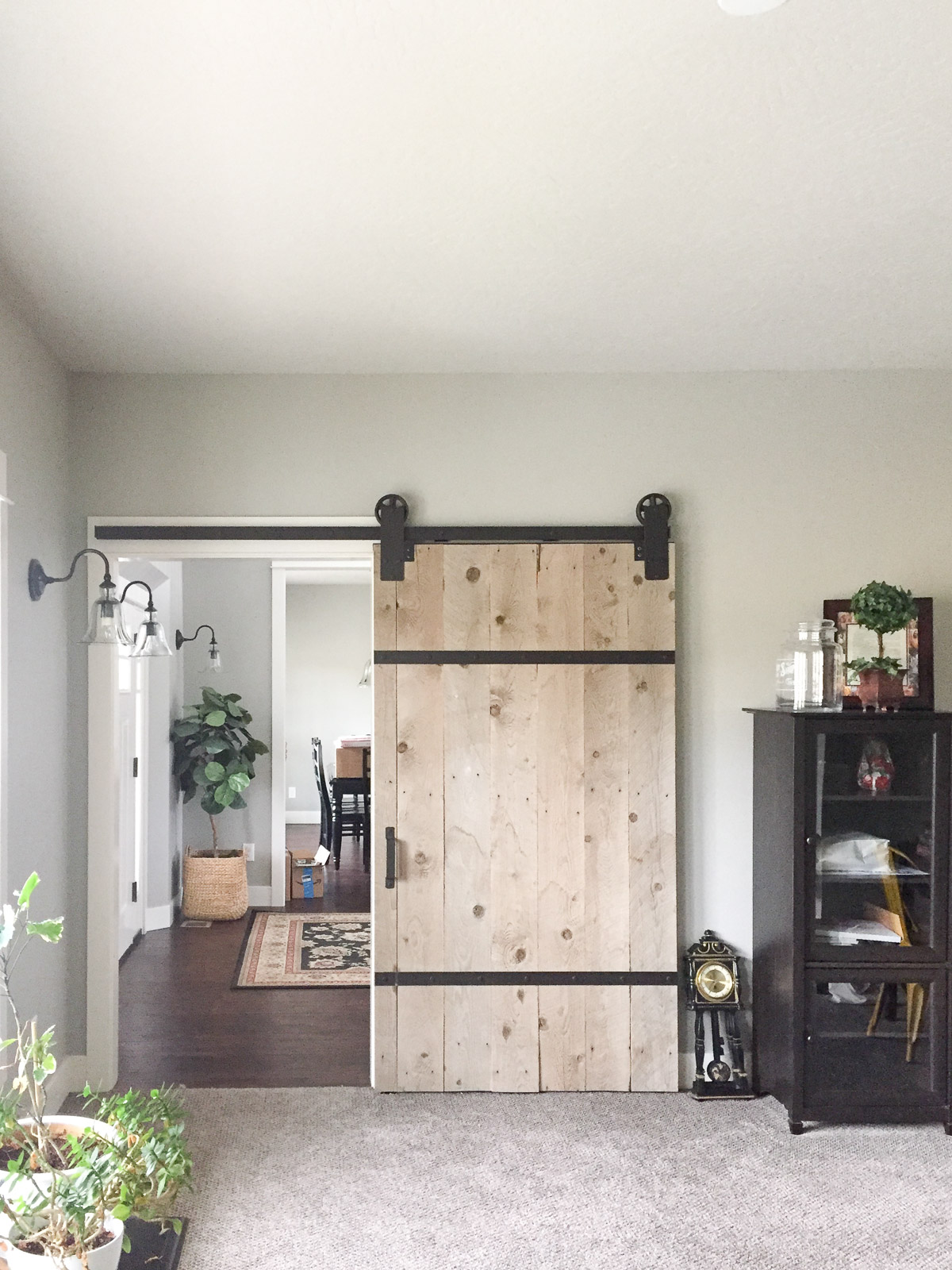 I feel like the pictures can really do most of the talking for themselves, so the rest of the post is going to be light on the text and heavy on the photos. There is a complete and exhaustive list of sources at the bottom of the post.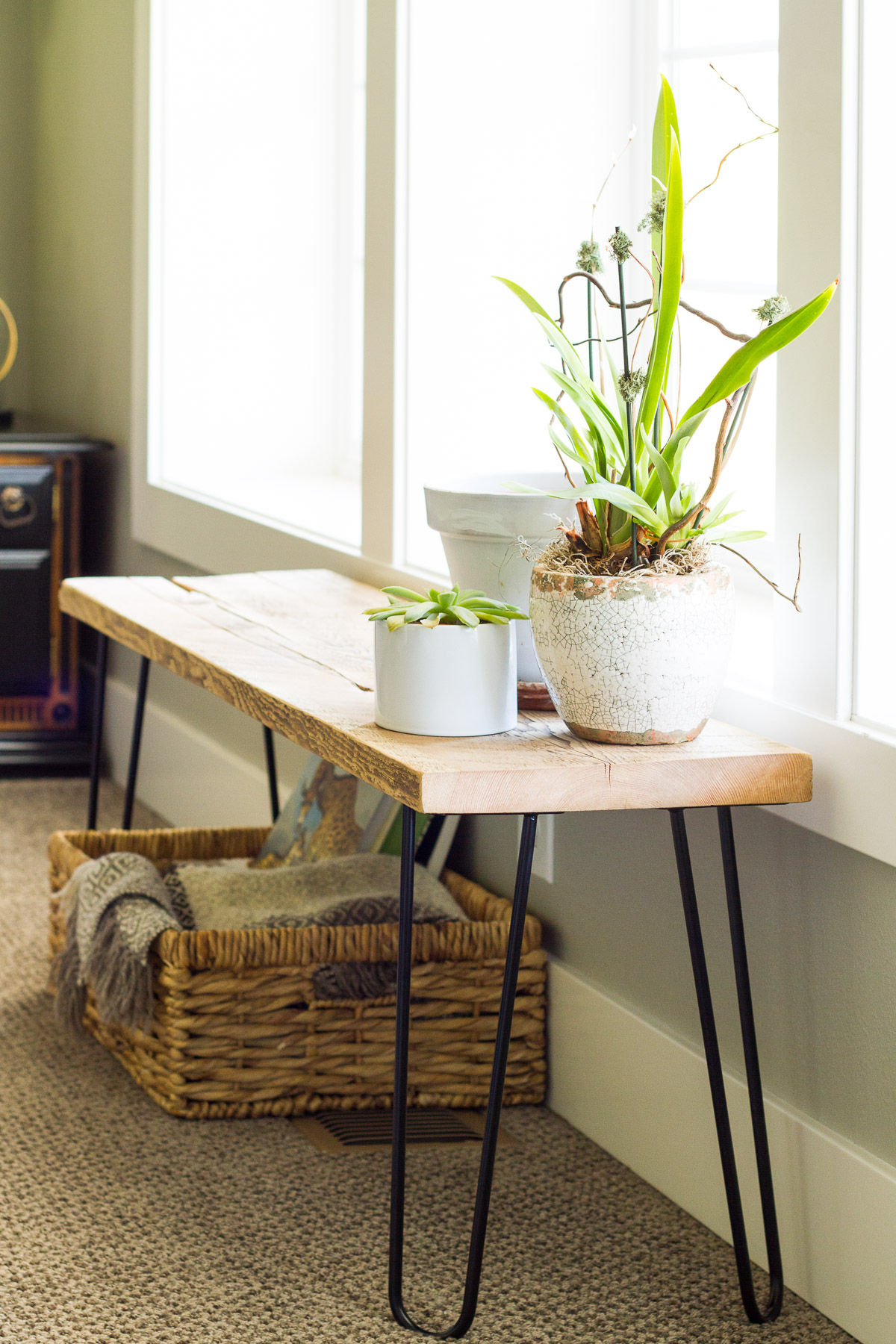 One of the things we needed to fix last week was the bench that was under this window. It was too dark and bulky, so we made a really simple one using a leftover slab of reclaimed wood from our kitchen shelves and some hair pin legs we bought on Amazon. I love how it turned out. It's a million times better than the other bench.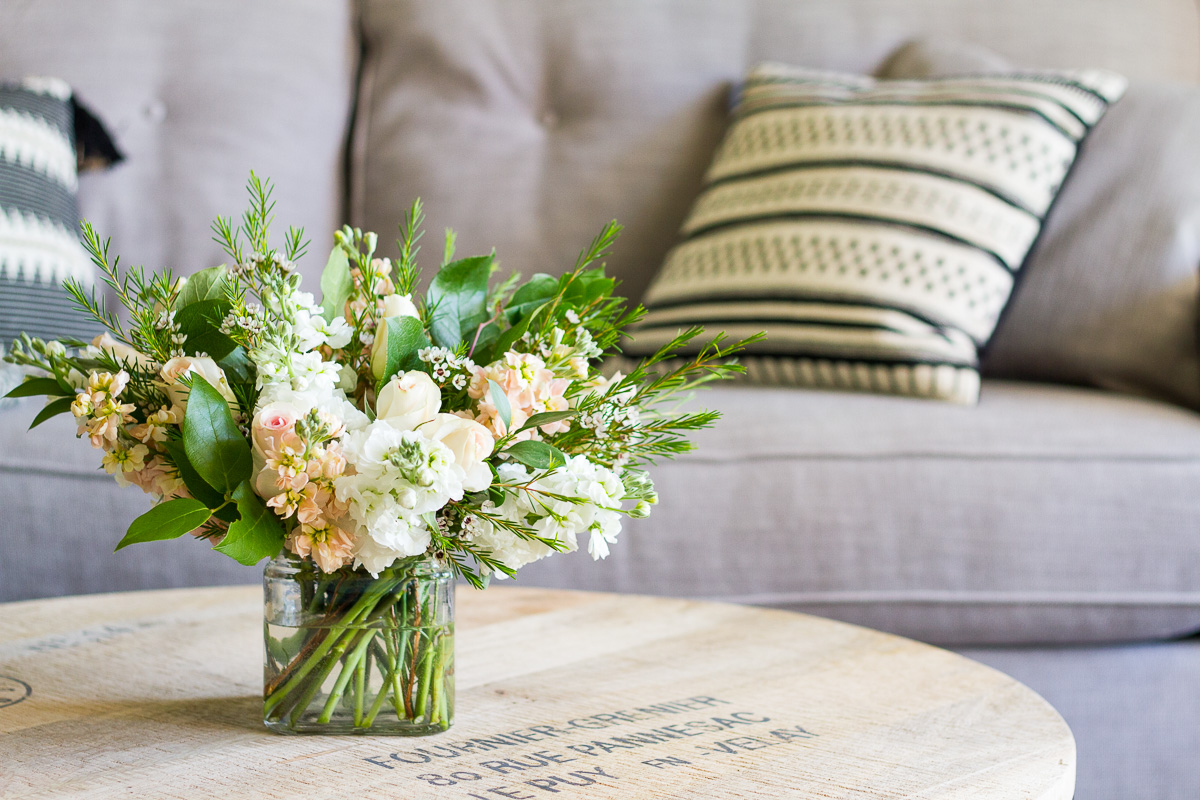 Our coffee table, which you can see a little better in other pictures, is equally simple. It has an untreated mango wood top and iron legs. I topped the table off with a peach and white flower arrangement that is slightly crooked but smells like heaven.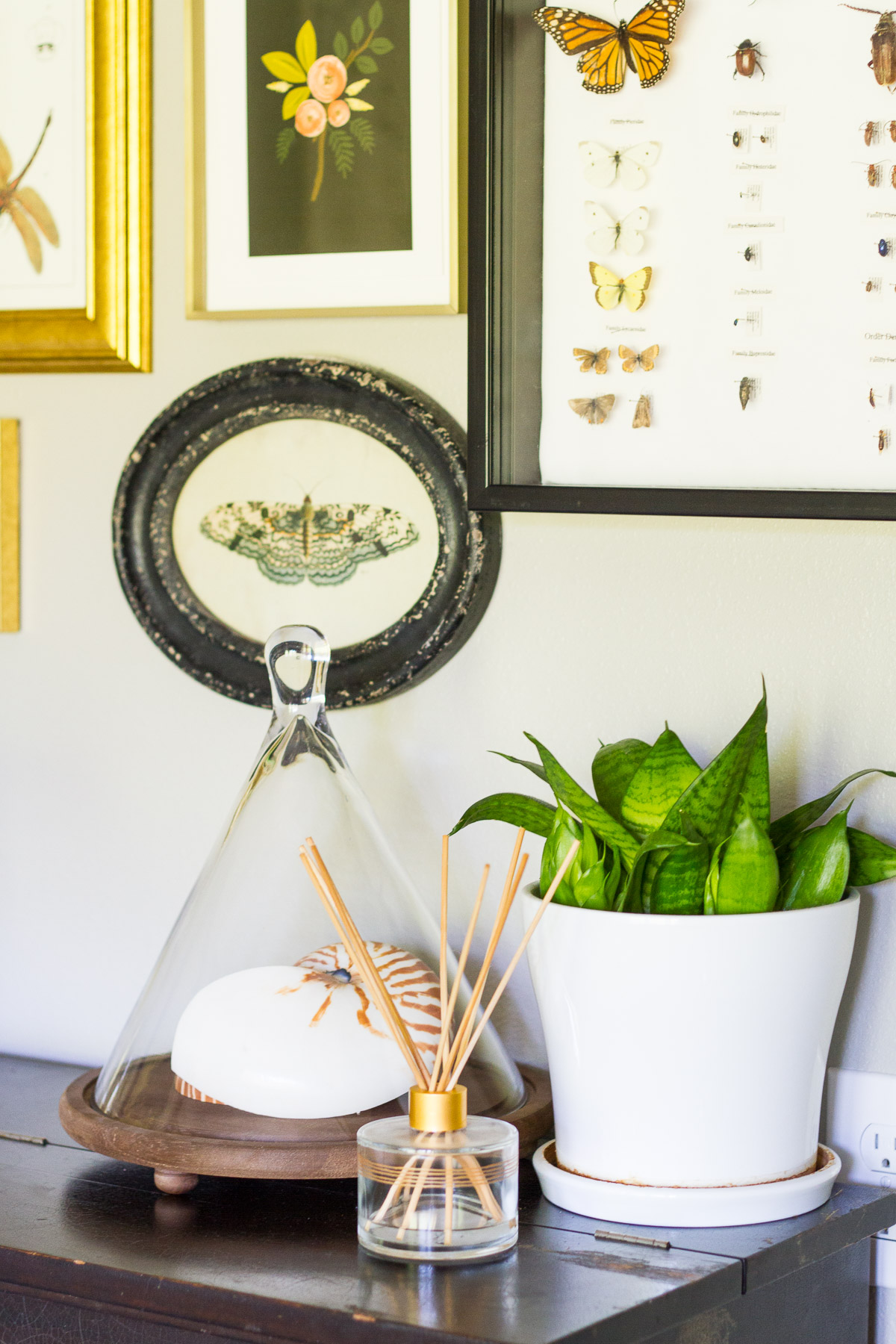 On top of the piano, I kept the accessories simple so as not to compete with the gallery wall we installed. The snake plant, reed diffuser, glass cloche, and nautilus shells were all things we've had for years. I'm happy they look so good in here!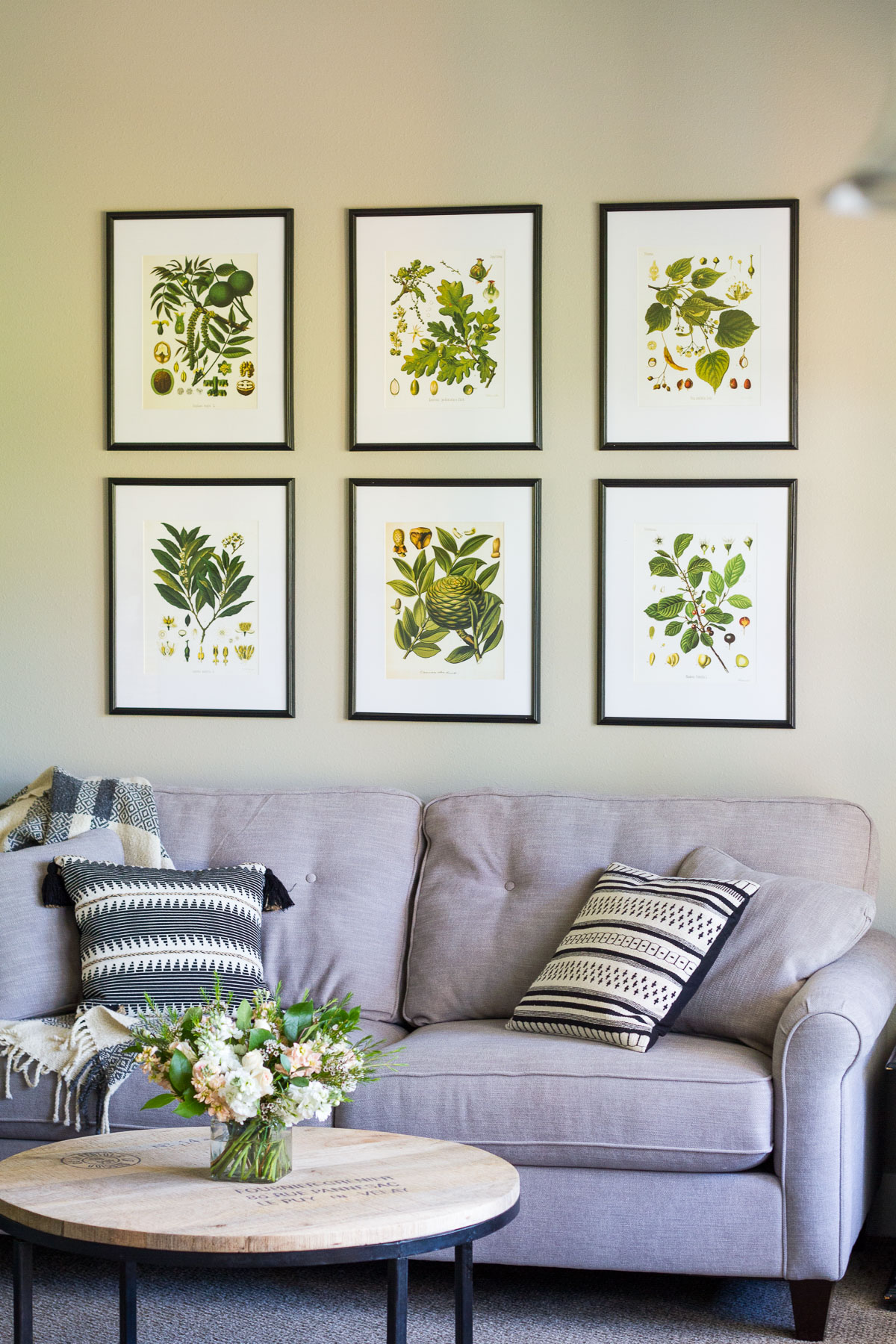 I decided to keep both black and white pillows, but took the botanical print pillow off the gray couch. It was just too busy.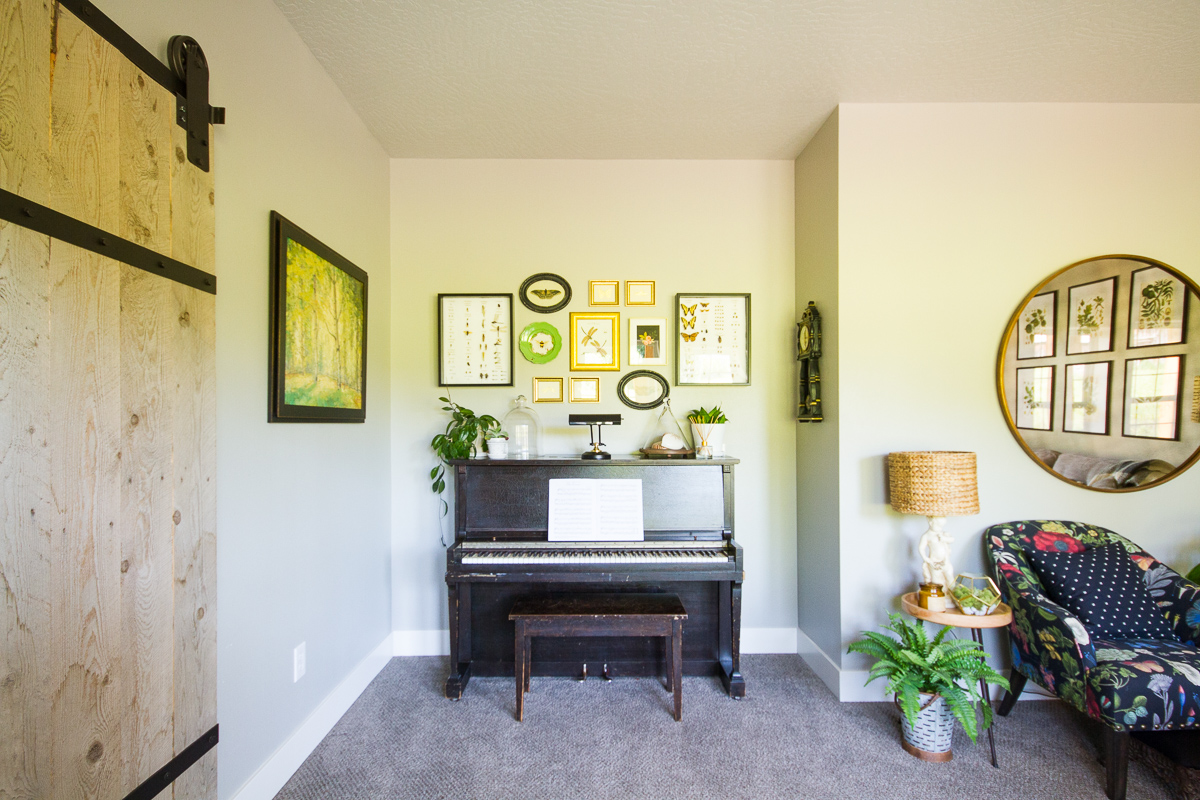 The biggest project we had to complete last week was putting in the gallery wall above the piano. We were waiting on the black botanical print on the right to arrive from Minted, and I really love how the whole thing turned out. Last night, we hung the Edmond Woods oil painting on the wall to the left of the gallery wall and the vintage plaster clock on the wall to the right. I was worried that the corner would look overwhelmed, but I think the overall effect is really cozy. And without the painting, that left wall would have been completely bare.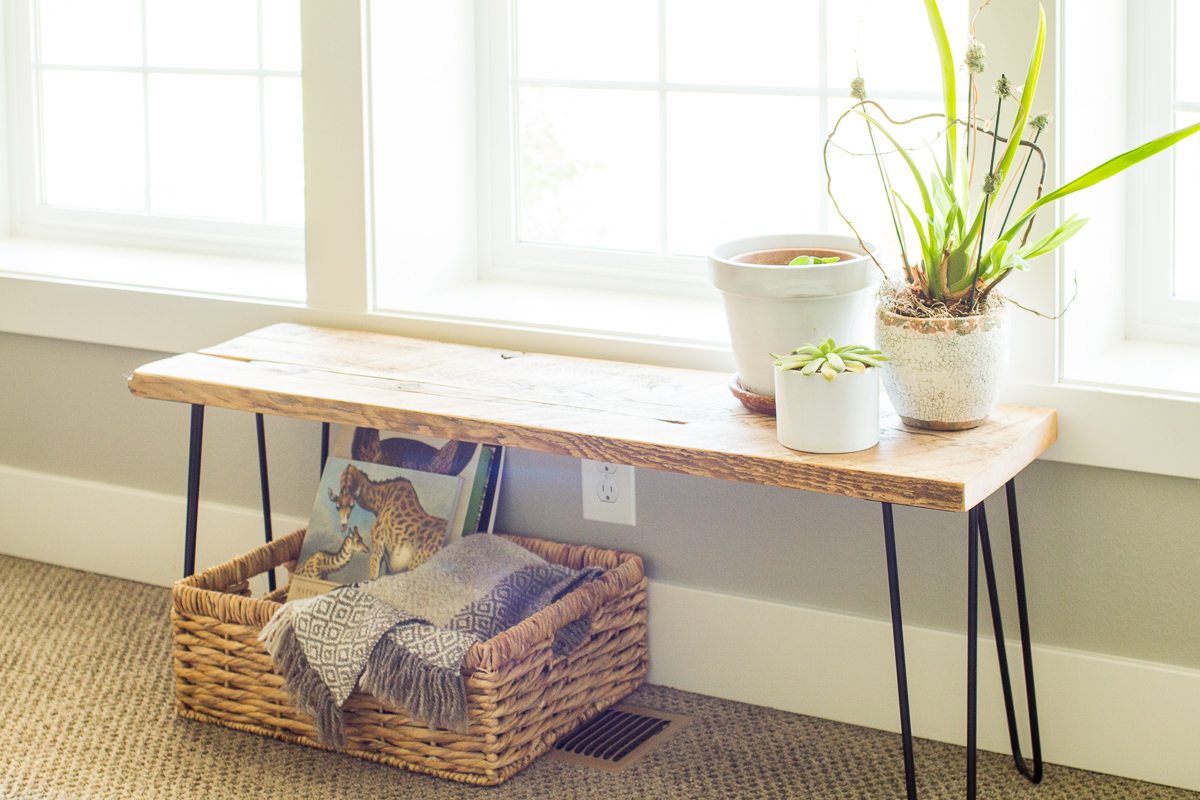 I wanted to keep the accessories on and around the hair pin leg bench to a minimum (what's the point of a minimalist bench if you load it up with stuff?). So I pared down the plants on top to an orchid, a succulent, and one of the plants that used to belong to my grandma. Under the bench, I put our nature-themed coffee table books and a pretty, handmade wool throw in a big basket.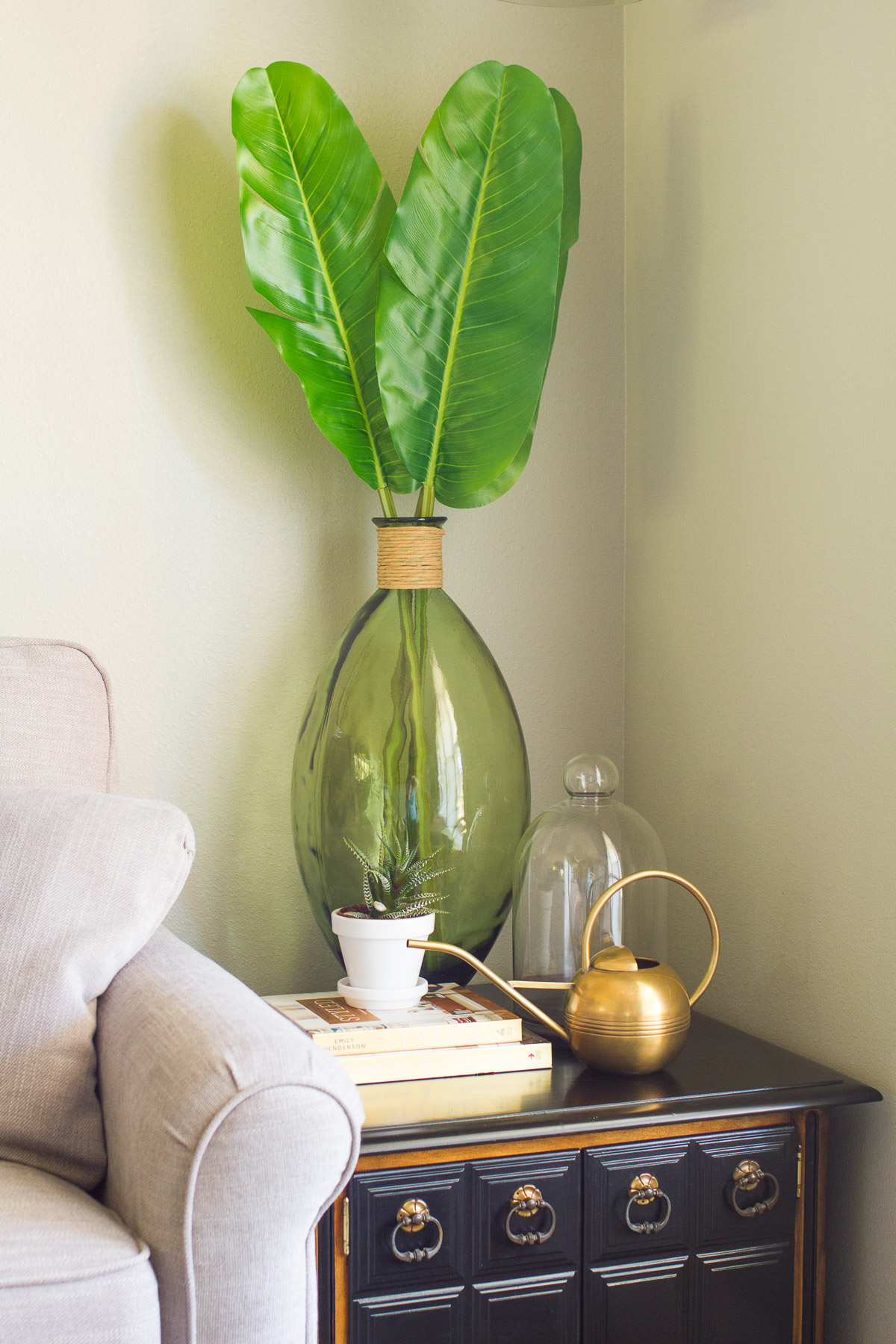 I love this little corner of the living room. The only things I had to buy were the brass watering can (because it was irresistible) and the faux banana leaves. I love how pretty everything looks on the little black table, which was a refinished gift from my mother-in-law. And yes, I just now noticed that the far right pull is crooked.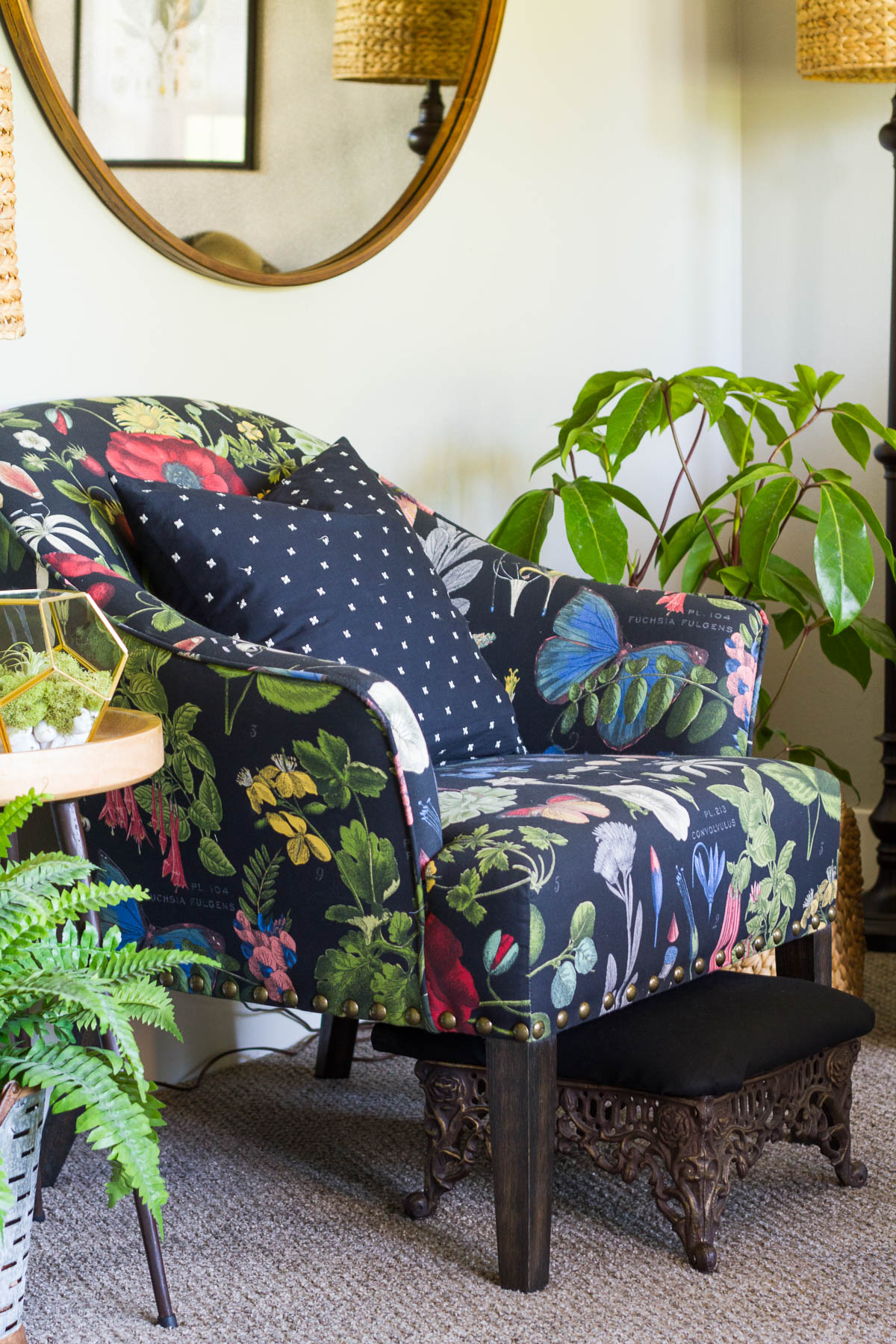 Another project from last week was this little foot stool. I've had it for nearly 12 years, but it never really matched anything because it was a weird shade of greenish-gold velvet. I bought some heavy-duty black duck cloth in the home decor fabric section of the craft store and recovered it, and now it looks fantastic! I can't remember who suggested recovering it and tucking it under the chair, but THANK YOU!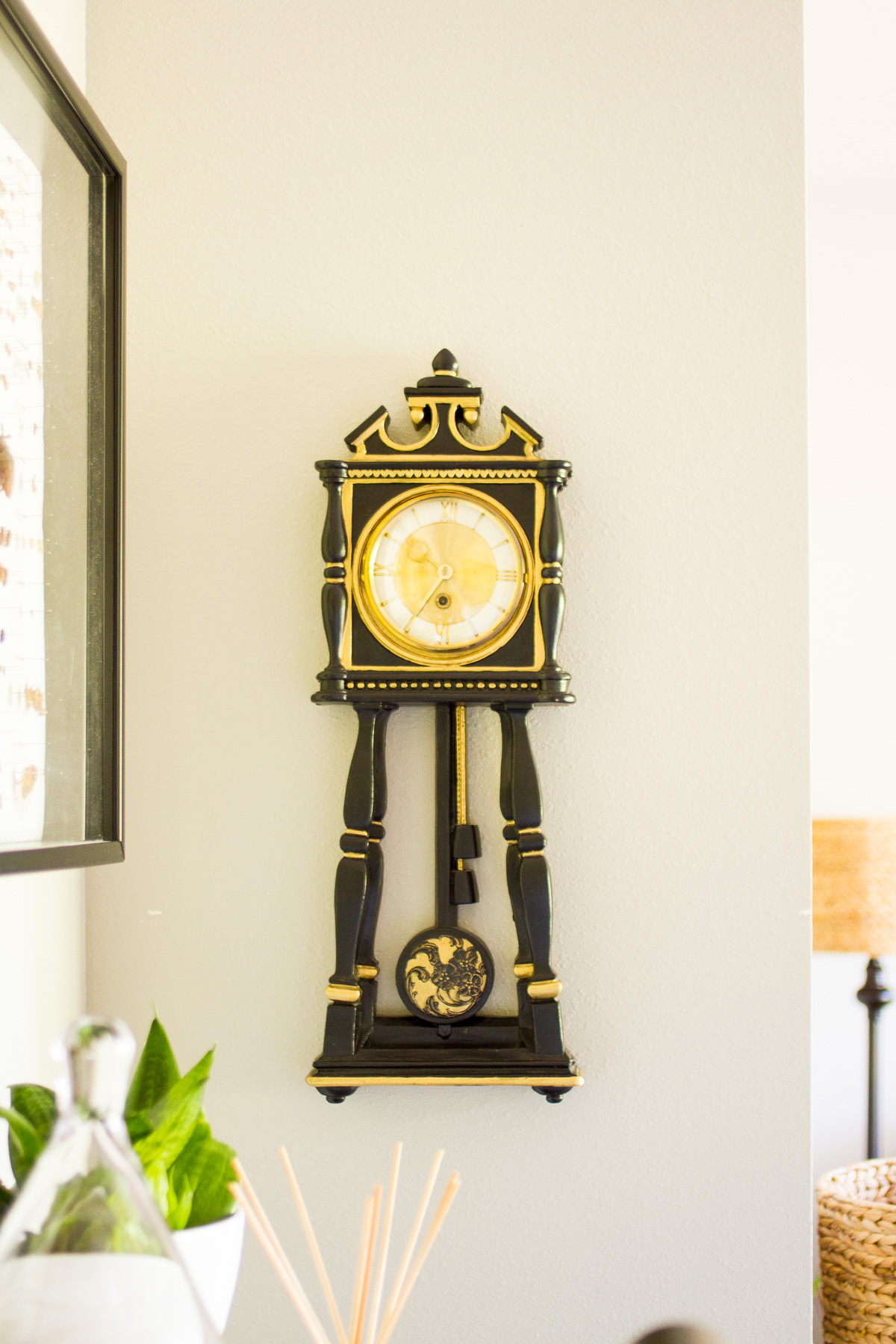 In case you missed the history of this clock, my mom bought it for me when I was in high school from my Nana's neighbor who was a clock collector/dealer. It is plaster and weighs a ton. It used to be a sickly shade of yellow, but I painted it black with gold accents a long time ago and am happy to have it go so well in this space. This was the very last piece to go in the living room.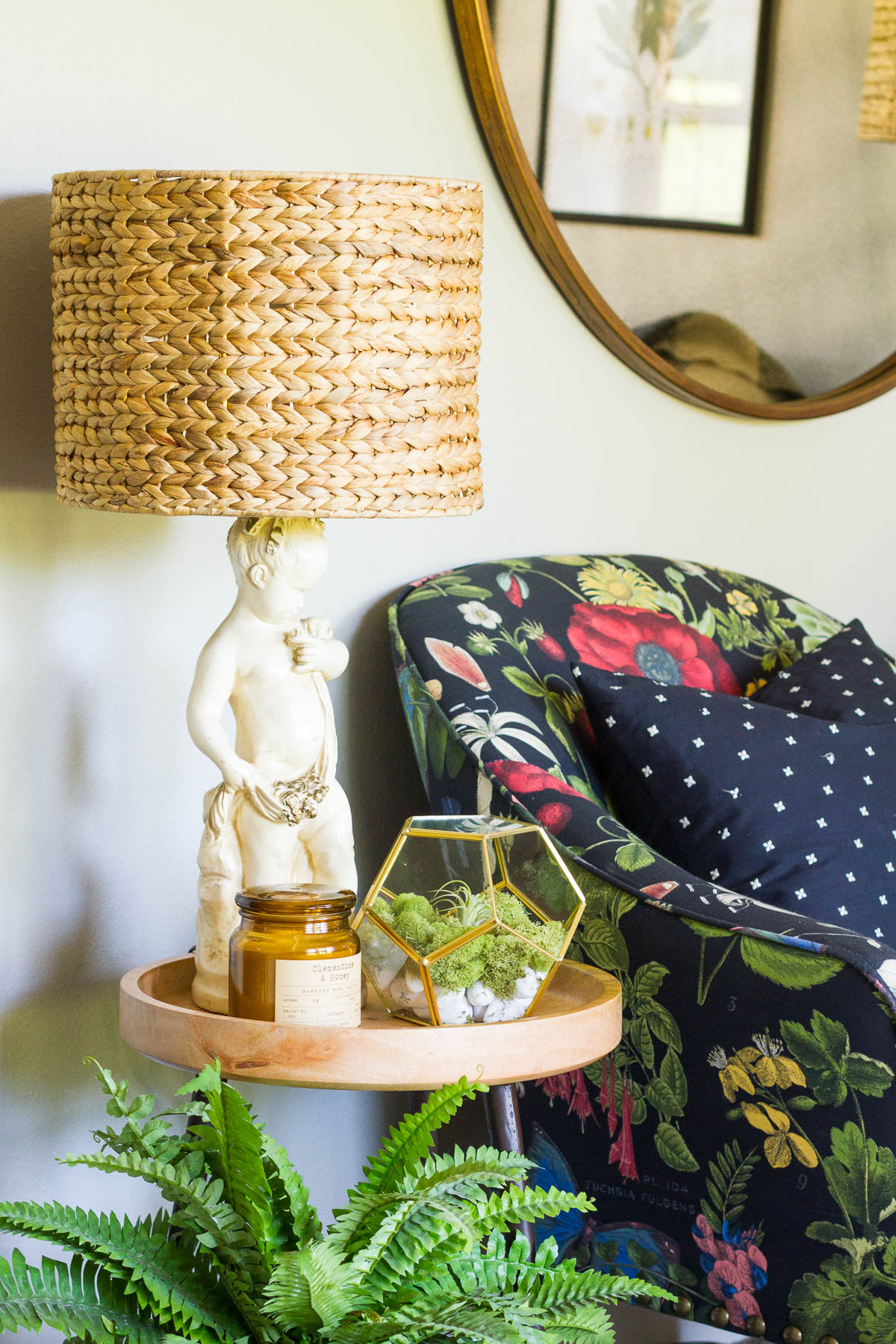 And last but not least, I finally made a decision about lamp shades. Despite the fact that they don't let a ton of light into the room at night, I picked woven seagrass lamp shades for both the vintage table lamp and the dark bronze floor lamp. I just love how they look, and the living room doesn't need to be lit up like a Christmas tree at night anyway. Between the wall sconces, both lamps, and the piano lamp, there's plenty of light.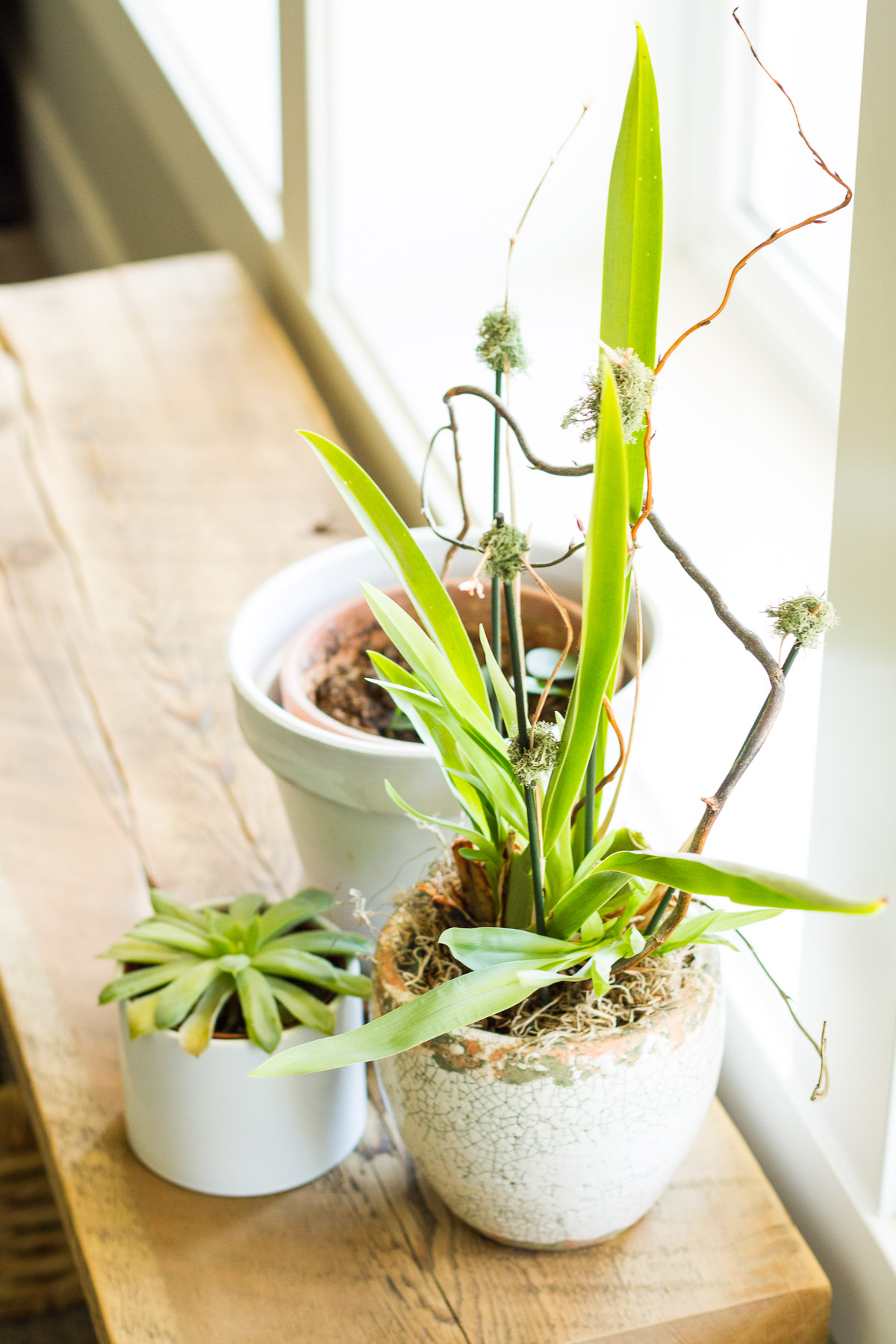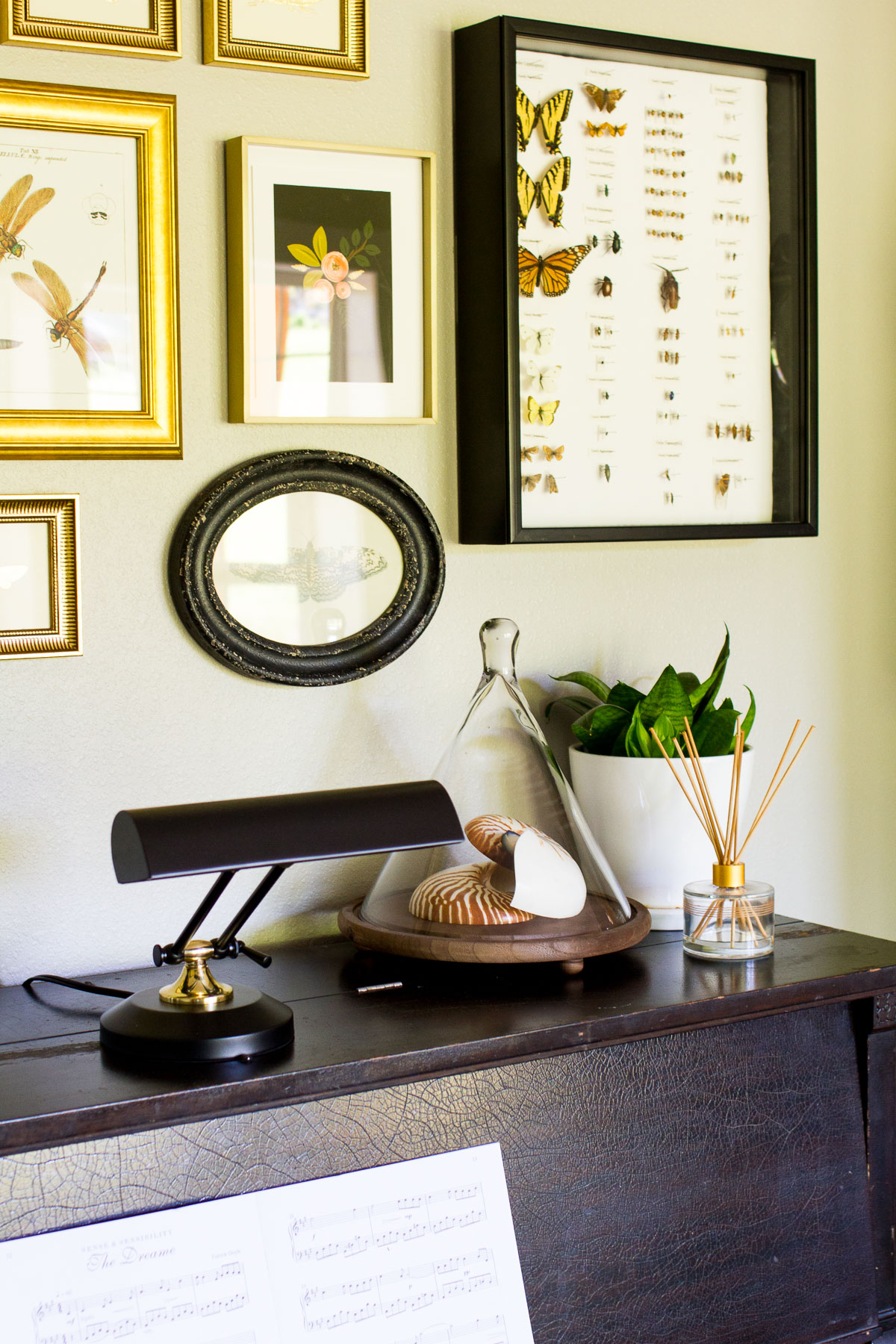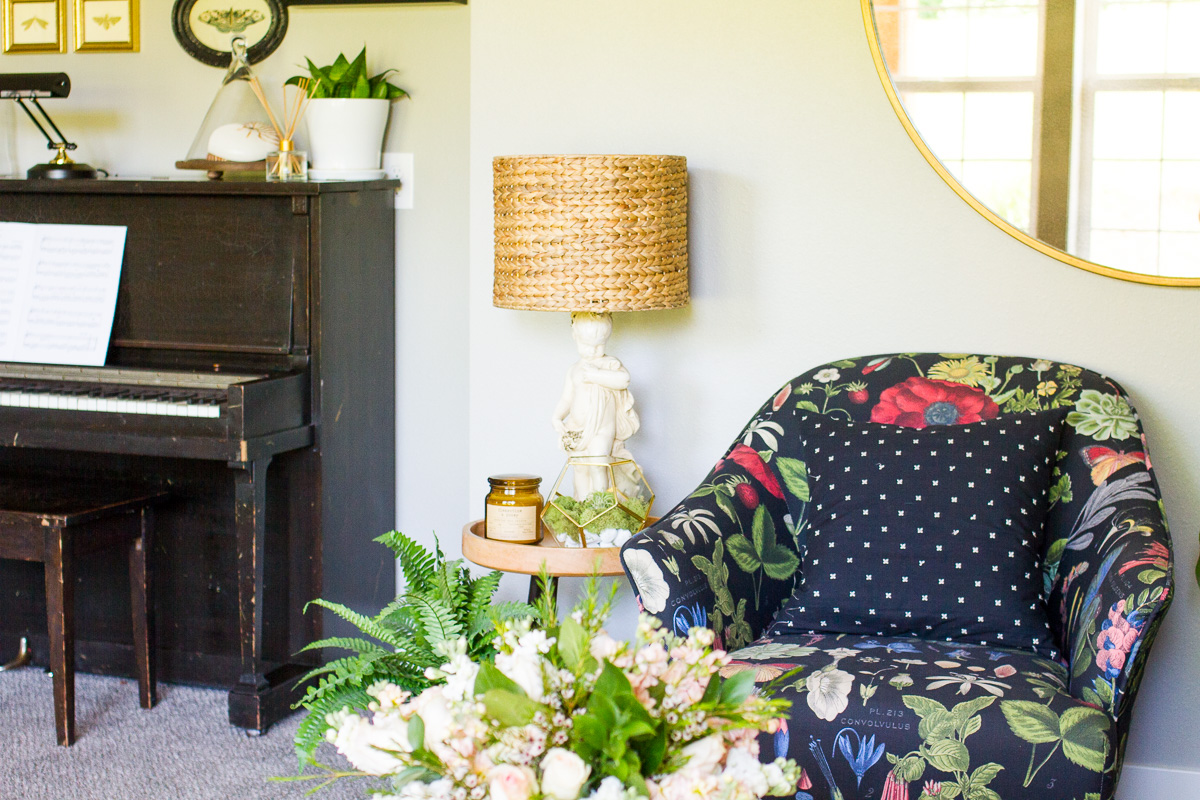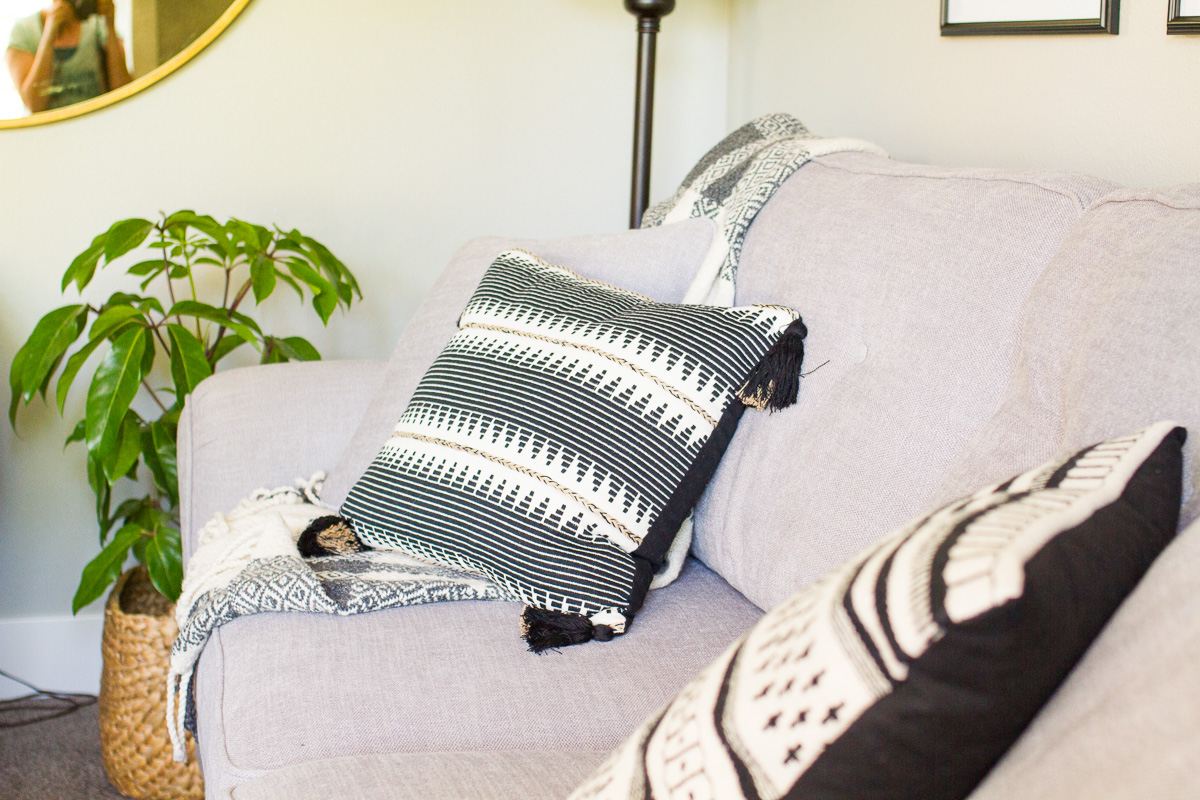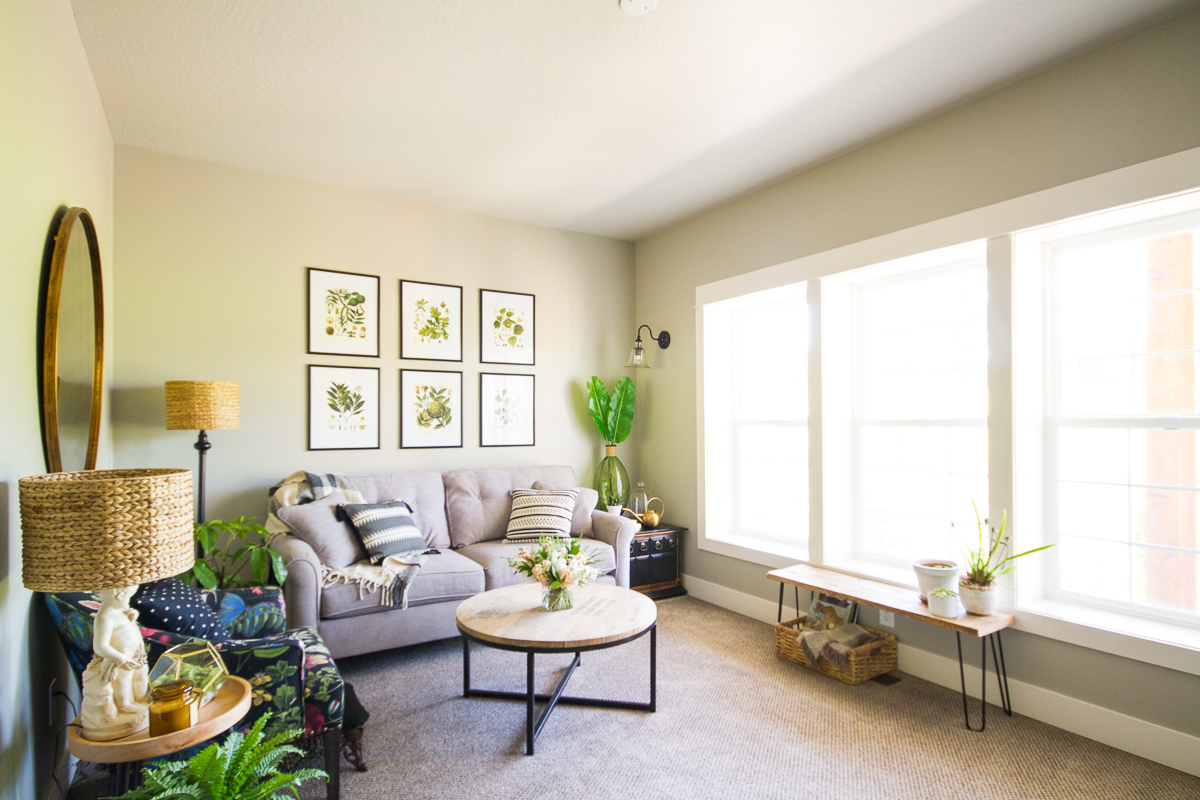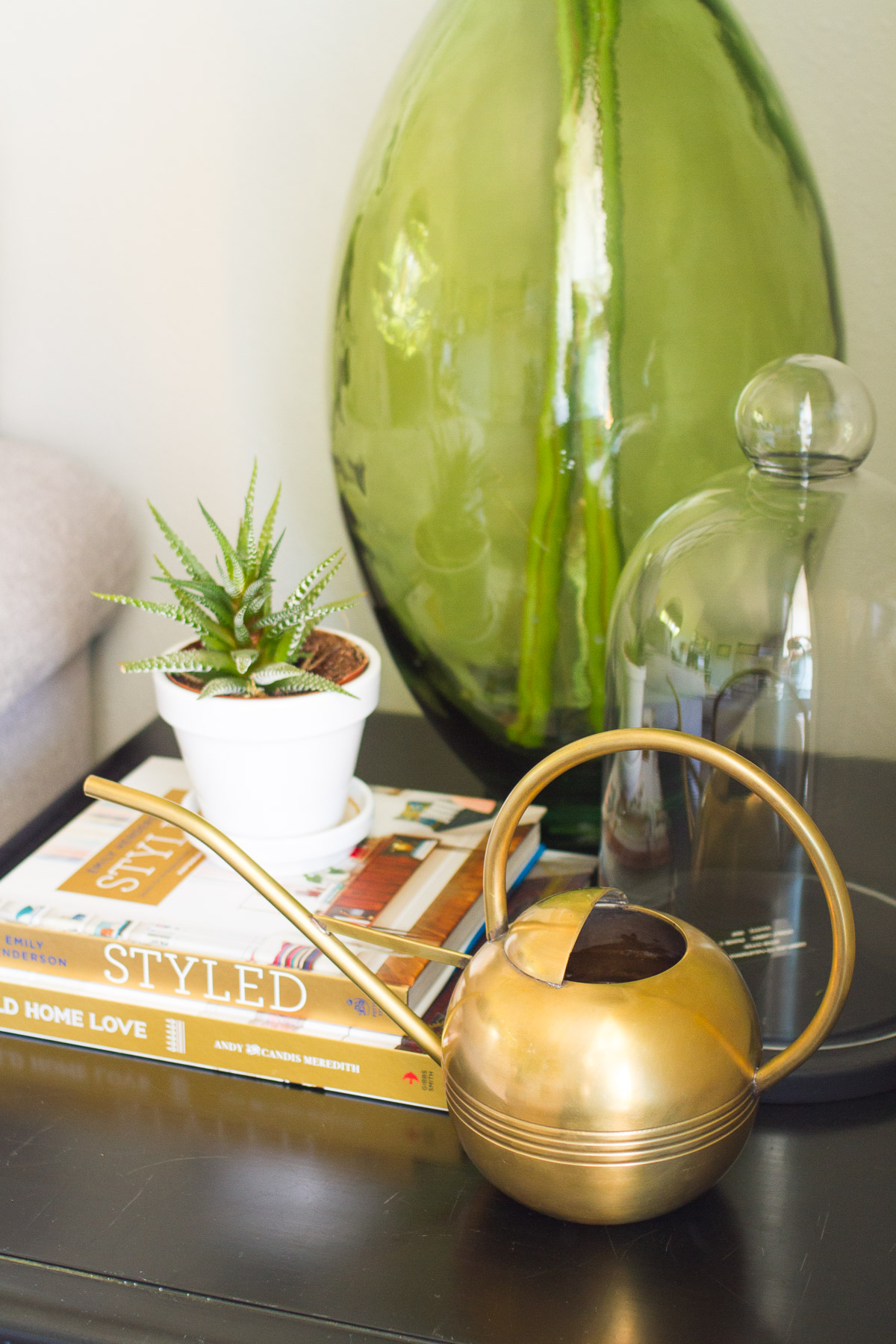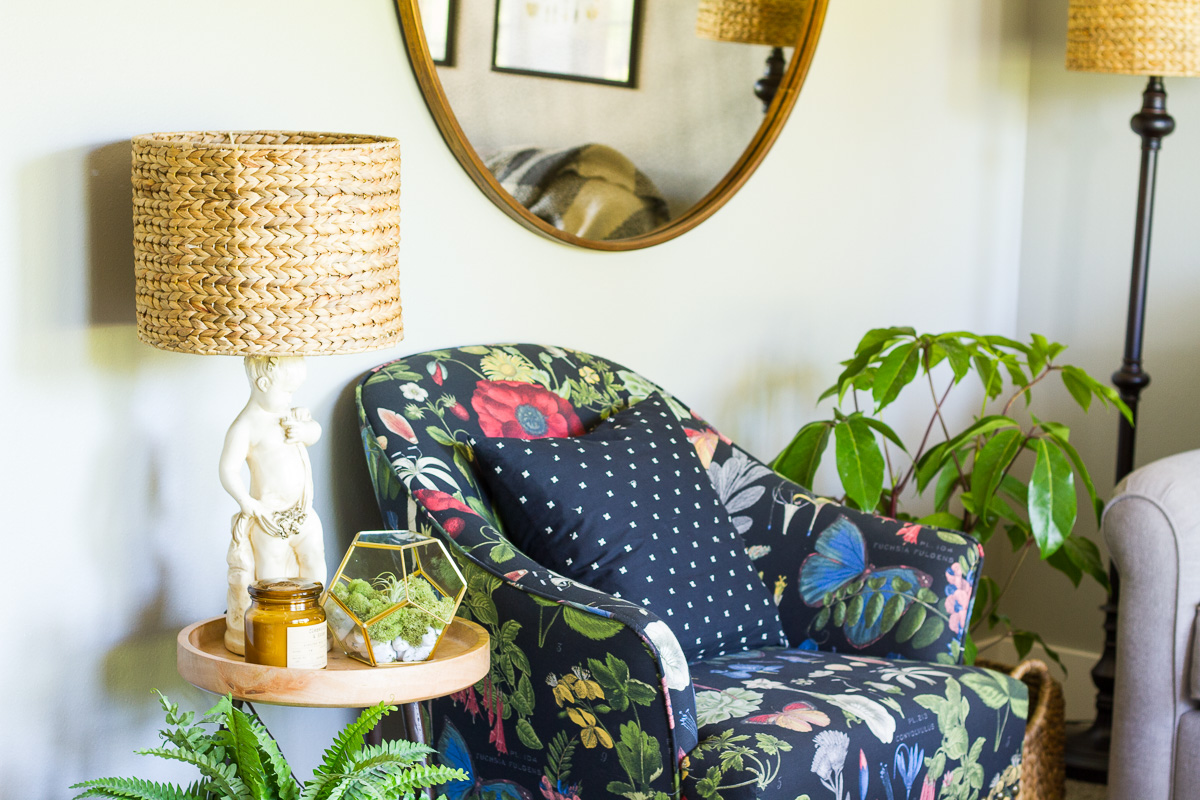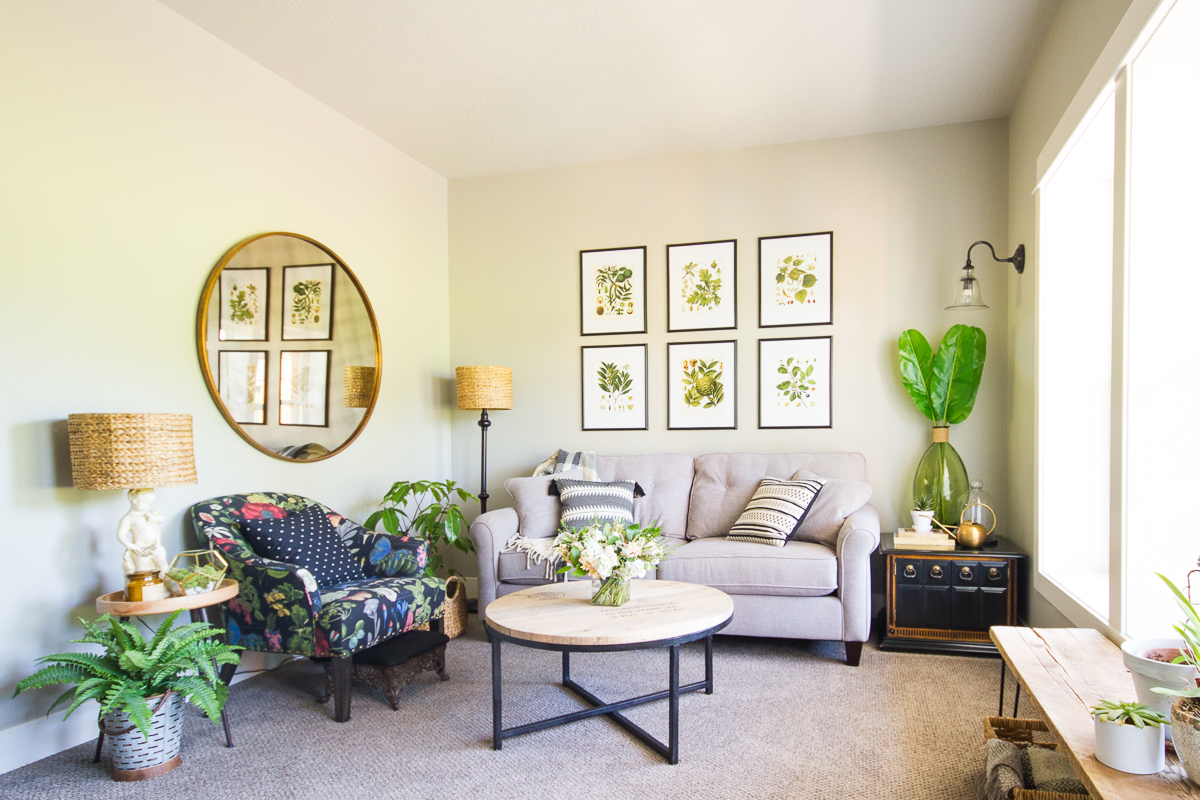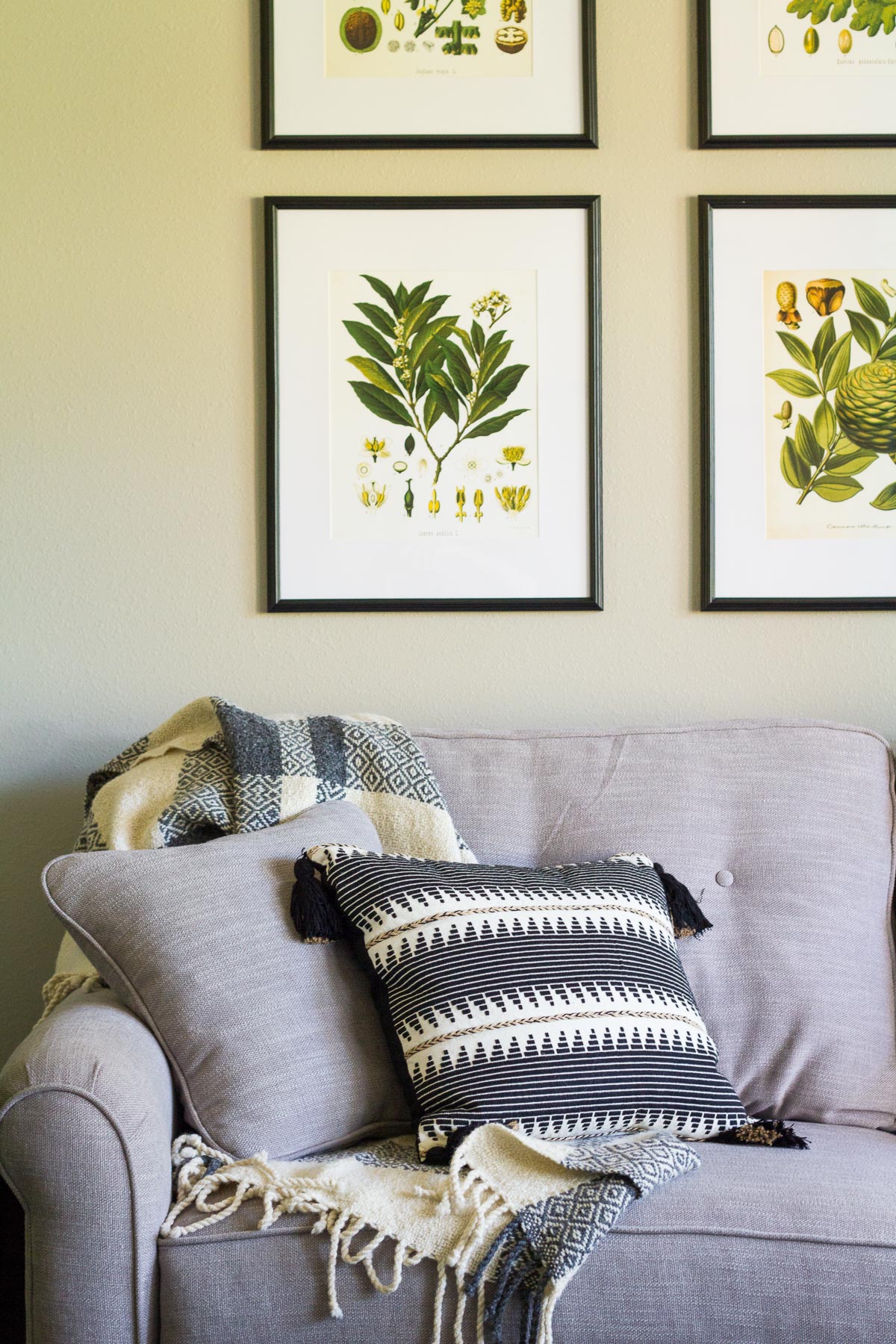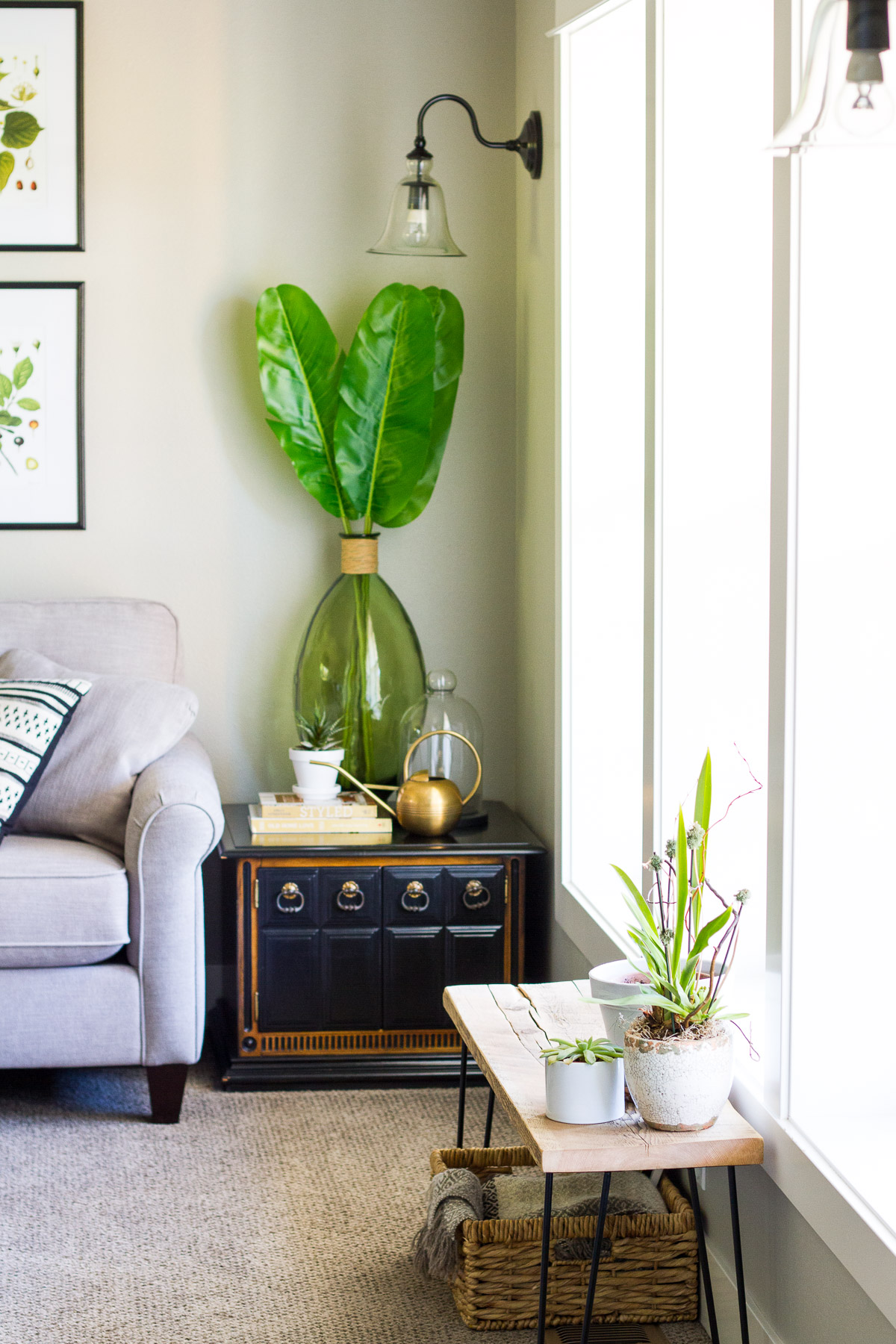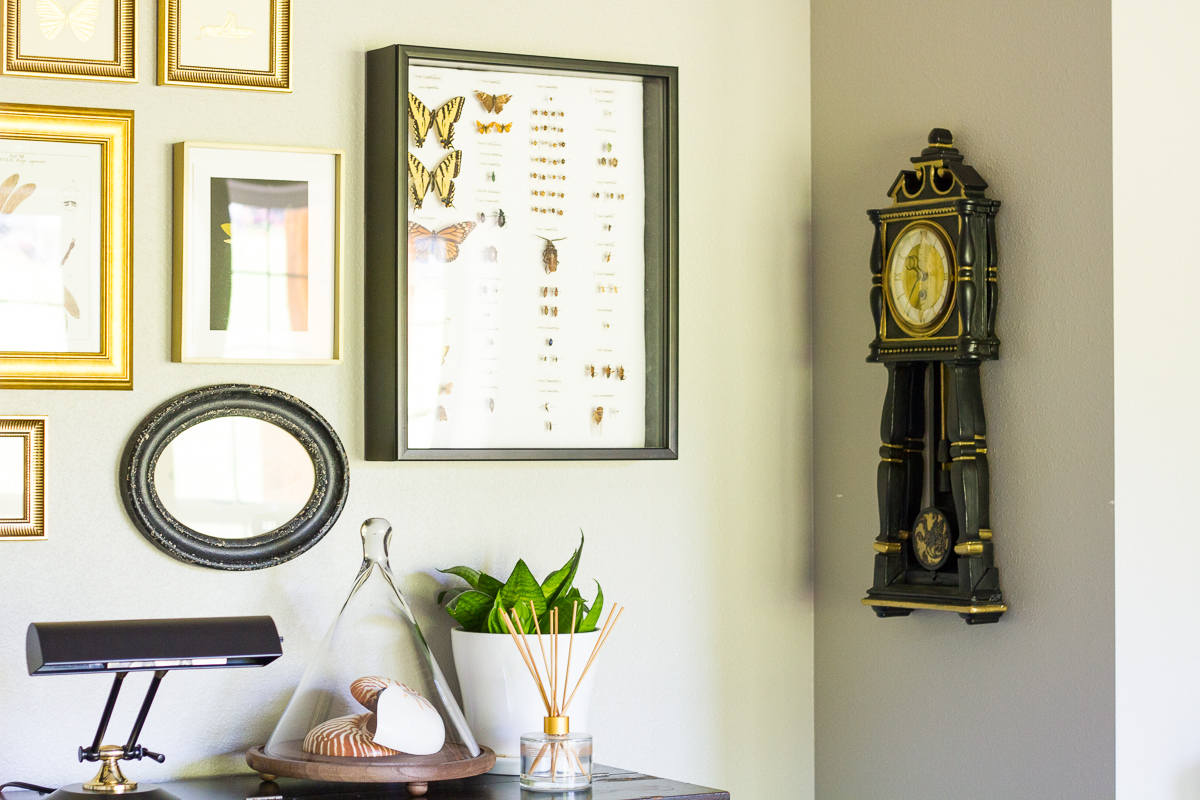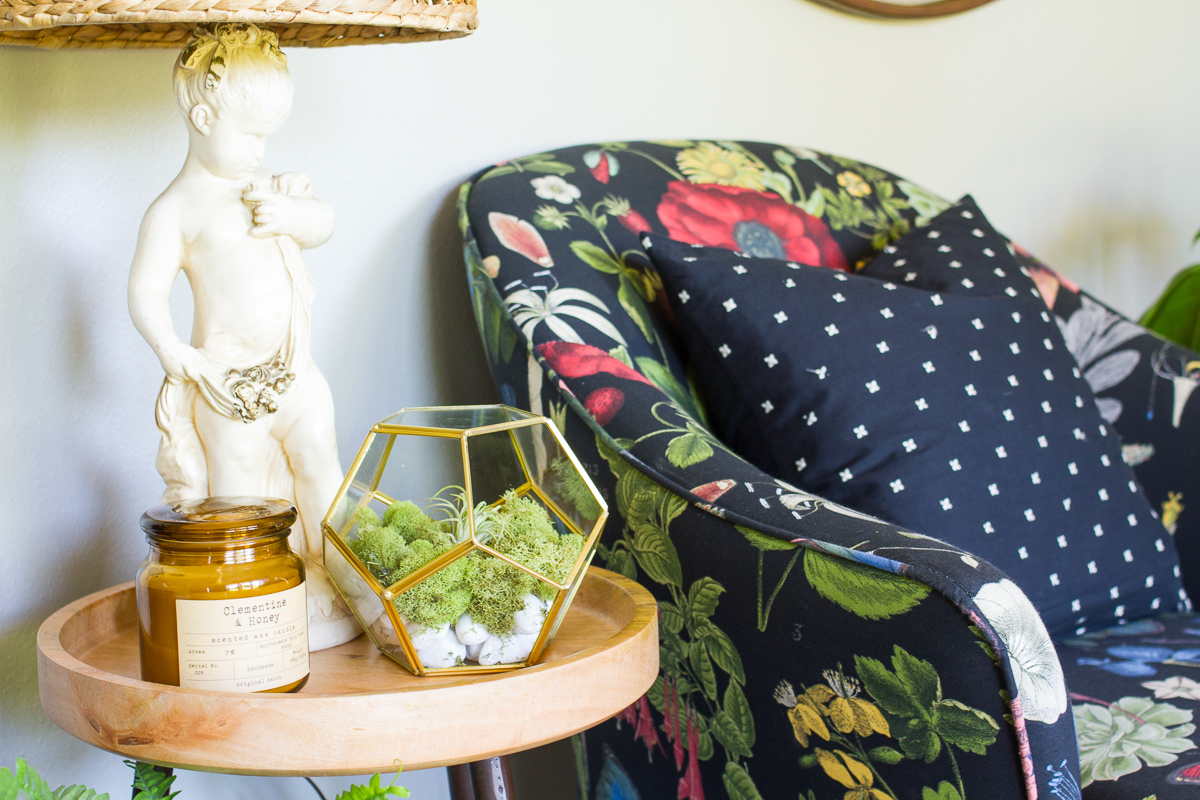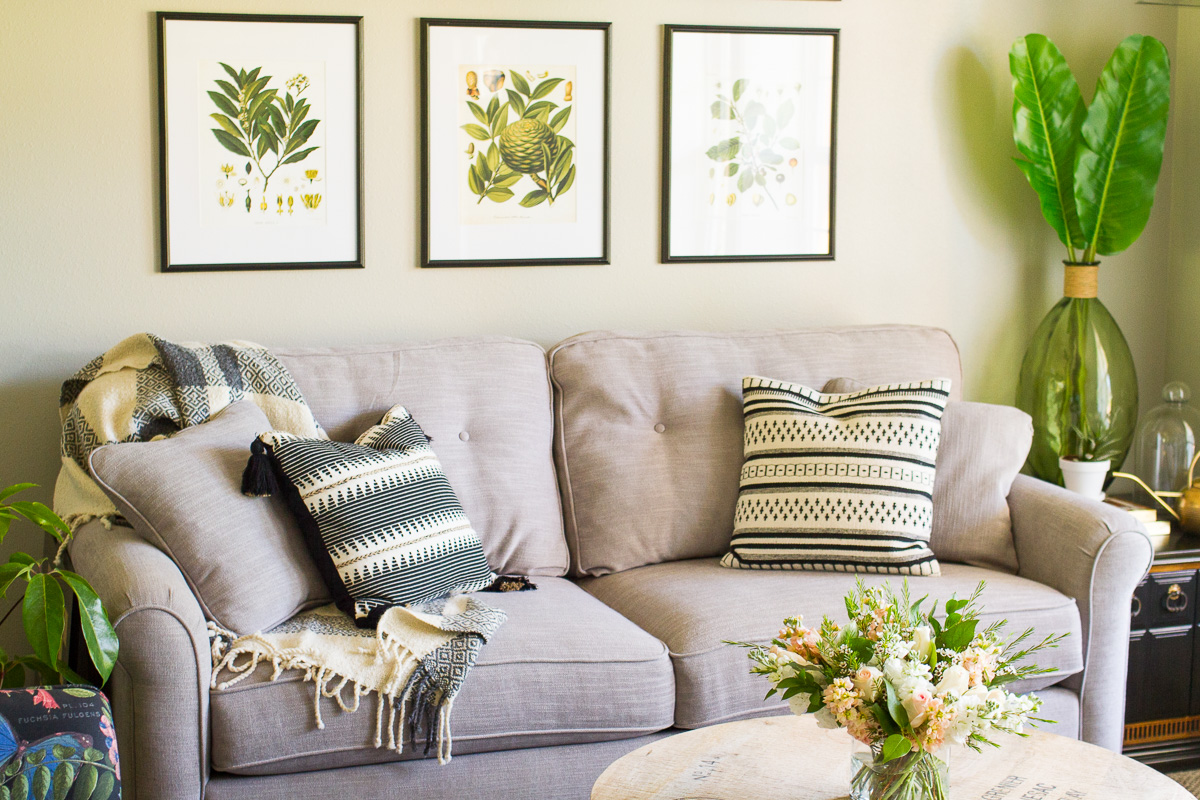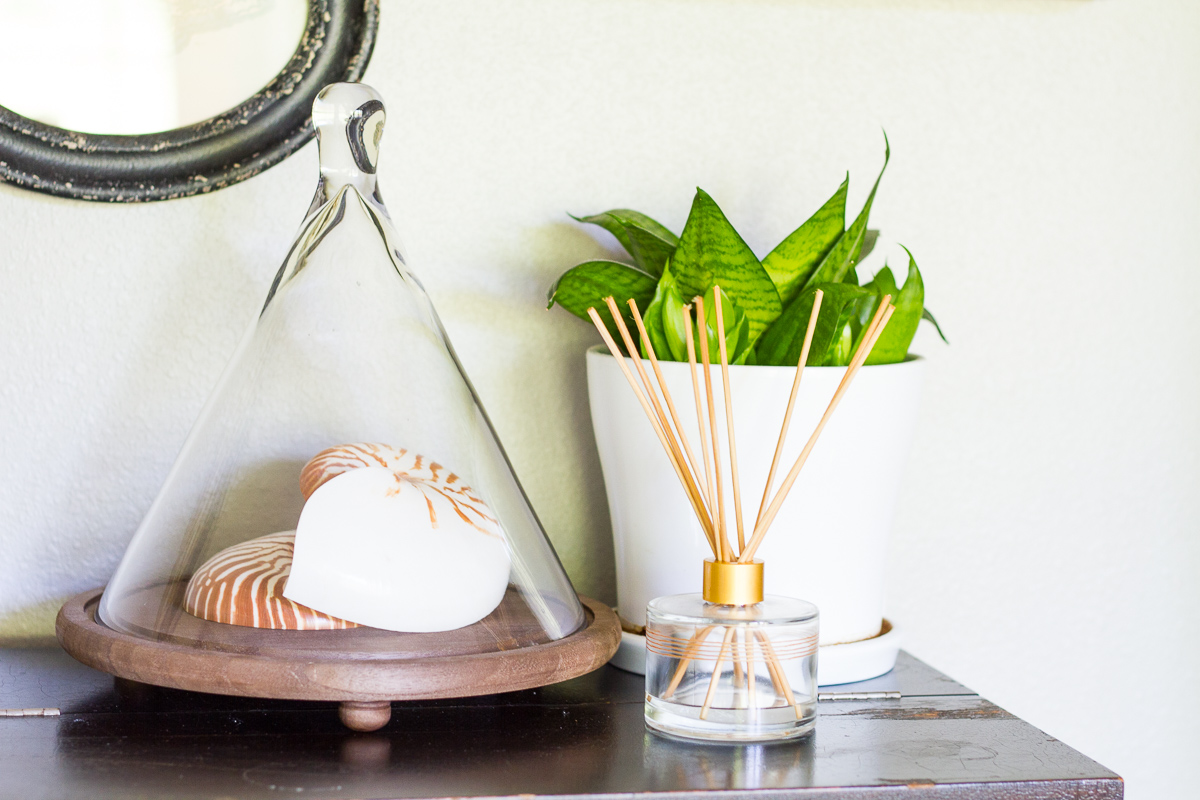 Thanks for following along on our naturalist living room makeover adventure! We've had a blast redoing this room, and having a tight deadline has helped us get it done quickly. To see how far we've come with this living room in the past 6 weeks, read my previous One Room Challenge posts: Week 1 | Week 2 | Week 3 | Week 4 | Week 5. Big thanks to Linda from Calling It Home and to House Beautiful Magazine for hosting/sponsoring, a thanks to Minted for providing the cute black botanical print in our gallery wall. Be sure to check out the gorgeous room reveals of the featured designers HERE and see all of the amazing guest participant reveals HERE.
**This post contains affiliate links. You can read more about them on our policies page.**
SOURCES
Hair Pin Leg Bench:
reclaimed wood slab from Barnwood Naturals in Salem, OR
hair pin legs from Industrial by Design on Amazon
large nora basket from World Market
Art Forms in Nature by Ernst Haeckel
Natural Histories: Extraordinary Rare Book Selections from the American Museum of Natural History Library
plants and pots previously owned

Black End Table:
faux banana leaves from Pier 1
brass watering can from Amazon
Styled by Emily Henderson
Old Home Love by Candis & Andy Meredith
all other items previously owned.
Botanical Print Grid:
prints from Lettered & Lined
mats and frames from Michaels
Couch:
Magnolia Home black and white pillow from Pier 1
black and white tassel pillow from Target
Laurel Premier Sofa in Fog from La-Z-Boy
handmade gray and white wool throw previously owned
Floor Lamp, Mirror, and Plant:
Aimee Arrow Basket from World Market
umbrella schefflera from Walmart
woven water hyacinth drum lamp shade from World Market
Uttermost Junius 43″ Round Gold Mirror from Hayneedle
floor lamp previously owned

Arm Chair and Wooden End Table:
Round Wood Accent Table with Steel Legs from Overstock
brass polygon terrarium from Amazon
white rocks from World Market
moss from World Market
Clementine & Honey candle from World Market
woven water hyacinth drum lamp shade from World Market
Ellis Upholstered Armchair from Pottery Barn (no longer available)
metal bucket and fern previously owned
vintage cherub lamp previously owned
Gallery Wall:
black botanical print with matte brass frame from Minted
center dragonfly print from Natural Histories: Extraordinary Rare Book Selections from the American Museum of Natural History Library
gold frame around dragonfly print from Michaels
all other prints and items previously owned
Piano Top:
House of Troy Black and Polished Brass Piano Lamp from Amazon
all cloches, plants, and other items previously owned
Other:
Rustic Wall Sconces from Pottery Barn
Aspen Barn Door and Aspen Barn Door Hardware from Artisan Hardware
French Stamped Mango Coffee Table from Overstock
gold and black plaster clock previously owned
Edmond Woods original oil painting previously owned