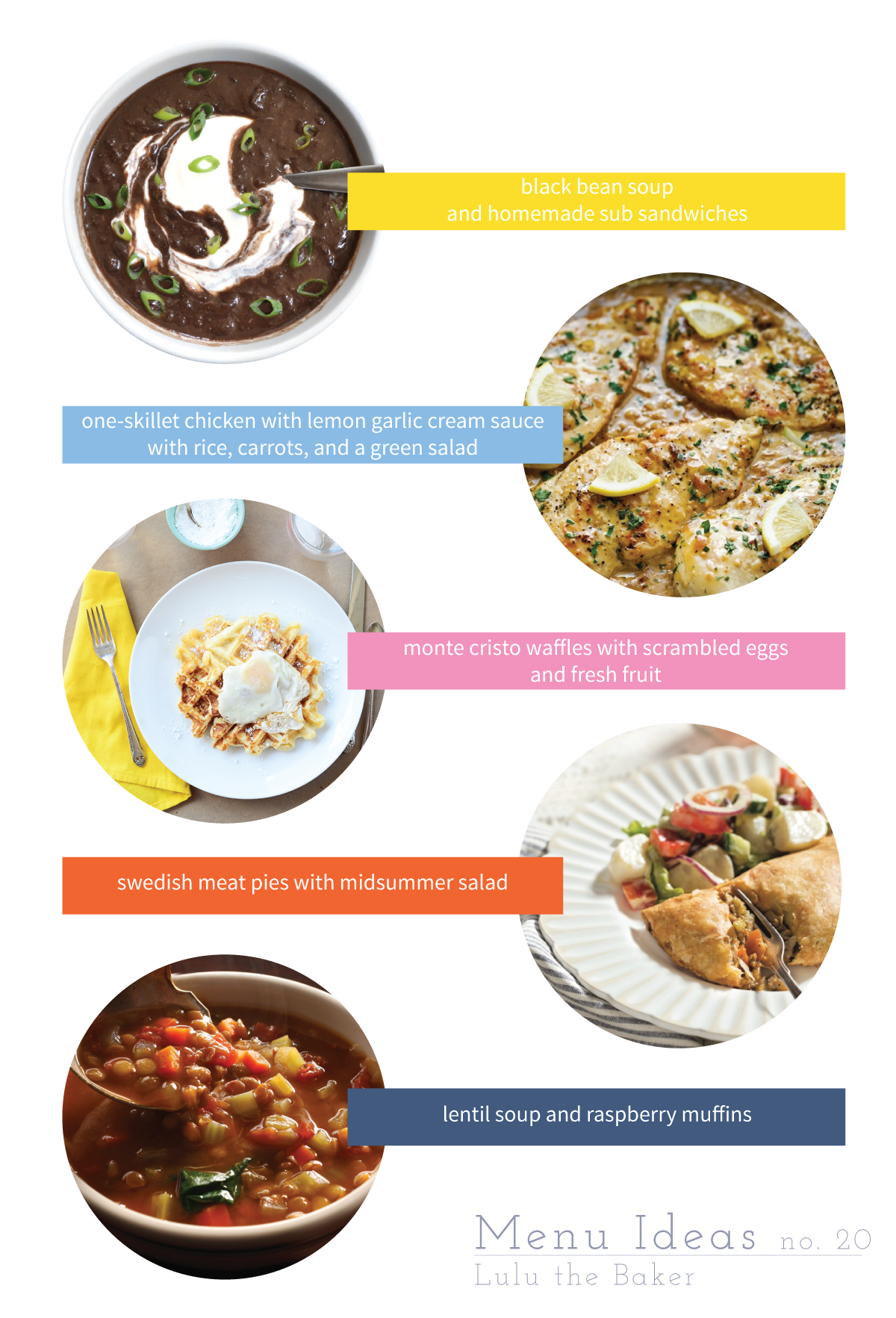 Happy Tuesday! I hope you had a delightful Mother's Day weekend. I got to have brunch with my sister, my mom, and my Nana on Saturday before spending the rest of the day running errands. Sunday was filled with homemade coffee cake served in bed, lots of handmade cards and presents from my kids, and a delicious dinner with my family. Now it's back to the reality of busy weeknights! The past few weeks have been some of our busiest ever, with spring soccer practice and weeknight games, play rehearsal and performances, and other commitments. Thanks to menu ideas like these, we've still been able to have tasty, wholesome, homemade dinners on most of those nights. Here's are a few of the fast and family-friendly weeknight dinners we've enjoyed lately…
**This post contains affiliate links. You can read more about them on our policies page.**
Black Bean Soup and Homemade Sub Sandwiches
This delicious black bean soup is a "Menu Ideas" series favorite! Paired with a green salad or veggie sticks and some crusty bread, it's a great entree all on its own, but my kids don't love it as much as I do, so we usually have it with sandwiches. That way, the kids can make their own sandwich however they like, and everybody gets something they want for dinner. The soup has amazing flavor and reheats really well. My husband and I love having it for dinner, and it also makes a fantastic and easy lunch the next day.
One-Skillet Chicken with Lemon Garlic Cream Sauce with Rice, Carrots, and a Green Salad
We had this yummy chicken with lemon garlic cream sauce from Little Spice Jar for Easter dinner, and it was a big hit with the huge crowd we invited over. We made extra sauce so that we could put it over the rice, and served brown sugar-glazed carrots and a green salad on the side. It was actually a really quick dinner to make, but I wouldn't recommend making a quadruple batch like I did. It's just too much chicken and too much sauce, and the sauce won't reduce correctly, or at least not quickly enough. But the chicken and sauce were delicious and everyone loved them. I'm looking forward to trying the recipe again on the proper scale to see if it's even tastier.
Monte Cristo Waffles with Scrambled Eggs and Fresh Fruit
Breakfast for dinner is always a good thing in my book, and these monte cristo waffles from Weeknight Society were amazing. I made each person's waffle as requested: some wanted their waffles plain and some wanted their waffles filled with ham and cheese. I thought the ham and cheese version was dreamy, and even the plain waffles were delicious. Instead of serving over-easy eggs on top, we ate our eggs scrambled and on the side, along with fresh strawberries, watermelon, and pineapple. Next time I make the waffles, I think I'll dice the ham before adding it so that it gets more evenly distributed throughout the waffles. I loved the bites that had ham in them, and was sad every time I got a bite with no ham.
Swedish Meat Pies with Midsummer Salad
These yummy swedish hand pies from my book, Scandinavian Gatherings, are such a delicious dinner! They're not a quick dinner, but you can make them ahead and reheat them easily. The filling is a mix of beef, cheese, veggies, and spices, and the crust is savory and salty, and super easy to work with. The midsummer salad we had on the side is unique and pretty, in addition to being tasty. I made it for a big Scandinavian cooking demo in Portland last month, and people came back for seconds and then thirds! You'll have to get your hands on a copy of my book to get the recipe.
Lentil Soup and Raspberry Muffins
My friend Anne posted an Instagram Story about this soup a few weeks ago, and it sounded so good, I immediately put it on my list of things to make ASAP. And it was AMAZING! It was such an easy soup to throw together, and my husband and I both thought it was incredible. To be 100% honest, my kids didn't love it, but my oldest, who is a good eater, thought it was tasty. And if I only made things for dinner that my little kids loved, we'd be eating pancakes, frosting, and cheese for every meal. To appease my kids, I made a batch of raspberry muffins to go with the soup, and they filled up on those. The muffins are a special treat because they're made with a mix that isn't carried in any of our local stores, so I have to stock up when I'm out of town. The recipe for the soup isn't online anywhere, so here's it is (slightly adapted and being shared with permission, btw): Sauté 1 medium onion (small diced), 2 large carrots (peeled and small diced), and 2 celery sticks (small diced) in 1 Tablespoon olive oil in a large pot or dutch oven over medium heat, about 10 minutes or until tender. Add 1 clove garlic (minced), and cook 1-2 minutes more. Add 1 lb brown lentils (rinsed and picked through), 8 cups water, 1 16-oz can diced tomatoes (undrained), 1 Tablespoon dried cilantro, 2 Tablespoons red wine vinegar, 2 1/2 teaspoons salt, 1/2 teaspoon dried oregano, and 1/4 teaspoon black pepper. Bring to a boil, cover, reduce heat, and simmer for 45 minutes, until the lentils are very tender.
Best of luck navigating the treacherous waters of busy weeknight dinners this week. I hope some of these menu ideas are helpful to you. If you need more menu ideas for quick and easy family-friendly dinners, you can check all of my previous "Menu Ideas" posts by clicking HERE. Happy menu planning!