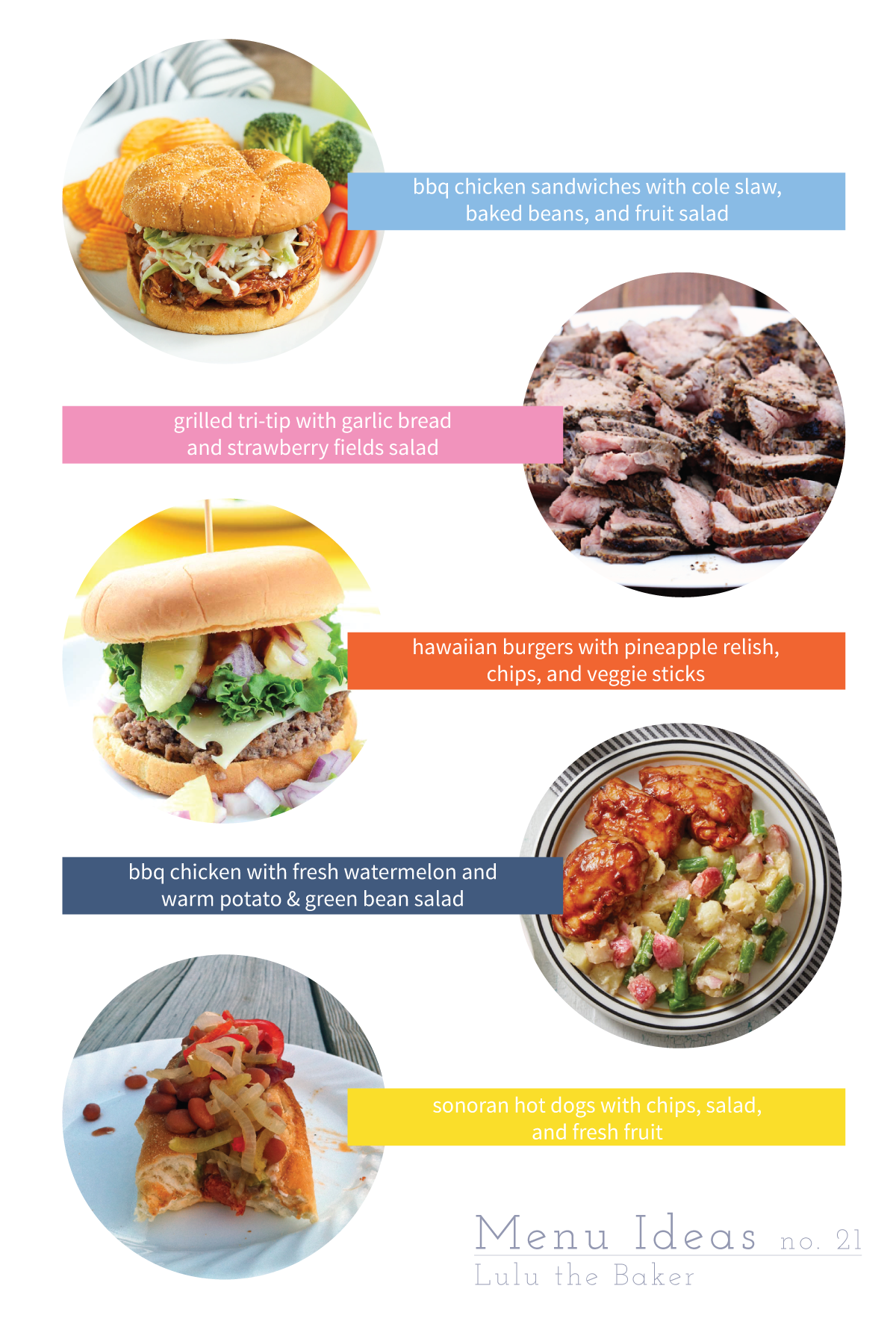 The 4th of July has always been one of my favorite holidays. I know I say that about every holiday, and yes, I just love 'em, but I really do love the 4th. For as long as I can remember, it has meant swimming and cook-outs and fireworks and popsicles and cousins and all-you-can-eat soft serve ice cream. We have friends who get together every Independence Day and generously invite us to join in, but for us, the 4th has always been all about family. We usually have some kind of enormous family reunion going on during the 4th. Sometimes on my side of the family, sometimes on my husband's, and occasionally on both at the same time! I didn't think we'd have much family in town this year other than the ones who live here, but we've gotten texts and emails and phone calls all week from cousins and siblings who have suddenly decided to come visit for the holiday weekend. And we're thrilled; it just wouldn't be the 4th without a giant family get-together! In honor of the 4th of July, I put together a special edition of Menu Ideas featuring some of my favorite summer recipes that would be perfect to feed any size crowd next week.
BBQ Chicken Sandwiches with Cole Slaw, Baked Beans, and Fruit Salad
We started making these BBQ chicken sandwiches a few summers ago and love them. Topped with creamy homemade cole slaw, they are the best chicken sandwiches around. The cole slaw can be made the day before—in fact it's better that way—and easy sides like canned baked beans and a simple fruit salad mean you won't have to slave away in the kitchen.
Speedy's Grilled Tri-Tip with Garlic Bread and Strawberry Fields Salad
My parents love my husband, but I'm pretty sure they'd keep him around even if they didn't because he makes amazing tri-tip. He grew up in central California eating Santa Maria style barbecue, and he has mastered the fine art of slow-grilling deliciously seasoned trip-tip and serving it up sliced razor thin. We have all kinds of sides with it, depending on the season, but for summer, garlic bread and strawberry fields salad are two faves.
Hawaiian Burgers with Pineapple Relish, Chips, and Veggie Sticks
If you guys haven't checked out the Weeknight Society app yet, you are missing out on some amazing weeknight dinner recipes! It's hard to pick a favorite from the many we've tried, but we really love these Hawaiian Burgers. Between the meat and the pineapple relish, they have amazing flavor. If you're looking for a new twist on the classic American burger, give these a try!
BBQ Chicken with Fresh Watermelon and Warm Potato & Green Bean Salad
This recipe was yet another huge hit from Blue Apron. The baked chicken thighs basted in tangy barbecue sauce were a cinch to make and tasted delicious. And the warm, marinated potato and green bean salad was insanely good, and I'm not even a potato salad fan. You can get the recipe for both HERE (seriously, that potato salad!!), and I know you can figure out the fresh watermelon part on your own.
Sonoran Hot Dogs with Chips, Salad, and Fresh Fruit
Ah, hot dogs. I love them and want to eat them basically all summer long. I don't, mind you, but I want to. Since I don't actually get to eat hot dogs as often as I crave them, I try to make my hot dogs count. These Sonoran hot dogs might sound weird, but they are so crazy good!! Two exclamation points, that's how good they are. Super soft buns, bacon, sautéed onions and peppers, pinto beans, mayo, guacamole, cotija cheese…Do yourself a huge favor and set out all the fixins for Sonoran hot dogs alongside the regular ketchup, mustard, relish, etc. at your next weenie roast. You will thank me!
If you need more great menu ideas, check out the series archives here. Have a wonderful and safe 4th of July, everybody!!
SaveSave