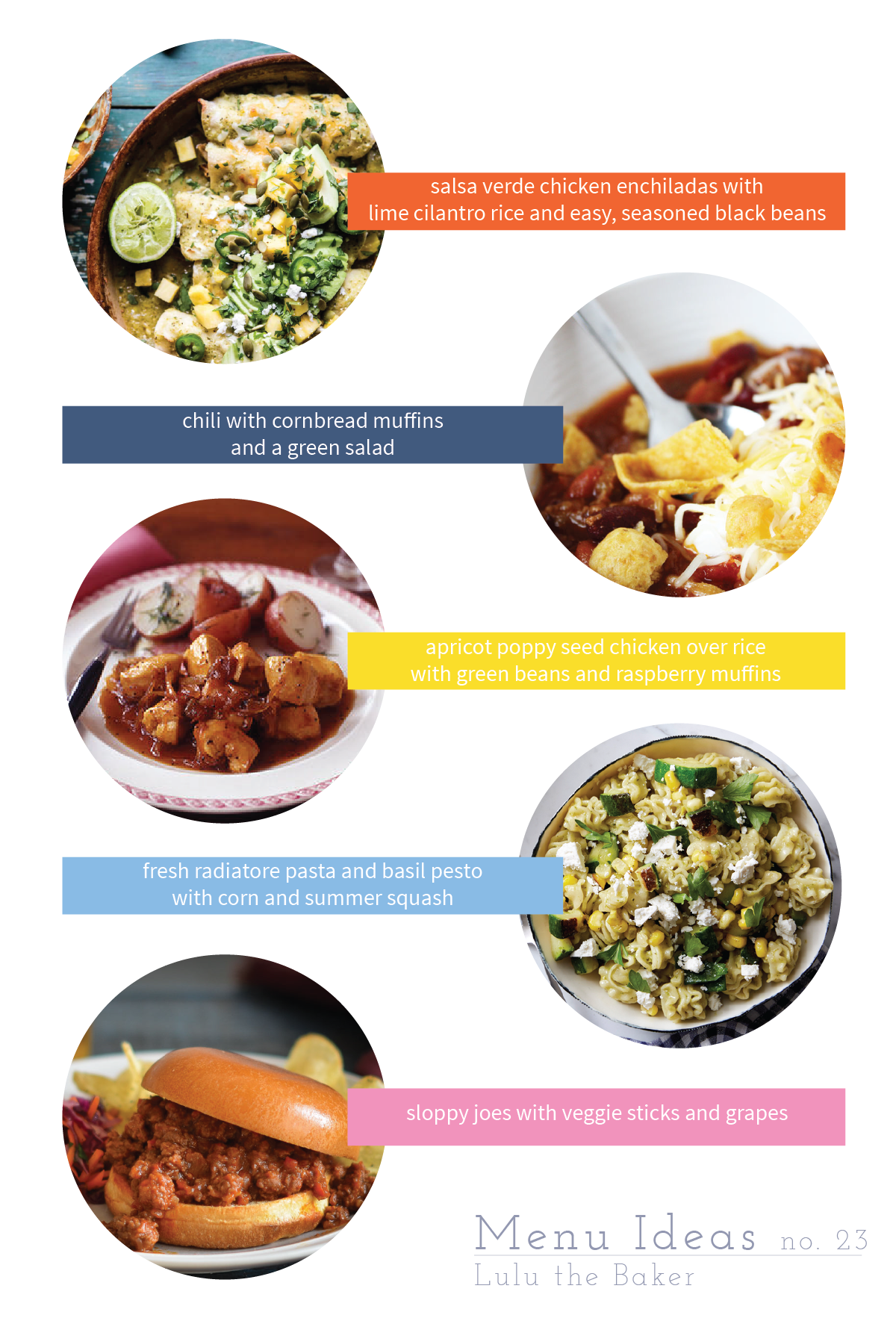 Welcome to another post in the Menu Ideas series. Once or twice a month, I round up five of our favorite ideas for fast, family-friendly dinners that are perfect for busy weeknights. These are meals that my family has eaten and loved, and that will hopefully inspire you as you try to figure out what to feed your family each week. Fall is officially and undeniably here in our part of the world. The weather turned chilly and rainy a few weeks ago, and we are loving it. This change in the season gives us the chance to change up our menu; we go from lighter, garden fresh fare to warm, hearty, comforting meals and baked goods. With one delicious exception, the dinners in this installment of Menu Ideas are all really Autumnal: chili, sloppy joes, etc. They are all super easy to make and popular with everyone in my family. Here's what we've eaten and enjoyed in the past few weeks:
Salsa Verde Chicken Enchiladas with Lime Cilantro Rice and Easy, Seasoned Black Beans
Taco chicken made in the crockpot is a staple at our house, and enchiladas are one of our favorite ways to use it. You can find the recipe for the chicken HERE, although this time I used homemade salsa verde instead of classic red salsa. The salsa also doubled as the enchilada sauce. To make enchiladas, I gently heat corn tortillas in oil just until they are pliant, fill them with a mixture of chicken and shredded jack cheese, rolls them up, and place them in a greased baking dish. When all the enchiladas are snuggly in the baking dish, I pour on the enchilada sauce, top with more cheese, and bake at 350°F until the cheese is melted and the sauce is bubbly. Instead of our usual Spanish Rice (which is delicious, btw), we had lime cilantro rice, which I honestly don't remember how I made! I've tried so many different recipes, some good, some not. If you have a favorite recipe for lime cilantro rice, please leave the link in the comments below; I'd love to try it. And we rounded out the meal with our favorite seasoned black beans, which make an appearance in almost every Menu Ideas post! [photo from Half Baked Harvest]
Chili with Cornbread Muffins and a Green Salad
I looooooove chili, and I love when the weather finally cools off enough that I can make it for dinner. This is our favorite chili recipe and the only one I ever make. I love serving chili with homemade cornbread muffins, and a nice, big green salad balances it all out. If I don't have time to make the muffins from scratch, I'll use a mix that calls for milk, eggs, and melted butter, so it's as close to homemade as possible.
Apricot Poppy Seed Chicken over Rice with Green Beans and Raspberry Muffins
I used to make this chicken with apricot and poppy seeds from Rachael Ray all the time when my husband and I were first married, and I'm not sure why I stopped. It is so good and so easy to make, and my kids who actually like to eat food love it.  Instead of the dilled potatoes, I always serve it over white rice, and this time we made green beans and raspberry muffins to go along with it. The directions are a little vague at the end. After you add the chicken stock, apricot preserves, etc, you have to simmer it, stirring occasionally, until the sauce thickens slightly, which takes anywhere from 5 to 10 minutes. You don't want all the sauce to evaporate, but you also don't want it running all over your plate like water. It should be thick enough to coat the chicken. Also, half the amount of poppy seeds is plenty!
Fresh Radiatore Pasta & Basil Pesto with Corn & Summer Squash
This Blue Apron dinnerwas a very popular with my family. It was incredibly easy to make and tasted fresh and delicious. I loved the flavors of basil pesto and sweet corn together, and there was just enough salty cheese to make it really interesting without being overwhelmingly cheesy. You could easily buy all of the ingredients and make it at home using the recipe on Blue Apron's site. We paired ours with some crusty french bread and a green salad. It was really light and tasty, and everyone in the family loved it. There was even enough left over for lunch for me the next day, and it reheated really well.
Sloppy Joes with Veggie Sticks and Grapes
My kids love sloppy joes, and they're ridiculously easy to make, so it's a WIN-WIN. I've never seen a recipe for from-scratch sloppy joes that sounded appetizing, but if you have one that you love, please leave it below in the comments and we'll give it a try! We had ours with veggie sticks and fresh grapes, and I must say, it was a delicious and super easy dinner to put together. [photo from Once Upon a Chef]
Have a wonderful weekend, and good luck planning meals for next week. If you need even more ideas for fast, family-friendly dinners, be sure to check out the other posts in my Menu Ideas series. You can find them all HERE.
SaveSave
SaveSave
SaveSave