This week's Endless Summer Projects posts are sponsored by Wayfair. Wayfair offers a zillion things home – the largest selection of home furnishings and décor across all styles and price points. For more information and inspiration, visit www.wayfair.com and follow us on Facebook, Twitter & Pinterest.
Before showing you this week's very cool project, I wanted to introduce our sponsor, Wayfair! Wayfair has every cool thing you can think for your home, from furniture to decor. Since all of our Endless Summer Projects are kid-friendly, I thought it would be fun to put together an inspiration board featuring of some of my favorite Wayfair products for kids rooms! They have so much to choose from that it was hard to pick just a few favorites, but I love the bright, happy items I chose.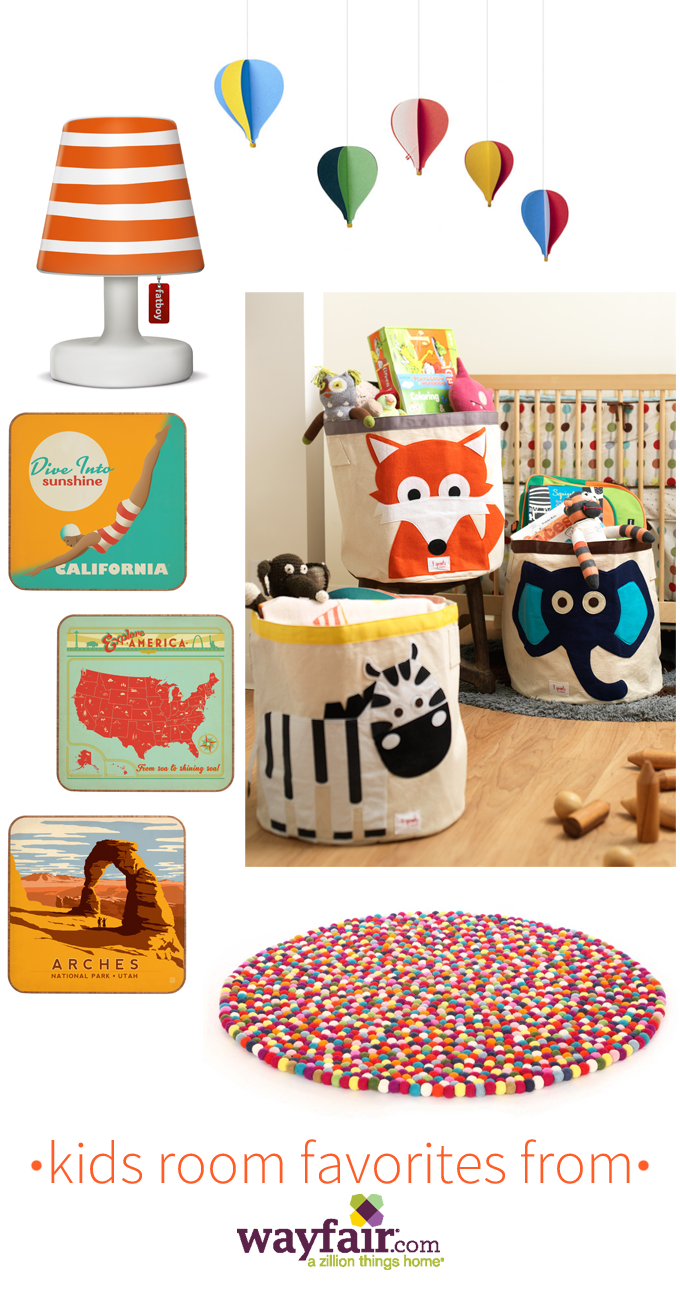 Hot Air Balloon Mobile
Edison the Petit Lamp with Striped Shade
Dive Into Sunshine Wall Art
Explore America Wall Art
Arches National Park Wall Art Animal
Storage Bins
Felt Ball Kids Rug
You can find more kids room inspiration boards on Alexandra Hedin, Classic Play, and This Heart of Mine.
Without further ado, this week's Endless Summer Projects masterpiece comes to you straight from Pars Caeli: large-scale wall art, easy enough for kids to make, but cool enough to hang in your living room. Inspired by a beloved piece of modern art at the Chicago Institute of Art, MJ and her son made this statement piece using a large canvas and different colors of tape. To find complete directions, visit this week's Endless Summer Projects post on Pars Caeli!