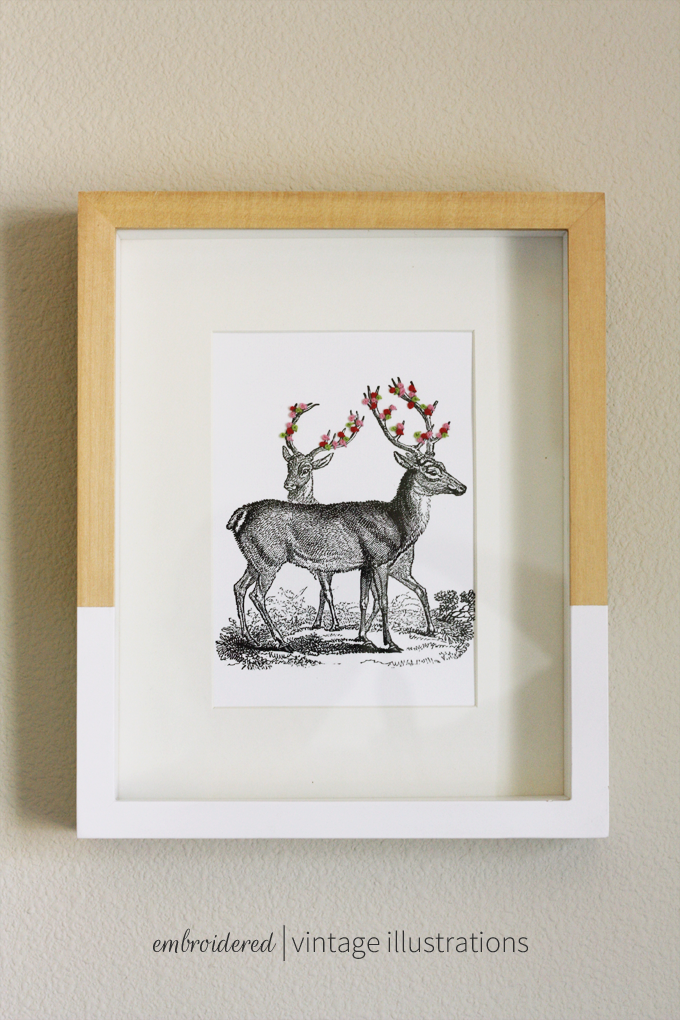 In case you couldn't tell, I was pretty darn excited to host a workshop earlier this month at Anthropologie! Over the past few years, I've had lots of blogger friends host amazing creative events, and I was thrilled to be asked to participate in such a fun get-together. I met long-time online acquaintances face-to-face for the first time, and got to know lots of lovely new names and faces too.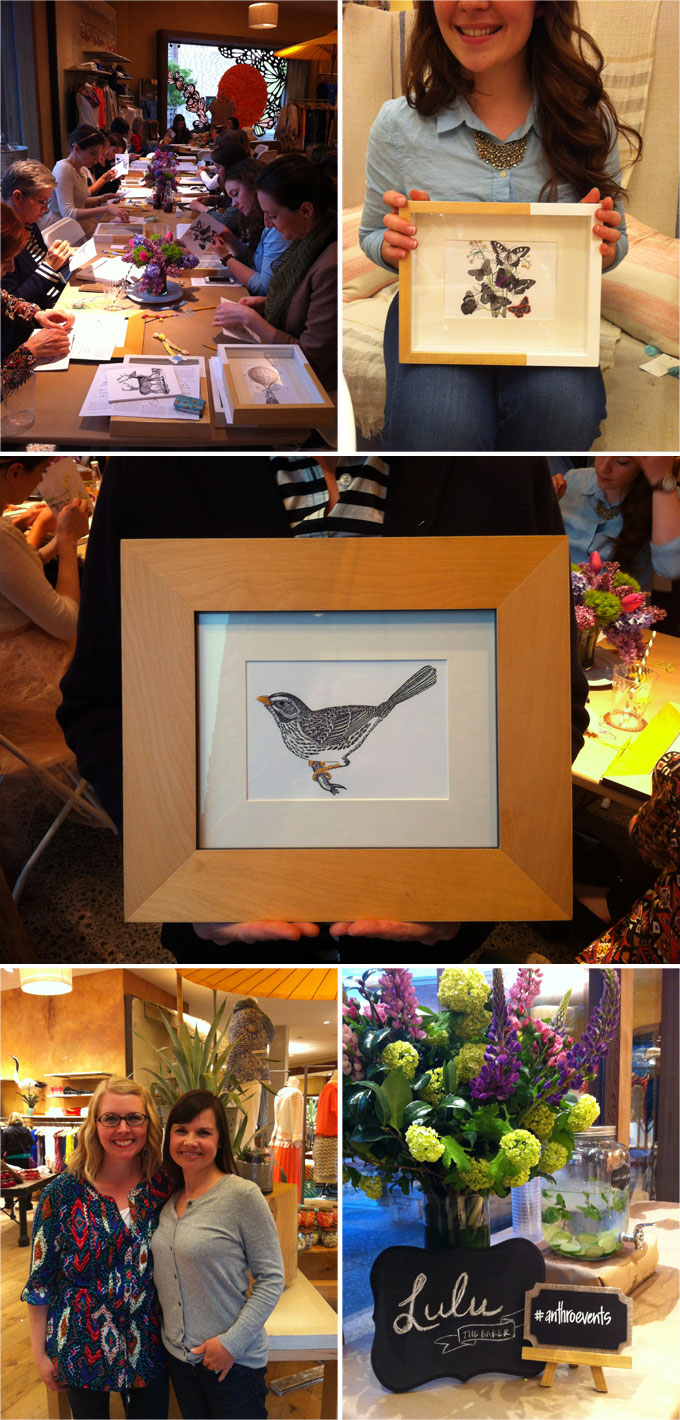 The project we worked on was embroidered vintage illustrations, old-fashioned black and white prints dressed up with colorful hand-embroidery. The two examples that I made to show everyone didn't turn out quite as I had hoped, but I was blown away by how creative and beautiful all of the projects at the workshop turned out! We had bumble bees with fuzzy yellow bodies, bicycles covered in French Knot flowers, deer with hot pink antlers, and so much more. I couldn't have been more thrilled with the work that everyone did, and I was inspired to give it one more shot and make something I was actually proud of!
A big, huge thanks to everyone who came out to the workshop. I had so much fun meeting you, creating with you, and being inspired by you. I big hug to We Love Citrus for donating the darling gold stork scissors (available in their cute shop). And a massive thanks to Anthropologie for including me in this amazing event!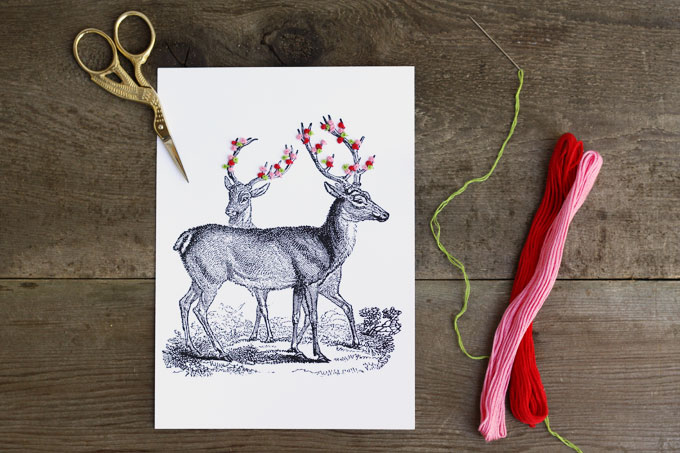 Materials & Tools
black & white vintage illustrations printed on white card stock (Most of mine came from The Graphics Fairy.)
embroidery needle
embroidery floss
small scissors
tape
pencil
frame
Steps
1. If necessary, use the pencil to sketch the design you want to create on your illustration. Honestly, I don't think anyone at my workshop did this. Most people either followed outlines and shapes already on their illustration or filled in specific areas of their illustration. Nevertheless, if you want to write a phrase or stitch a heart or something, sketch it out lightly first.
2. Plan where you want your stitches to be, and use a needle to poke all of the necessary holes from front to back. It's important that you don't put holes too close together (I'd say 1/8″ at the closest), and that you don't put too many holes in the same area (It weakens the paper.) If you accidentally tear your card stock, use tape to fortify the back.
3. Measure out a long piece of embroidery floss in the color you want to use and cut it. Embroidery floss is made up of 6 separate strands of thread. You want to use 2 of those 6 strands. Carefully separate 2 strands from the bunch. It can be a little tricky, so if possible, have someone help you keep the floss from tangling as you pull it apart.
4. Thread your needle with the 2 strands of floss that you pulled out, double the floss all the way over, and knot the 4 loose ends together at the bottom.
5. Begin stitching on your illustration, starting at the back to hide your knot. My favorite stitch is the French Knot, but Backstitching works great on this project too, especially if you are outlining an area. You can find great stitch tutorials by searching the internet.
6. When you run out of floss, are finished, or are ready to change colors, pull the needle through to the back, tie a knot, and trim the extra floss.
7. When you're all finished, fit the illustration into a pretty frame and display it proudly!