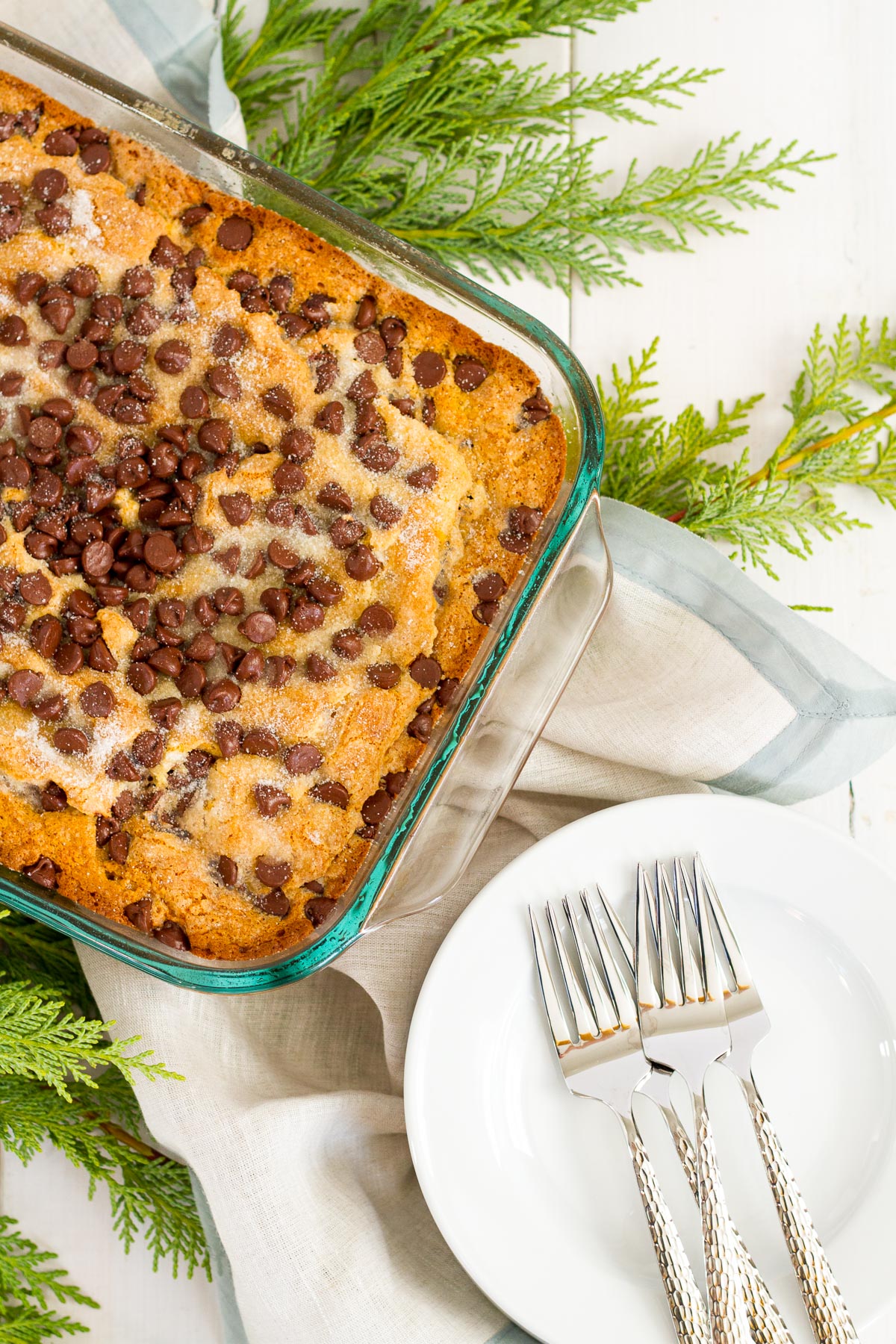 **This post contains affiliate links. You can read more about them on our policies page.**
I hope everyone had a wonderful Thanksgiving! After all the pie last week, I think I'm ready for a little cake, and I have the perfect cake recipe to share with you. My friend Kate from the blog Domestikated Life just published a beautiful cookbook called New England Invite. While lots of recipes caught my eye, the one I knew deep in my bones that I had to make first was the Chocolate Chip Cake.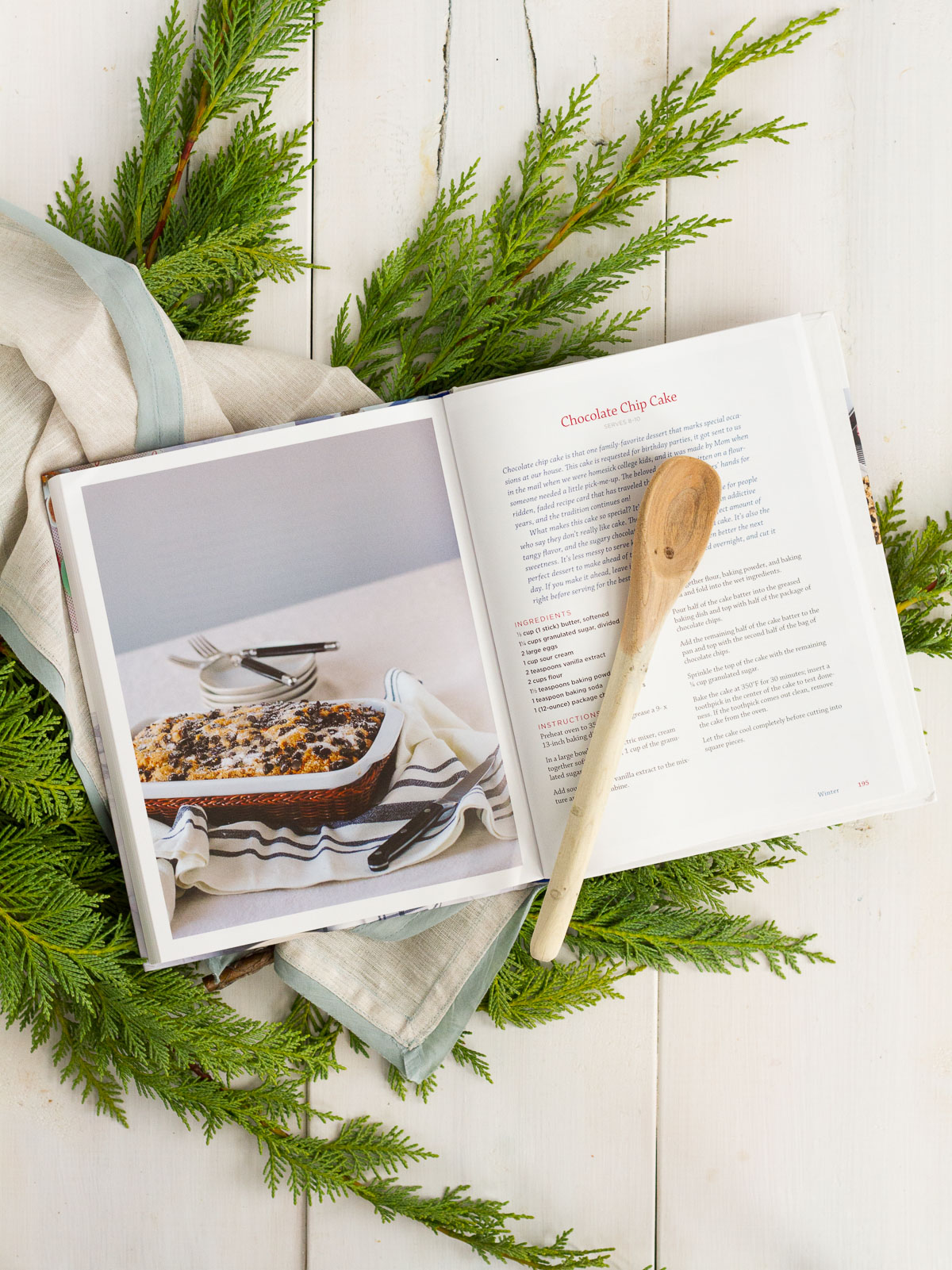 I had high hopes for Kate's Chocolate Chip Cake, and it did not disappoint! It basically has everything I want in a cake; it checks all the boxes. Chocolate Chip Cake is supremely easy to make, enough so that it is a great cake to throw together for a weeknight dessert or weekend brunch. Check! The instructions call for sifting the dry ingredients together in a separate bowl, but I was feeling extra lazy the day I made this. I added all the dry ingredients right on top of the creamed butter mixture, gave them a light, little stir with a fork, and then folded them in. So if you're feeling like you just can't bear one more dirty dish in your kitchen, this cake can even be made in a single bowl. Check!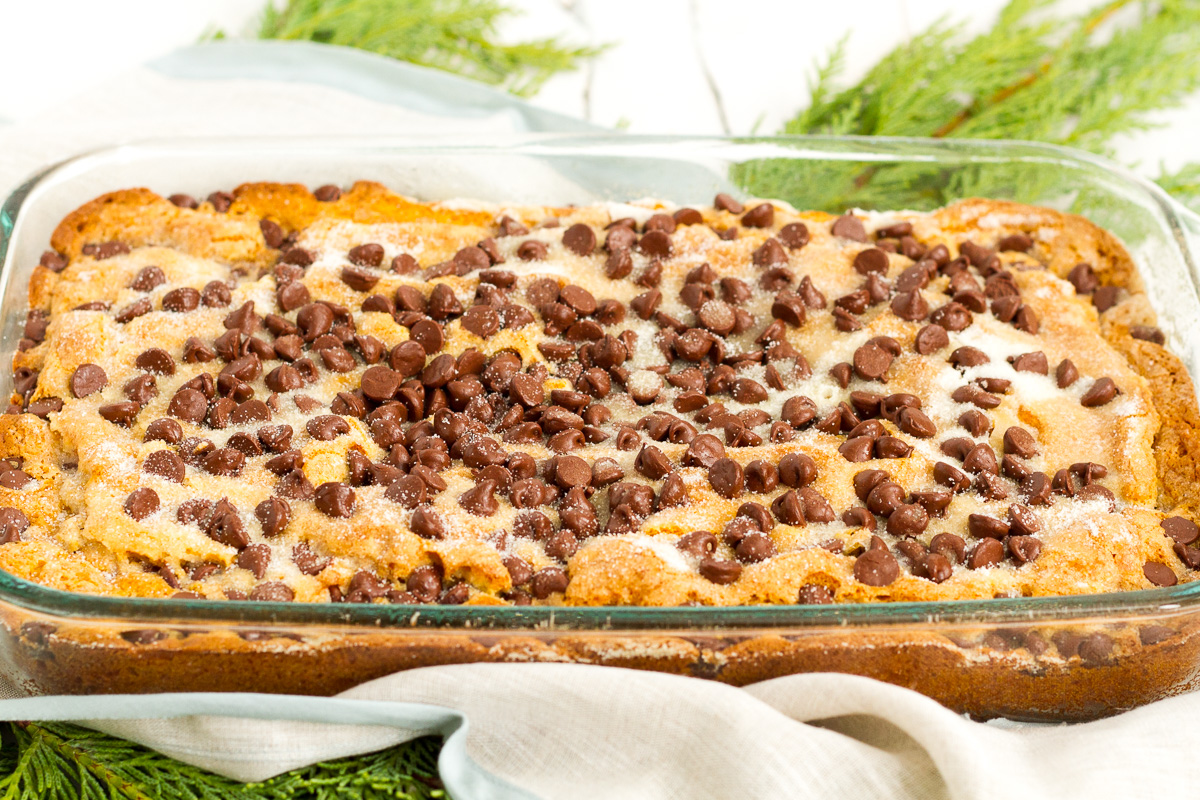 The cake bakes up beautifully, and is really pretty without requiring any hard work. It looks special without frosting or decorations or anything labor-intensive. Check! It made my house smell amazing as it baked. Check! And it tastes fantastic. I kept sneaking pieces of it throughout the day. Check! The cake batter itself isn't overly sweet, which makes it also delicious as a breakfast treat. Seriously, if you served this for breakfast and called it Chocolate Chip Coffee Cake, no one would bat an eye. They'd just thank you and ask you for the recipe. The chocolate chips make it rich, and the layer of granulated sugar sprinkled on top before baking (the best part!!) adds a lovely, sweet, coating to each piece. This recipe is destined to become a family favorite for my family just like it is for Kate's.

Chocolate Chip Cake from New England Invite
This easy vanilla cake studded with chocolate chips and topped with a layer of granulated sugar is simple enough for everyday and delicious enough for special occasions. This recipe comes from the book
New England Invite
by Kate Bowler.
Ingredients
½ cup (1 stick) butter, softened
1¼ cups granulated sugar, divided
2 large eggs
1 cup sour cream
2 teaspoons vanilla extract
2 cups flour
1½ teaspoons baking powder
1 teaspoon baking soda
1 (12-ounce) package chocolate chips
Instructions
Preheat oven To 350°F. Lightly grease a 9x13-inch baking dish.
In a large bowl with an electric mixer, cream together softened butter, 1 cup of the granulated sugar, and eggs.
Add sour cream and vanilla extract to the mixture and stir to combine.
Sift together flour, baking powder, and baking soda and fold into the wet ingredients.
Pour half of the cake batter into the greased baking dish and top with half of the package of chocolate chips.
Add the remaining half of the cake batter to the pan and top with the second half of the bag of chocolate chips.
Sprinkle the top of the cake with the remaining ¼ cup granulated sugar.
Bake the cake at 350°F for 30 minutes; insert a toothpick in center of the cake to test doneness. If the toothpick comes out clean, remove the cake from the oven.
Let the cake cool completely before cutting into square pieces.
Notes
(c)2018 by Kate Bowler, all rights reserved. Chocolate Chip Cake recipe excerpted from New England Invite by permission of Globe Pequot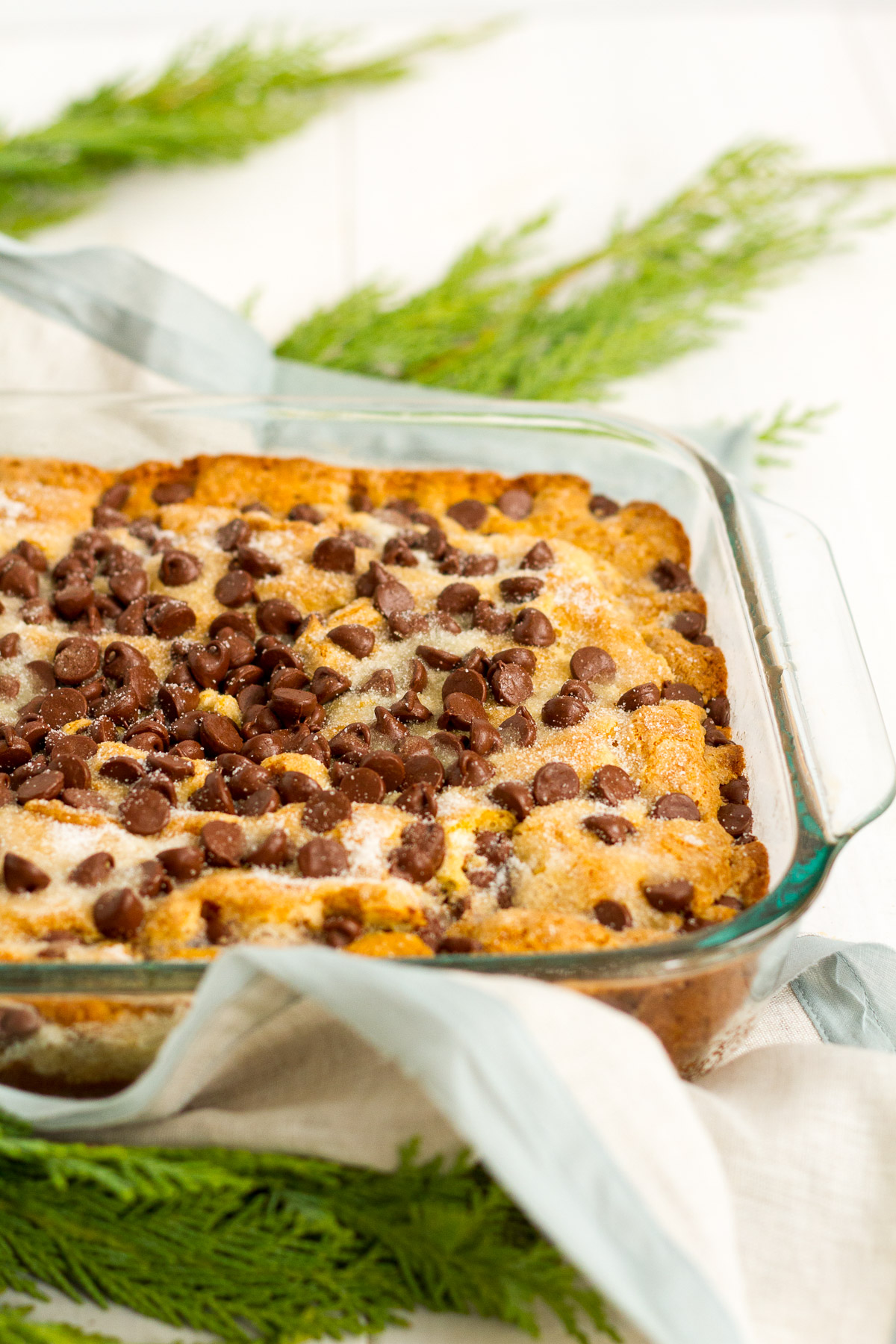 New England Invite contains 80+ mouth-watering recipes geared toward entertaining, and is filled with beautiful full-color photos, tips on hosting parties, and more. Before I even got my copy in the mail, my mom had ordered a copy for my sister who lives in Connecticut, and for herself as well. There are so many good seasonal recipes in here; I can't wait to try them all! Kate is actually reviewing my book, Scandinavian Gatherings, today and posting my recipe for Spiced Pear Bundt Cake with Homemade Caramel Sauce. Visit her blog to get that delicious recipe as well! Two cakes in one day? Lucky you!
[(c)2018 by Kate Bowler, all rights reserved. Chocolate Chip Cake recipe excerpted from New England Invite by permission of Globe Pequot.]