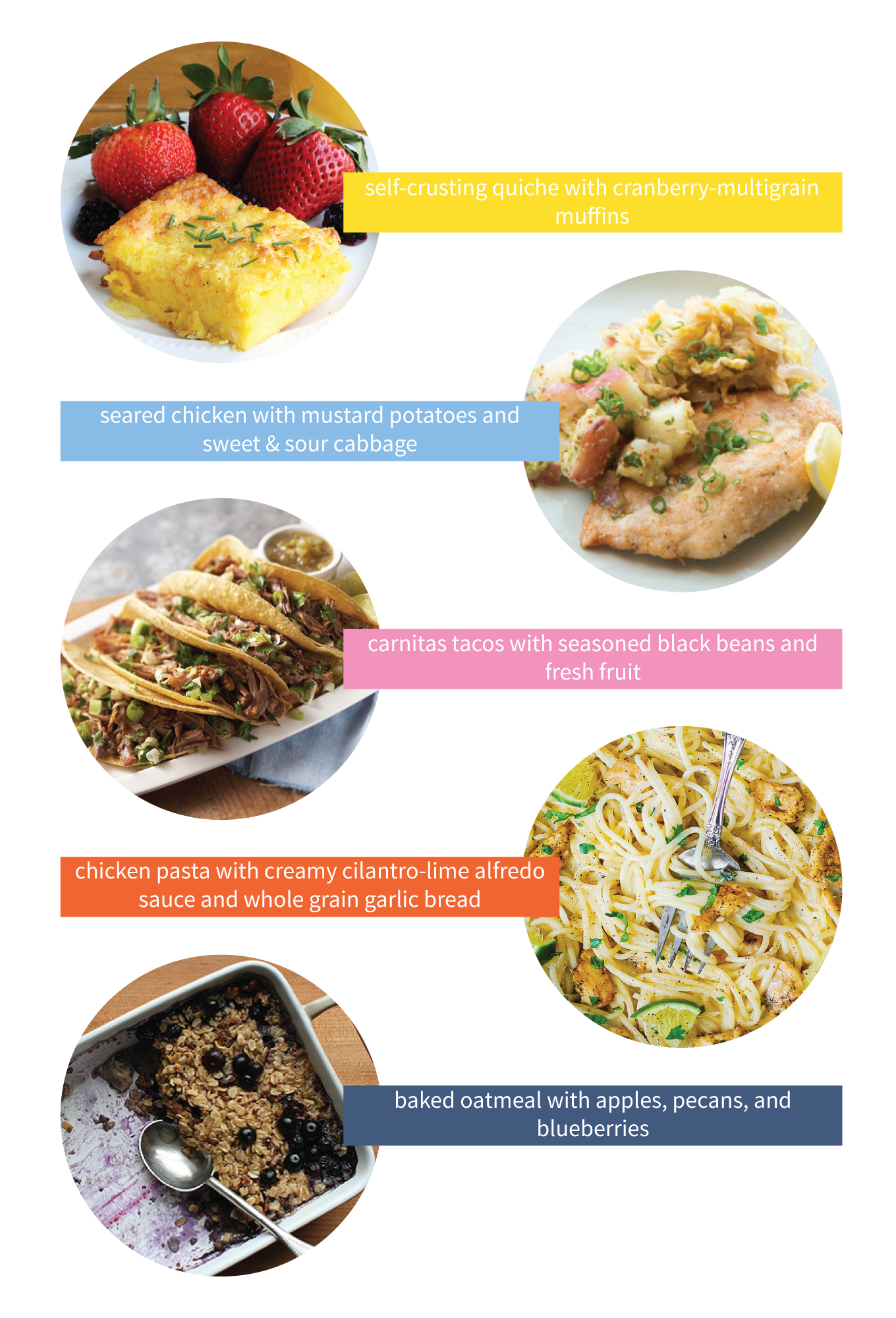 Happy Saturday, everybody! I have a brand new series to introduce you to today, and I'm so excited for it. It is rather uncreatively but straightforwardly called "This Week's Menu Ideas." I've had lots of thoughts swirling around in my head for a long time, and I hope this series will tie all of those ideas together beautifully. And I hope that you'll love it! According to my reader survey, one of the types of recipes you guys want to see more of this year is easy, family-friendly weeknight meals. And I'll try to post as many of those as I can come up with. But I also thought it would be fun to share with you guys what fast and delicious meals we've tried and loved, whether they are tried and true family favorites, or recipes we spotted on Pinterest. And that's where this series comes in. Every weekend, I'll share with you guys a round-up of what meals we've had this week, and the links to the recipes.
I've thought of doing this so many times before, but I was always slightly conflicted about posting a menu plan for the upcoming week that we might not even follow through on. It seemed a little false to me. And then it occurred to me only very recently that I could post the menu after the fact—problem solved! So the menu you see on today's post is what we ate for dinner (and one breakfast) this week. And when you're spending a few minutes planning your menu for next week, you can work in whichever recipes you like! Without further ado (because that was a lot of ado), here's this week's menu ideas…
Self-Crusting Quiche with Cranberry-Multigrain Muffins: This self-crusting quiche is so easy to make. And it doesn't have the custardy texture of traditional quiche, so if your kids have texture issues, they'll probably still love it. It is basically baked eggs with a couple of different kinds of cheese mixed in. So tasty, and so easy to customize. And the recipe for the cranberry multigrain muffins is coming soon!
Seared Chicken with Mustard Potatoes and Sweet & Sour Cabbage: This was a Blue Apron meal that every single person in the family loved! The chicken was easy to make and very tasty; the kids went bonkers for it. The mustardy potatoes were delicious and flavorful. But the star of the show was the sweet & sour braised cabbage. It was so good that we're making it again tonight!
Mexican Carnitas Tacos with seasoned black beans and fresh fruit: These carnitas tacos from BHG were an easy crockpot meal for a busy weeknight. With the addition of some seasoned black beans (one of our favorite recipes, which I'll have to post soon) and some fresh fruit, it was a tasty and filling meal.
Chicken Pasta with Creamy Cilantro-Lime Alfredo Sauce and multigrain garlic bread: I've had this recipe from Julia's Album pinned for a long time, and my 7 year-old chose it for one of our dinners this week. It was very easy to make, was ready in a flash, and tasted amazing. A definite winner!
Baked Oatmeal with Apples, Pecans, and Blueberries: We've been making this fantastic recipe from Heidi of 101 Cookbooks (by way of Lottie + Doof) for a few years and love it. I don't love bananas (I like them, I just don't love them), so I use apples instead, and I always have a million pecans laying around, so I usually swap out the walnuts for pecans. For an extra luxurious treat on the weekend, drizzle a little heavy cream on top. So good!!
So there you have it, folks. The inaugural edition of This Week's Menu Ideas! I would love for you to leave a comment if you like the idea of this series—I love feedback. Have a happy weekend!