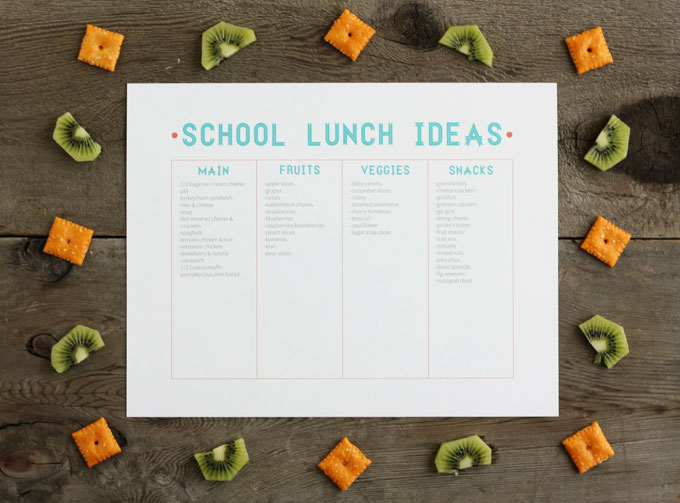 All week, I've been sharing some of my family's favorite quick and delicious dinners for busy weeknights. With all of the lessons and practices and after-school activites, it can be a struggle during the school year to get something tasty on the table for dinner. We're going to take a tiny break from our easy weeknight dinner ideas just for today to look at a different meal: lunch. My kids really like buying lunch from school, and I've been pretty happy so far with what's been available to them. On the days they buy lunch, I always check in with them after school to find out what they ate, and there are always plenty of fruits and veggies, and never any mention of sugary drinks. But they don't always want to have what's being served in the cafeteria that day, so they end up taking lunch from home several times a week. And it's always just a little stressful for me! I want to make sure that my kids get a lunch that is balanced and good for them, but I also want to make sure that my kids get food that they will actually eat. And I'm usually not running ahead of schedule in the mornings, so I have to put lunches together pretty quickly.
So, how do we manage? Preparation, my friends! I'm not very good at winging it, but I'm very good at planning. If I have a plan, things usually run pretty smoothly. At the beginning of the school year, I made myself a handy chart full of ideas for school lunches. There are columns for "main" dishes, fruits, veggies, and snacks foods, and I tried to be creative and to think outside the box when I made my lists. We keep our fridge and pantry well-stocked with school lunch foods, and just before each week starts, I pick a few things from each category and write two or three complete lunch menus down on our calendar. And that's it! Once I have them written down, it's like they're set in stone. That chart is like magic! It makes putting lunches together so easy, and guess what! You can download your very own chart below. I'm including a copy of my chart, as well as three different blank charts that you can print up and fill out. I'm telling you–it's life changing!
School Lunch Ideas Printable Chart
Blank Aqua & Orange Chart
Blank Green & Blue Chart
Blank Pink & Green Chart
Here are a few of the lunches that have been big hits with my kids so far this year…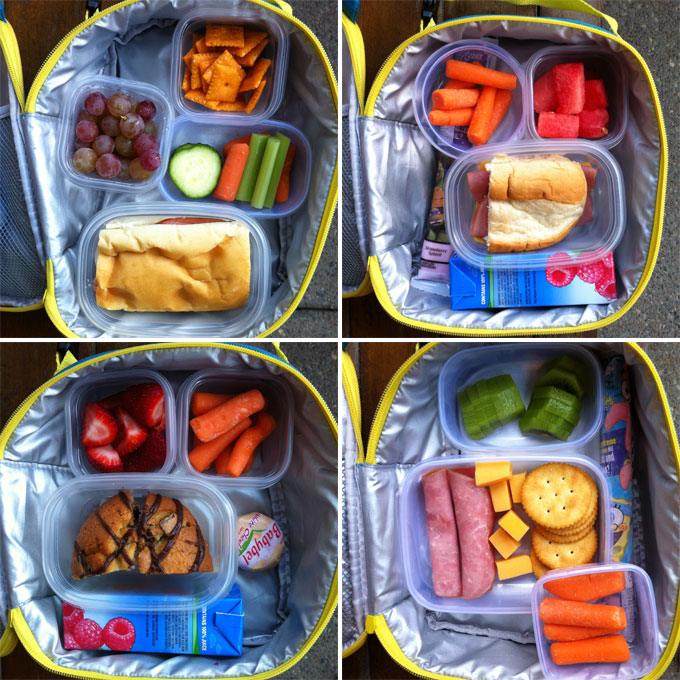 Clockwise from top left:
A ham & cheese sandwich from Jimmy Johns; Cheez-its; grapes; carrots, celery, and cucumber
Sub sandwich; watermelon; baby carrots; and yogurt
Ham, cheddar, and crackers; kiwi; baby carrots; and yogurt
1/2 of a Costco muffin; strawberries; baby carrots; a white cheddar Babybel cheese (this kid doesn't like string cheese)
Do you have any tried and true lunch tricks that your kids love? Be sure to share them in the comments!