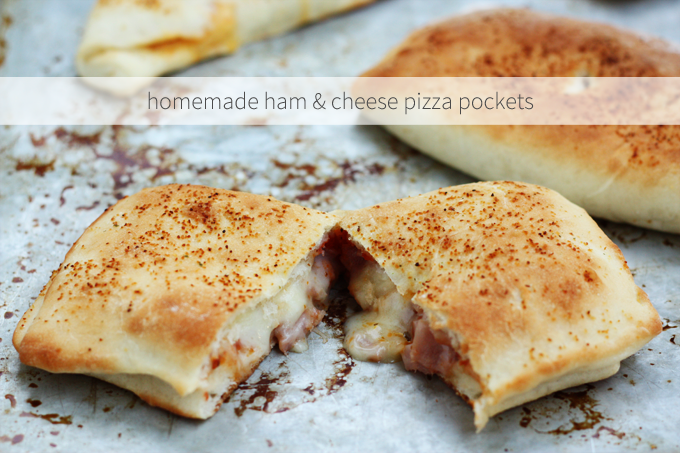 It's a week of easy weeknight dinner recipes here on Lulu the Baker! Today, I have a recipe to share with you that my whole family loves. Whenever my kids find out I'm making these, they go crazy–Homemade Ham & Cheese Pizza Pockets. We were first introduced to them by our good friend Marcelle. We used to get together for lunch when our kids were younger. We called it "Lunch Club" and the kids loved it. We always had kid-friendly food that the grown-ups enjoyed eating too, and these homemade pizza pockets made a lasting Lunch Club impression. The concept is a simple one: pizza dough wrapped around pizza sauce, diced deli ham, and mozzarella cheese. So simple, and so good. If you have a little time on your hands, you can make homemade pizza dough and/or homemade pizza sauce. But if you're crunched for time on a busy weeknight, use your favorite, good store-bought dough and sauce, and you'll have dinner on the table in less than 30 minutes!

Homemade Ham & Cheese Pizza Pockets
Ingredients
1 batch pizza dough
about ½ cup pizza sauce
1½ cups shredded mozzarella cheese
1 lb sliced deli ham, diced
olive oil
garlic powder
Instructions
Preheat the oven to 500°F, or whatever temperature is called for in your pizza dough recipe. On a lightly floured surface, roll out dough into a big rectangle about ¼" thick. Use a pizza wheel to cut the dough into 8 equal pieces. I usually do two rows of four. Spread about a Tablespoon of pizza sauce on half of each piece of dough, and top with mozzarella and ham, divided evenly. Gently fold the empty half of each dough piece up and over the toppings, pinching the dough together to seal it at the edges. Most of mine dough pieces start out as squares or rectangles, and I fold them in half to make rectangles. If triangles work better for you, feel free to fill and fold them on the diagonal instead. Use a sharp paring knife to cut a slit in the top of each pizza pocket to allow steam to escape. Brush lightly with olive oil and sprinkle with garlic powder. Bake 10 minutes or until golden on top.
Tomorrow, instead of an easy weeknight dinner recipe for you (back to that on Friday!), I'll have some school lunch ideas and a cute printable!