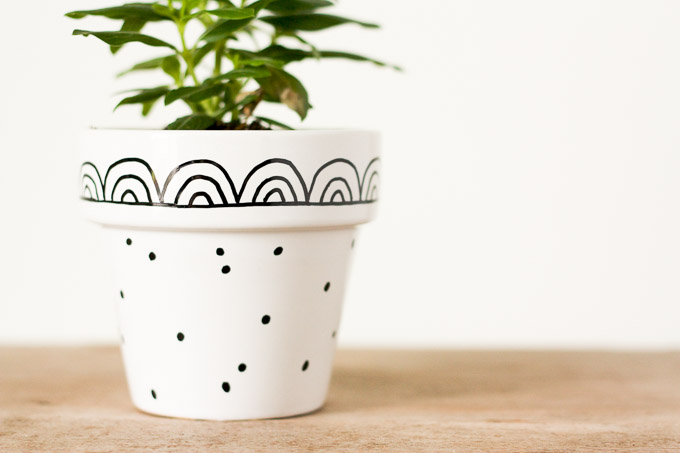 I don't know about you guys, but I always find myself heading out to friend's birthday parties, dinners, or showers empty-handed. I just can't seem to get my act together, and I'm often pulling the guest of honor or hostess aside to say, "Hey, so I don't have your present with me right now, but…" Seriously, it's terrible! But, these graphic, hand-painted flower pots are going to be my go-to gift from now on, and I'm never going to be unprepared again. Potted plants are the perfect all-purpose gift—teacher appreciation week, housewarming party, baby shower, dinner at a friend's house—and a cute containers takes them from ho-hum to oh, wow!
This project couldn't be simpler or faster. All you need is a plain, glazed flower pot (sorry, uncoated terra cotta won't work here) and oil-based paint markers. Use the paint marker(s) to draw fun patterns on the pot (and the tray that goes underneath the pot too), allow the paint to dry, and put a cute plant in the pot. That's it! The possibilities are endless. You can stick to a simple two-tone color scheme like I did, or you can go crazy with color.

To make the pattern that I made on my flower pot, begin by drawing a line all around the edge of the pot about 1″ down from the top. After that has dried (it dries very quickly), draw a series of large scallops, about 1″ wide, on top of the line. Then draw two more bumps inside each scallop. Draw dots on the bottom part of the pot. I spaced mine unevenly on purpose to give it a more modern, less cutesy look. And for the tray, I drew a large, off-center X, and filled one side in with dots and the other side with lines. This whole project took less than 5 minutes!