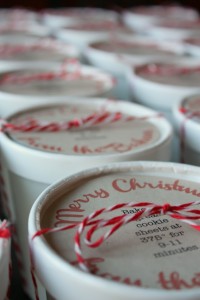 I usually start brainstorming Christmas gifts for our friends and neighbors during the summer. I'm aware that it's crazy, but I just can't help myself! This year, I decided that we'd give pints of cookie dough. As with most projects, I started to have major doubts before starting. What if we end up having to make batch upon batch upon batch of dough? What if it takes longer than plates full of baked cookies (I know that one makes no sense)? What if it's just a lame-o gift? After spending exactly 1 hour last night making cookie dough and exactly 1 hour this morning making the packages cute, I realize it's pretty much the best present ever. For 2 hours of work and about $25 in packaging, chocolate chips, and butter, we have 24 adorable handmade gifts for our loved ones.
I wanted to make sure the cookies were as easy as possible for the people receiving them–who wants a gift that requires a bunch of work on their part? So we went with America's favorite scoop-and-bake cookie, the good ol' chocolate chip.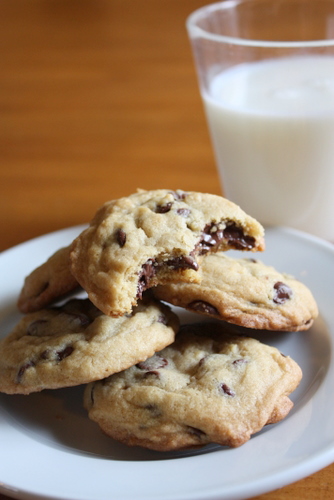 –The recipe for the cookie dough can be found HERE.
–I bought my cute cardboard pint containers at Cash-and-Carry (same as Smart-and-Final) for less than $.50 per container. You can also find them online for a little more HERE.
–I printed the labels myself onto natural kraft cardstock and cut them with a circle cutter.
–The super-thick red and white twine came from Anthropologie a long time ago, but red baker's twine is easy to find.