I first posted this recipe for Chocolate Chip Cookies–our family favorite, by the way–back in September of 2008. The recipe hasn't changed, but I thought it was time to get a better picture in there! We have replaced our kitchen table, our camera, and our computer in the past 2.5 years, and I have to say I think my photography skills have improved more than a little! So here it is again, an oldy but a goody: Chocolate Chip Cookies (with new and improved picture).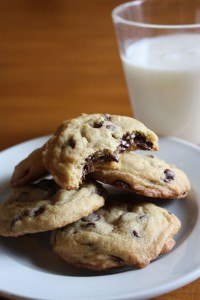 1 cup butter, softened
3/4 cup granulated sugar
3/4 cup packed brown sugar
1 teaspoon vanilla
2 eggs
3 cups flour
1 teaspoon baking soda
1 teaspoon salt
2 cups chocolate chips
Preheat oven to 375 degrees. In a large bowl, cream butter, sugars, and vanilla until smooth. Add eggs, one at a time, beating after each addition. In a separate bowl, combine flour, baking soda, and salt. Add dry ingredients to wet, and stir to combine. Stir in chocolate chips. Use an ice cream scoop to shape dough into balls, and place on an ungreased cookie sheet (the standard 12 cookies per sheet method). Bake for 10-12 minutes until just beginning to turn golden on the edges. Remove from oven, cool on sheet for a few minutes, then transfer to a wire rack to cool. Makes 2 to 2 1/2 dozen cookies.