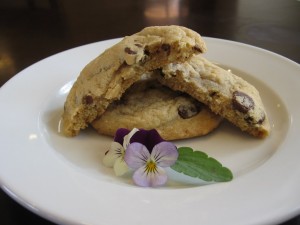 I know everyone claims that their chocolate chip cookies are the best, but I never thought that about mine until recently. My mom, my sisters, and I all tried in vain to find a truly fantastic recipe. I found one in college that I swear was perfect the first time I made it. It became the family staple, but too many times the cookies turned out more like chocolate chip biscuits. Then, one day, my friend Jill brought over a plate of delicious, chewy, buttery cookies. When we asked her for her secret recipe, she rather sheepishly told us that she follows the directions for the Original Nestle Toll House Chocolate Chip Cookies on the back of the chocolate chip bag, but adds extra flour. It works like a charm.
Jill's Best-Ever Chocolate Chip Cookies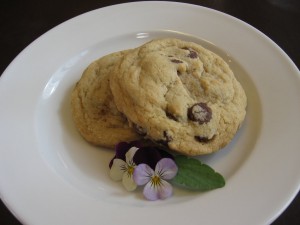 3 cups flour
1 teaspoon baking soda
1 teaspoon salt
1 cup butter, softened (I always use salted and they always taste delicious)
3/4 cup granulated sugar
3/4 cup brown sugar
1 teaspoon vanilla
2 eggs
2 cups chocolate chips (I use a little less)
Preheat oven to 375. In a large bowl, cream butter, sugars, and vanilla until smooth. Add eggs, one at a time, beating after each addition. In a separate bowl, combine flour, baking soda, and salt. Add dry ingredients to wet, and stir to combine. Stir in chocolate chips. Use an ice cream scoop to shape dough into balls, and place on an ungreased cookie sheet (the standard 12 cookies per sheet method). Bake for 10-12 minutes until just beginning to turn golden on the edges. Remove from oven, cool on sheet for a few minutes, then transfer to a wire rack to cool. Makes 2 to 2 1/2 dozen cookies.