I've updated this recipe and improved it (in my opinion, anyway!). Click HERE for the updated version!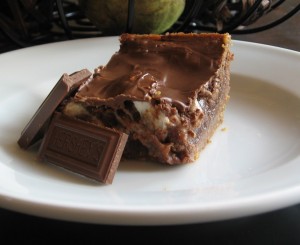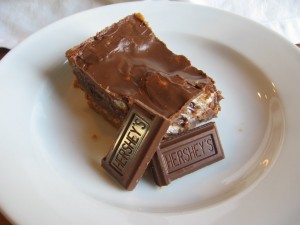 We went to the coast over labor day weekend and randomly decided to by a chimenea at a pottery shack on the side of the road. We have already used it to make s'mores 2 or 3 times since getting it home. In honor of the looming end of summer, I thought I'd make a brownie-s'more lovechild. Strangely, 2 people to whom I talked about these before I made them thought they didn't sound good at all, but trust me, they were out of this world. So good, and so messy!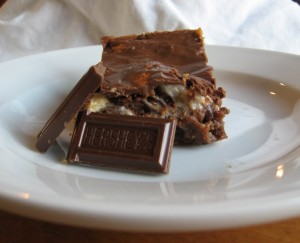 8 sheets of graham crackers, crushed
1/4 cup butter, melted
2 Tablespoons sugar
1/2 cup butter, softened
1 cup sugar
2 1/2 Tablespoons cocoa powder
2 eggs
3/4 cup flour
1 teaspoon vanilla
1/8 teaspoon salt
1 heaping cup mini marshmallows
3 oz milk chocolate chips or 2 1.5-oz Hershey bars, broken into pieces
Lightly spray the sides of an 8×8 baking dish with PAM and preheat oven to 350. In a small bowl, combine graham cracker crumbs, melted butter, and 2 Tablespoons sugar. Press firmly into the bottom of the prepared dish. In a medium bowl, combine softened butter, 1 cup sugar, and cocoa until smooth. Add eggs and stir. Add flour, vanilla and salt and stir until combined. Spread half of the brownie batter over the graham cracker crust, sprinkle marshmallows over the top, then spread the remaining brownie batter over the marshmallows. Bake at 350 for 25 minutes. Remove from oven. Sprinkle chocolate chips or broken Hershey bars over the top and return to oven for 3 more minutes. Remove from oven and spread melted chocolate with a spatula. Cool completely before serving.