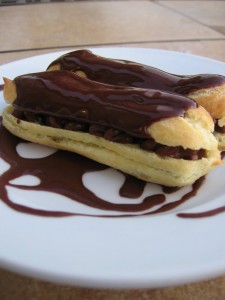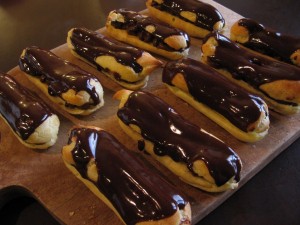 I was really excited to see this month's Daring Bakers Challenge because eclairs are one of my husband's favorite desserts! While he liked the hazelnut gateau last month, I knew he would love the eclairs this month. The recipe we were given was from Dorrie Greenspan's book Chocolate Desserts by Pierre Herme. You can find the recipe in its entirety here. We had to make the pate a choux (the dough) from the recipe, but then had quite a bit of room for creativity. Pierre Herme's recipe also had a chocolate pastry cream filling and a chocolate glaze. We had to keep one of those elements in our eclairs but could do whatever we wanted after that. Since I really wanted my husband to love whatever I made, I let him choose what type of filling he wanted. He chose to stick with the recipe exactly as it was given to me, so chocolate/chocolate it was.
Day 1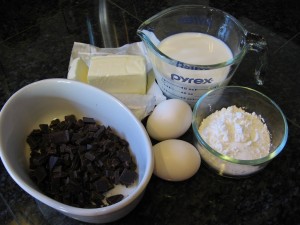 After a very busy start to August, I finally found time to attempt my eclairs in the middle of the month. I love these recipes that have tons of parts but allow you to do them over several days. On the first day, I decided to make the chocolate sauce and the chocolate pastry cream. The sauce was a cinch. I think it took maybe 5 minutes to make. I'm not really a fan of dark chocolate, but I have to admit that this sauce is delicious. I can see tons of possibilities for it: ice cream…more ice cream. OK, so I really only see it on ice cream, but since when is that a bad thing? I also discovered that pastry cream is nothing to be afraid of. For some reason, it has always seemed really tricky, like if you don't do it perfectly you get scrambled eggs. But, just like the chocolate sauce, it only took a few minutes and tasted delicious. After tasting both the rich, rich sauce and the rich, rich filling, I knew these eclairs were to going to be…well…rich!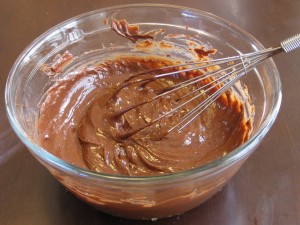 My only problem on day 1 was trying to stir the pastry cream while it was cooling in the ice water bath. Maybe I'm not the most coordinated person in the world, but it was REALLY challenging! Luckily, I didn't splash any icy water into my pudding.
Day 2
All I had to do on day 2 was make the dough, pipe it, bake it, and put the eclairs together. It didn't seem like it should have been stressful, but day 2 ended up being busier than I expected, so I probably should have left day 2 for another day. That being said, these were really a snap to make! The choux pastry came together really quickly, and the eclairs were not at all hard to assemble.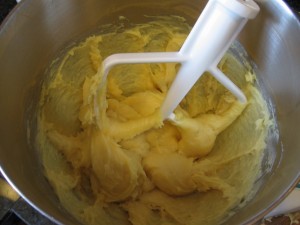 Mine were a little flat, but as far as I can tell, that has been a pretty common problem, and it certainly didn't affect the flavor, which was chocolatey with a capital "C". We ate as many as we could, and then gave the rest away. I kind of like making things that don't keep well overnight. I think I'll make up a new diet based on that.